The LA Galaxy will attempt to stop a four-game losing streak, their longest since 2007, and travel some 2,593 miles (I measured) to take on the New England Revolution who are also suffering through a four-game losing streak.
The Galaxy (6-9-4, 22 points, 19 GP) have a league best road record (5-3-1), while the Revolution are 5-2-2 at Gillette Stadium in 2017 but near the bottom of the Eastern Conference – 10th out of 11 teams.
GAME INFO: New England Revolution vs LA Galaxy, Saturday, July 22, 2017, at 4:30 p.m. PT
TV INFO: Spectrum SportsNet, Spectrum Deportes
Both teams are in desperate need of wins and both teams need to start getting those wins now. The Galaxy
The Galaxy are nearly seven points below their historical average (28.8) and they're currently only better than four other teams in the league – the Revolution, Colorado Rapids, Minnesota United, and DC United.
The Revs are coming off a 3-2 loss to the New York Red Bulls back on July 5th, and haven't been involved in a game since. The Galaxy are the opposite. Coming off a midweek loss to the Vancouver Whitecaps, a friendly loss to Manchester United, and an embarrassing July 4th loss to Real Salt Lake.
The Galaxy were fortunate to get some healthy bodies back for their loss to the Whitecaps as Jermaine Jones and Daniel Steres both returned to the club after lengthy absences. But with the punishing turf – a surface Jones is more than familiar with because of his previous stint with the club – there might be some second guessing as to whether it's worth it to risk his body for this game.
His answer suggests there's no doubt in his mind. "No, that's just an excuse. Of course, I know it's not easy to play on it. I played one and half years on it. It's tough for teams to come there and get points. But if I go of course I want to play," Jones told reporters after the game on Wednesday night.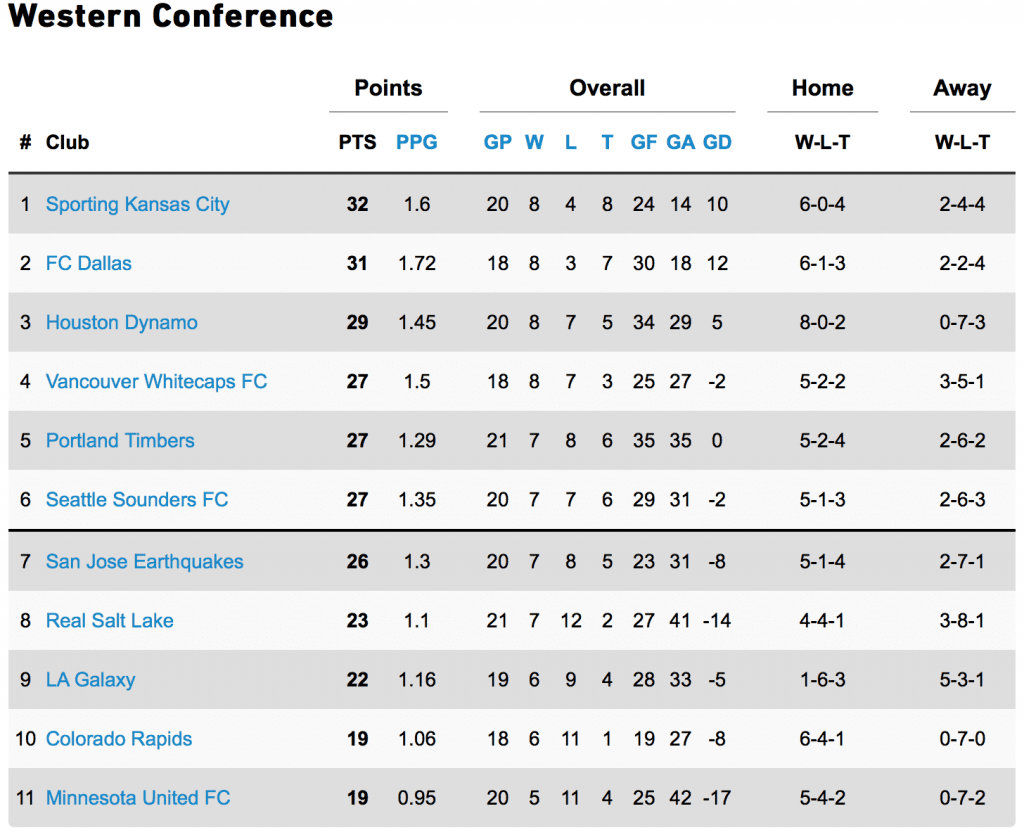 For the Galaxy, they're in danger of seeing this season slip away from them. This losing streak is just the latest hurdle that seems to have both players and fans frustrated with the coaching and the front office moves. And time seems to be running out to make any meaningful changes before the transfer window and season draw to a close.
"This is one of the most important clubs in the league," Giovani dos Santos told reporters on Wednesday. "And in any other part of the world, our situation would be managed differently."
The Galaxy are expected to have a similar lineup to last week. But there are a lot of questions about whether Ashley Cole will reprise his role in central midfield. But I'd think that Galaxy head coach Curt Onalfo would want to give Cole a rest after 90-minutes ushering the ball around for the Club on Wednesday. And in this case, moving him back to left back would be a "rest."
The Galaxy will have to account for João Pedro's suspension due to yellow cards. With Jones perhaps getting the start along with Rafa Garcia in midfield.
And Gyasi Zardes is still on international duty with U.S. Soccer.
Defender Jelle Van Damme will also need to be on his best behavior as he's still just one yellow card away from another suspension.
Romain Alessandrini might be a question mark as well. He exited the game in the 74th-minute of the game with cramps but has been struggling to stay 100% game fit for quite some time. His time on the plastic pitch might be limited in this game and that's not what Galaxy supporters want to hear about a man who is the leading source of offensive output for the club.
This season has been a struggle for the Galaxy. And this game against New England might be their best chance at some much-needed points before having to play Seattle Sounders, Portland Timbers, and New York City FC – all playoff teams – in the coming weeks.
But more importantly, this game is an opportunity for the players, the coaches, and the front office staff to prove they aren't ready to throw in the towel. That they still have some fight left in them. That this team still matters.
Otherwise, statements like Dos Santos' above, are going to become all to common. And people will need to start looking for a new job.
CORNER OF THE GALAXY PODCAST