Wow. That's perhaps the best word to summarize everyone's response to USL– PRO's giant announcement and marketing festival yesterday.
And just as MLS rebranded itself last year, USL followed suit. A juggernaut for marketers, including yours truly. I admit it — I was wowed. I mean, read this excerpt from their website:
"The new logo is not a corporate logo, it is a tribal mark, something to be taken to the heart of each club's community, personalized and worn with pride."
That's brilliance. We are a tribe. A community. An identity. Wear it as a tatoo of belonging. How can anyone resist? But they continue. They claim the word UNITED as their own and with it, claim the status of a truly united/unified league that ought to be taken seriously.
"UNITED CLUBS – The continued expansion of the league will lead to the development of more regional competition, reducing travel costs and further strengthening local and regional rivalries, the lifeblood of a strong soccer league. We are United.

UNITED FANS – Our digital evolution continues. We have created an improved fan experience with a new online home that will serve as THE destination for in-depth coverage of the league. Increased interactive content will include video, live games in HD on YouTube, in-game statistics, and the league's all-new social media hub. We are United.

UNITED ACROSS NORTH AMERICA – All aspects of our league have been elevated, both on and off the field, to the extent that the time is right for USL to re-establish its Division 2 status. This year the League will apply for USSF Division 2 sanctioning to accurately reflect the quality of our league, our ownership groups, our stadiums and our fans. We are United.

A UNITED BUSINESS – Our sustainable business model continues to attract dynamic and experienced ownership groups that work together to support and enhance what we do every day. We are also a proud partner of Nike Soccer, the official apparel and equipment provider for USL, with the iconic worldwide brand standing as the league's oldest and most loyal partner. This year, the USL will also make the first of a number of exciting announcements about new commercial partnerships that will add value to the league, our clubs, and the fan experience.
Okay, so just to round off their impressive blitz, USL goes further to explain their new logo design, in case anyone was still confused.

Inspired by the geometry of the field, its design cues are more akin to a 21st-century startup than those of a monolithic sports league. You will see no sporting or soccer clichés here. The simple shapes of the USL lettering appear as a stencil and hint at its flexible use…
Goodness. The average soccer supporter in the US is at this point, applauding with glee. Their logo represents the simple, clean lines of a soccer pitch. Their name represents a unified and growing community under one organization.
But, from the moment I saw this gorgeous colorful display that mirrored the MLS' marketing strategy, I became suspicious. Why was it such a synchronized release? Why was everything so perfect and flawless? I mean, is anything that glitters so much ever really what the marketers promise? After all, it's a marketer's job to lure you in, distract you with shiny objects and glowing phrases.
What is it that makes me suspect a bit of over-promise? 2011: 12 teams. 2015: 13 new teams (7 of which are owned and operated by MLS clubs).
"The 2015 season will feature the debuts of new USL clubs in Austin, Charlotte, Colorado Springs, Louisville, Montreal, New York (Red Bulls), Portland, Saint Louis, Salt Lake City, Seattle, Toronto, Tulsa and Vancouver."
And voila, they've doubled in breadth but what about depth? What about maintaining similar standards throughout the USL league — not just to satisfy USSF regulations, but also to maintain a sustainable business model, an equal level of play, and a sense of parity between the MLS reserves and the independently operated teams?
For the past 3 years it's been clear the USL is vying to return to the second tier of US Soccer, a status they had from 1996-2009. The NASL siginificantly raised the standards of D2 when it arrived in 2011, bringing with it an increase investment quality, ownership standards and in some cases, performance. The NY Cosmos are a prime example.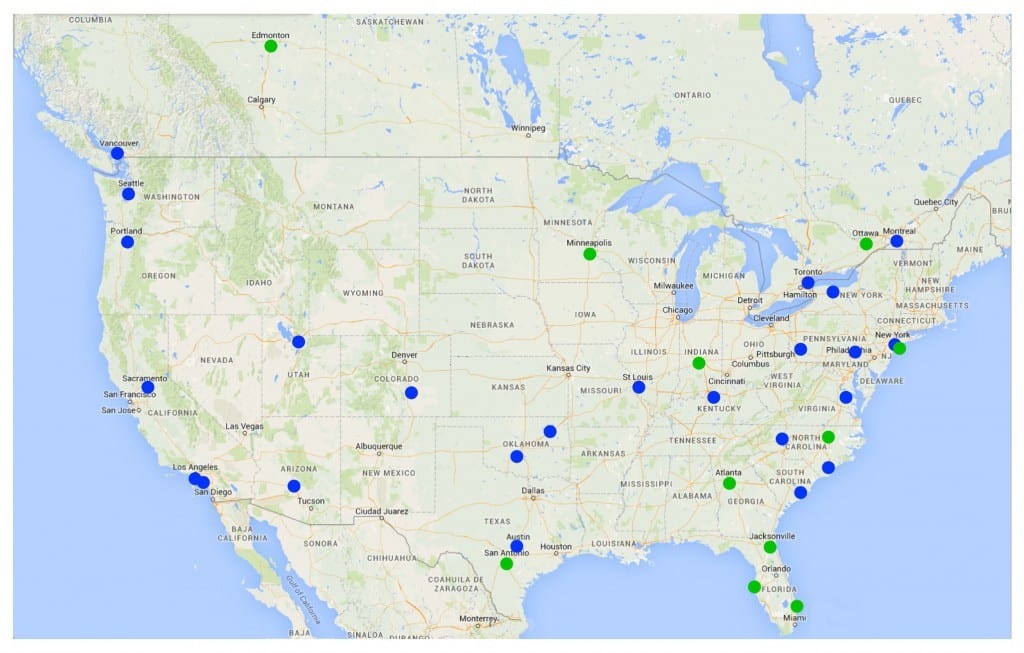 However, the sentiment has been for a while now that MLS treats NASL like a red-headed stepchild. The marriage of USL-PRO and MLS was always considered a thorn in the NASL's side, and with good reason. MLS has been moving into NASL territory in cities like Atlanta and NYC, where many raise questions of whether both leagues are vying for the same supporters. Can a city sustain that much soccer?
The problems of the Atlanta Silverbacks are particularly illustrative. Even as a player and coach of youth soccer in Atlanta, I could barely muster the drive out to the Silverbacks stadium more than once a month.
Even as a soccer aficionado in Atlanta, I could barely muster the drive out to the Silverbacks stadium.
I felt like a hypocrite: I wanted them to succeed, to reach the soccer-loving Atlanta population. And I've seen first-hand the jubulant crowds that gathered at the Georgia Dome for matches. The 2013 Gold Cup Quarterfinal double-header, which drew 54,229 fans. The 2014 pre-World Cup friendly, Mexico vs. Nigeria, which sold out the Dome and drew the largest soccer crowd in Georgia since the '96 Olympics.
But the nature of the beast that is the beautiful and bustling metropolitan of Atlanta, is that you can't be too far out from the perimeter if you want a crowd to show up regularly (especially without public transit access). The Silverbacks are just too far out of the urban core and the hip soccer population that populates the Brewhouse every weekend. Neither the re-branding push, nor the powers of Eric Wynalda's recruitment of high quality athletes could save them.
I feel their pain on a very personal level. I love the Silverbacks and pushed for them, but there is a general lack of awareness of the team within the Atlanta area in the urban communities. NASL has been forced to assume ownership and operational control of the Atlanta Silverbacks. Under new leadership, we'll see how 2015 pans out for them with a new head coach and fresh start. I'm keeping up the faith, or at least an open mind. One thing I am betting on though is that MLS Atlanta has truly hit paydirt with their partnership with the Atlanta Falcons.
If Atlanta represents a cautionary tale NASL's prospects, New York City showcases the best model for the future.
If Atlanta represents a cautionary tale NASL's prospects, New York City showcases the best model for the future. In New York it's clear that there's supporter loyalty and brand awareness for the NY Cosmos that will continue to grow and build. And signings like that of Raúl are a strong indication of the Cosmos confidence that they'll be successful.
Without the restrictions MLS places on investors and players, NASL clubs have the ability to grow at a more independent, free-market rate. And as Raúl and the Cosmos will show, that includes experimenting with their player development system. Raúl will direct the NY Cosmos' youth academy. Within the NASL structure, the Cosmos have been able to exercise the independent thinking that it takes to play at a high level and foster development of their brand and invest in a unique youth academy. I  doubt they'd have that opportunity as a USL or MLS team.
Without the restrictions of MLS, NASL clubs have the ability to grow at a more independent, free-market rate.
And consider the evolution of Indianapolis as a sports city. What Indy Eleven is proposing now is a modern bird's-nest-style stadium with soccer as its anchor tenant. State lawmakers have a hearing tentatively scheduled for Monday on building the $82 million, 18,500-seat stadium for the Indy Eleven soccer team and other events. Indy Eleven President Peter Wilt said he's bullish about the future of the NASL because in his 28 years in pro soccer he has never seen as much demand for franchises across all leagues.
The stadium is an expensive investment that will raise crucial questions about the team's longterm viability and financial projections, but given the repeated sold-out games, it's a question worth exploring. The future in Indianapolis for soccer is bright, whether it comes from the NASL or an MLS expansion team. For now, the NASL's Indy Eleven has the head start there, and I'm betting that lawmakers will choose to invest in their own city's entertainment and sports future at some point in the near future.
That's the state of the NASL, and it's a wide range of successes and near-failures. So how does USL stack up?
First off, hats off to Orlando and Sacramento! What these USL teams have accomplished in their communities is beyond reproach. Their special type of community engagement and ticket sales is what sports biz folks dream of. OCSC reached MLS expansion status in 4 years. They've already secured 11,000 season ticket holders for their first season in the MLS. Mind you, critics are quick to point out that being the only MLS team of the South, it's no secret formula to hit that milestone. However, no one can deny Orlando's success as a USL-PRO team. Orlando City won two championships in just four years. Their DP is a star from Brazil. Success came easy. The market was wide open for a soccer team to rule the landscape.
Sacramento is looking to follow suit — and making a run for the next open MLS expansion slot. With their consistent sellout crowds, new investment from the Sacramento Kings and the support of the 49ers, they're boosting an already solid case. But it's important to note they've only been a professional club for 1 year.
This begins my concern with the USL's recent boom. Isn't there such a thing as growing too fast? Is the league able to support such a dramatic expansion? I'm all for growing the beautiful game, but I sometimes wonder about the quality of the game and business? What about salaries and standards for the players? Is the USL meant to be a feeder for the MLS? Is the USL a reserves league? Or is their purpose to provide the public with a professional quality game alternative?
Is the USL meant to be a feeder for the MLS? Is it a reserves league? Or is their purpose to provide the public with a professional quality game alternative?
The 12 MLS clubs that don't own and operate their own USL team are all affiliated with a USL club. MLS clubs will be able to loan players back and forth from their senior roster to their USL club/affiliate throughout the 2015 season. The integration of the USL-Pro and MLS Reserve League in 2013 was meant to 'improve player development and build ties within the American soccer pyramid.' With that move, the MLS sent a clear signal to the NASL that they were on their own.
But the USL has its weak spots. Weaker ownership groups, like those in Charlotte and Dayton, recently pulled out. The Orange County Blues and Harrisburg City Islanders are also potentially weak links, and there could be more.
The criteria for D2 are clear. I've listed a few here that could prove to be hurdles for some of the USL teams (not the ones associated with MLS teams).
There are stadium issues to address:
All league stadiums must have a minimum seating capacity of 5,000.
Not later than 120 days prior to the start of each season, each team shall have a lease for at least one full season with its home stadium.
And there are financial considerations that have to be met:
Each team ownership group must demonstrate the financial capacity to operate the team for three years. As part of the process of demonstrating financial capacity, each ownership group must provide detailed financial history (if applicable) and projections (including a detailed budget) for the team to the Federation in a form satisfactory to the Federation…
Kartik Krishnaiyer, former Director of Communications for the NASL back in the early days, puts forth a compromise to this dynamic political and financial minefield. "My suggestion would be for USL to apply for D2 status with ONLY its independently owned teams, leaving a separate reserve league for MLS-run clubs to compete at a D3 level." This would truly avoid the whole monopoly question that is looming. What happens to the beauty of the US Open Cup if the diversity that the NASL brings is lost? What happens to the grassroots game development if it all becomes about the MLS?
NASL was officially founded in November 2009, when a group of Second Division men's professional soccer team owners banded together to form North American Soccer League, LLC for the purpose of creating a team-owned and operated professional soccer league in the United States, Canada and Puerto Rico. In February 2011, the NASL received provisional recognition from the United States Soccer Federation (USSF) as the exclusive Second Division men's professional league (D-2). The inaugural season kicked off on April 9, 2011. The NASL received official Division 2 sanctioning from the USSF in March 2012. Each team within the league is responsible for its own player investment and development, and is free to scout, trial, sign and transfer players as it wishes in the best interest of the individual team. While there are limits to the size of the active rosters for each team (30) and the number of foreign players permitted per team (7), the league does not impose a salary cap on its members. That last part should ring as significant in your ears.
The NASL will not just disintegrate because there remains a demand for a privately funded, independent league — at least until the MLS is more secure. There is too much at stake and for the MLS to inadvertently push them out would be a tremendous loss to the diversity within existing and potential markets for soccer in the US.
What the NASL currently lacks in the context of the MLS/USL map is clear — a Western foothold. But, given the pace at which Sacramento grew, and the heavy push for a Las Vegas team, I could easily envision an NASL team (or two or three) rise within the next year in, say, Seattle, Las Vegas, San Francisco, San Diego or elsewhere in SoCal. The talent pool is there, it's just a matter of time before the next generation of private investors make the next move.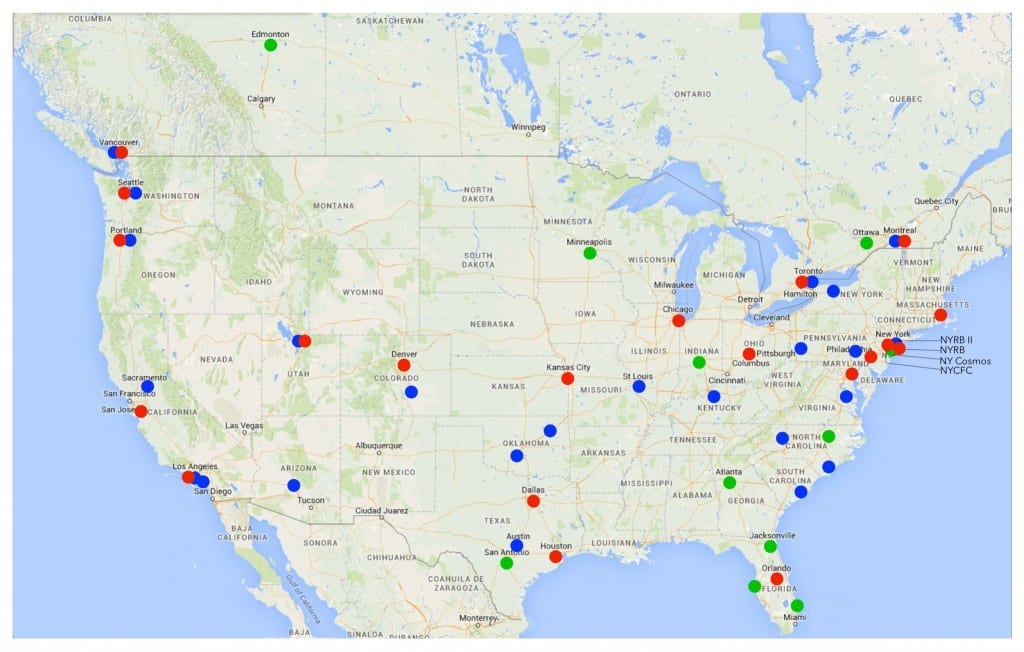 USL starts its 2015 season on March 21. Every USL game, including the ones featuring teams owned by MLS clubs, will be streamed live for free on Youtube. The announcement comes on the heels of the NASL announcement of its streaming model for the upcoming season, where live and on-demand streams of all games will be available under a $4.99 monthly subscription. The Spring NASL season begins April 4th. Let the countdown to nonstop soccer for us all begin!