LA, with a 26-game unbeaten streak at StubHub Center, are heading into Saturday's match on a 3-game undefeated streak and against a travel-weary opponent that has criss-crossed the nation from Colorado, to NY/NJ, to LA in a matter of days.
But, first let's get the bad news out of the way before this Saturday's Western Conference match against the Colorado Rapids. Robbie Keane remains out of commission. He's still recovering from a groin injury sustained during April 4th's loss to the Whitecaps.
"It is an impact. We don't have any Robbie Keanes sitting on the bench at the moment. When you lose Robbie, you lose some characteristics of your attack but then it takes a little bit of time. But having said that since when Robbie has been out, we've still been able to get points. It is what it is." 
—Bruce Arena, head coach, LA Galaxy
Three games have come and gone, arguably at least two were lucky outcomes. Those three matches have had elements of experimentation with lineups and formation due to necessity. Meanwhile, Jose Villarreal's aggravated hamstring injury from U-23 action has sidlined him and continues to do so although Arena indicates that Jose "will be getting back [to practice] soon."
Given that both Colorado and LA drew against the competitive former Eastern Conference leaders, the NY Red Bulls in their last respective matches, comparing their performances could help predict what to expect from this Saturday. Both LA Galaxy and Colorado Rapids fired the first goal of their matches against the Red Bulls but were unable to hold off NY from equalizers. Unlike Colorado's rather feisty performance last night, LA left many wondering what would happen in the wake of a prolonged Keane absence from the first third. NY officially stymied LA's attack and passing prowess leading to a dishearteningly low 67% passing completion rate. Although the addition of newcomer Bradford Jamieson IV to the front brought fast legs and a surprise element to their attack, questions remain about his lack of experience. However, with his goal last Sunday, BJ IV became the second-youngest player to ever score for LA and he later thoughtfully dedicated his goal to a move he learned from Robbie Keane.
"That was kind of like something that I watched when we play with Robbie [Keane] in practice… That cut is kind of identical to what he's doing in training. It was kind of like it was second nature, really. I wasn't really thinking about it." —Bradford Jamieson IV

BJIV in a moment of reflection
Given Keane's likely absence this Saturday, we have little reason to doubt that Bradford will be starting again in the same position and it would be interesting to see how he continues to adapt to the role. His assertive and energized style of play will likely prove to be a thorn in the Rapids' side. But Arena realistically tones down the general enthusiasm:
"Who knows, it's a long way away. Let's talk in a couple years on that. He's doing well. Let's wait a while. Let's not get crazy like everybody does every time a young player does something right. This is a long haul in becoming a player. He's many years away from being where we would like him to be and where he's going to be so let's just be patient and see what happens down the road."
—Bruce Arena
Looking back at last week's starting lineup, I can imagine Arena making some changes, experimenting with bringing Gyasi Zardes up front (especially given that he underperformed in his role last weekend), leaving Gordon as a sub to get a last-minute goal if needed, putting in Mika Väyrynen instead of Ishizaki as a starter. Mind you, I didn't say start Edson Buddle — though I really want to give him more of a chance to recover confidence post-injury, I'm not sure this is the game to test him out in. Maybe when Keane's back. At this point, it's as Alan Gordon put it last week when I asked about LA's ever-evolving identity: "It's still a work in progress. There's new faces, seems like every week. We just have to do our best to have guys step up and put forth a good effort."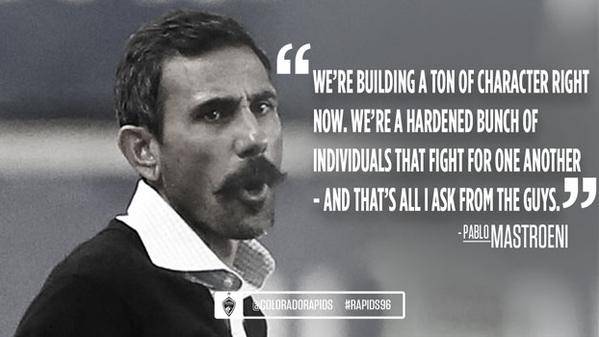 As for the Rapids, who arrive in LA tonight, they have an obvious disadvantage. An incredibly rough travel week with two difficult opponents on opposite sides of the country. Barely having 2-days off in between with a cross-country flight squeezed in is no walk in the park. They are serious when they say the guys will all be wearing compression socks. But, they're not playing it off without planning this year. And they are on an unbeaten run on the road this season.
"What I learned from last year is that the most important game is the one before you. There is no other game. You put your best foot forward against New York, you see how many men you have standing after New York and then you make the necessary adjustments to go to L.A. At the moment we're pretty thin, numbers-wise."
—Colorado Rapids coach, Pablo Mastroeni
Based on the substitutions in their draw last night at Red Bulls Arena, I'd guess Gabriel Torres and Dominique Badji are players Pablo intends to fully utilize this time. Dillon Powers remains one of Colorado's strengths and midfield powerhouses leading directly to last night's goal against the Red Bulls.
"I think [Powers] has been very bright for us," Rapids head coach Pablo Mastroeni said earlier this week. "The confidence that he's playing with and the way he's brought his teammates into the game, he's been exceptional."
Missing from action for Colorado is LA's former beloved midfielder Marcelo Sarvas, who is recovering from knee surgery and is expected to be out for 4-6 weeks.
The Galaxy are 34-24-7 against Colorado all time in their 65 regular season meetings. At home, LA have a 23-7-2 record against Colorado. In their last meeting, the Galaxy earned a 6-0 victory over the Rapids at StubHub Center last year with two goals each from Landon Donovan, Gyasi Zardes and Baggio Husidic. Saturday marks the first of two times the teams will compete against each other this season. Kickoff is at 7:30 p.m. PT at the StubHub Center (TV: Time Warner Cable SportsNet, Time Warner Cable Deportes; Radio: The Beast 980 and ESPN Deportes 1330 AM). LA Galaxy II will host Vancouver Whitecaps FC 2 at StubHub Center's Track & Field Stadium Sunday at 5 p.m. PT.