The 2016 schedule balances well and includes some great home games, but there's danger lurking
The 2016 MLS schedule starts at home for LA with the last nationally-televised marquee match of Opening Day against Eastern Conference rivals, D.C. United March 6th.
Are the days when rivalries felt more real because we simply had less teams and therefore more opportunities to build lasting drama gone? LA will face their Western Conference opponents either twice, as is the case for Portland, Vancouver, Dallas and RSL, or three times as is the case for Colorado, Houston, San Jose, Seattle and Kansas City.
The Eastern Conference teams LA will play once during the season, and the teams who will be hosted at StubHub are Columbus, D.C., New England, New York Red Bulls and Orlando. Road games out East will be against Philly, NYCFC, Montreal, Chicago and Toronto.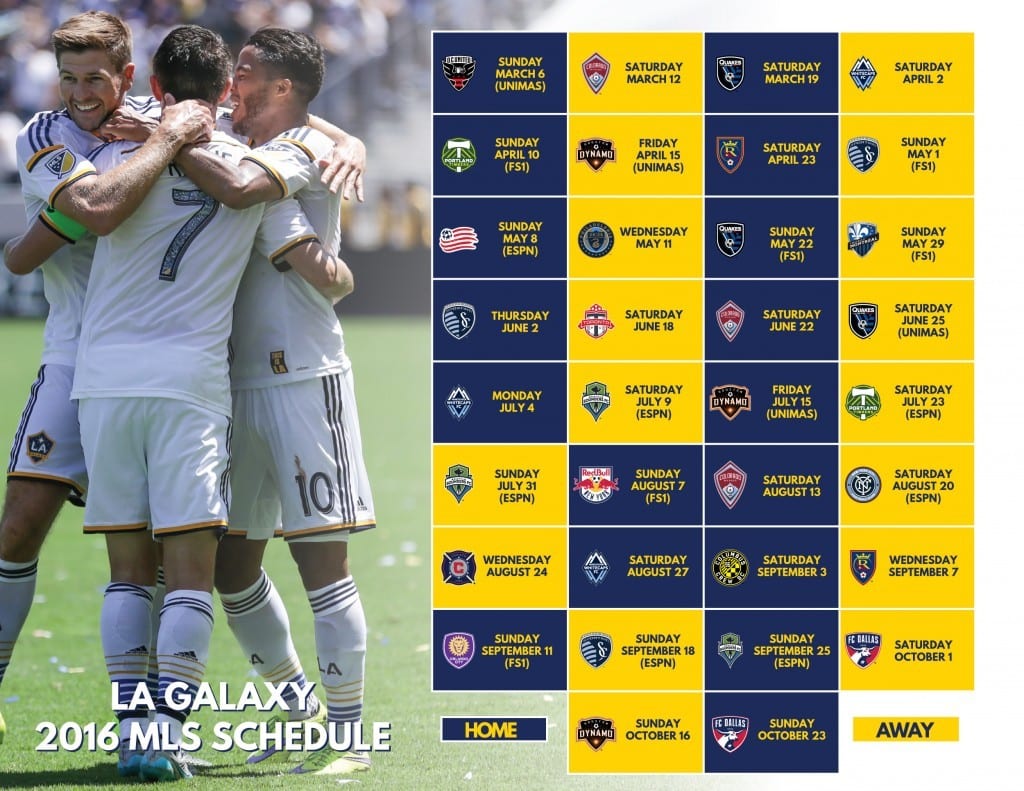 Beyond the opening match, here are some highlights to look out for:
The First California Classico is at home on March 19th against San Jose Earthquakes. There's a gap until April 2nd for an away match in Vancouver so you'll be starving by then for this one.
April 10th marks a chance at a redemption match against Portland where the Galaxy have the opportunity to beat the 2015 league champions at StubHub. Portland's sizzling run for glory began to take off last September in that demoralizing and symbolic 5-2 win in Carson.
Independence Day matches are always a summertime treat and this will be the 21st time LA has the fortune of hosting at home, this time against Vancouver Whitecaps.
Overall, LA plays alternating home and away games on a fairly regular basis until the end of July when they face our biggest Western rivals in the Northwest Pacific on their turf, with a July 23rd match in Portland and a July 31st match in Seattle. The Sounders are anticipated to have a strong season and LA will challenge them on their home turf twice this summer, once on July 9th and then on July 31st – they're expected to yield some of the largest ESPN ratings and home crowds so if you're planning a visit up North, I'd suggest planning that vacation in July to lend your support!
As part of the Heineken Rivalry Week, San Jose will be at LA Galaxy for another Cali Classico on May 22nd.
August 7th the bombastic New York Red Bulls are in town and that will be an epic opportunity for some good old-fashioned East vs West action.
August 20th come out to Yankee Stadium to watch LA play NYCFC if not for the big names they carry, for the venue alone. I personally recommend it along with a slice of authentic NYC pizza. Under new leadership and with a more humbled approach, NYCFC will be a team to watch more closely this year.
Columbus Crew will be at LA Galaxy on September 3rd, and you shouldn't miss the opportunity to watch them. It will be late enough in the season that Kei Kamara and his teammates will be itching to make up for the Cup loss at home last year.
A personal favorite of mine, and your only chance to see a regular season game at the RioT, LA head to Real Salt Lake for a match on September 7th. Although this rivalry has lost some of its glimmer, there are few venues that beat the experience.
LA hosts Orlando FC on September 11th, a mere four days after an away game, so it'll be interesting to see how Arena strategizes a tired team against Kaká and last year's standout Cyle Larin.
Last but not least, Dallas will be the final regular season match for LA, and it will be a home game. They'll have just played each other 3 weeks prior to, and whatever the result there, emotions and memories will still be strong, regardless of what Bruce Arena's line about 'every game is a new game' states. October 23rd, get yourselves ready for the end of the regular season with FC Dallas, and what will hopefully be a jumpstart into the playoffs.
Out of LA Galaxy's total regular season 34 matches, 17 will be broadcast on one of MLS' national television partners: ESPN, FOX Sports and Univision networks. That's quite a feat considering how few some teams are televised- take Columbus Crew's paltry 3 for example.
2016 LA Galaxy Schedule Stats:
The majority of the LA Galaxy's games will be played on Saturday (13) and Sunday (13). With 5 Saturday home games and 8 Sunday home games.
The busiest months for overall games are July (5), August (5), and September (5). With August being the only month LA will host 3 games at home.
May (3) and September (3) will see LA away from home the most.
Both the longest Road Trip and the Longest Home stand at 2 games. And LA will only have to accomplish both of those feats twice. This gives LA Galaxy a fairly balanced schedule in that regards.
Watch out for the end of August into the almost middle of September. The LA Galaxy will play 6 games in 23 days. Thats just a little less than one game every four days. If you were concerned about the "youth" of the LA Galaxy roster, this may be the time it could prove out your theory.