Carson, CA – Emmanuel Boateng and Jose Villarreal may be just 21 and 22 years old respectively, but tonight the two youngsters were credited with most of the excitement at StubHub Center.
Boateng played the first forty-five minutes at left midfield  in the LA Galaxy's 2-1 win over FC Shirak and at moments looked electrifyingly quick, but also raw and in pre-season form. And while he's currently holding down a starting spot for Sebastian Lletget, as Lletget returns to form from a minor injury, he may also be playing himself into starting XI consideration.
Playing last year for Helsingborgs IF in Sweden, with 37 appearances and 4 goals, the left footed speedster impressed the crowd with several intelligent runs off the ball, and a quick first step that saw Shirak FC struggle to catch up.
In one particularly telling sequence, Boateng sent in a cross that just missed Robbie Keane. But the ball found it's way to Giovani dos Santos who danced along the end line until he was able to cross it to a back-post-running Alan Gordon. Gordon's header was blocked off the line but it was a dangerous combination of youth and experience all in one.
"I think he (Boateng) did well. Our players are learning a little bit about him and he has to figure out some of our players. He was dangerous at times with a good effort on both sides of the ball and I think he had a good performance." Bruce Arena Head Coach & General Manager
Noting that this is still preseason, Boateng also made some mistakes in his opening 45 minutes. He gave up the ball in a poor position late into the second half that should've seen FC Shirak counter. But a stout LA Galaxy defense of Romney, DeLaGarza, Leonardo and Rogers kept anything from becoming of it.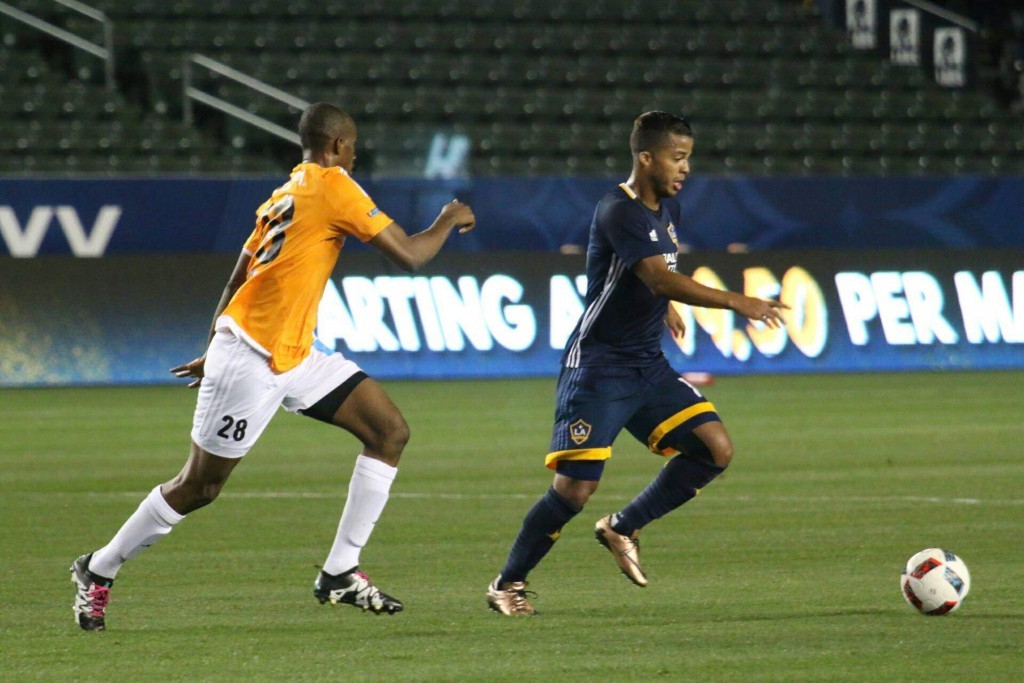 With the LA Galaxy's "first" team being held scoreless in the first half, and Boateng no longer on the field – along with every other starter – it was up to Jose Villarreal to do all the LA Galaxy scoring in the 55th and 80th minute.
Villarreal put two great shots on target. The first on an assist from fellow homegrown player, Oscar Sorto and the second from Nacho Maganto on the left side that saw Villarreal finish with a chopped kick.
"To me they are just goals, great team goals, and nothing but the best out of my teammates and that is what I like to do. We have been training pretty hard this past week and this group in particular, we've been working hard and showing Bruce [Arena] what we can do and it came out pretty well tonight." Jose Villarreal, LA Galaxy Striker
Jose, who's returning from injuries he received last year, looked healthy, calm and collected. But with questions remaining about matching MLS' pace of play, it'll be interesting to see if he continues to get time.
"Two good goals, no question about that. You could see his fitness has to get a little bit better, that is always a challenge for Jose, but he is a good player, he is a player that we think has a future with the Los Angeles Galaxy. We keep pushing him every year to get him a little better, last year was a difficult year for him. He started off well and just suffered a series of injuries throughout the year so that kind of put him out last year. We are hopeful he can stay healthy and get some experience this year." Bruce Arena Head Coach and General Manager
This LA Galaxy team is very, very deep. With most positions seeing three or more players capable of being slotted in. For both of these young players, Boateng and Villarreal, it'll be interesting to watch and see how much playing time they receive as the LA Galaxy come down the stretch.
NOTES:
Baggio Husidic played really well in the midfield linking play with Giovani dos Santos to his right.
Giovani dos Santos is a great spark on the right side of the midfield and his positioning kept him away from Robbie Keane. Which works much better.
Robbie Rogers once again looked comfortable at right back. Which is good because Ashley Cole is going to play at Left Back.
The StubHub center field was just laid down on Wednesday, Thursday and Friday. It was in great shape considering the quick turnaround. Leading Dan Kennedy to say "I don't know how that field is in that good of condition after being laid down just a few days ago. It was in really good shape considering that."
From the LA Galaxy's game notes: Andy, the Armenian-Iranian singer, brilliantly performed three memorable pop hits at halftime of Saturday's match to the delight of the crowd at StubHub Center.
11,013 fans made for a fun, lively, and pro FC Shirak crowd.