Carson CA – The LA Galaxy return home to play the San Jose Earthquakes at 7:30 PM after a disappointing 1-0 loss at Dicks Sporting Goods Park against the Colorado Rapids. The game will be televised on Time Warner Cable SportsNet and Time Warner Cable Deportes.
Dom Kinnear's Earthquakes travel to LA for the California Clasíco after beating MLS Cup Champions Portland Timbers at Avaya Stadium  2-1 last weekend with a goal from Chris Wondolowski and a goalazo from Quincy Amarikwa. Wondolowski scored his second goal in as many games and Amerikwa scored what could be the goal of the year. That was San Jose's second consecutive win and makes them 2-0 heading in to week three (Both games played at home. The Earthquakes have yet to play a road game in 2016). The two consecutive wins to start the season is a first in their franchise history.
Bruce Arena's LA Galaxy lost in the dying seconds to the Rapids on a goal from Marco Pappa. The Galaxy were without Dan Kennedy, Ashley Cole, and Gio dos Santos during the Rapids match. Bruce is hopeful to have Cole and Dos Santos back for the Earthquakes match, however it may come down to a matchday decision.
The Galaxy might want to start with the attack of Magee, Robbie Keane, and Gyasi Zardes to counter the potent attack of the Earthquakes.
The last time the two clubs met was in preseason, on February 13th in Las Vegas, as the Galaxy won 1-0, on a goal from Gyasi Zardes and an assist from Robbie Keane. In the season series last year each team won the games they played at home. With San Jose winning on Aug 28th, 2015 (1-0) and June 27th, 2015 (3-1), and the LA Galaxy winning 5-2 on July 17th, 2015. The two previous matches before that saw two consecutive draws.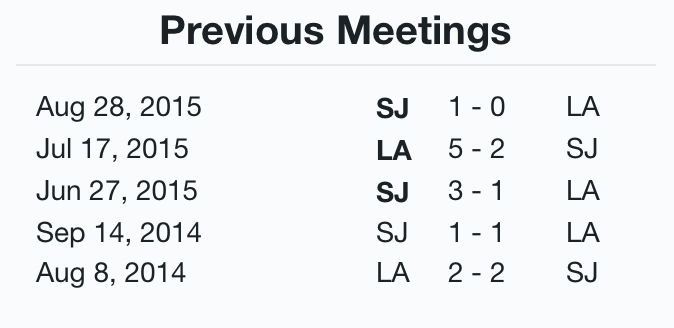 Going back over both teams' last six games San Jose has clearly been the hotter team. The LA Galaxy have 1 win, 4 losses and 1 draw (1-4-1) to the Earthquakes' 4 wins, 1 loss, and 1 draw (4-1-1). Both of those records stretch back into the 2015 season.

LA GALAXY INJURIES:
The Galaxy are still battling back from some early season injuries. It's expected that Ashley Cole and Alan Gordon will be ready for the matchup with San Jose. However, Giovani dos Santos (muscle tightness), Dan Kennedy (Groin Tear) and Jose Villarreal (Unknown) aren't likely to be ready for this Saturday.
Dan Kennedy (Out)
Jose Villarreal (Unlikely)
Giovani dos Santos (Unlikely)
Alan Gordon (Probable)
Ashley Cole (Probable)
POTENTIAL LINEUPS
Galaxy (4-4-2): Rowe; Rogers, DeLaGarza, Van Damme, Cole; Zardes, De Jong, Gerrard, Lletget; Magee, Keane
San Jose  Earthquakes (4-4-2): Bingham; Wynne, Bernardez, Goodson, Elneny; Quintero, Alashe, Godoy, Dawkins; Amarikwa; Wondolowski