Vancouver Whitecaps – 0
LA Galaxy – 0
Yellow Cards: Daniel Steres 17th min; Jelle Van Damme 24th min.
Red Card: Matías Laba 28th min
A slurry of injuries left all of LA Galaxy's DPs out of tonight's match at BC Palace against a strong opponent and a poor record in Canada, and though an early red card took Matías Laba out of the match for Vancouver in the 28th minute, the cobbled Galaxy couldn't make their way cleanly into the net. Heroics from Rowe kept the match an even 0-0 draw with both teams taking a point.
Vancouver starters Morales and Kekuta Manneh were both subbed off in the first half with injuries and Matias Laba's studs up tackle on Mike Magee in the 28th minute left visiting LA Galaxy with a clear advantage. Yet, the clear possession advantage was not enough to overcome the youthful inexperience of the starting lineup's offense.  Ariel Lassiter played his first 66 minutes, filling in for the recovering Keane, was just unable to connect with his teammates to score but they were quick to his defense afterwards. "Ari was great. He hustled and ran; I don't think we played to his strengths," Mike Magee offers. "He did well. The kid has an incredibly bright future, and today, we should have found a way to get him in behind a little more. It would have played into his strengths better."
Both goalkeepers saved their teams tonight. First David Ousted blocked a Sebastian Lletget header in the 34th minute. Then, a one-handed leaping save from a Jacobson howler by Rowe at the end of the first half kept the first half a scoreless draw.
34' Ousted with the great save! Still 0-0 @bcplace #VANvLA. #VWFC playing with 10 men. pic.twitter.com/4qXSuTUlBv

— Vancouver Whitecaps (@WhitecapsFC) April 3, 2016
LA Galaxy's next golden chance was in the 70th minute after a perfectly-placed Lletget cross went from Gyasi Zardes' thigh onto his right foot, and straight at Ousted's face like a bolt.
David Ousted…how? #VANvLA https://t.co/XrDrpJOTZJ

— Major League Soccer (@MLS) April 3, 2016
Alan Gordon's storybook moment came with under a minute left in the match. Yet, he was just off by enough to dash all LA's hopes of leaving Canada with 3 points. BC Palace, packed with 27,038 fans, breathed a sigh of relief as the final whistle was blown and the night ended scoreless.
THIS close. 😧 #VANvLA pic.twitter.com/nmgssFtsvT

— LA Galaxy (@LAGalaxy) April 3, 2016
"Going into this game, we wanted to go for the three points." – Brian Rowe. It's rare we hear LA say they were striving for three points from the get-go and not just a tie on the road. Perhaps the key to a successful draw is aiming for a win?
Well, this was certainly different thanks to the injury tally racking up and Zardes resting a bit after his busy USMNT schedule. Ariel Lassiter got his first start though he had to be satisfied retaining puppy status as he was subbed out of the match in the 78th minute for Bradford Jamieson. Boateng started but played on a side we haven't seen him on in the pre-season and by the second half, he'd switched back to the left. Lletget was not where we'd expect and by the end of the first half it seemed he needed to step back a bit and become more a chance creator than the striker, which he definitively did when Zardes came on as a substitute for Husidic. Nothing new to report from the solid back line and Nigel de Jong quietly stepped up as captain and took control of the midfield; technically he was literally everywhere, and on a night where he was required to remain calm and balanced yet assertive, he was. Brian Rowe delivered a performance in goal worthy of a starter, smothering Vancouver's shots, a mere two of which were on target. The best part of this evening was that we finally got to see some less-visible players get a shot – BJ IV, Lassiter, Boateng and Gordon. Boateng's delivery was less-than-stellar; he was far better in his efforts in pre-season pairing with Keane, but it's still early and he will likely get consistent playing time with Los Dos to mold his energy into a more nuanced touch. Lletget was one of the clear stars of the night, doing his best to play the role of creator. There simply wasn't enough movement in the final third to make it happen in spite of 15 efforts on goal (only 4 were on target).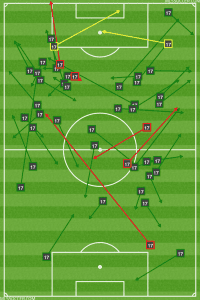 That was kinda of a lame birthday gift, @LAGalaxy. Almost like getting flip flops as a gift. Better than nothing I guess…

— Lucho (@soccerboner) April 3, 2016
I can relate to this tweet.
No denying it. The moment Mike Magee went down and Matías Laba went out, the dynamics of the game should have changed. And the fact that they didn't enough to make a difference, is crucial. Was it a red? I can't see from the replay angle for sure… Arena is right, red card fear might rule games way too much in the future.
#LAGalaxy's Bruce Arena on red cards. "Too many red cards are ruining this game. Seems like a red card every game." pic.twitter.com/zesEevN1h6

— Har Journalist (@HarJournalist) April 3, 2016
LA's Nigel de Jong played as he promised he would deliver. He is a man of few words off the pitch and prefers he let his feet do the talking during games. Tonight was proof.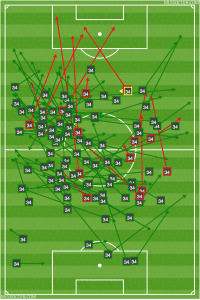 Clean sheet tonight the NB gloves works and so does the face 😜 #VWFC #VANvLA #newbalance

— David Ousted (@David_Ousted) April 3, 2016
Against Vancouver, the Galaxy are now 8-3-3 all time, including 2-2-3 in road matches.
Goalkeeper Brian Rowe helped the Galaxy record their first shutout of the year, career total – six shutouts.
Bradford Jamieson IV made a substitute appearance against Vancouver Saturday night, his first appearance since July 25, 2015.
 Ariel Lassiter made his first-ever MLS start Saturday.
LA Galaxy host the Portland Timbers at home April 10th. Though the Galaxy's defense has held up so far this season without much worry, they have yet to face an offensive-heavy team. Enter Portland.