April 9th Update: At training this morning every player except Jose Villarreal, who played 90 minutes for LA Galaxy II on Friday night, and scored a goal, was present. Including all of the injured players.
Robbie Keane was seen walking around and in a good mood. He stopped to say high to the visiting press and seemed to enjoy the quick back and forth. Robbie looks to be ahead of that 4-6 week time frame and it'll be interesting to see if he can come back under the low end at 4 weeks.
Steven Gerrard was also at training and was doing some light fitness off to the side. Gerrard's return looks like it's in the final stages and I wouldn't be surprised if he's back to full training by next week.
Leonardo also did some light running off to the side at training today as he tries to rehab a knee injury.
AJ DeLaGarza, who's had some recurring issues early this season, also did some light drills off to the side.
Jeff Larentowicz is in full training and participated in all the activities that I was able to see.
Giovani dos Santos seems pretty comfortable and is expected to play on Sunday. I wouldn't be surprised if he starts.
Overall the team sounded very competitive during a couple of the training games they played including "knock-out" and the "Transfer Game." The latter was especially exciting as screaming and complaining could be heard throughout the training ground. It's not a game you want to lose.
Carson, CA – The LA Galaxy trained this morning at StubHub ahead of their weekend matchup with Portland and reporters were present for several key injury updates.
DAN KENNEDY (GROIN TEAR)
The first updates is that Dan Kennedy, who's been in training after his groin tear, will start for LA Galaxy II tonight (Friday, not Saturday as Kevin Baxter initially reported and later corrected in another tweet). Kennedy will be the starting goalkeeper as "Los Dos" host OC Blues at the main stadium at 7:30PM. Streaming live on LAGalaxy.com.
Keane, Gerrard participate in #LAGalaxy training Friday. Dos Santos likely to play Sunday v Portland. Kennedy to play for Los Dos Saturday

— Kevin Baxter (@kbaxter11) April 8, 2016
PLAYERS ON THE BUBBLE
It will be important to watch this USL game as Ariel Lassiter, Bradford Jamieson IV, and Jose Villarreal are all on the bubble of making either the first team or the 3rd division side. Exclusion in the lineup vs OC Blues could indicate their inclusion in the game vs Portland on Sunday. Jose Villarreal is of particular interest being he's coming back from injury and has been rumored to be training with the first team all week.
#LAGalaxy goalkeeper @1DanKennedy to play for @LAGalaxyII tonight against OC Blues – https://t.co/qCrHNSEASL #LosDos

— Adam Serrano (@LAGalaxyInsider) April 8, 2016
ROBBIE KEANE
The Second update talks about Robbie Keane's progress from his knee surgery. According to Bruce Arena, and as reported by LA Times' Kevin Baxter, Keane is ahead of schedule on his recovery. Which is good news for the Galaxy as they look to find some offensive fire power. However, it still looks like Keane isn't going to be back for at least 3 weeks. Because of the Keane's high profile and his assumed desire to get back to full strength before Ireland head to the Euros, expect weekly updates on Robbie Keane's progress.
Keane's participation in training consisted of standing in the rain watching. But Arena said recovery from knee surgery is ahead of schedule

— Kevin Baxter (@kbaxter11) April 8, 2016
GIOVANI DOS SANTOS
Finally, Giovani dos Santos who has been involved in full training for close to two weeks looks like he will play on Sunday. What role he'll take is still up in the air. But even if it's as a sub, having one Designated Player back is better than none. A 60-minute fit Dos Santos might not be a bad way to start and knowing that you have Alan Gordon on the wings could give this lineup a green light.
WEATHER REPORT
The Weather for Sunday's match might get a little wet. According to weather.com there is a 40% chance of rain for Sunday. And the last time the LA Galaxy played in the rain was a preseason match at StubHub Center vs Seattle. Let's just say it didn't go so well for LA.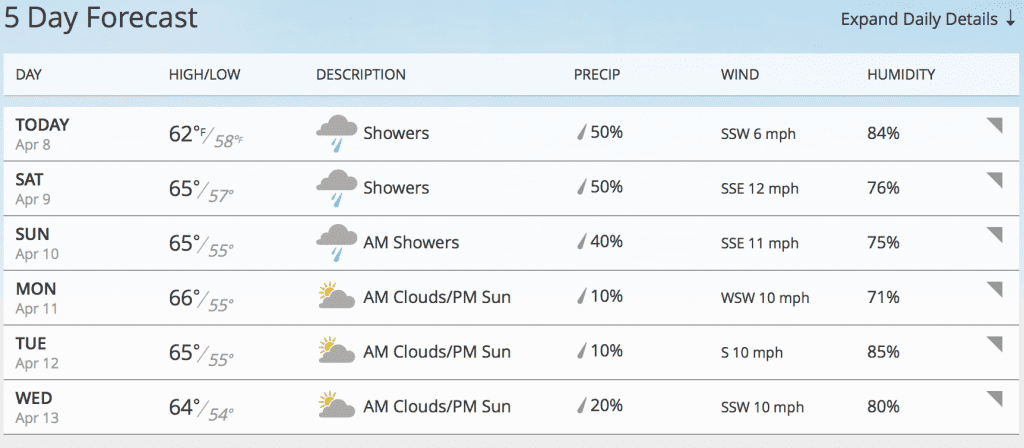 You can read a full game preview HERE and listen to our 60 minute podcast with a full game preview HERE.