Some might have called LA Galaxy a team under a siege of injuries and dirty tackling techniques. Those retractors were quieted tonight as the LA Galaxy defeated Houston Dynamo 4-1 on their own terms under the bright blue Texas sky. It definitely didn't start out well for the visitors, though. Within the first minute, David Horst took advantage of an open window of opportunity with Steres busy watching what turned out to be a clever short corner kick – assists by Alex and Cristian Maidana gave Horst an easy header into the back of the Galaxy's net.
But that wasn't enough for the Dynamo to hang their hats on. "If I had 11 substitutes at halftime, I would have changed them," Dynamo's Coach Coyle declared after the defeat. LA responded to Houston's opening goal with a Giovani dos Santos-led attack and an almost seamless team performance throughout the lineup. Dos Santos had only recently returned from an injury-plagued season but tonight was the first time he looked completely ready to take on the responsibility that wearing a number 10 jersey brings. Netting a brace and having a hand in the other two goals scored by Husidic and Zardes, his distribution shows he didn't need to do a lot to have an impact, he simply needed to be on point with his passes and have pinpoint accuracy and deadliness when it counted, like his first goal in the fourth minute of play in which he was left open to take on Willis who was left high and dry once Lletget took out two of Houston's defenders.
You leave @OficialGio open in front of goal he's gonna make you pay. #HOUvLA https://t.co/dsFesNOZxX

— Major League Soccer (@MLS) April 15, 2016
Once that had settled, LA Galaxy continued their four-star performance with some brilliant clearances by the returning A.J. DeLaGarza, Ashley Cole and Jelle Van Damme. Also Brian Rowe had some action, most of it was unnecessary since the only other on-target shot from the Dynamo came in the 42nd minute from Ricardo Clarke.
Baggio Husidic then scored in the 21st minute, giving LA the lead. And before halftime, off of a long-ball from Steven Gerrard from the right, dos Santos shot a perfect golazo into the back of the net, bringing the score to 3-1 going into the second half.
Still not over this tbh. https://t.co/sflgUmqkKe #HOUvLA https://t.co/UwuqRsZJk1

— LA Galaxy (@LAGalaxy) April 16, 2016
That ball and Steven Gerrard's work rate tonight were practically unflappable. His form and his fitness, both of which have been questionable since he began playing in MLS (and before that actually) were flawless. "I said in the team huddle before the game tonight, we hadn't won on the road in a long time, we need to put that right tonight," Gerrard explains afterwards. "This year we want to prove to everyone we're not only a strong team at the StubHub. We're capable of showing character and fighting on the road and I think we proved that tonight."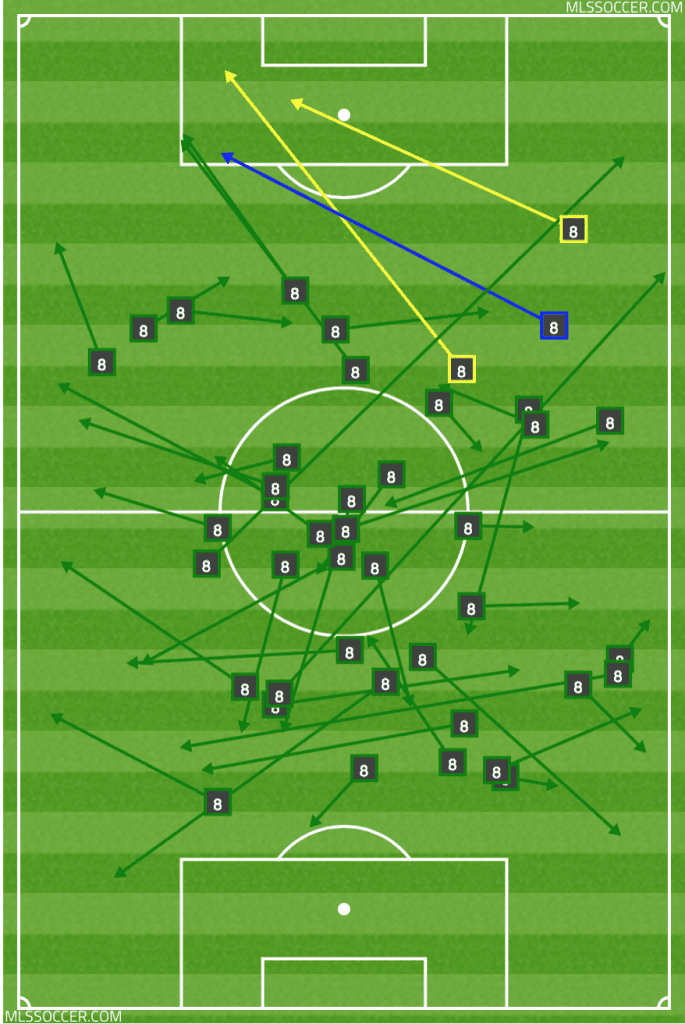 The Galaxy weren't quite finished with their busy goal festival just yet. In the 49th minute, Gyasi Zardes found himself at the right place and the right time off a cross from Sebastian Lletget begun by dos Santos. The scoring was over for the night. Though the dramatics continued for the rest of the match, LA Galaxy had ended their streak of losses in Houston and perhaps have started a new era. An era of a road record that fits the bill for potential future Cup contenders.
"We've been working hard this week. Our coaches had a great game plan how to come out here and execute this team so I feel like it's the start of a new era, " Gyasi Zardes admits, beaming with pride at the team victory. He continues, "We're working together. If someone makes a mistake we're backing each other up. And we were aggressive from the start. Although we suffered a goal, after that we were pressing every single time, working for each other. And when you have that kind of energy and chemistry with your teammates, only positive things can happen."
Next up: LA Galaxy play at home against Real Salt Lake on April 23rd.
Goals:
1′ – HOU – David Horst (Alex, Cristian Maidana)
4′ – LA – Giovani Dos Santos
21′ – LA – Baggio Husidic
31′ – LA – Giovani Dos Santos (Stephen Gerrard)
49′ – LA – Gyasi Zardes (Sebastian Lletget, Giovani Dos Santos)