Carson, CA – The LA Galaxy played to an uninspiring draw against Sporting KC on a Thursday night in front of 19,651 fans. It is now a string of two consecutive home games where the Galaxy have dropped points and it pushes their winless streak to four games before a 12 day break.
Missing Robbie Keane (Ireland) and Gyasi Zardes (USMNT) for the second straight match due to international appearances, LA Galaxy Head Coach Bruce Arena also had to deal with an injured Steven Gerrard who picked up what was reported as a small injury in training earlier in the week.
Arena was left with one Designated Player, Giovani dos Santos, and a depleted midfield. And the first hint that the day would be less than exciting was when Arena played three defensive midfielders in the center of his 4-4-2 formation.
#LAGalaxy XI: Rowe; Rogers, DLG, Steres, Cole; Husidic, De Jong, Larentowicz, Lletget; Magee, Dos Santos #LAvSKC pic.twitter.com/RndVzVyjZ2

— LA Galaxy (@LAGalaxy) June 3, 2016
Jeff Larentowicz, Nigel De Jong and Baggio Husidic filled out the center and right flanks. Only Sebastian Lletget was left in the middle to add a creative spark.
Giovani dos Santos and Mike Magee manned the frontline, and in a surprise, Jelle Van Damme was given a rest for "squad rotation" and in his place stepped AJ DeLaGarza – the most tenured LA Galaxy player on the team (187 MLS appearances for the LA Galaxy since 2009).
The LA Galaxy were facing off against a Sporting KC team that hadn't won a game in ten tries and only picked up five points during that entire run. Not to mention that Sporting had to travel to Los Angeles for a midweek game. The cards were definitely stacked in the Galaxy's favor, even without all their star-power.
THE PROBLEM
The LA Galaxy failed to do absolutely anything on the night. Now I've been watching soccer, and specifically the LA Galaxy since 2009, and I can't remember a worse game in terms of entertainment. As a matter of fact I waited to write this recap because I was trying to figure out a way this game wasn't anything but the worst I've ever watched.
I know some of you are going to argue that any loss is worse than this game, but you'd be wrong. I've seen plenty of entertaining losses. I've seen exciting draws, a bunch of them. But I've never seen a game that has been almost completely devoid of any entertainment value. If you brought first-timers to the game, I'm sorry, they're never coming back.
STATS
The LA Galaxy got outshot 15 to one and failed to register that one shot – A Mike Magee effort that was blocked at the to of the box – on target. ZERO SHOTS ON TARGET AND ONLY ONE BLOCKED SHOT IN 94 MINUTES OF PLAY.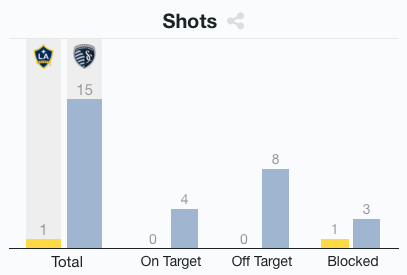 Bruce Arena, in his postgame comments said "We got very little out of our strikers tonight. They didn't play well, they weren't aggressive enough." He continued with the comment that I find to be 100% accurate and something that has plagued the LA Galaxy for the entire season. "I think we (LA Galaxy) want to pass the ball into the goal instead of shoot."
"We got very little out of our strikers tonight. They didn't play well, they weren't aggressive enough. I think we want to pass the ball into the goal instead of shoot." Bruce Arena – LA Galaxy Head Coach
And to prove that possession means absolutely nothing, the Galaxy held 63% possession on the night and made 572 passes when compared to Sporting's 37% possession and 319 passes.
For their part Kansas City did well to get people behind the ball and counter attack against a slower LA Galaxy defense – the same tactic that Montreal used very successfully in the Galaxy's previous game.
Sporting KC Head Coach Peter Vermes was happy with his teams performance. "I thought our game was just very good. I thought the guys stayed really organized. I thought we had some very good counter-attacks out of that organization."
THE DEFENSE
I mentioned AJ DeLaGarza's return to the LA Galaxy lineup and it's something that shouldn't be underestimated. The LA Galaxy had only logged a single shutout in their previous 12 games. And that shutout came against a shorthanded Vancouver Whitecaps team on the road back on April 2nd of this year.
And for weeks Bruce Arena and company have been preaching about the need to keep their opponent off the score sheet. And for weeks the defense had struggled to accomplish that goal. DeLaGarza hadn't started a game since the 4-2 win over New England on May 8th.
I once considered AJ DeLaGarza the best defender on the team. I know consider him tied with Ashley Cole as the most intelligent defenders on the roster. Everyone will point to DeLagarza's size as a problem, but he's never made it an issue. He anticipates and positions himself perfectly in almost every situation. Plus, he's faster than any other defender and can help to break up counter attacks from speedier teams. I think the result of the Montreal game would've been different if he was on the backline in place of Rogers or Van Damme.
"I thought we did alright. It was our first shutout in quite some time. That's my role and I think we focused on that as a backline. We limited them in their shots and creating much so in that part of the field I think we did our job." AJ DeLaGarza – LA Galaxy Defender
The one knock you can realistically place on him is that his offensive play isn't as good as Robbie Rogers. But when you're a fullback your job is to defend first. Something Rogers has not done in the last two games.
DeLaGarza and the rest of the backline did a good job breaking up the quick counter attacks of Sporting KC on the night and the four shots that Brian Rowe was forced to make never really troubled him. He recovered nicely from his debacle in Montreal.
The bottom line is the defense did it's job without too much trouble. Although I thought that Sporting should've scored multiple times in the first half, LA Galaxy dodged those bullets and kept a zero on the score sheet.
FINAL THOUGHTS
The midfield, with three players who are used to sitting back, failed to involved the strikers in the game. You can credit Sporting KC for getting people behind the ball, but you also have to question why Emmanuel Boateng wasn't put into this game in place of Husidic. Even Jose Villarreal, who didn't get a chance to put his mark on this game (He was an 87th minute sub for Sebastian Lletget), would've been a more creative option than Husidic.
Sebastian Lletget struggled mightily in this game. He didn't create on the wing and he lost possession more than he helped the team. Both Robbie Rogers and Sebastian Lletget earned frustrated gestures from Bruce Arena in what was a frustrating game to watch.
Mike Magee never found the game but was at least involved on the LA Galaxy's only shot. Giovani dos Santos pulled a disappearing act and didn't touch the ball for most of the night, a criticism that once followed Landon Donovan. Dos Santos must now fight against the moniker of a player that hides during a game. It's not something you can afford when missing most of your offensive fire power.
The LA Galaxy didn't just have a bad night, they were uninspiring to anyone watching. They played too slow and allowed Sporting to park behind the ball. The midfield of the Galaxy didn't do anything to create opportunities for the strikers and the defense and midfield were totally disconnected from the strike force of Magee and Dos Santos.
But again, what did you expect from three very defensive minded midfielders. When Baggio Husidic is considered your second most attacking midfielder something is not right.
You can blame the injury to Steven Gerrard on limiting Bruce's options, but with younger options, more creative options, there was much of an excuse. Husidic does better in the middle when you have speedy options on the outside. And with Larentowicz and De Jong doing a good job to tie up the middle, Baggio just isn't an offensive option. You're asking him to do something he doesn't do.
Finally, with a 12 day break ahead of them, there should've been more effort on the field. There should've been more hunger and determination to get three points before the guys got some time off. But unfortunately it played out like the LA Galaxy were already on vacation. And while it's not a loss, any game that doesn't get you three points at home is dropped points. And dropping points is all they've done after the last three games (0-1-2). Three games, two points. Realistically, with the depleted talent they played in Montreal, the Galaxy should've taken nine points from those games.
Imagine the LA Galaxy with seven more points then they have right now, and you understand why Galaxy fans should be worried. But with only two losses on the season, it's also not time to panic. Draws can be okay. As long as those draws eventually start turning into wins.
The LA Galaxy will next play in the US Open Cup on June 14th at StubHub Center before returning to MLS play to take on Toronto FC in Toronto on June 18th.