Carson, CA – The LA Galaxy, in an official team press release, stated that Robbie Rogers "…underwent successful ankle arthroscopy Monday in Los Angeles." According to the press release Rogers is expected to miss six weeks with club.
Carson, CA – Robbie Rogers announced via Twitter and Instagram that he's had ankle surgery and will not be playing when the LA Galaxy take on the Colorado Rapids.
"Some bad news and some good news. First, I am really sorry I won't be playing tomorrow at our pride game, I had surgery on my ankle and will be out for a little. Last year was such an amazing moment to score my first LA Galaxy goal on that night and I'm really sad I won't be able to repeat that. Good news is I will still be at the stadium signing scarves and hopefully meet all of you that are coming. I strongly believe pride nights are really important for our community and I'm excited for tomorrow!" Robbie Rogers, LA Galaxy Defender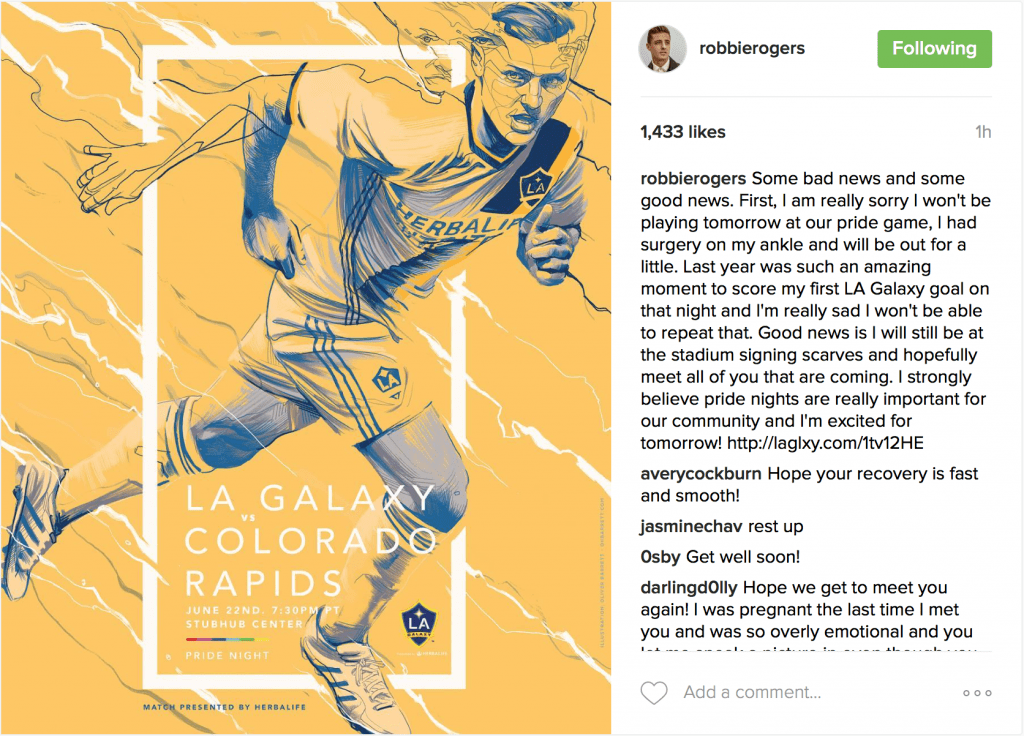 Robbie Rogers missed the LA Galaxy's game against Toronto over the weekend and it's currently unclear if his operation had already taken place before that game.
Without totally understanding which ankle and what procedure was done, we'll have to wait until Head Coach Bruce Arena gives us a more clear timeline of when the LA Galaxy could expect Rogers back.
Rogers has played in 12 games this year for a total of 845 minutes. Since joining the LA Galaxy in 2013, Robbie Rogers has played over 5,000 minutes and played in nearly 70 games.
The LA Galaxy lost 1-0 to Toronto on Saturday evening. Giovani dos Santos (Quad Strain) and Steve Gerrard (Hamstring) also didn't travel for the game against TFC because of injuries. The LA Galaxy are also playing without Robbie Keane and Gyasi Zardes who are away with their respective national teams.
The LA Galaxy will host the Colorado Rapids on Wednesday night. The team is celebrating "Pride Night" with special ticket offers and scarves available for those who purchase tickets via www.LAGalaxy.com/Pride.
You can listen to our preview of the match on our latest podcast: From The Box: Toronto Failures and Colorado Hopes for LA Galaxy