Following in the footsteps of Mauricio Cienfuegos and Landon Donovan is something few can do, but Giovani dos Santos is finally coming into his own. His signing as the new LA Galaxy #10 last summer was met with anticipation, hope and a touch of doubt shrouded in extended mourning over Donovan's retirement. It was the end of an era and no one really knew what to expect from the Galaxy nor their midseason DP addition.
2015 wasn't a comfortable year – transitioning 11 players out (including fan favorites, Jaime Penedo, Marcelo Sarvas), while recruiting others who have since then left (Mika Vayrynen, Edson Buddle, Ignacio Maganto, Donovan Ricketts, Andrew Wolverton, Brian Perk). The departure of mainstays Juninho and Omar Gonzalez also symbolized the start of a period of experimentation and uncertainty for fans as the new team began to gel with the arrival of three international signings (Jelle Van Damme, Ashley Cole and Nigel de Jong) that really marked the termination of the old guard. In essence, Giovani dos Santos has had to work through a lot of changes in team chemistry during a time of flux while becoming accustomed to a new league.
"He has experience and success competing at the highest level and we believe he will only continue to develop," Bruce Arena declared on the day Dos Santos was officially signed. Since then, Arena's patience has been paying off in bursts.
In 2015, Dos Santos tallied 3 goals and 5 assists in 10 matches. He has persevered through fitness and injury issues and growing pains, but this season he has notched 14 goals and 11 assists in 25 games putting him at fourth highest in the league for goals and tied for 3rd in assists along with Mauro Diaz and teammate Steven Gerrard. He chose to not participate in the Copa America with his national team (he was on a hot streak with LA in April and May that caught Osorio's eye), taking rest to recuperate during the 16-day MLS break to return 100% to his club duties. Though it didn't pan out right away, it was a smart decision that is beginning to pay off months later just as his predecessor returns wearing #26 to woo the crowd's cheers and media attention.
"As heralded as [Dos Santos] was and is, he has not played on a regular basis in his club careers. Now he's a year in and this season is probably the fullest season he's had in his career. And now he's a year in. This season is probably the fullest season he's had in his career," Arena points out, preaching patience after LA's win against Orlando City. "And you can see that he's now getting fitter, getting more experienced, understanding this league and understanding the things that he needs to do to make himself a better player and also make our team a better team."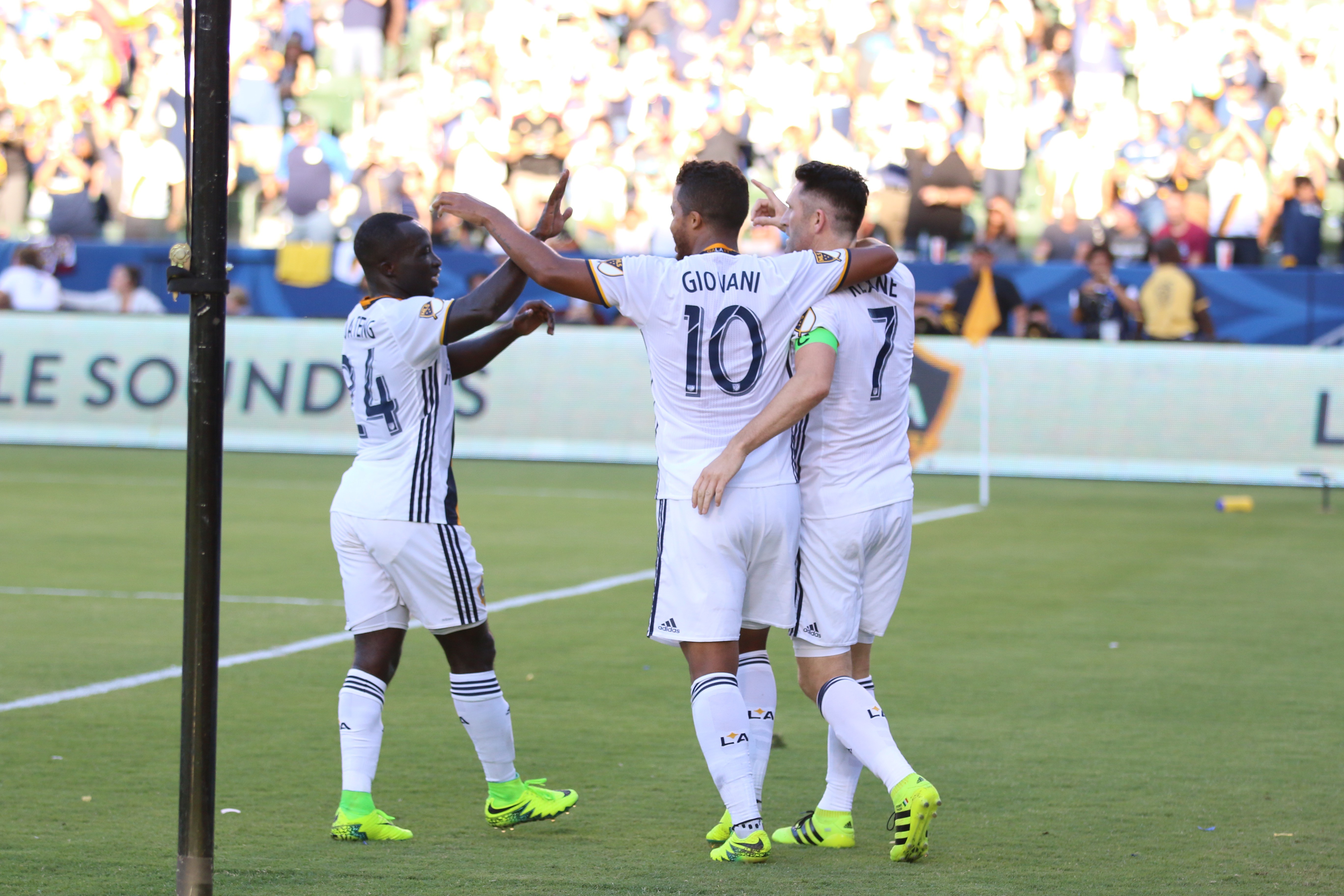 Dos Santos hasn't quite hit his consistent form. The hot streaks came in April and May and promptly vanished after the break, partly due to the reappearance of both Gyasi Zardes and Robbie Keane. It appears, that with both Zardes and Keane on the pitch, Gio's impact is muted. In the 9 games that both Keane and Zardes played in this year, Dos Santos netted just 1 goal with 4 assists. Without Keane, we've seen the numbers rise (in 13 games without Keane, Giovani's scored in 9). But with Keane present, he's racked up assists (8 assists in 12 games). Dos Santos scores and assists with or without Zardes on the pitch but he's been known for moments where he selectively
Dos Santos scores and assists with or without Zardes on the pitch but he's been known for moments where he selectively lauds Gyasi's partnership. Now that Gyasi is out for the rest of the season, and with Robbie Keane's minutes being diminished (as of late) as looming questions over his contract renegotiation abound, Dos Santos is shining as a goal scorer and as a teammate. Netting 4 goals and 3 assists (counting his secondary assist for Alan Gordon's goal) in a hectic week with a midweek road game included is no small feat, nor is it necessarily related to the arrival of Donovan, it very well could be he's finding his own feet without the worries and expectations that having two other historically goal-scoring teammates on the pitch brings.
Giovani dos Santos is maturing on and off the pitch and with good reason. "I feel like I am in the best moment of my career, I've never felt this way. I feel very good, my finish is good. The team is doing good so I feel great right now, " he concludes. In spite of all the glitter falling for the return of the former #10, the reality is it's all about LA's future, one in which Giovani dos Santos is cementing himself right now.
Even Landon Donovan sees the bigger picture for him this fall may be in helping the future leaders of the Galaxy secure their place. "I think I had much more impact today in the locker room and helping out a few guys at halftime then I did on the field. And if that's the way I contribute, then that's great. Obviously, in a perfect world, I can help on the field. But you saw a team, without Robbie Keane for most of the game, score four goals. There's a lot of talent on this team and Steven Gerrard's not even healthy right now. There's not a ton I need to do in that way… maybe a play here or there. But I can help in, hopefully, a lot of different ways. That's a big part of the motivation and the reason," Donovan admits. Sometimes holding on to the past prevents progress. It's time to move forward.