It's what you always expected from Cozmo — that he'd get caught messing around on camera at ESPN. The only unexpected part of this commercial is that Cozmo brought along Giovani dos Santos.
In a milestone for both Dos Santos and Cozmo, they can be seen playing soccer through the halls of ESPN in the latest "Esto es SportsCenter (This is SportsCenter)" Commerical. The only thing that gets in the way of the two guys playing soccer is a meaningful stair from Mexican boxing legend Julio Cesar Chavez. Which of course puts both Dos Santos and Cozmo on-guard.
With just a simple "Buenos Dias" Gio and Cozmo slip away to continue their soccer shenanigans.
WATCH GIO'S COMMERCIAL HERE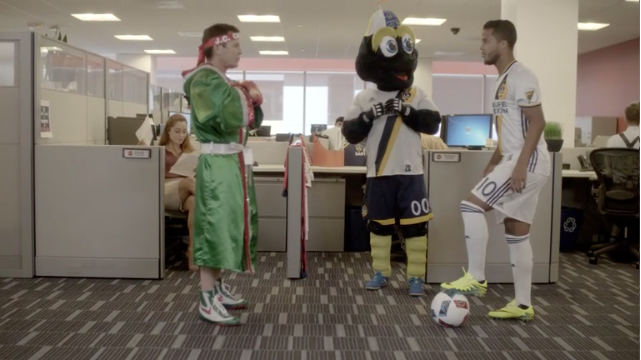 And while it was certainly meant to be a feature on Dos Santos, just like normal, Cozmo steals the show. But again, that was to be totally expected.
You can watch behind the scenes footage, from LA Galaxy TV as they tagged along with Dos Santos and Cozmo during their commercial shoot.
Dos Santos joins Landon Donovan, who had a very memorable ESPN commercial, where he was seen getting red carded by a copy machine. And who hasn't felt that way about both a red card and a copy machine?
This is a good step for Giovani dos Santos, as both his career on and off the field seem to be peaking at the right time for the LA Galaxy. We've said it on a bunch of different shows, but a happy Gio is a good Gio. And as long as he can shake this minor injury from last week, the happy and playful Giovani dos Santos we see playing through the halls of the "giant four-letter" is also the player the LA Galaxy can expect to see on the field.
Giovani dos Santos and Cozmo can be seen at StubHub Center when the LA Galaxy host the Seattle Sounders on Sunday, September 25th at 1PM pacific on ESPN. With a win, the LA Galaxy would clinch a spot in the playoffs and deal a serious blow to the Sounders' playoff hopes.