The LA Galaxy lost from the opening whistle on Saturday night in Frisco, Texas. In a game that was their biggest of the year, they simply failed to match the competitiveness of an exciting FC Dallas team that was confident, and skilled enough to know that they were the better team. And Despite the many "stars" on the field for LA, there seemed to be a complete lack of quality from the traveling side.
Bruce Arena, always one to let his most talented players shine in big games, went back to a starting lineup that saw Steven Gerrard start for the first time in six games following his substitute appearance vs Seattle last week. Gerrard was joined by Jeff Larentowicz in the center of midfield meaning that Sebastian Lleget was pushed wide and was opposite of Raul Mendiola who made just his fourth start of the year and fifth overall appearance, in MLS play.
#LAGalaxy XI: Rowe; Rogers, DLG, Van Damme, Cole; Gerrard, Larentowicz; Mendiola, Dos Santos, Lletget; Keane #DALvLA pic.twitter.com/EvSbXltjL1

— LA Galaxy (@LAGalaxy) October 1, 2016
From there Giovani dos Santos and Robbie Keane made up the strike force while AJ DeLaGarza, in the center, paired with Robbie Rogers on the right side of the defense, without Daniel Steres in the lineup, for the first time this season. DeLaGarza took over his preferred center back role having only started a game in that position three times in 2016.
But it wouldn't take long for the LA Galaxy's defense to feel the pressure from FC Dallas. Both sides saw close chances but the Galaxy would never find the net. And while Brian Rowe was forced to make five saves on the night, and the LA Galaxy would actually wrestle back a majority of the possession in the second half, it wasn't meant to be. Besides a beautifully timed fast-break in the first half — one that saw Steven Gerrard take a bad first touch in the box and then laser a shot outside the far post — the Galaxy looked toothless and ineffective on offense and dangerously overmatched on defense.
And to make matters worse, the LA Galaxy conceded a set-piece goal in the 39th minute on a corner kick that saw several veterans and stars of the LA Galaxy fail to make any meaningful effort toward the ball. Walker Zimmerman calmly started his run in the middle of the box between Robbie Keane and Jeff Larentowicz. Neither tracked him as he found space right behind Steven Gerrard who saw the ball go over his head (he didn't jump). The ball was easily past Brian Rowe, and FC Dallas had the only goal they needed.
Walker Zimmerman calmly started his run in the middle of the box between Robbie Keane and Jeff Larentowicz. Neither tracked him as he found space right behind Steven Gerrard who saw the ball go over his head (he didn't jump). The ball was easily past Brian Rowe, and FC Dallas had the only goal they needed.
Arena, addressing the set piece goal issue after the game stated his feelings. "We work on that [set piece defending] a lot. Guys are well aware of it. Pretty foolish goal to concede at the end of the first half. It's really that simple. Everyone knows their responsibilities. We shouldn't be conceding that goal."
"They scored on a corner kick, something we focus on, but didn't handle it properly today," commented Larentowicz. And for the Galaxy, set-piece goals have been an issue this year.
LA have conceded seven set piece goals in MLS play this year (four on corners, one directly from a free kick, and two from free kicks but indirectly). But you should also add in two more, at the very least, because of those US Open Cup goals LA allowed against Dallas. It's a trend that doesn't look like it's reversing.
To add more bad news, Jelle Van Damme picked up his eight yellow card of the season. That means he'll be suspended for teh LA Galaxy's next game. So everyone should get used to Daniel Steres making a return to the starting lineup.
PROBLEMS EVERYWHERE
The Galaxy would finish with just a single shot on goal, a stat that seems to be surprisingly common for a team with potent offensive weapons. But for the most part, those players LA continually relies on just don't show up.
Robbie Keane, as has been the norm over the last few months, was ineffective for large portions of the game. And don't let his two goals against Seattle fool you, he's been a shadow of himself this season. His age is showing and his speed and ability to create have taken severe hits. But his striker partner, Giovani dos Santos, was also missing on the night. And it seems that when Keane and Dos Santos have paired together, they stymie each other's play.
But the real issue could be Steven Gerrard playing in the midfield. Gerrard, another of the LA Galaxy's aging stars, throws the Galaxy's formation into fits. In this case, it took one of the best players on the field for LA, when they played against Seattle and pushed him to a position that he hasn't been performing well in during 2016. Moving Lletget out to the wing limits his ability to make opponents miss and doesn't open up his playmaking ability. Plus Lletget and Larentowicz seem to work well with each other. Why break them up to give Gerrard minutes to get fit? A statement that Bruce Arena made after the game when speaking to Spectrum SportsNet.
It's the biggest issue the LA Galaxy face right now. Do you start Gerrard knowing that his mobility, pace, and finishing could cost the team down the stretch? Do you start Gerrard knowing that his defensive skills in the center of the park mean a less advanced position? Or do you bench your Designated Player in hopes of igniting players like Giovani dos Santos and giving Lletget the ability to create in his most effective position?
"Obviously, very disappointed with the result tonight. I don't think the performance was too bad, I thought we were okay. Created some chances. Take the set piece away, and you go away with a point at Dallas, who are top of the league, wouldn't be a bad point. We're very disappointed to concede, and obviously disappointed with the result, but we need to dust ourselves down and we need a huge reaction in our last two games." Steven Gerrard, LA Galaxy Midfielder
On Saturday night FC Dallas and their midfield had their way with Gerrard and Larentowicz. And while Larentowicz can play a fantastic defensive midfield position when paired with an athletic player like Lletget, he's very ineffective when left on his own — which is what happens when Gerrard enters the lineup. It's not a position the LA Galaxy have any backup for because Nigel De Jong left for Turkey, Baggio Husidic is more offensive than defensive, and Rafa Garcia is forever stuck in the "too good for USL but not good enough for MLS" cycle. And until Garcia can get Arena to trust him, he won't see many minutes.
If Larentowicz is better with Lletget, and Lletget is better in the center of the midfield, and removing Gerrard from the attacking midfield role allows more space for Dos Santos to drop underneath, and that moves Keane further away from Giovanni dos Santos improving spacing and creativity, then why is Arena forcing Gerrard into that position? It's a problem the Galaxy haven't found a solution to yet, and there are only two games remaining in the regular season.
PROBLEMS OFF THE FIELD?
It was a strange interview that saw Landon Donovan talking to LA Galaxy Insider Adam Serrano on Spectrum SportsNet following the loss to Dallas. Donovan hinting at problems that need addressing, but also saying he's the new guy and he needs to be careful with how he approaches and addresses those things.
So is he talking about on-field problems? People not doing their jobs? Are players not being professional? Is it a training issue? Are some players not being held accountable by the coaching staff? Or is this a personality issue in the locker room? Could Donovan's return have sparked some unease on the team?
These are all questions that shot across my mind. It's blatant speculation. But would it surprise anyone if it were true?
MISSION ACCOMPLISHED
With about the same excitement as George W. Bush declaring "mission accomplished" on an aircraft carrier, the LA Galaxy have also accomplished something. With losses and draws and wacky things happening across Major League Soccer, your LA Galaxy are playoff bound.
If the playoffs were to start today, you'd see FC Dallas and Colorado with the No. 1 and No. 2 seeds. Then the LA Galaxy would be the No. 3 seed. The top two seeds get automatic byes, and you'd see LA faceoff against Sporting KC as the No. 6 seed. That game would be hosted by LA. Then it would be No. 4 Real Salt Lake hosting Seattle. The play-in games are just one game hosted by the higher seed.
An interesting side note: Seattle is only four points behind the LA Galaxy. A team that has lost 13 games this season are just four points behind LA. Fun times, right?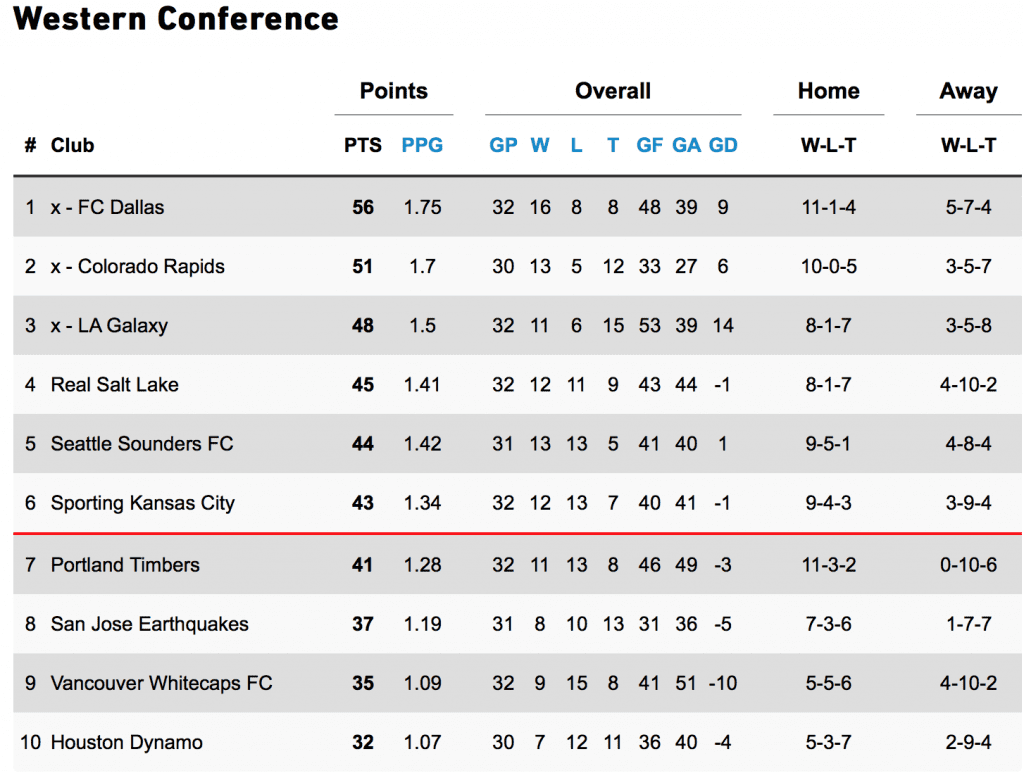 LIMPING AHEAD
LA have two games remaining and will sit on their hands with two weeks off before having to matchup against Houston in Texas. The Dynamo are worst in the Western Conference, and only Chicago has a worse record in the league. But traveling to Houston is not going to be a cakewalk. If the Galaxy have any designs on the top two in the conference, they need three points. And realistically, they need points to hold off a surging Seattle team that realistically could overtake the Galaxy.
It goes without saying that the final home game of the season, October 23, 2016, vs. FC Dallas, could still be a potentially big game for the Galaxy. The Bottom line remains – simply limping into the playoffs will not be enough for this team. While confidence in the ability to beat a team increases over a two-game series, an away playoff game that decides if the Galaxy continues could spell a short end to a disappointing season.