The LA Galaxy have acquired Forward Jack McInerney after he cleared waivers, on a first come first served basis. The 24-year old forward has scored 43 goals in Major League Soccer and played with a myriad of teams since being drafted by the Philadelphia Union with the seventh overall pick in 2010 MLS SuperDraft.
His former teams include the aforementioned Union, the Montreal Impact, the Columbus Crew, and the Portland Timbers.
McInerney's most successful season came in 2013 when he reached a career high in goals (12) and minutes played (2,209).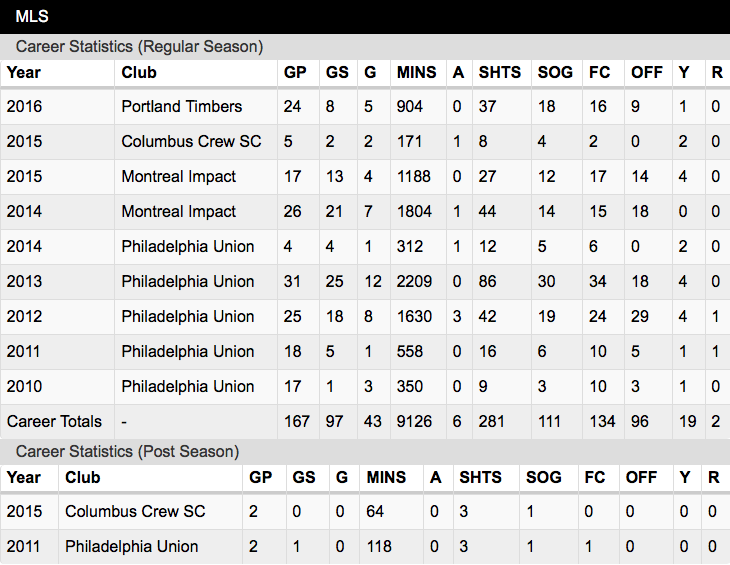 "Jack is a young and experienced player in MLS who has shown that he can score goals in this league," said LA Galaxy General Manager Pete Vagenas. "He will give our team valuable depth at the forward position throughout the season. We look forward to Jack joining the team this week ahead of Sunday's game."
The Galaxy have scored eight goals less than league leaders Portland (16 goals), and sit in the middle of the pack in MLS. McInerney might be able to help in that regards.
But he'll also be joining a growing number of strikers on the team. Gyasi Zardes, Giovani dos Santos, Jack McBean, Ari Lassiter and possibly others could fill that role. But McInerney, at 24, has seven MLS seasons under his belt and over 9,000 career minutes. Giving some experience to a rather young and inexperienced core.
This is a solid depth move from the Galaxy and now gives them a sub off the bench after Gyasi Zardes has had his fill of striker duty. McInerney can hold the ball when needed and also turn and combine with others. This is someone who could step up to fill a role that will be vacated by expected National Team call-ups to Dos Santos and Zardes.
McBean, Lassiter, Jose Villarreal and any other strikers should see this as a shot across the bow. And while Onalfo has been slow to pull the trigger on other underperformers, I don't think he'll hesitate to throw McInerney into a game soon.
Hopefully, Dos Santos can find a way to contribute and link up with McInerney. He's so far, failed to find a suitable partner in anyone he's paired with and has been missing the form that saw him score 15 goals and tally 13 assists in 2016 (regular season and playoffs). And getting Dos Santos back into a rhythm of scoring goals and providing good build up play is important if the Galaxy wants to succeed this season.
It's no question that the Galaxy were a team created in the offseason with very little depth. This move starts to fill a position that needed some experience. And while it was opportunistic – being picked up after clearing waivers – it may turn out to be a good acquisition.
McInerney should be available for the Galaxy's nationally televised game against the Seattle Sounders on Sunday afternoon (1 PM Pacific on ESPN).