It's that time of the year, again. And the Major League Soccer Players Union has once gain given us more than just a little information on the LA Galaxy and their player salaries. And while we've been very good at digging up a whole bunch of numbers in recent years, it's nice to see it all come together — even if we know that not everything is one-hundred percent accurate as MLS owners and teams will constantly remind you.
I've personally spoken to many people who would know and their usual response is "it's pretty close." So with that as our guidance, let's take look at the 2017 player salaries.
The complete list for the entire league can be found here:
DEFINITIONS:
You will see us talking about Base Salaries and Guaranteed Salaries. According to the MLS Players Union, they are defined like this:
The annual average guaranteed compensation number includes a player's base salary and all signing and guaranteed bonuses annualized over the term of the player's contract, including option years. For example, if a player has a base salary of $50,000, has a two-year contract with two one-year options and received a $10,000 bonus when he signed, his average annual guaranteed compensation would be $52,500 (base salary plus signing bonus ($10,000), with the signing bonus divided by the number of years covered by the contract (4)). The average annual guaranteed compensation number also includes any annual marketing bonus to be received in the current year and any agent's fees annualized over the term of the contract. The average annual guaranteed compensation figure does not include performance bonuses because there is no guarantee that the player will hit those bonuses.
For the purposes of our review, we'll stick mostly with Base Salaries. However, we may include some Guaranteed Compensation numbers when we think they're relevant.
TOP 7 HIGHEST PAID LA GALAXY PLAYERS
Giovani dos Santos (DP) $3,750,000
Romain Alessandrini (DP) $1,669,400
Jermaine Jones (TAM) $600,000
Jelle Van Dame (DP) $600,000
Gyasi Zardes (TAM) $577,500
Ashley Cole $350,000
Jack McInerney* $325,000
*Jack McInerney is on an MLS Contract. The Galaxy are not responsible for his entire salary. More below.
BIGGEST WINNERS AND LOSERS
Giovani dos Santos looks to have received a significant raise. He made $2.5 million in base salary last year and is now making $3.75 million. That's a $1.25 million dollar raise. And with 15 goals last year, maybe it was warranted? Let's talk about that later.
Jermaine Jones is making as much as he was with Colorado last season. In fact, if you look at his guaranteed compensation, he actually got a raise – $72,500 to be exact.
And it looks like Gyasi Zardes continues his rocket climb in Salary as well. His overall base salary has increased to $577,500. That gives him a pay raise of over $100,000. The real question is when does his salary become high enough that he's a transfer target? We should probably wait for him to regain his form before worrying about that too much.
Brian Rowe also saw a pretty significant rise from $80,000 to $120,000. But that's probably what should happen when you go from a backup to a starter. He's still a starter, right?
But Sebastian Lletget doubled his salary from 2016 to 2017. He made $110,000 last year and is now pulling in $230,000. And he would've been worth every penny too. But injuries happen. And Lletget may still be able to prove he's worth every penny.
The really surprising thing is that almost every player got a raise from 2016 to 2017. Which shows how many players the Galaxy parted ways with. For the most part, the team is paying guys who are ascending in value and not descending. That's an important distinction from years past.
In fact, I can only find one player who has seen his overall salary decrease year over year. Jon Kempin, who was technically a Sporting KC goalkeeper last year, went from $82,750 to $65,000. Not bad for a guy who has moved around a lot. And a good value for the Galaxy as a third-string netminder.
NEW TO MLS
We're not going to count the guys who were down with LA Galaxy II, but it's always fun to see what salaries the guys who are new to the league are getting. Those two players are Romain Alessandrini and João Pedro. Both were used signing MLS specific mechanisms, but that doesn't mean they're anywhere close to equal.
Alessandrini was brought in under the Designated Player Rule. That means that the team is responsible for paying his salary, not the league. But only a small portion of his salary hits against the Salary Cap. In 2017, the max budget charge is $480,625. That means that despite being paid $1,669,400 in base salary, the Galaxy only count the $480,625 against the cap.
João Pedro is on the other MLS mechanism — Targeted Allocation Money (TAM). The league has made this special allocation of money available to each team. The TAM available for 2017 is $1.2 million per team. Pedro's base salary is $120,000. But in order to use TAM the player's salary has to be more than the max budget charge of $480,625 but less than $1 million. In Pedro's case, the Galaxy paid a transfer fee for him. And that transfer fee was paid using TAM. Fun, isn't it?
BEST AND WORST VALUE
It's a young season, but that doesn't mean you can't make some value judgments on the amount of money the Galaxy are spending on some players and what that means in terms of their salaries.
Giovani dos Santos, who is the highest paid player on the team, probably deserves some of this focus. He's scored one goal in seven games and is generally known more for disappearing than anything else. He did have a good year last year, so it's not inconceivable that he got a raise. But if he doesn't start performing that salary number is going to loom very large in his criticism.
Jermaine Jones hits this list again. Jones is technically making the same amount of money he did last year with Colorado — we've already said that. But at 35-years old, and coming off a pretty major injury, the Galaxy are risking a lot to be paying him that much. Maybe that money could've been used elsewhere?
But when we look at other players I'm sure we can find some Value. Emmanuel Boateng is only making $115,000. And with Sebastian Lletget injured, he's become a starter. That's a steal for the Galaxy.
And even Brian Rowe is a steal at $120,000. Last year Dan Kennedy made $180,000 and sat on the bench. Hopefully, the Galaxy and Curt Onalfo aren't thinking that Rowe and his salary are better suited for the bench this year.
JACK MCINERNEY
Newly signed, Jack McInerney is a special case. If you see his salary and have a panic attack, I want you to remember to breathe through your nose. The Galaxy picked up McInerney after he cleared MLS' waiver procedure — he was released by the Portland Timbers.
McInerney will collect $325,000 from Major League Soccer, but not the Galaxy. The Galaxy will be responsible for only the Senior Roster League Minimum which is $67,500. This is one of those weird roster moves that reminds everyone that the league holds player contracts and not the team.
TOTAL SALARIES
Let's compare the year over year base salaries for the Galaxy.
2015 Total Base Salary $18,965,008
2016 Total Base Salary $16,110,500
2017 Total Base Salary $9,833,666
In 2017 we've seen a more than $6 million dollar reduction in total base salary. And when you take into account a $3.5 million dollar loss when the Galaxy parted ways with Robbie Keane, and a $6 million dollar loss when they stopped paying Steve Gerrard you can understand the reduction. In fact, those two players salaries combined would be slightly less than then the total base salary budget for the Galaxy now.
If you add in a raise for Dos Santos and the $1.7 million for Alessandrini and you roughly arrive back at the base salary number.
But the chart below also shows the general decline of base salaries since 2015. With most of the fluctuation coming in designated player salaries (the largest decrease) as most of the salary cap eligible salaries rising. This once again shows how much of an impact your highest paid players must make.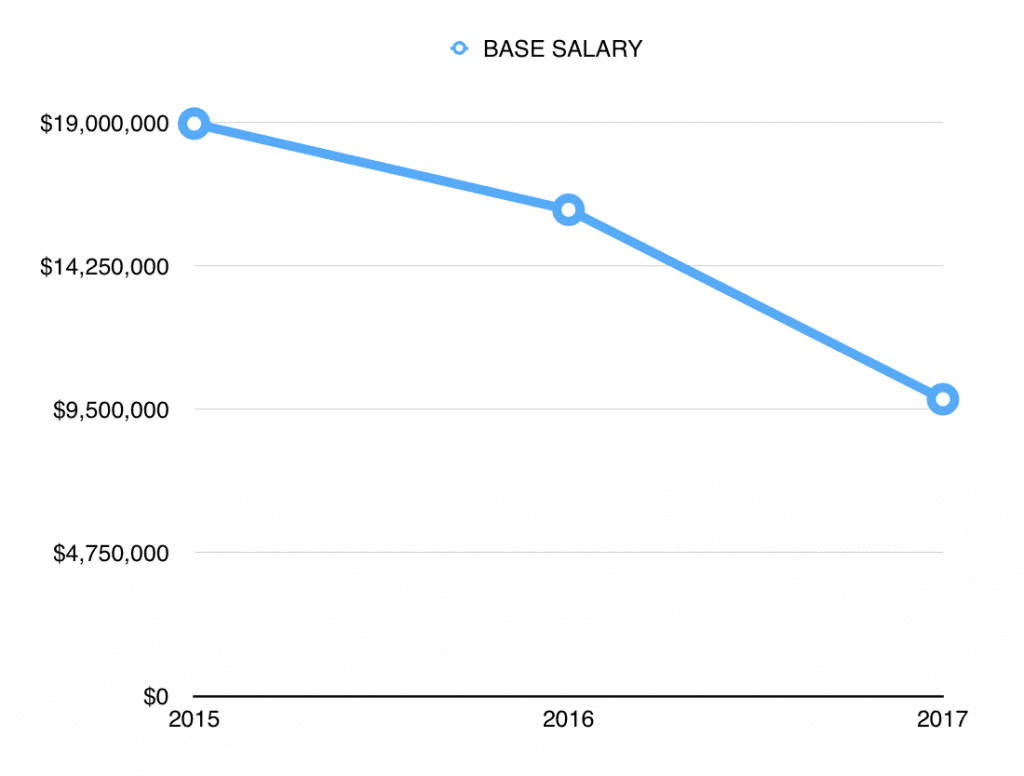 The total Guaranteed Compensation approaches $12.1 million dollars. As explained above, that includes annualized bonuses and other rude and crude MLS ways of computing compensation.
COST CUTTING?
But have the galaxy actually cut their budget? The answer isn't a simple yes or now. What we can say, that as of right now there has been a significant reduction in the amount of money they spent fro 2016 to 2017. But it's useful to understand that if the Galaxy decided to add even one designated player on par with the salary they were paying Steven Gerrard ($6 million) – a salary they were rumored to top with a supposed offer to Zlatan Ibrahimovic before he got hurt – they would on relatively equal terms from year to year.
But until they've spent that money the Galaxy have reduced their budget by nearly 40% from last year (39% to be exact and a full $6,276,834 less than the previous year). That's not a small chunk of change and it would certainly counter any argument against a reduction in spending — for now.
2017 LA GALAXY PLAYER SALARIES
| NAME | 2017 BASE SALARY | 2017 GAURANTEED COMPENSATION | 2016 BASE SALARY | 2016 GUARANTEED COMPENSATION |
| --- | --- | --- | --- | --- |
| ALESSANDRINI, ROMAIN | $1,669,400 | $1,999,400 | N/A | N/A |
| ARELLANO, HUGO | $65,000 | $72,375.00 | N/A | N/A |
| COLE, ASHLEY | $350,000 | $377,625 | $300,000 | $327,625 |
| DIALLO, BRADLEY | $65,004 | $65,004 | N/A | N/A |
| LASSITER, ARIEL | $54,075 | $54,075 | $51,500 | $51,500 |
| HUSIDIC, BAGGIO | $175,000 | $175,000 | $150,000 | $150,000 |
| JAMIESON, BRADFORD | $66,150 | $66,150 | $63,000 | $63,000 |
| JONES, JERMAINE | $600,000 | $722,500 | $600,000 | $650,000 |
| ROWE, BRIAN | $120,000 | $120,000 | $80,000 | $80,000 |
| KEMPIN, JON | $65,004 | $65,004 | $82,750 | $82,750 |
| DIOP, CLEMENT | $65,625 | $65,625 | $62,500 | $62,500 |
| ROMNEY, DAVE | $66,150 | $66,150 | $63,000 | $63,000 |
| STERES, DANIEL | $105,000 | $112,062 | $62,500 | $62,500 |
| PEDRO, JOAO** | $120,000 | $141,000 | N/A | N/A |
| BOATENG, EMMANUEL | $115,000 | $115,000 | $100,000 | $100,000 |
| DOS SANTOS, GIOVANI | $3,750,000 | $5,500,000 | $2,500,000 | $4,250,000 |
| MCBEAN, JACK | $65,625 | $65,625 | $62,499 | $62,499 |
| ZARDES, GYASI | $577,500 | $577,500 | $472,500 | 472,500 |
| VAN DAMME, JELLE | $600,000 | $662,500 | $425,000 | $468,750 |
| VILLARREAL, JOSE | $105,000 | $105,000 | $90,000 | $90,000 |
| VILLARREAL, JAIME | $53,004 | $53,004 | N/A | N/A |
| SMITH, NATHAN | $53,004 | $53,004 | N/A | N/A |
| GARCIA, RAFAEL | $82,500 | $82,500 | $75,000 | $75,000 |
| MENDIOLA, RAUL | $65,625 | $65,625 | $62,500 | $62,500 |
| MCINERNY, JACK* | $325,000 | $325,000 | $270,000 | 270,000 |
| ROGERS, ROBBIE | $225,000 | $233,500 | $220,000 | $228,500 |
| LLETGET, SEBASTIAN | $230,000 | $242,666 | $110,000 | $115,500 |
| TOTALS | $9,833,666 | $12,182894 | N/A | N/A |
2016/2017 LA GALAXY PLAYER COMPARISON