Giovani dos Santos is slowly putting together an interesting season despite a slow start that had left many frustrated. And his three goals in the last three games stand as something of a milestone for the LA Galaxy's highest-paid player.
His stunning goal against Minnesota United in last weekend's 2-1 win was a perfect example of what his skill set and hard work are capable of and why he's also one of the most difficult players to understand.
Dos Santos entered Sunday's nationally televised match having scored three times. Two of them were from the penalty spot – both as a result of plays by teammates – and one was on a set-piece finish that secured a 2-2 draw with Chicago. He's been criticized by many for his lack of goals and leadership, but Sunday continued a positive trend in his influence on the team's offense.
The way he finished the creative cross from Romain Alessandrini — striking the ball with the outside of his left foot as the ball came to him from his right – was, to begin with, almost outrageous. The skill involved is not something most players possess. It might not have looked like the most difficult finish, but the execution was inch-perfect.
"He made it look routine and it's not," ESPN analyst Taylor Twellman told Corner of the Galaxy after calling the game. "Especially with an off foot. You might even ask why he would even try it if a simple inside of the foot gets the job done."
Dos Santos apparently thinks differently than most.
"I think the play was great and the only thing that came to my mind in that moment was to kick the ball like that and it went to the inside of the net," he explained after the game.
The audacity of trying such a finish shouldn't really be questioned. After all, this is the same player who scrambled around inside the penalty area evading several defenders, not to mention a goalkeeper, before finally chipping a shot into the net to embarrass the United States men's national team in the 2011 Gold Cup final.
It simply was another incredible feat of his skill and creativity.
https://www.youtube.com/watch?v=VsE5lJh-s5E
"He's just in form and he's a touch of class," Galaxy head coach Curt Onalfo told reporters Sunday. "It was a world-class goal he scored and he was very good on the night. He just keeps getting better, and that's typical of the last year.
"It took him a little bit to get going (last year) but once he's in form, he's very good."
Dos Santos had his best season ever for the Galaxy last year, his first complete season since transferring from Spanish side Villarreal in July of 2015. He totaled a combined 15 goals and 13 assists in the regular season and MLS Cup playoffs. His 14 goals and 12 assists in the regular season meant he was involved in more than half of the Galaxy's offensive output and he helped the team become the highest-scoring side in the Western Conference with 54 goals. Most of his success came with Robbie Keane, the Galaxy's go-to scorer, limited to just 50 percent of the Galaxy's 34-game season because of injuries.
It was Dos Santos' success that actually earned him starts later in the year at Keane's expense. The duo was thought to be too similar in style and it was feared they would take up space just in front of the defending back line and in between opposing midfielders. This area, a recessed strikers dream, is where Dos Santos now patrols as he looks for intelligent runs from his striking partner and anticipates late forays into the penalty area on crosses from the wing.
But it's also where he clashed with teammate Jermaine Jones, who played as an attacking midfielder but also was a bit of a roamer at heart. Jones is similar to Dos Santos in that he moves to find and fill space and doesn't care where that is, but he's always looking to exploit holes in opposing defenses.
It became apparent both players have the same sensibility when it comes to playing. Dos Santos and Jones, similar to the dilemma with Keane, never found the appropriate way to complement each other.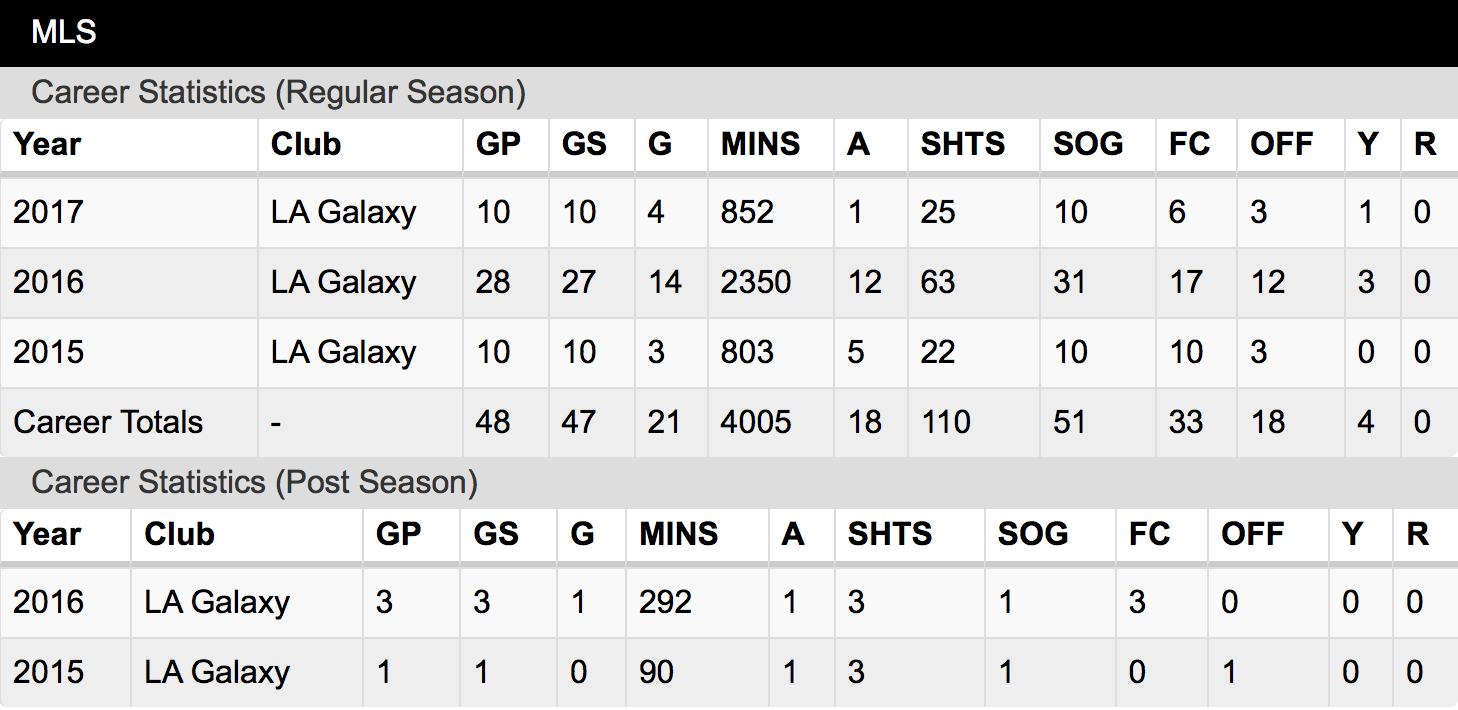 In five halves without Jones, who exited just before halftime of the Galaxy's recent 2-2 draw with Chicago with a knee injury, Dos Santos has scored three times and provided an assist. He's also looked more engaged in a cohesive attack that seems to be building around Alessandrini but is starting to include Dos Santos' dangerous runs and creative playmaking.
The only real key to seeing what this Galaxy attack can become is getting a competent striker to play above Dos Santos. Gyasi Zardes, unfortunately, has not been anyone to rely on in his seven games and 551 minutes. And aside from a 16-goal season in 2014, he has been rather average at finishing off plays.
Dos Santos and Zardes rarely have linked up in any meaningful way, perhaps because Zardes' runs fall mainly in front of the defense and not behind. He's not opening space for Dos Santos to exploit and isn't creative enough to find his own shot.
Dos Santos has been dogged by leadership issues throughout his career. He's never needed to be the leader, and no one has ever hoisted that responsibility upon him. His recent performances, however, indicate he might be ready to shoulder it.