LA Galaxy look for more points from San Jose in Game 3 of 4 on the road
On the road again. The LA Galaxy (4-5-2) travel northward, ready to take on a strong San Jose Earthquakes (5-4-4) on Saturday night at Avaya Stadium for another nationally televised game (TV: Univision, FaceBook – 7:00 PM). This is the third of four games on this very long road trip for the Galaxy and it's a chance to add to their already sizeable points haul (6 of 6 points) from their first two games. But the Earthquakes may have something to say about that.
This will be the 63rd meeting between these two clubs. The Galaxy are 29-20-14 overall but are 10-15-8 when playing in San Jose. They have won just once in their last 13 regular season meetings in northern California – a stat that spans across four different stadiums. Their last win in the Bay area came in 2014 (June 28) when they were able to defeat the Earthquakes by a score of 1-0. And because it's been customary for this game to be played at bigger venues – Stanford Stadium, for example – this will only be the second regular season meeting between these teams at Avaya Stadium. That previous game ended in a 1-0 defeat for the Galaxy and was played on August 28th, 2015.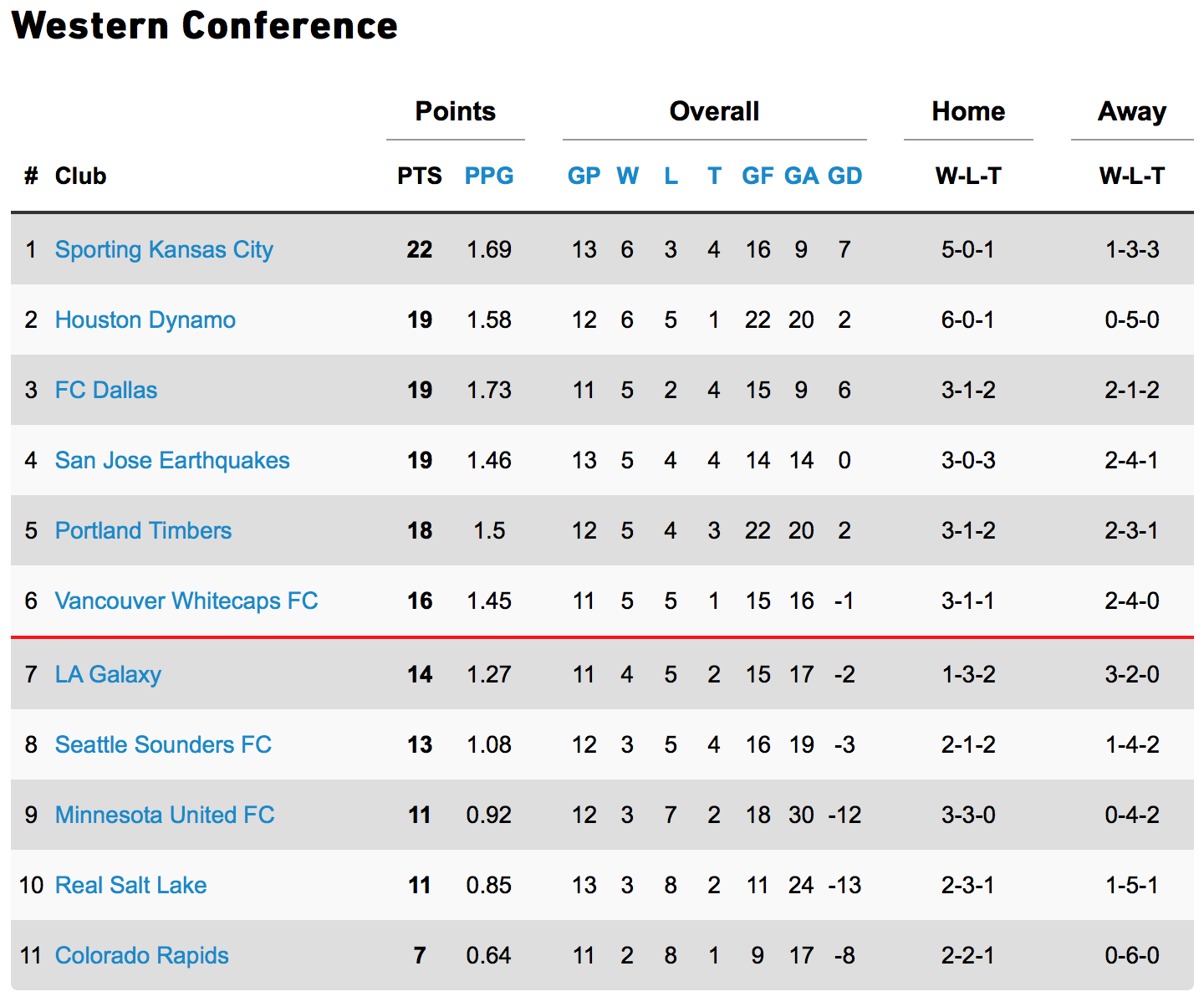 The Earthquakes are unbeaten at home on the year (3-0-3) and are coming off a high note as they were able to take down, previously undefeated at home, FC Dallas in Frisco, Texas. It was an 81st-minute goal from Jahmir Hyka that made the difference. And while they held less than 40 percent possession and were outshot 16 to nine, goalkeeper David Bingham was able to make three saves on the night to preserve the shutout victory.
Sitting at fourth place in the Western Conference after playing 13 games – two more than the Galaxy – the Earthquakes have had a good start to the season. Behind leading goalscorer Chris Wondolowski who has five goals and five assists with only nine shots on goal, they'll pose a significant challenge to the backline of the Galaxy.
GAME INFO: Saturday, May 27th, 2017 at 7:00 PM
TV INFO: Univision, Facebook (Nationally Televised)
The Galaxy, however, are on a bit of a roll themselves – something that was almost impossible to say just three weeks ago. They have the best road record in the Western Conference (3-2-0) and come off an impressive but costly road win themselves – having outlasted Minnesota United FC 2-1 last Sunday thanks to a Giovani dos Santos goal and a Christian Ramirez own goal.
In that victory, the Galaxy lost midfielder Baggio Husidic with a broken leg in the 5th minute of play. João Pedro (hamstring) and Jelle Van Damme (knee) also picked up injuries in the match, but are expected to be available on Saturday.
Rafa Garcia is expected to reprise his role in place of Husidic in the midfield along with Pedro, Emmanuel Boateng, and Romain Alessandrini. Gyasi Zardes, who has struggled in his 551 minutes played so far in 2017, will play up top with Dos Santos likely playing underneath him.
The defense should remain mostly unchanged with the good possibility that Bradley Diallo, returning from suspension, will be slotted into the right back position in place of Dave Romney.
Alessandrini is the Galaxy's leading goals and assists leader – he's got five of both. He also leads the team with shots (40), shots on goal (15), fouls committed (20), and fouls suffered (21). But both he and Van Damme will need to mind their manners with Head Referee Ricardo Salazar, as both players sit one yellow card from suspension. Any caution picked up would mean they'd miss the Galaxy's long trip to DC United. Pedro sits two yellow cards away from suspension and has some breathing room.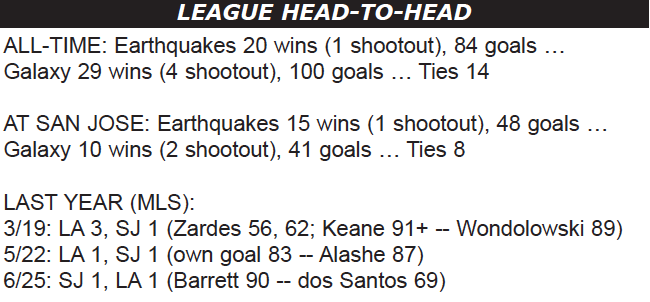 The Galaxy, whom many thought would struggle on this four-game road trip have been pleasantly surprising. Already getting twice the amount of points most people expected, they'll look to continue their run on the road and make next week's trip to DC United more of a formality than a serious attempt to garner more points. Although, for a team that only took five of 18 points from their first six home games, any points they pick up on the road will only help to claw themselves back up the standings.
Once off to their worst start in a decade, the Galaxy now finds themselves level with the 2015 squad – both had 14 points through 11 games (CLICK FOR CHARTS). And this current team isn't too far off the pace of the MLS Cup winning side of 2014. But continued success will be an important part to that formula.
It's also very important to see some improvement out of Gyasi Zardes. Zardes had one of his worst games in a Galaxy uniform last weekend. If he can't begin to find some confidence the Galaxy may not be able to keep up their current run. All three players still have a lot to prove and all three will need to shoulder the leadership and scoring load if the Galaxy
Alessandrini and Dos Santos also must stay involved and scoring goals. Add Zardes to that list and you'll see that all three still have a lot to prove and all will need to shoulder the leadership and scoring load if the Galaxy are to return to a spot above the red playoff line.