The LA Galaxy, coming off a 2-2 draw with the Houston Dynamo last weekend, will travel to Commerce, Colorado to take on the Rapids on Wednesday night (6 PM on SpectrumSN & SpectrumDeportes) at Dick's Sporting Goods Park.
Overall, the Galaxy are 35-25-10 when facing the Rapids. But in the high altitude of Colorado, their record is significantly worse – going 12-18-5 in all meetings in the Rocky Mountain state.
The Rapids (5-8-1, 14 GP, 16 PTS) extended a two-game winning streak (now a three-game streak) after former Galaxy Striker, Alan Gordon, headed in the game winner in the 89th-minute to carry them past the Portland Timbers. A win they badly needed as they attempt to escape from the basement of the Western Conference – currently in 10th place.
The Galaxy, carrying a seven-game unbeaten streak of their own – and a four-game unbeaten streak on the road – will look to end the Rapids' good form and attempt to steal more points on the road. The Galaxy are 4-2-1 on the road this year and carry more wins away from home than any other team in MLS. While the Rapids, similar to the long-standing trend in MLS, have earned all of their wins at home going 5-2-1.
GAME INFO: Colorado Rapids vs LA Galaxy – 6 PM PST on June 21st, 2017
TV INFO: SpectrumSN & SpectrumDeportes
However, the Rapids have an anemic offense. They've scored just 14 goals on the year. That's second fewest only to DC United who have scored ten goals. They've allowed 19 goals total leaving them with a goal differential of minus-five and one of the reasons they've yet to climb significantly into the fray in the Western Conference.
Their leading scorer is Dominique Badji with four goals with striker Kevin Doyle scoring three goals.
With both seven goals and seven assists, Romain Alessandrini is the clear LA Galaxy MVP to this point and is their leader in both categories. In fact, Alessandrini has been involved in 16 of all 21 goals the Galaxy have scored this year (7 goals, 7 assists, 1 PK won, 1 Own Goal created – stat courtesy of Scott French).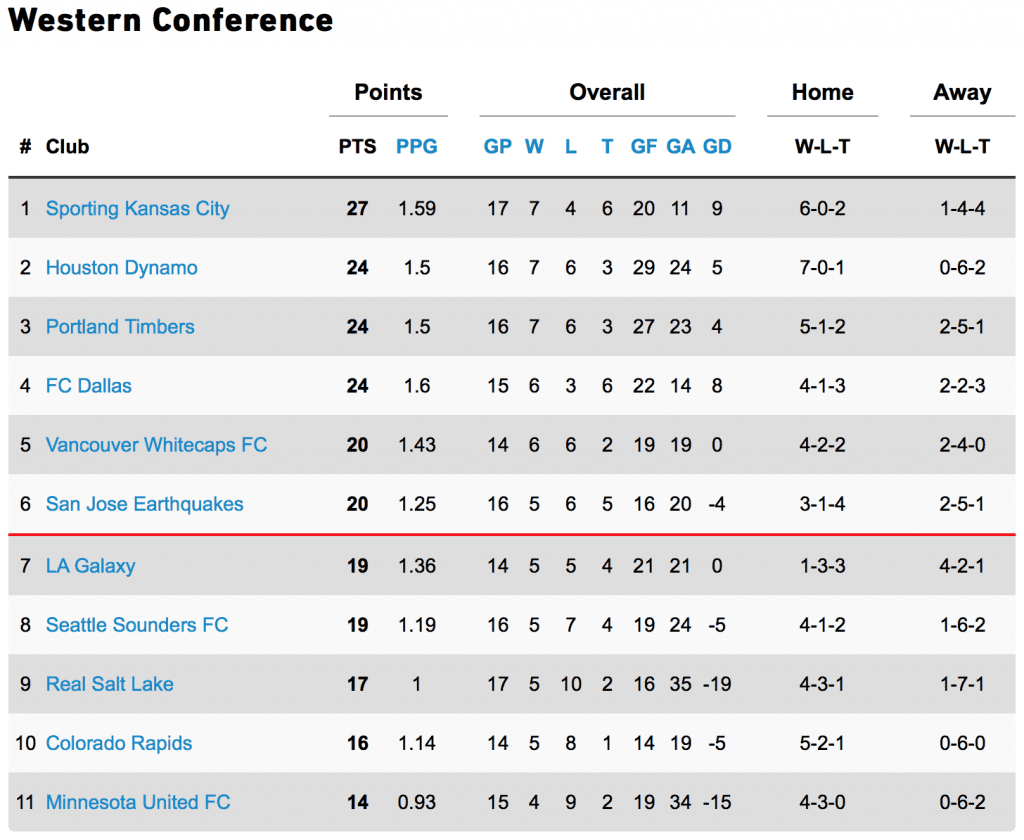 INJURIES, SUSPENSIONS, ABSENCES
But Alessandrini will also need to be cautious. He's just one yellow card away from being suspended and the last thing this Galaxy team needs is their only playmaker and leading scorer to miss a game when the team is already without seven players for the upcoming match.
Giovani dos Santos (International Duty – Mexico National Team)
Jermaine Jones (MCL Injury)
Daniel Steres (Hamstring Injury)
Bradley Diallo (Hamstring Injury)
Baggio Husidic (Broken Leg)
Sebastian Lletget (Broken Foot)
Raul Mendiola (Undisclosed Injury)
Brian Rowe (Groin Injury)
Hugo Arellano (Possible Broken Nose – Status for Wed. unknown)
Jelle Van Damme will return from Yellow Card suspension and will be available for this match. However, Jermaine Jones and Daniel Steres, while close to returning, won't travel with the team. Instead, it looks like both could be available for Saturday's home match against Sporting KC.
Bradley Diallo still nursing a hamstring injury doesn't look likely to return for the next couple of weeks and Hugo Arellano, who was smashed in the nose during last Saturday's game, and was filling in for Diallo, was expected to undergo X-rays on Monday afternoon. Depending on the results of those x-rays it could pose another question mark for the Galaxy's backline or at least the bench.
Raul Mendiola is also currently sidelined with an undisclosed injury and his availability for this match is in question.
It's important to remember that the Galaxy were only able to dress 17 of 18 players against Houston. Something that doesn't happen very often. In fact, head coach Curt Onalfo told LA Times soccer writer, Kevin Baxter, that he's never started a game with 17 players on the bench.
With both teams having to plan for weekend matchups – the Galaxy will host best-in-the-West Sporting KC on Saturday, June 24th and the Rapids will travel to Atlanta United on the same day – there could be some roster adjustments.
Unfortunately for the Galaxy, those adjustments might take place because of who they have available and not to save legs for a difficult game at home on the weekend. the Galaxy are currently in game three of a ten game stretch that will see them play, on average, once every 3.8 days. They have 7 games remaining to be played over the next 30 days.
LA GALAXY LINEUP PREDICTIONS
The Galaxy's starting lineup probably won't change very much(4-4-1-1 or some minor variation). There will be some question marks about starting Jack McInerney again and Onalfo may decide to give Jack McBean or Ariel Lassiter a shot instead. Romain Alessandrini should reprise his playmaker role in place of Giovani dos Santos, and a midfield of Emmanuel Boateng, Rafa Garcia, João Pedro, and Gyasi Zardes is likely (Zardes was struggling with a stomach bug in his 60-minutes against the Dynamo).
Romain Alessandrini should reprise his playmaker role in place of Giovani dos Santos, and a midfield of Emmanuel Boateng, Rafa Garcia, João Pedro, and Gyasi Zardes is likely (Zardes was struggling with a stomach bug in his 60-minutes against the Dynamo).
The backline will get Jelle Van Damme back and he should pair with Dave Romney. Ashley Cole should find himself at left back and Nathan Smith will fill in at right back.
Clement Diop, with Brian Rowe out, is the likely starter in goal – this in spite of his clear errors on both Dynamo goals over the weekend.
Can the Galaxy survive the high altitude and positive momentum the Rapids are carrying into this game? Will this finally be where the unbeaten streak end? And can the team escape without any injuries and begin to get some players healthy? We'll find out on Wednesday night!
COG: FROM THE BOX PODCAST
Josh Guesman and Kevin Baxter get you ready for the Colorado Rapids and update you on all the injuries and player availabilities. LISTEN NOW!