The LA Galaxy have fired head coach Curt Onalfo. The club officially announced this morning that Onalfo was immediately relieved of his duties and that the Galaxy have hired, former coach, Sigi Schmid.
Kevin Baxter of the LA Times was first to break the news.
The #LAGalaxy have fired coach Curt Onalfo. Former Galaxy coach Sigi Schmid will take over, beginning with today's training session.

— Kevin Baxter (@kbaxter11) July 27, 2017
Schmid, who was in charge of the Galaxy from 1999 to 2004 and won a 2002 MLS Cup with the club, will take over at training today as the Galaxy get ready for a Saturday clash with the Seattle Sounders – Schmid's last club.
According to Schmid the deal all came together within the last 48 to 72 hours. A timetable that had the Galaxy announcing the deal within 90-minutes of LAFC's announcement that Bob Bradley would be their first ever coach.
"We focus on us," LA Galaxy President Chris Klein told reporters on a conference call this afternoon. "Once we make a decision and get an agreement with someone like Sigi we push go."
But in reality, the timing doesn't matter.
"In the city of Los Angeles and throughout North America, the LA Galaxy are the iconic standard of success and innovation within soccer," said Schmid. "I am very proud to return to the Galaxy and I know the expectations here are to win championships each year, beginning with a sixth MLS Cup. I am thankful to AEG President and CEO Dan Beckerman, Galaxy President Chris Klein and Galaxy General Manager Pete Vagenas for the opportunity to lead this team. I will work tirelessly to again win trophies for the club, its players, our fans and the city of Los Angeles.."
"After a great deal of evaluation and careful consideration, we believe that Sigi Schmid is the best person to coach our team for the remainder of this season and into the future," said LA Galaxy President Chris Klein. "Sigi is one of the most experienced coaches in the history of soccer in the United States and he is an extremely successful manager that has proven himself to be a winner within Major League Soccer. Sigi has been one of the best coaches the history of our league and we have full confidence in him to lead our team moving forward. Our goal remains to win trophies and be the best club in North America and we believe that Sigi gives us the best opportunity to achieve this. Curt Onalfo has been a loyal servant to the Galaxy and Galaxy II for a number of seasons and we wish him well."
Onalfo went 6-10-4 for the Galaxy in just 20 games. He led the Galaxy to the best road record in the league (5-4-1) and the worst home record (1-6-3). His departure comes amid concerns from those close to the Galaxy that the players had lost faith in the coach and that it was time for a change.
Onalfo was originally hired after Bruce Arena's departure to the U.S. Men's National Team. He was touted by the front office of Chris Klein and Pete Vagenas as someone who was perfectly positioned to transition the Galaxy from an older, more veteran based team, to one that was relying more on LA Galaxy II and the Academy System.
Schmid, who is a two-time MLS coach of the year (1999,2008) and an inductee into the National Soccer Hall of Fame in 2015, will now attempt to lead the Galaxy back into a playoff position in their last 14-games of the season. He's also MLS' all-time winningest coach with  254 wins across the regular season and playoffs – putting him ahead of former Galaxy coach and general manager, Bruce Arena (234).
He's captured two MLS Cups (2002 – LAG; 2008 – CLB) and holds a record 5 US Open Cups (2001 – LAG, 2009, 2010, 2011, 2014).  He's also won three MLS Supporters' Shields (2002 – LAG, 2008, 2014).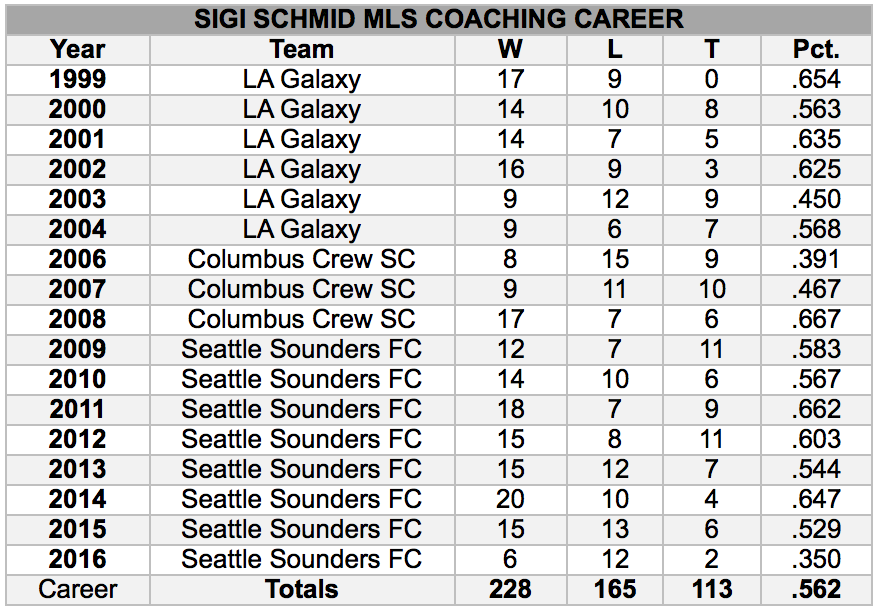 "After a great deal of communication with Chris Klein, Dan Beckerman and Mr. Anschutz we felt this was the best decision for our club going forward," said LA Galaxy General Manager Pete Vagenas. "There are a lot of games left in the second half of the MLS season and we believe Sigi can help guide this team while competing for a playoff position and our sixth MLS Cup. We will provide Sigi the necessary support and resources for this club to be successful."
Goalkeeper coach Daniel Gonzalez and Assistant Coach Rob Becerra will remain on the first team bench with Schmid. But Assistant Coach Ante Razov will move to a different role within the organization. Schmid has also chosen to place Galaxy Technical Director Jovan Kirovski on the bench for at least Saturday's game.
With Jonathan dos Santos coming into the team, and a new coach taking over, do the Galaxy have some magic left in them this year? Will they be able to replicate what Seattle pulled off last year?
1 PM – added the official announcement from the LA Galaxy and quotes from the press release. Also included some additional accomplishments for Sigi Schmid.
1 PM – added information about Jovan Kirovski, Ante Razov, Daniel Gonzalez and Rob Becerra.
3 PM – added quotes from Chris Klein about the timing of the announcement.
3 PM – added information on how long the deal took to close.
4 PM – added quotes from Sigi Schmid