It's not every day a club like the LA Galaxy get to shake up Major League Soccer by both hiring and firing a coach in the same day. So with Curt Onalfo now out as head coach, Sigi Schmid is set to take the Galaxy into battle against his former team on Saturday.
Whatever you were expecting from this match, it just changed.
LA GALAXY VS SEATTLE SOUNDERS
The Galaxy (6-10-4; 22 pts, 9th in conference) will face off against the Seattle Sounders (8-7-6; 30 pts, 5th in conference) on Saturday night for a 7 p.m. kickoff (Broadcast on ESPN/ESPN 2 and ESPN Deportes).
The Sounders enter the match on a three-game winning streak while the Galaxy comes in on the opposite end with a five-game losing streak. If they were to lose, they'd tied a 2007 record that saw them lose six in a row and put them in line to match a 2006 record that saw a seven-game losing streak.
The Galaxy will also try and end a series of unsuccessful attempts at winning their second home game of the year – a streak that spans 114 days. Their only home win coming on April 7th, 2017 against a 10-man Montreal team. They've played seven games at home (in league play) since that win and failed on each of those attempts – going 0-4-3. That included a 3-0 loss to the Sounders on April 23, 2017.
In that game, both Clint Dempsey and Jordan Morris scored for the Sounders while the Galaxy added an own goal to round out the scoreline.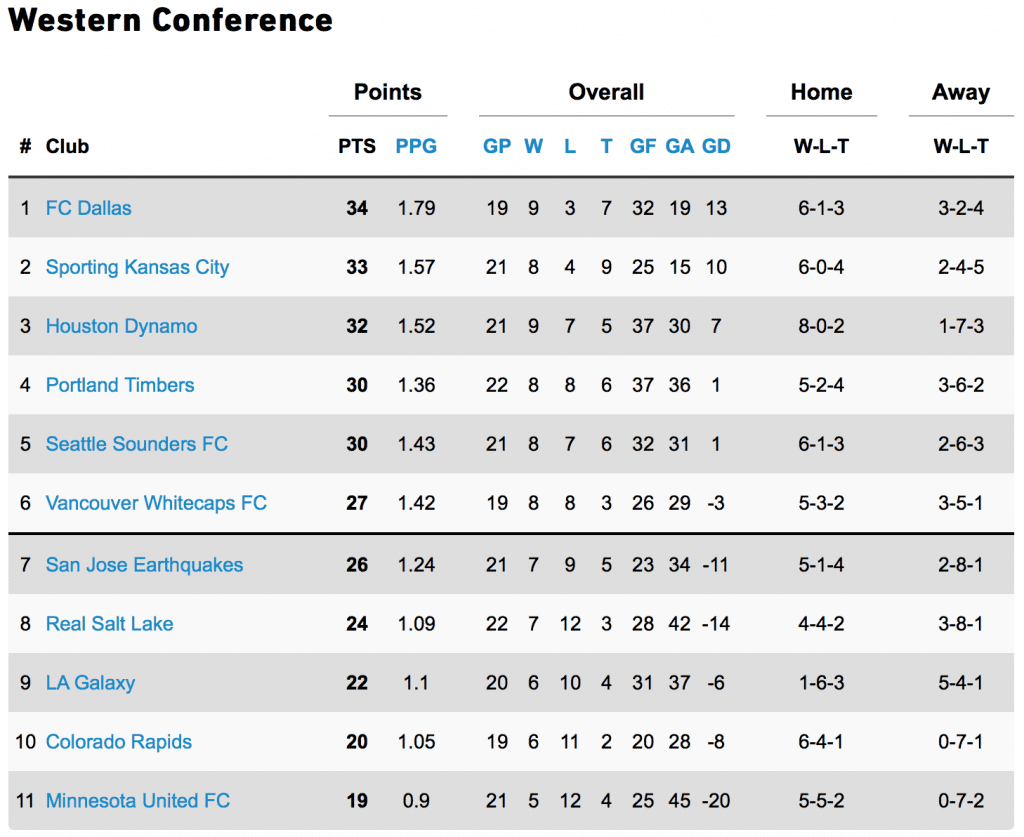 But for Saturday's matchup, both players – Dempsey and Morris – might be a question mark. Both players played a significant role in Wednesday's Gold Cup Final match. So their participation at this point is not guaranteed.
And you can throw the Galaxy's Gyasi Zardes into that group as well.
The Galaxy will also be without striker Jack McBean. McBean was suspended and fined for a foul in last week's loss to New England. And could possibly miss out on the services of Dave Romney (will need to be evaluated for a knock) as well.
The club will need to keep an eye on captain Jelle Van Damme as he's still sitting on seven yellow cards for the season and would be suspended for the Galaxy's trip to Portland next week if he were to pick up another versus the Sounders. Bradley Diallo is in the same boat currently sitting on four yellow cards.
Overall, these two teams have only met 22 times. With the Galaxy holding a slim edge in those regular season contests (9-6-7).
Newly signed Designated Player Jonathan dos Santos will not be available for this game as the Galaxy await his P-1 Visa and his ITC. His first day of training with the club will be today, however.
This game might see the debut of Pele van Anholt. The Dutch right back has been training with the team for two weeks now and is probably in line to get his first action for the Galaxy. Whether that's a starting role or a bench one is probably still in the air.
LA GALAXY LINEUP
With a new coach still learning the names of all the players, any lineup prediction would be downright silly. But the Galaxy will have to find someone to play striker if Zardes isn't expected to take up that role himself. Ariel Lassiter is the likely choice if Zardes is rested.
The midfield should see João Pedro back after his yellow card suspension last week and one, or both, of Rafa Garcia and Jermaine Jones.
Romain Alessandrini and Emmanuel Boateng will round out the midfield with Giovani dos Santos playing in front of them.
Brian Rowe will start in goal and a backline of Ashley Cole, Van Damme, Daniel Steres, and either Van Anholt or Diallo should round out the starting XI.
To help Schmid on the bench, he's enlisted the help of Galaxy Technical Director, Jovan Kirovski. Kirovski will sit on the bench for Saturday's match along with the rest of the Galaxy assistant coaches.
But it should be noted that Schmid has been to nearly every Galaxy game this season. And he's also looked at a bunch of LA Galaxy II games as well. He's more familiar with this club and its current situation than he lets on.
The fact that his first game back in charge of the Galaxy since 2004 is against his former team just adds a little more interest to an already interesting matchup. But can Schmid's two days of training and mere presence make the Galaxy competitive? Everyone is sure to get their answer after 90-minutes of soccer on Saturday night.