The time for rest is over. The LA Galaxy are back in action, after surviving their first bye-week since June, where they'll travel to Columbus, Ohio to take on Crew SC on Wednesday evening for just another "can't lose" game in a series of "can't lose" games to finish out the season.
GAME INFO: Wednesday, August 23, 2017, at 4:30 p.m. PT – MAPFRE Stadium
TV INFO: SpectrumSN, SpectrumDeportes
The Galaxy (6-12-5), will attempt to get back to their winning ways in a midweek game that pits a playoff ready Crew against a club just struggling to find three points. If they can find a way to outlast the Crew they would put an end to an eight-game winless streak that has seen them lose seven games and get outscored 20 to eight.
The club is all but eliminated from the playoffs with only the slimmest chance of making it above the thin red line (5% according to fivethirtyeight.com's predictions). If there is to be any positivity to what has become a soul-draining campaign, a win on the road would cement the Galaxy's late season role as a spoiler.
Having just shipped out Jelle Van Damme in a transfer to Royal Antwerp, the Galaxy will need to lean on the center back pairing of Dave Romney and Daniel Steres – a tandem that has shown considerable growth over the past few games.
But it seems as if the injury bug just won't leave the club alone this year. Both Jermaine Jones and Giovani dos Santos will miss out on this game due to injury.
Jones sits out as he recovers from a toe injury that he suffered on August 12th in the loss to NYCFC. He received three stitches to his big toe in a bizarre incident that saw his shoe fill with blood at halftime. He was able to finish out the match, a considerable task considering the tear beneath his foot, but has been sidelined from training since.
Jones has already missed nine games due to injury this year (MCL Injury) and one game due to suspension. His absence earlier in the season saw the Galaxy go on an eight-game unbeaten streak and a three-game road winning streak. But wishing for a similar result this time around might be stretching.
Suspended Next Yellow Card: Romain Alessandrini, Jermaine Jones
Suspended After Two Yellow Cards: João Pedro, Nathan Smith
Giovani dos Santos will miss out as he recovers from a hamstring injury — the same injury that kept him out of their last game and the same injury that could see him miss Sunday's clash with the San Jose Earthquakes, as well. He is the team's second leading scorer – with six goals – just behind Romain Alessandrini who has eight goals. Missing any offense at this point is a dangerous game. Especially with Alessandrini sitting on a yellow card warning which could see him suspended from playing against SJ with just a single yellow card against the Crew.
And Alessandrini might also be a question mark for this game. He's been in and out of the starting lineup as he attempts to work his way through several knocks and most recently missed the loss to the Portland Timbers with knee irritation. If he can't go on Wednesday, expect Bradford Jamieson IV to fill in — he's been more than a little dangerous in his substitution appearances in recent games.
Finally, it looks as though Brian Rowe didn't travel to Columbus with the rest of the team. Instead, it seems Clement Diop and Jon Kempin have been training with the team leading up to the game. If Rowe isn't available you can almost count on Kempin getting the start as it seems Diop has dropped behind him on the depth chart.
But the Columbus Crew (11-12-3) won't be worried about any of the Galaxy changes or their injury issues. They will have other ideas on their mind as they look to solidify a playoff position in the competitive Eastern Conference. They currently sit in fifth place, are tied with the Montreal Impact who are in sixth place, and sit just one point clear of seventh place Atlanta United. Results will need to go their way if they're to remain in the playoff picture.
The Crew are coming off a 1-1 draw away to Orlando City over the weekend and are winners of just two of their last six games. But those losses all came on the road where the Crew has a much worse record than their 8-3-1 tally at home.
They'll be playing without Harrison Afful who received a straight red card after a VAR review in their previous game and Federico Higuain who is still recovering from hernia surgery. Two good breaks for a Galaxy team that needs every advantage.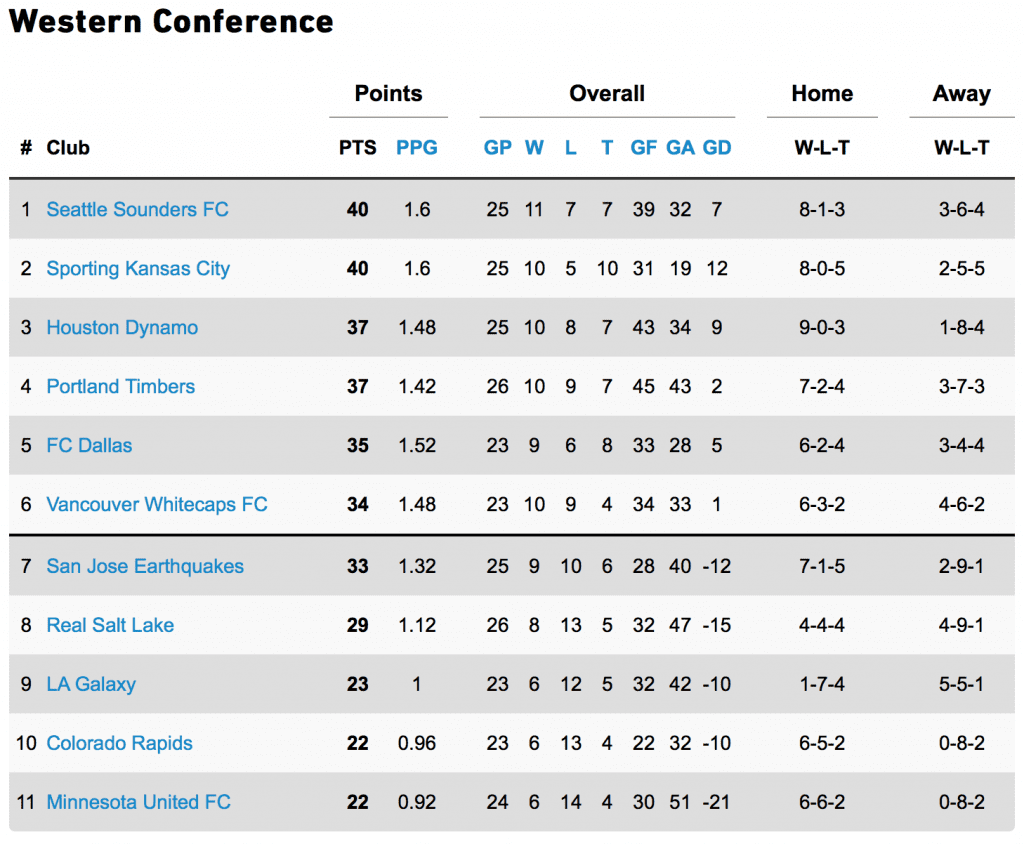 But the Crew won't be shorthanded when it comes to scoring goals. Justin Meram and Ola Kamara, who have combined to score 22 times for their club this year, will pose a serious offensive threat to the backline of the Galaxy. Meram has 10 goals and seven assists on the year and has easily been one of their most dangerous players. With Kamara scoring 12 goals and adding three assists the two have combined well on the season and will look to continue that against the Galaxy.
All told the Crew are one of the few teams in MLS that holds a winning record against the Galaxy (16-15-10) and holds a significant advantage when the game is played in Ohio (9-4-6) – outscoring the Galaxy by ten goals in those 19 games.
One thing is for certain: Another loss, another hemorrhage of points, another disappointment will ultimately end the Galaxy's ability to sneak into the playoffs. But more than that, another subpar performance will prove what fans and reporters have been seeing since before the season started — that the Galaxy aren't strong enough to compete in MLS with the roster they've put together.
8.23.2017; 8:05 AM – Updated with information that shows Kempin and Diop training with the club in videos. Alessandrini added to the list of questionable players. He's had knee issues recently.