Giovani dos Santos had a banner year for the LA Galaxy in 2016 with 15 goals and 13 assists in his first full season with the club. The club parted with many of his teammates – most notably Robbie Keane – during the offseason, but the Galaxy and front office officials felt more than comfortable building a team around dos Santos for 2017.
What has followed has been anything but a success story. With only six goals and one assist, the Galaxy's highest-paid player — $5.5 million per year, according to Major League Soccer Players Union — has been a non-factor for much of the season.
He last scored on May 27, when he had two goals in a 4-2 victory over the San Jose Earthquakes, and has gone the last nine games without a point. In fact, he has only three goals in the run of play all year. His other goals were converted penalty kicks.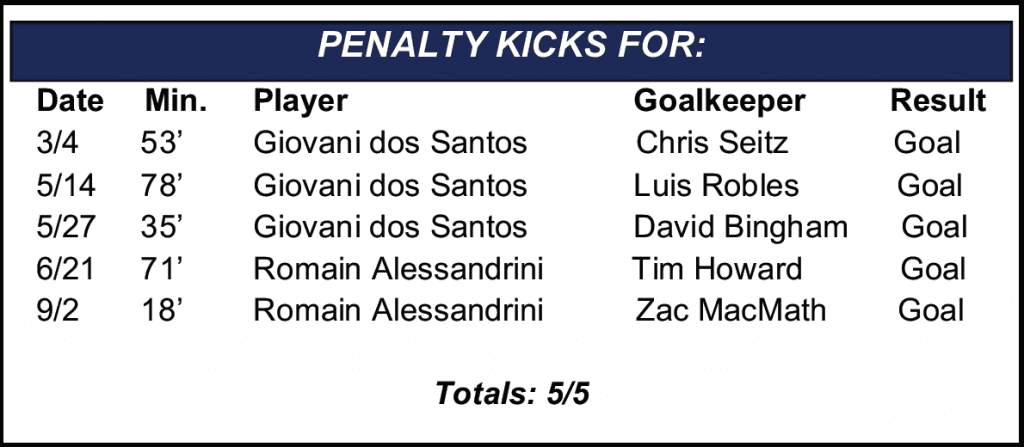 Dos Santos' only assist came on May 14, when his pass to Romain Alessandrini led to the Frenchman's ninth-minute goal in a 3-1 victory over the New York Red Bulls.
In his most recent 90 minutes, a 4-0 loss to Atlanta United on Wednesday, dos Santos had the team's only shot on goal and generally missed connections with most of those around him.
He was, by most accounts, invisible – a common complaint among his critics.
Fan frustration is born out of the knowledge he can be dominant when he wants to be. In fact, dos Santos arguably is the Galaxy's most technically gifted player. He's capable of scoring impressive goals and showing incredible quickness and speed. The problem is he rarely displays such skills and confidence, leaving most to question his longevity with the club.
Dos Santos sees all of this as more of a team problem than any individual reason why he's not putting up similar numbers to those of last year.
"Of course, I want to get better every single year. I think it's an understanding of everyone," dos Santos told reporters after last Saturday's game, a 4-0 loss to Toronto FC. "I can make a run, but if your teammate doesn't see you then your run doesn't matter.
"There are a couple things right now that we're still building on. If you see last year, I remember my numbers were different. This time, I'm working harder than last year. I'm making good runs, but not getting recognition from the team."
There could be some merit to his opinion.
Other than Alessandrini (nine goals, 10 assists), no Galaxy player has had a good offensive year. Gyasi Zardes, for example, recently broke a prolonged scoring drought and has just two goals this season. The Galaxy, by the way, are tied for the sixth-worst offense in MLS with just 36 goals.
Dos Santos has seen his production drop dramatically, even though he's actually taking the same number of shots.
In 2016, he had 63 scoring attempts en route to scoring 14 regular-season goals. That averages to about 2.25 shots per game in 28 games played. Through 20 games in 2017, he's averaged about 2.3 shots per game. It's a small increase, but even being on the same pace likely would surprise most of those who have watched him play this year.
Perhaps it's more about his accuracy than simply not getting the opportunities.
In 2016, dos Santos had 31 shots on goal, an accuracy rate of almost 50 percent. This season, however, he's hit the target just 14 times, a 30 percent accuracy rate.
Dos Santos believes he's not seeing the ball and therefore not scoring.
"When you don't get shots, you can't expect great things," he said. "Everyone knows what we want. It's frustrating because I know people look at me while I'm on the pitch. It's difficult, but you have to understand the situation as a team."
The Galaxy have just five games remaining in what is shaping up to be the worst season in franchise history, and front office officials must decide how to strengthen a roster that was designed to feature dos Santos as the team's best player. The Galaxy already have three designated players locked up for roughly the next three years and will need to find a way to play six or seven midfielders in only four spots.
But dos Santos has his mind on other things.
"Of course, I'm going to be in good shape because I have international goals with my international team," he said of the Mexican national team. "The next year is the World Cup, so I'm definitely going to work hard for next year."