The LA Galaxy set a new single-season franchise record for losses as Sporting KC easily scored two first-half goals en route to a 2-1 win that sounded closer than it ever was.
And while the first 45-minutes was a largely one-sided affair that saw Sporting dominate possession, the second half may have just given a beleaguered Galaxy team a glimmer of hope going into their next midweek game.
"I thought it was good," Galaxy Head Coach Sigi Schmid said of his teams second half performance. "I thought our second half showed a little bit of character and resiliency especially in losing another player in Joao Pedro. It made it a little more difficult, but I thought the team showed a really good attitude in the second half."
But the Galaxy (7-17-6; 27 points) were played off the field in the first half after an experimental lineup that threw Gyasi Zardes into his first-ever start at right-back and saw Sporting target the new defender at every turn.
Sporting (12-6-11; 47 points), continually overloaded the Galaxy's right side forcing Zardes and Galaxy midfielder Roman Alessandrini to defend for long periods of time. And with some success, as the second goal scored by Sporting was a diagonal pass that caught Zardes stepping forward while Alessandrini dropped back.

The 35th-minute goal saw Sporting's Seth Sinovic streak in behind Alessandrini with Zardes chasing the play. But Sinovic's last-minute cross to the back post found Diego Rubio who quickly slotted it past Galaxy goalkeeper Clement Diop – who made his first start since July 4 and a 6-2 loss to Real Salt Lake.
"The first half was difficult for him (Zardes) and for me because I think Sporting KC was playing with three players on our side because they forced me to defend," Alessandrini told reporters after the game.
If the second goal targeted the inexperienced, then the first goal the Galaxy conceded was simply poor marking and the inability to anticipate the ball.
Michael Ciani, the victim of many goals over the past three games, allowed Sporting's Daniel Salloi to start a run on his back shoulder and then quickly shift to beat Ciani to the near post. The easy flick past Diop was a sign of just how thoroughly Salloi had fooled the 33-year old Ciani.
"I think our defending was poor on their two goals," Schmid lamented after the game. "You can't get beat to the near post like that on the first goal, and you can't give the back door on the second goal."
Also of concern, for the Galaxy, was a right hamstring injury to Joao Pedro. Pedro subbed off in the 31st-minute for Rafa Garcia. The severity of his injury is currently unknown but he will join a long list of Galaxy players who are sitting on the sidelines with injury or suspension.
The Galaxy allowed the first goal for the 20th time this season. Going an embarrassing 2-16-2 in those games and proving that their defense has never recovered from an offseason loss of Robbie Rogers (Ankle Surgery, Nerve Damage) and an ill-advised trade of AJ DeLaGarza.
The Galaxy are also without Pele van Anholt (Torn ACL & MCL), Bradley Diallo (Hamstring), and Daniel Steres (Back Fracture) on the backline and Ciani has struggled to get quickly up to speed and hold down his spot.
Dave Romney and Ashley Cole were both serviceable in defense, but much of that went wasted on a performance that was never very competitive from the rest of the team.
Only a second-half free-kick goal from Alessandrini would spring the Galaxy back to life. Alessandrini took the kick from outside the penalty box just to the left of the arc and fired it over the wall to beat Sporting's Tim Melia who had three saves on the night.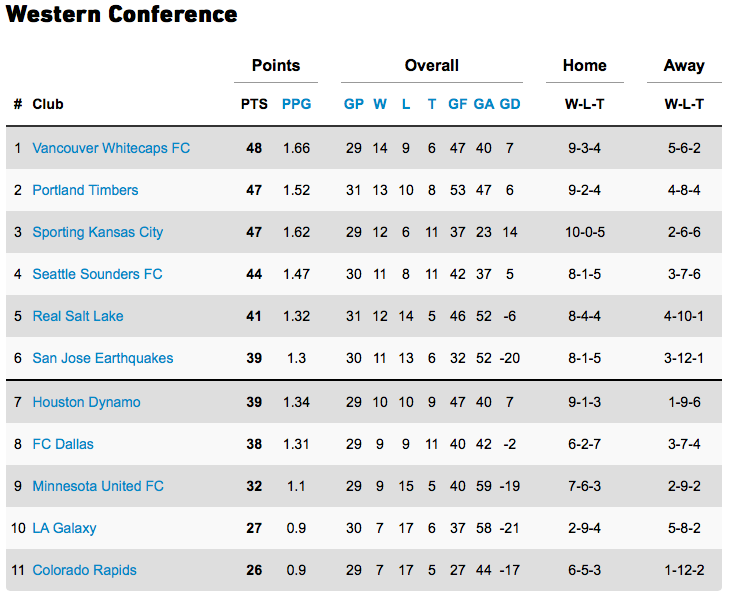 The 58th-minute strike would add some fire to the Galaxy who were able to bend on defense but not break. But going forward they didn't have the weapons at their disposal, even as Schmid tried to force Giovani dos Santos up top and into more dangerous scoring positions.
"Well he's (Giovani dos Santos) staying up front, and he's trying to do that," Schmid said. "I'd like to see him get a few more looks at goal but sometimes I don't think we're good enough getting the ball to him at the right time and you know he needs to find the ball as well."
Dos Santos managed only a single shot all night – in the 13th-minute of the match – and while it was on goal, it didn't trouble Melia.
The Galaxy managed to take seven shots on the afternoon and got four on-target, with only Alessandrini's goal being anything to write home about.
And while the Galaxy have given up 58 goals on the season – second worst to only expansion side Minnesota United FC – the offense continues its struggles to create and find chances.
Sporting continued unbeaten streak at home and now holds a 10-0-5 record at Children's Mercy Park where more than 19,000 in attendcance on the day saw a team known for late-season collapses get all three points against what is left of the Galaxy's pride.
The Galaxy will finish their third game of this three-game road trip (0-2-0) when they take on the Houston Dynamo on Wednesday, September 27 at 5:30 p.m. PT(SpectrumSN, Spectrum Deportes). Having not been officially eliminated from post-season competition, the Galaxy are sure to be hopeful. But must, if not all, know that it's only a matter of time until this season is officially over.