The LA Galaxy have no postseason to play for, no individual awards to try and earn, and certainly, no guarantee that any of their jobs will be there at the season's end. But regardless of what they don't have going for them, they'll need to muster a rather larger effort if they're to keep visiting Real Salt Lake from decimating them like they did, earlier this year, on the July Fourth holiday.
GAME INFO: LA Galaxy vs Real Salt Lake, 7:30 P.M., Saturday, Septemeber 30, StubHub Center
TV INFO: Alternative Spectrum SportsNet Programming (CLICK HERE)
The Galaxy (7-17-7; 28 points) are coming off a disappointing 3-3 draw with the Houston Dynamo on Wednesday night and must not prepare for another quick turnaround. It will end up being five games in the last 15 days, and it's treated the struggling club with anything but kindness.
The Galaxy are 0-3-1 during that stretch and have, so far, been outscored 13 to 4 with two 4-0 shutouts to Toronto FC and Atlanta United FC and a 2-1 loss to Sporting KC. And ordained with the league's toughest schedule down the stretch, the Galaxy are tired, broken, and seemingly out of ideas. Very similar to the last time they hosted Real Salt Lake – five games in 18-days and a record of 1-3-1.
"It's going to be a difficult game for us because obviously, they (Real Salt Lake) didn't play midweek so they're going to go into the game rested with pace up front," Galaxy Head Coach Sigi Schmid told reporters after their game in Houston. "We have a couple of guys who came off the bench, so we have to see how guys recover from tonight and we'll see what we can put on the field on Saturday."
Real Salt Lake (12-14-5; 41 points), as Schmid alluded to above, didn't have a midweek game and are coming off a home victory over the Seattle Sounders on September 23. They currently sit in fifth place in the Western Conference and are in the midst of a battle for the last two remaining playoff spots.
FC Dallas, the Houston Dynamo, and the San Jose Earthquakes are all within striking distance of Real Salt Lake with two of those teams certain to be left out of the postseason. And while Real Salt Lake is currently above the red line, one slip up against the Galaxy could easily drop them out of the race.
Including the defeat of the Galaxy on July 4, Real Salt Lake are 7-2-3 in their last 12 games. To say they've figured something out, would be an understatement.
While Real Salt Lake had success against the Galaxy in their previous meeting, it was the Galaxy who stole the first game of this series on March 18. Making their first road trip of the season, and coming off back-to-back home losses to open the campaign, the Galaxy's Dave Romney, and Emmanuel Boateng found the back of the net in the second half after Real Salt Lakes Yura Movsisyan scored the opener in the 18th-minute. The Galaxy were also aided by a red card to Kyle Beckerman after two quick yellows in this game.
With both road-teams winning the previous matchups, the showdown on Saturday has plenty intrigue even if one team has nowhere to go but to the beach.
The Galaxy will still be without a large contingent of their roster for this game. Bradley Diallo (Hamstring) and João Pedro (Hamstring) are likely to miss this game again, with Diallo being the only one whose status is in the air. But with some mild success at right-back in the previous games, Gyasi Zardes – a struggling forward – may be a better fit than an ailing center-back who sometimes plays right back. No situation portrays the Galaxy's defensive woes in 2017 better than this current conundrum.
No situation portrays the Galaxy's defensive woes in 2017 better than this current conundrum.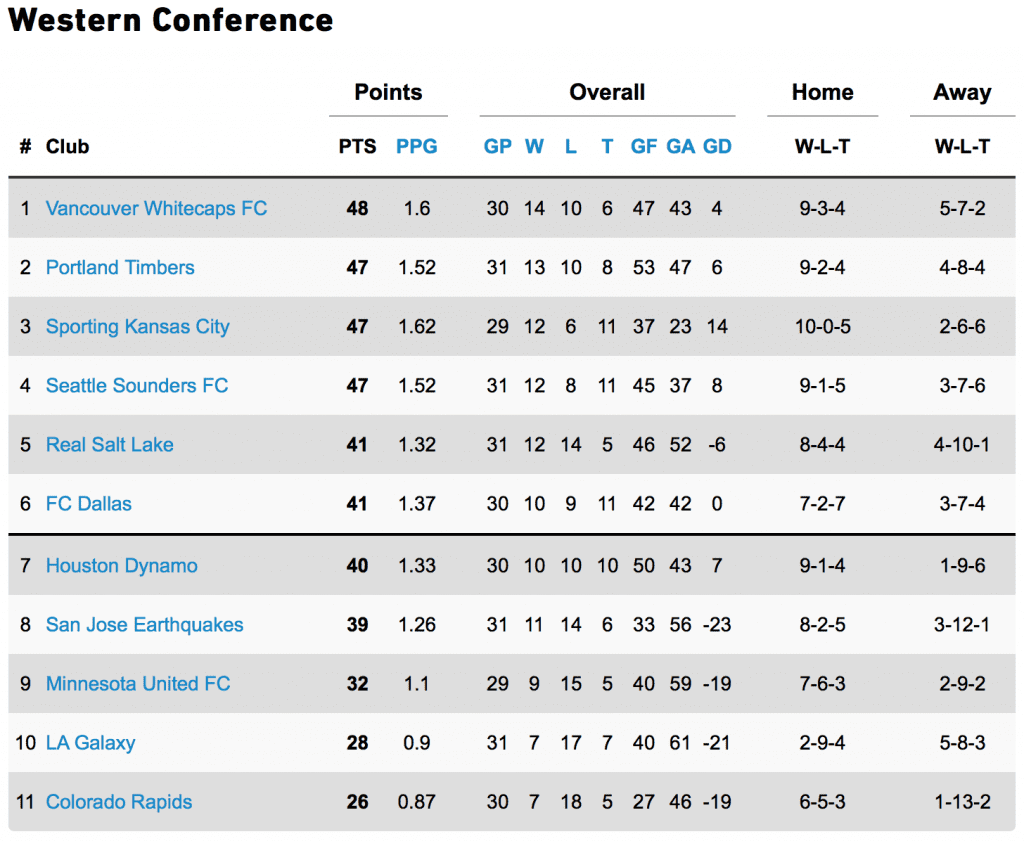 Daniel Steres (Back Fracture), Pele van Anholt (Torn ACL & MCL), Baggio Husidic (Fractured Tibia), Sebastian Lletget (Fractured Foot), and Robbie Rogers (Nerve Damage, Ankle Surgery) will all still be sidelined for this game. And while Husidic is probably the closest to returning, at this point, it's probably just better to let him recover for the remaining three games.
Galaxy fans should expect a very similar lineup to what started on Wednesday night with the inclusion of Emmanuel Boateng and Michael Ciani — both of whom seemed to be rested against the Dynamo.
BAD. REALLY BAD.
The 2017 Galaxy are currently the 24th worst team in Major League Soccer history, with a 0.90 points per game average. Any losses would move them further up that ladder putting this season into horrible perspective.
They're already destined to be the worst Galaxy team in franchise history (2008 was 1.10 ppg and the previous worst team in franchise history), have set a franchise record for losses, 17, and would need two more wins to keep from tying the previous low of eight wins in 2008.
But their home record is one for the books. At 2-9-4 the Galaxy are currently tied with the 2001 Tampa Bay Mutiny for fewest wins at home in a season. The Mutiny went 2-10-2 at home in their final season of existence and managed just eight points at home. And while the Galaxy's current record keeps them from fewest points at home, they're in rare company. They're just above the 1999 MetroStars (7 pts), and the Mutiny (8 pts), but are currently tied with a 2010 DC United team that managed a 3-11-1 record at RFK Stadium and earned just 11-points.
So saying the Galaxy have nothing to play for would be far from the truth. But whether the organization or players are concerned with setting new low records is a different argument altogether.
ALMOST DONE
There are just three games remaining for the Galaxy in 2017 and with the Galaxy's atrocious home form, hosting two of the last three games at home might be a disadvantage.
"I think as a team, closing out matches, getting points in games, and keeping our heads up from minute one to minute 95," the Galaxy's Bradford Jamieson IV said about the team's goals for the rest of the season. "I think that's a big thing for finishing this season and starting next season, the unity for our team.
"We have a lot of great guys, so as a team I just want us to solidify our trust in each other. We have it, we have it in us, so it's just making it a split-second thought in our heads."
For the Galaxy, any positivity going into a long offseason will be welcomed. And any chemistry that can be created is