Carson, CA — Romain Alessandrini failed to score in the Galaxy's heartbreaking, 1-1 draw with Real Salt Lake on Saturday at StubHub Center, but he has been a major factor for a club that has struggled offensively all season.
Alessandrini currently has 11 goals and 10 assists, making him one of only two players in MLS (New England's Lee Nguyen is the other with 11 goals and 15 assists) to have reached double digits in both categories. He's also had a hand in 27 of the Galaxy's 41 goals, or 66 percent of the club's offense.
"We created a lot of chances tonight," Alessandrini told reporters after Saturday's game. "Sometimes we were unlucky, I think. Me first with my first shot on the post. My second one with the cross from Giovani (dos Santos).
"I was alone so I can make that. But it's soccer and sometimes you have to win 1-0 too, but we were unlucky and I think this whole season it was so hard."
One example of his bad luck was his fourth-minute shot that rocketed past Real Salt Lake goalkeeper Nick Rimando, only to rattle off the crossbar and out of danger. Emmanuel Boateng had similar misfortune when his second-half attempt hit a goal post.
The Galaxy forced Rimando to make five saves on a night when the five-time MLS Cup champions had a number of dangerous chances. Alessandrini accounted for six of those opportunities, with two of those forcing Rimando to make a save.

The Frenchman also was a constant threat to take on opponents one on one and was credited with three passes that led to near-misses.
It's easy to forget Alessandrini was an offseason acquisition from Olympique de Marseille. He officially signed with the club on Jan. 31 and the Galaxy paid a reported $1.75 million transfer fee. He's played in 28 games, including 25 starts.
He hasn't been wearing the captain's armband for the Galaxy — at least not on a regular basis – but he's clearly one of their veteran leaders and likely will increase his locker room presence in 2018 as he becomes more comfortable with the English language.
He was anything but satisfied with his performance Saturday, especially since it was his disputed foul – Galaxy head coach Sigi Schmid called it a "horrendous call" by referee Rubiel Vazquez — that led to a free kick and Real Salt Lake's game-tying goal in stoppage time.
"Obviously, we are frustrated," Alessandrini told reporters after the game. "When you create a lot of chances like that you have to score. I'm frustrated because I had to score tonight. But at the end of the day, I think it was hard to concede a goal in the last minute, the last second.
"I didn't think it was a foul, but the referee said yes."
Alessandrini refused to be crushed by the last-minute loss of a potential three points.
"You know how we want to finish the season strong," he said. "It's very hard for us with this result, but now we have to keep our heads up. One at home and one on the road, but we have to make sure to prepare for the next season.
"I know it's difficult for the fans, for the club and for us, but we have to work hard. We have to stay together and this night might be the worst game because we should have scored four or five goals."
The Galaxy have just two games remaining, including one at StubHub Center on Oct. 15 against Minnesota United.
"We have to look forward," Alessandrini said. "We have to keep our heads up and we have to work hard and maybe we can forget what happened in that last minute and be focused on what we have to do."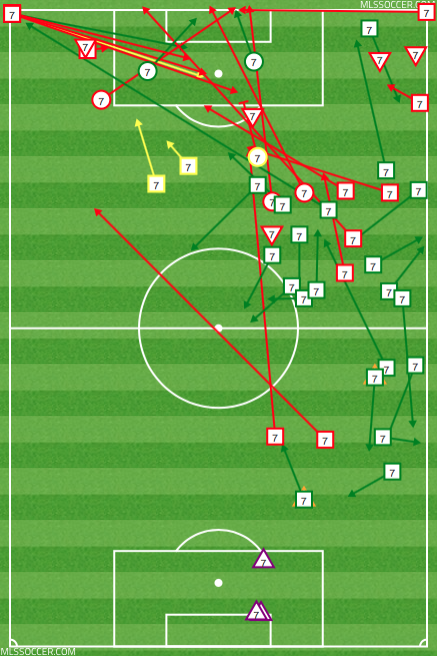 Alessandrini clearly has been one of only a few bright spots in the Galaxy's otherwise poor season and big things will be expected next year. And for all the talk of how international players sometimes can have trouble adjusting to Major League Soccer, Alessandrini appears to have bucked that trend.
The Galaxy have struggled to do almost anything right in 2017. But Alessandrini represents what can happen when things fall into place and the club gets the right guy at the right time and for the right price.