If you're an LA Galaxy fan, watching the 2017 team become the worst in franchise history hasn't been easy. The Galaxy are five-time MLS Cup Champions and had previously made the playoffs in consecutive years starting in 2009. Once the epitome of consistency they rose to the top of a parity-driven league time and time again while seeming to buck the trend of regressing back to the mean.
But in 2017, nobody could be blamed for feeling like it's never been this bad – even those who have been following the team since 1996 — because it's really never been like this.
The Galaxy hold a 2-9-5 home record — a record that ties them for fewest wins at home in an MLS season with the 2001 Tampa Bay Mutiny (2-10-2) and a record that guarantees them the fewest home wins (6 in 2007) in the franchises 22-year history regardless of the final home games outcome. And their paltry 11 points at StubHub Center is currently the fewest by any Galaxy team in history with the 2007 club managing 21 points (6-6-3) – a full ten points more than this year's effort.
They're last in the major league soccer – a place they have never finished – and they're likely to set franchise records for goals conceded (currently tied with 2007 at 62) and goal differential (minus-21) as their points per game, 0.91 is nearly two tenths below 2007's 1.10 PPG.
They will finish the season with the most losses in franchise history (they already have 17), breaking a 1997 record that saw that Galaxy team lose 16 times in a shootout era record that also saw them win 16.
GAME INFO: LA Galaxy vs Minnesota United FC, Sunday, October 15 at 4:30 p.m.
TV INFO: SpectrumSN & Spectrum Deportes
It's for sure a new feeling for lots of people surrounding the club.
It's a new feeling for the fans, a new feeling for the club, and a new feeling for 36-year old Ashley Cole — one of the most talented and experienced defenders in the world of soccer.
For a man who has played on English Premier League sides Arsenal and Chelsea, and Italy's Roma, this Galaxy season is anything but familiar to him.
"It's kind of a first experience for me," Cole said after training on Saturday. "So it's been difficult to kind of get through this season. But now, for me, I just try to look forward to next season because this season was a disaster."
But with all that said, there is still something to play for. Something Cole is adamant still matters for all the players.
"It's important. One, for the fans and two, for the club. We don't want to be breaking them kind of records," he said referring to being tied for the fewest home wins in league history. It's been a terrible season so hopefully, we can give the fans something to cheer about."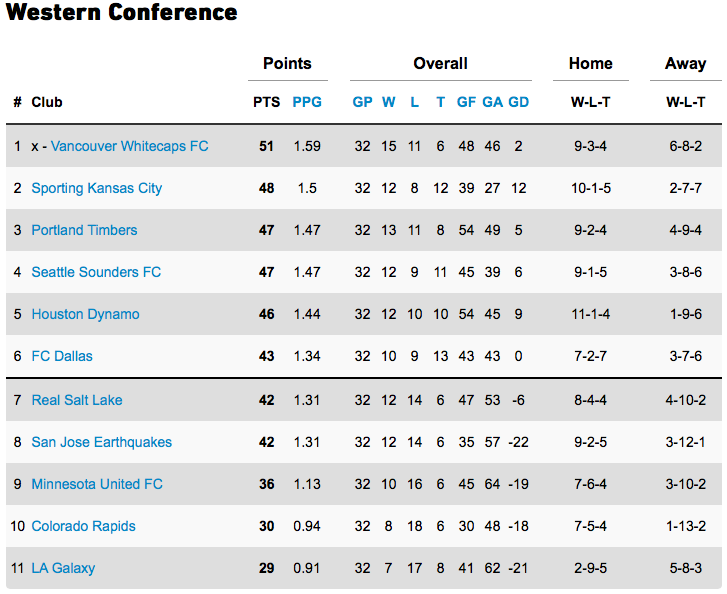 Minnesota United FC (10-16-6) enters the match going 3-1-1 in their last five matches and currently sits in ninth place in the western conference, seven points ahead of the Galaxy who are guaranteed to finish below them. For perspective, United, an expansion team this year, only existed in lower division form before 2017.
They most recently played over the weekend against Sporting KC and drew 1-1 in one of the few games played during the international break. United also recently beat Atlanta United for Atlanta's first loss at Mercedes-Benz Stadium.
The Galaxy (7-17-8), who are just 1-7-4 under new Head Coach Sigi Schmid, and who have scored just ten goals while conceding 25 during the same period, haven't played since a disappointing home draw against Real Salt Lake that saw them concede in the 95th-minute.
And, as mentioned above, with the last home game of 2017, the Galaxy will have a chance to climb over that dubious home wins record from 2001 with a victory.
Gyasi Zardes was missing at training on Saturday and is likely still recovering from a groin injury. But Baggio Husidic, who broke his leg against Minnesota, might finally be healthy enough to get some minutes.
The first time these two teams met on May 21, the Galaxy came away with one of their seven wins on the season. A 38th-minute strike from Giovani dos Santos and an 84th-minute free kick that forced United into an own goal was all the scoring the Galaxy needed to offset Christian Ramirez's second-half strike.
But United is much better this time around and will pose a formidable challenge to a Galaxy team that may have forgotten how to generate offense and is even worse at protecting a lead.
When all is said and done, the 2017 Galaxy will be the worst in franchise history by almost any margin. And if they slip up in their last two games, they could even find themselves among the top 20 worst teams in MLS history.
But with a couple of wins, they may be able to keep themselves above the Colorado Rapids who sit one point in front of them and may be able to keep from finishing dead last.
And for the Galaxy, that's at least something to play for in a year that has been very clearly a debacle of epic proportions.
"I would hate for the last memory of the season to still be negative," Bradford Jamieson said about their match against Minnesota on Sunday. "A win at home and to end on a brighter note is always the correct thing to do. It's always the professional thing to do. And to go out fighting, 100-percent is always the professional thing to do.
"And I don't think any guys are going to want anything different. They're going to want to get a result for the fans, and for ourselves, and for the years to come."
TRAINING NOTES:
Ashley Cole, when asked about his future with the Galaxy told CoG "I don't know. I'm speaking to them [LA Galaxy]. We'll see. But for sure I'm going to play one more year somewhere." Other personnel decision could dictate whether Cole feels like coming back. And Galaxy may choose to move on.
Gyasi Zares didn't train and will not play.
Sebastian Lletget was an active participant with the team. While not training outright, he was talking and involved in a lot of what the team was doing.
The team spent time on set pieces including free kicks and corners on the offensive side.
Dominica Kinnear was in charge of most drills. Sigi Schmid would add his comments when necessary.
Best part of training was during the knockout game after practice had concluded. Jonathan dos Santos went to take his turn and his plant foot slipped. He fell flat on his back. Lletget mockingly called for the trainer and the entire team made ambulance sounds.