We'll continue to update this LA Galaxy story throughout the year with our updated charts and graphs. Let us know if you have some suggestions on any other comparisons you'd like to see and we'll do our best to add it into our analysis of this 2017 team.
UPDATED CHARTS – THROUGH 34 GAMES
The LA Galaxy closed out the 2017 season the way they started it – by losing to FC Dallas.
And while the Galaxy have been out of the playoffs for quite a while, their final resting spot for this season might be a little surprising.
For the first time in club history, the Galaxy have finished last in the league and claimed the infamous Wooden Spoon trophy. A trophy made up by the fans and ceremoniously given to the team with the worst record at the end of the year.
Their 32 total points on the season are the fewest by any Galaxy team in club history, and that's regardless of how long the season was. That means that teams that only played 30 games still finished with more points than this Galaxy team that played 34 games.
Their Points Per Game total is also a franchise low (0.94 PPG), and this 2017 team becomes the first team in Galaxy history to finish below 1.00 PPG.
On the goalscoring side, the Galaxy finished the season with 45 goals which are only about five goals below their historical average of 50.2 goals in a season.
On the defensive side, things got bad.
The Galaxy conceded 67 goals in 2017 – a new franchise record. Besting the 2008 Galaxy who conceded 62 goals on the season in just 30 games. This year's club will not be the worst defense ever, however. On average the 2008 club conceded 2.06 goals per game compared to the 2017 club's 1.97 goals per game.
So I guess they dodged a bullet there.
But the final goal differential on the season, a shocking minus-22, is the worst in Galaxy history by 12. The 2007 Galaxy finished with a minus-10 differential and only two other seasons, 2008 (minus-7) and 2005 (minus-1) finished below zero in that department.
Just another measure of a season that has been anything but upstanding.
As a side note, the Galaxy have had many issues at goalkeeper this year. As a final look at all three of the Galaxy's 'keepers, we computed their Goals Against Average (GAA).
Clement Diop played the most minutes of any Galaxy goalkeeper with 1,331 minutes. He allowed 31 goals (including four on the night – it should have been five, but he was ejected before the penalty kick).
Diop's GAA is 2.10.
Jon Kempin finished the season with 570 minutes played and conceded 13 goals. His final GAA was 2.05.
Brian Rowe played 1,157 minutes and allowed 23 goals. His final GAA was 1.79.
The Galaxy have privately said many times that they're shopping for a goalkeeper in the offseason. With Head Coach Sigi Schmid saying as much in some of his post-game press conferences.
So it should come as no surprise that the Galaxy will probably disregard those numbers as their hunt begins.
Although, it wouldn't surprise most people to think that one of these 'keepers will be back in 2018. But probably not more than one.
The final charts and graphs are below. In total, we captured almost every game in the 2017 season from a multitude of different angles.
But you didn't need these charts to tell you the 2017 Galaxy were something horrific. Their failure this season wasn't simply an off-year. It was the complete dismantling of a franchise with a league-high five MLS Cups and a team that had been competitive year over year, since the end of the 2008 season.
Changes are coming. Without them, the Galaxy are likely to repeat this disaster in 2018.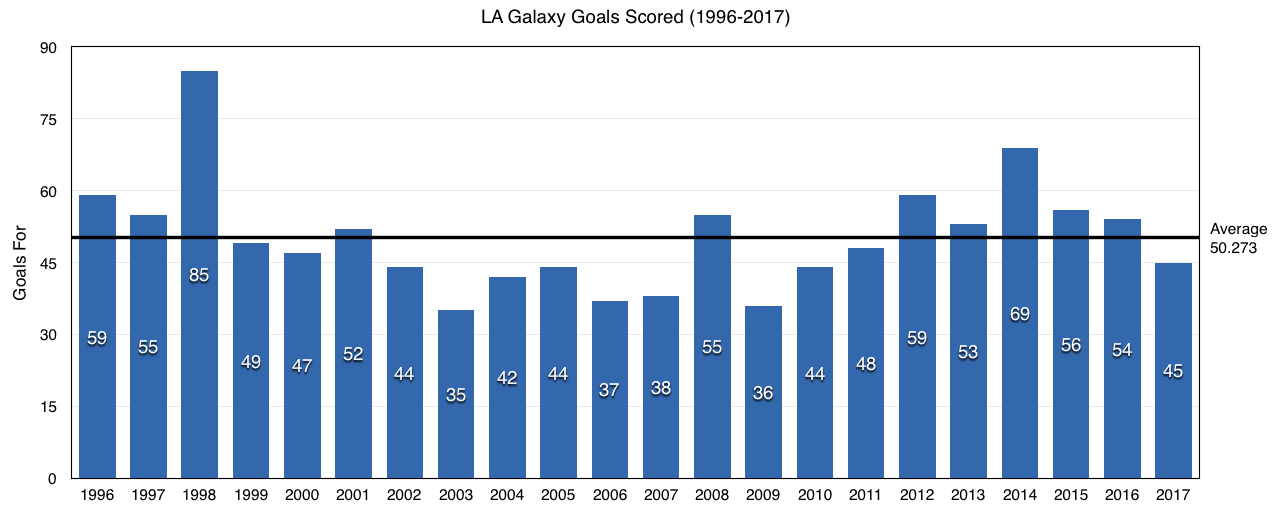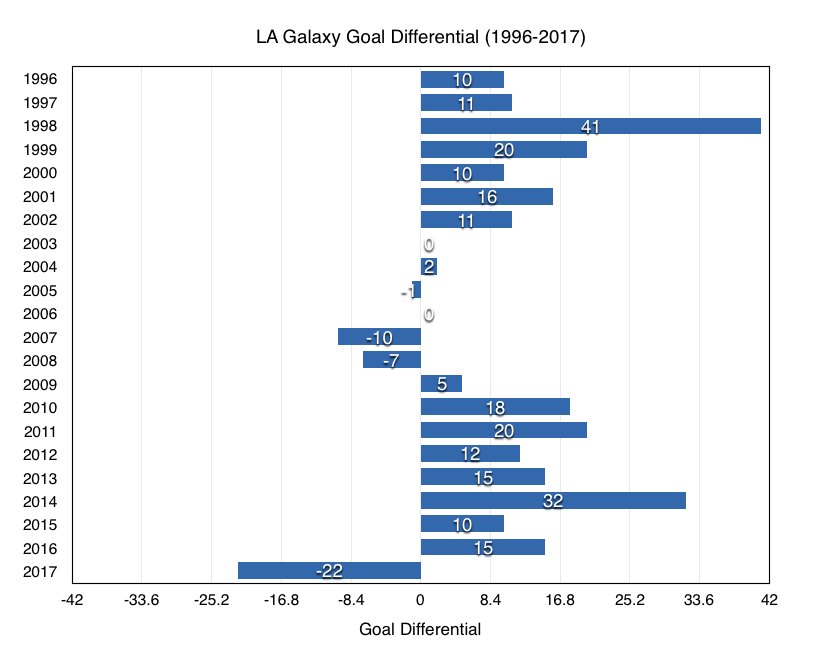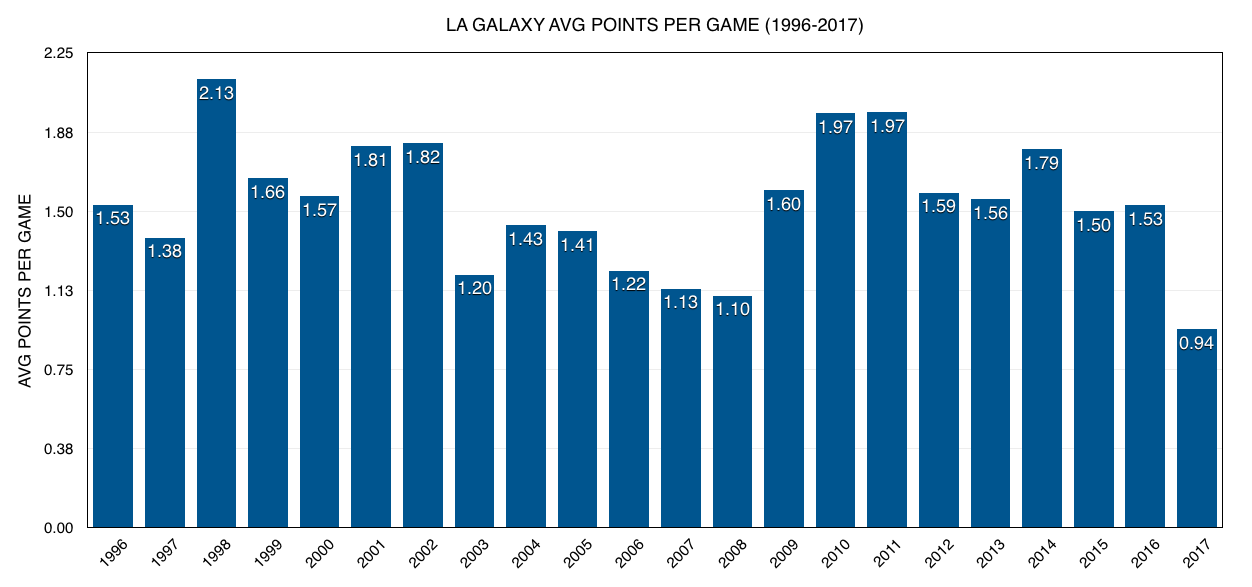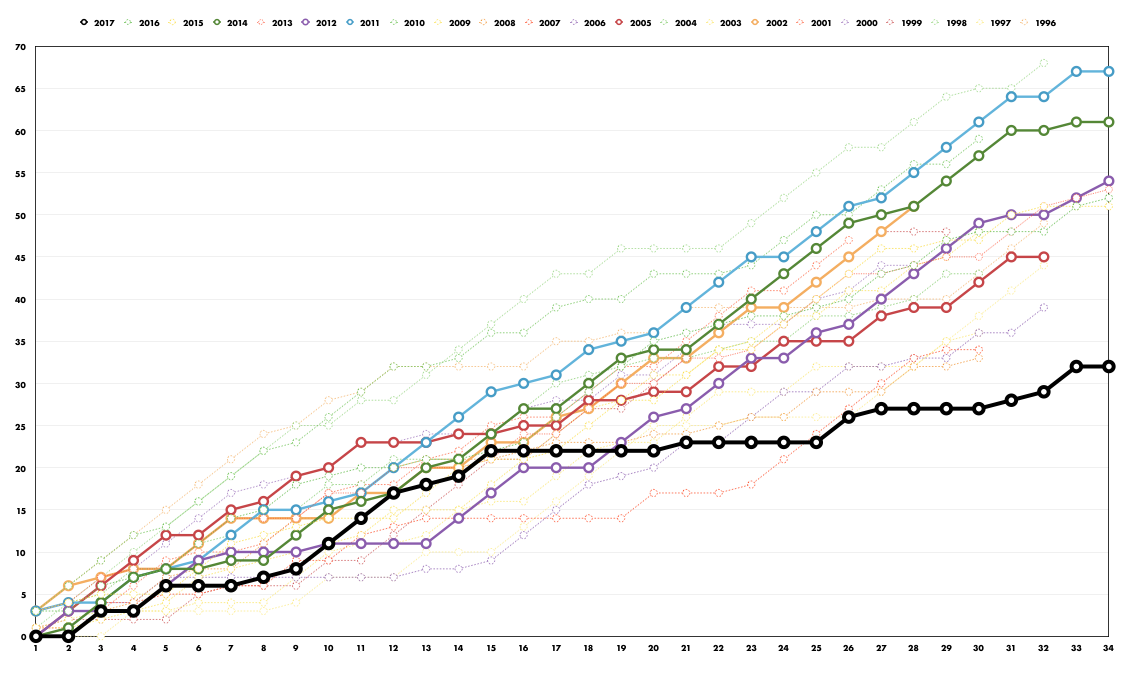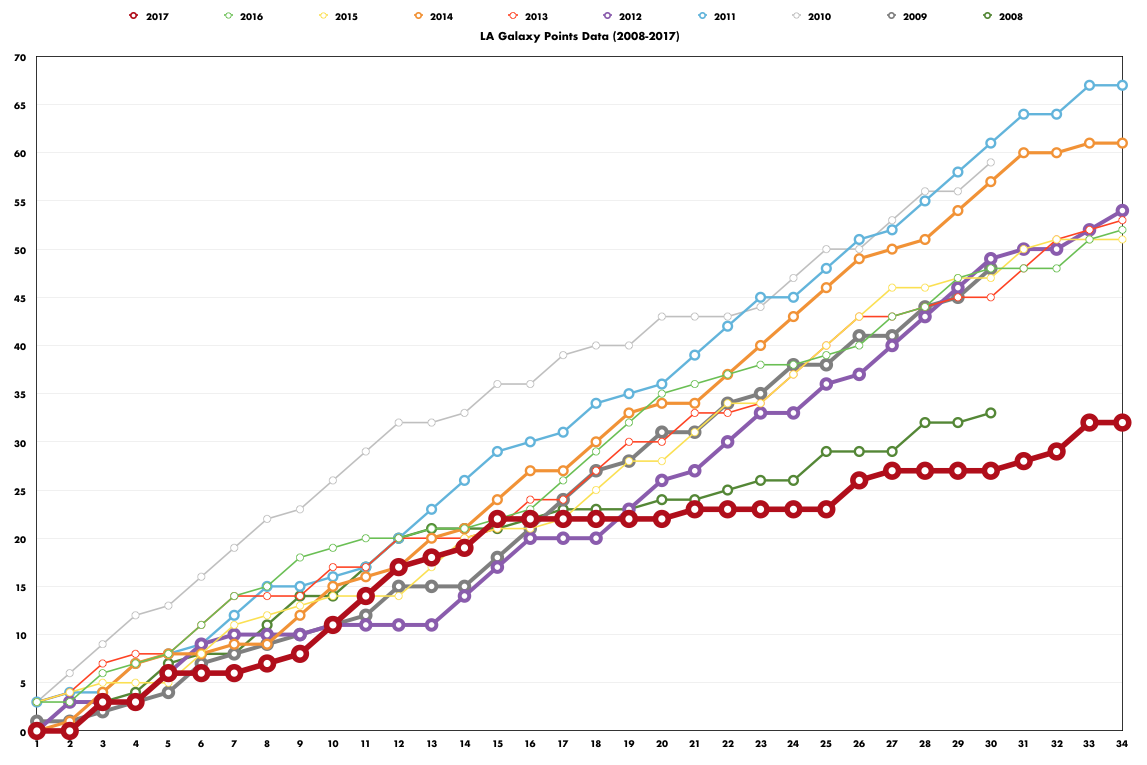 UPDATED CHARTS – THROUGH 33 GAMES
The LA Galaxy set out to win their last home game of the season, and they accomplished that goal. The 3-0 win over Minnesota United FC closed out their season at StubHub Center.
With only a single game remaining the Galaxy are level with DC United for the worst record in the league, with DC currently holding the advantage due to their total number of wins (Tiebreakers: Number of wins, then Goal Differential, then Goals For).
Both teams have a Points Per Game total of 0.97 and, not surprisingly, a 32 point total. But with one final game remaining, unless there is a difference in result – meaning the Galaxy win and DC loses, or the Galaxy draw and DC lose – the Galaxy would finish dead last for the first time in league history.
And it's also important to watch the Colorado Rapids, who sit just one point above the Galaxy. Because they too could drop below both DC and the Galaxy on the final day to see who would claim the dubious "wooden spoon" trophy (an unofficial trophy that is "awarded" to the worst team in MLS).
The Galaxy did stave off one record by beating Minnesota. They will not finish tied for the fewest wins at home in MLS history. A record that was set by the 2001 Tampa Bay Mutiny who finished 2-10-2 at home and were then part of league contraction the following year.
But several other low marks have already been set in stone.
They'll finish with the fewest wins at home (3) and the fewest points at home (14) in franchise history. Previous lows were six wins at home in 2006, 2007, and 2008, and 21 points in 2007.
They are also guaranteed to finish with the worst points per game total in their 22-year existence. With the previous low being set in 2008 with a 1.10 average. But a win would vault them over the 1.00 PPG barrier and mean that no Galaxy team in history would have finished below that line.
A surprising note about the Galaxy's three home wins on the season is that in each of their victories at StubHub Center in 2017, they held their opponent scoreless. The Galaxy only had six shutouts on the season with the other three being scoreless draws — two at home, and one on the road.
They remain tied for most goals conceded (62) in a season – with 2008 – with one game remaining. The Galaxy only played 30 games in 2008, which would still put their 2.07 goals conceded per game average above the 2017 team. But it's grasping at straws to try and differentiate between the two season.
The Galaxy's goal differential did improve to minus-18 after the shutout victory. But that still puts them eight goals below the previous low of -10 in 2007.
The league has only recently started playing more than 32 games — 2011 was the first year. So it's more than safe to say that no Galaxy team has ever had this few points through 33 games. The previous low was 2015 and 2016 with both seasons finishing with 51 points. Leaving the 2017 Galaxy a full 19 points behind their recent seasons.
If you're looking for a final bit of good news, its that the 2017 Galaxy have, for the moment, climbed out of the top 30 in the worst MLS teams in league history. Depending on the outcome next Sunday they could dip back down, but with FC Dallas' recent struggles there is at least a shot at escaping the bottom of the table and that list.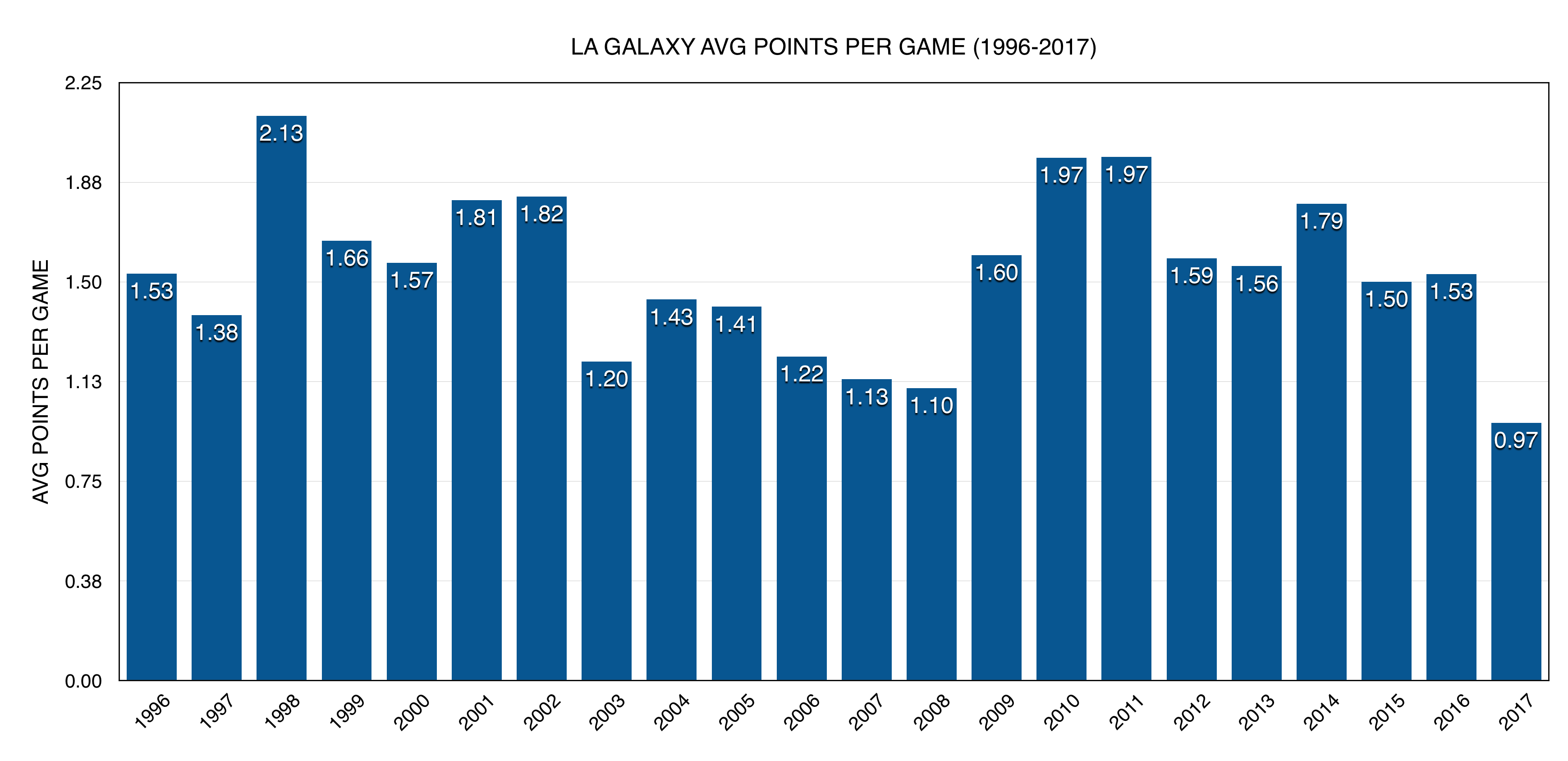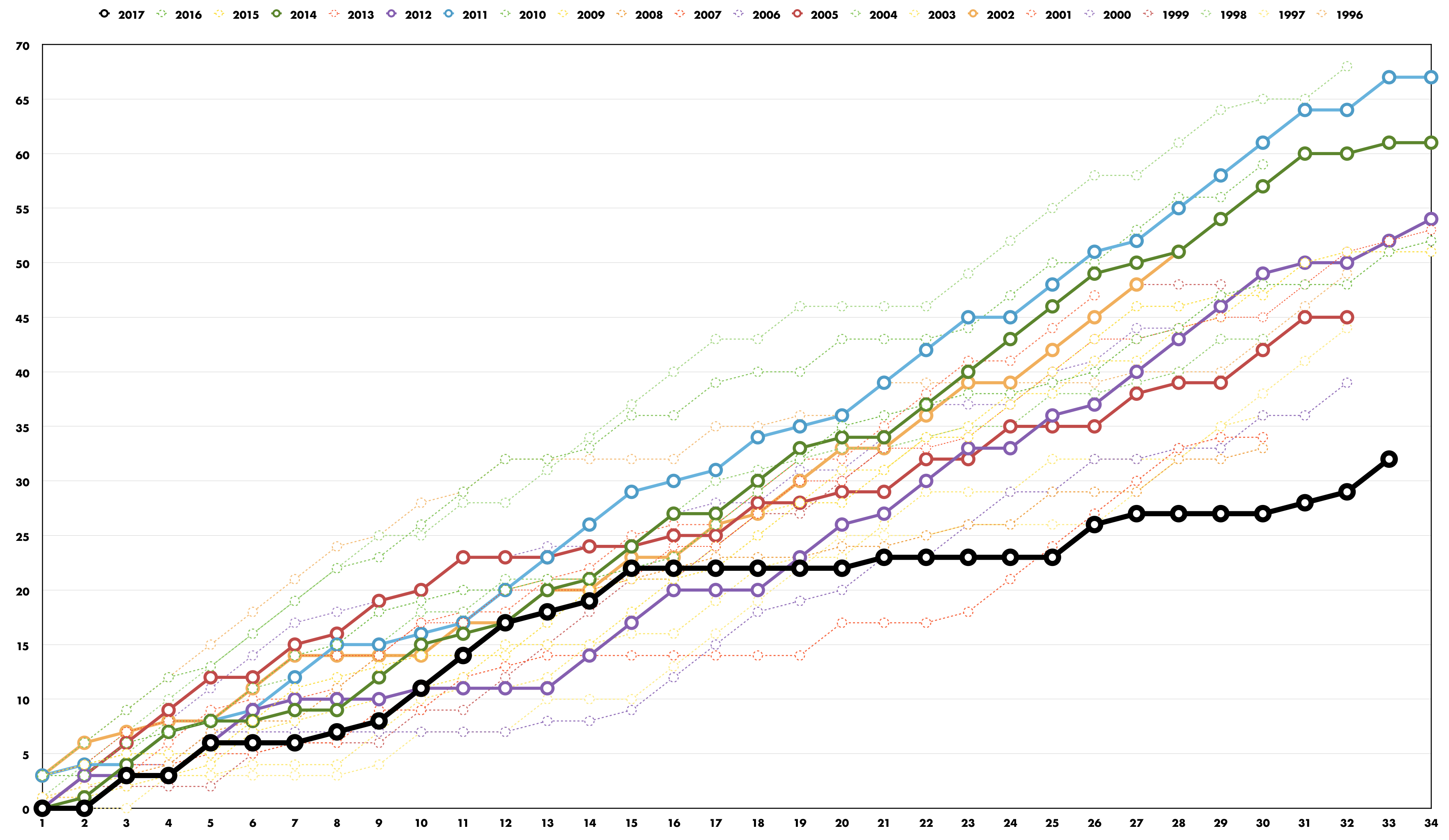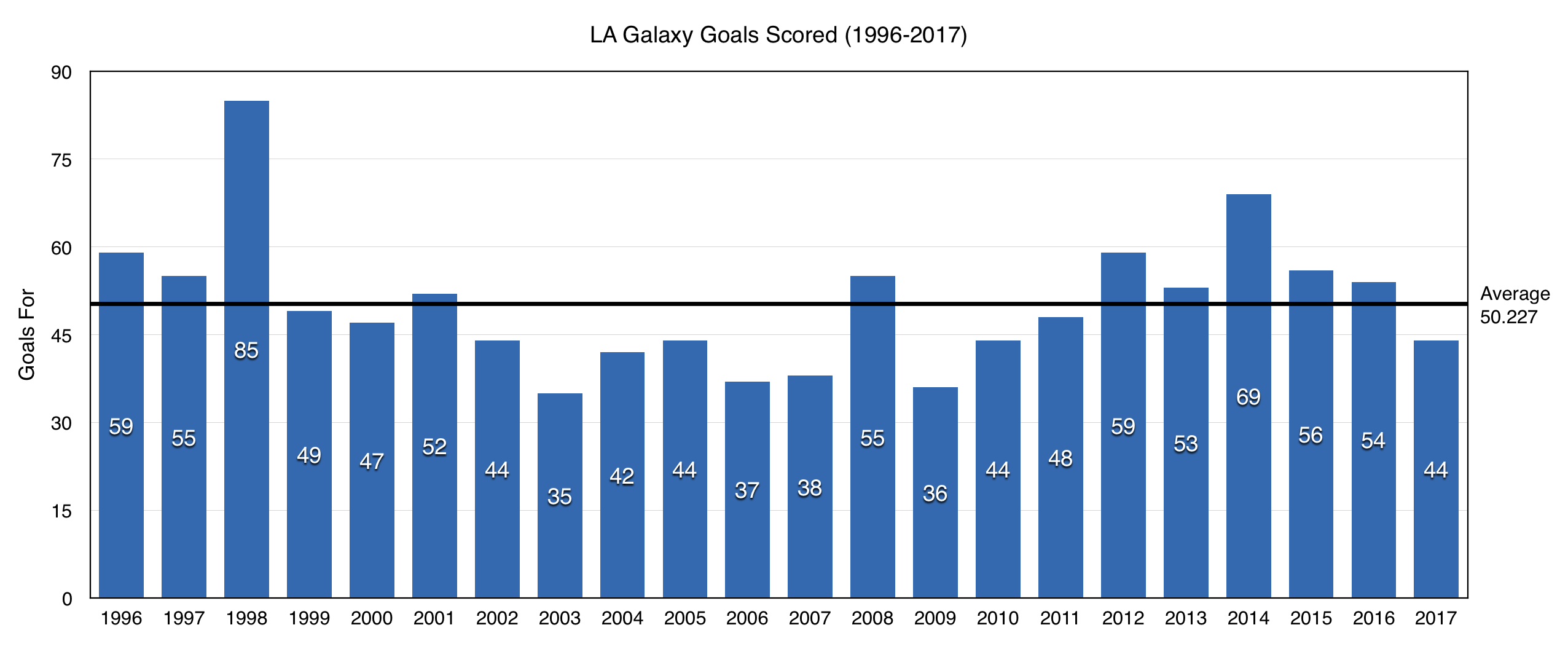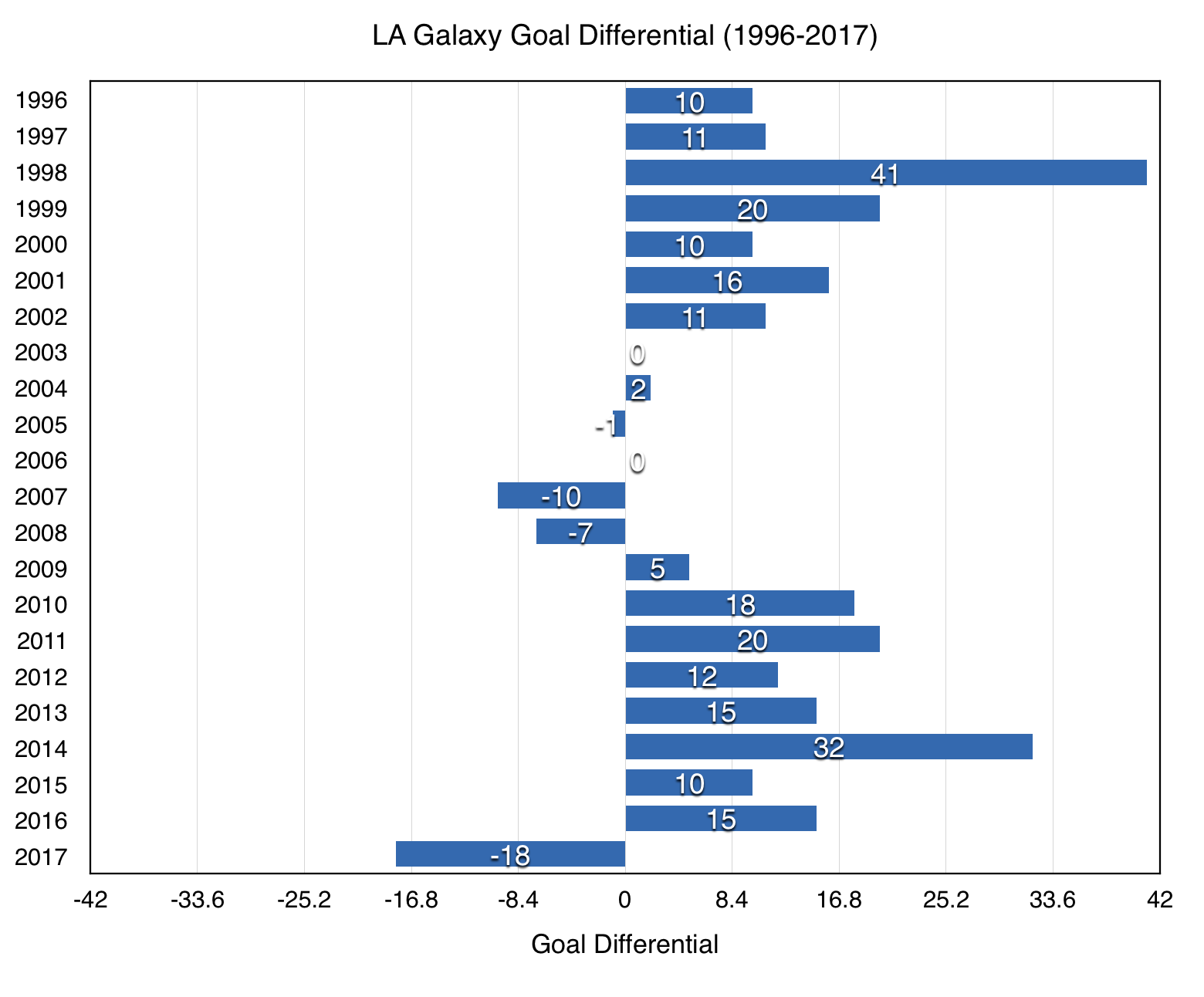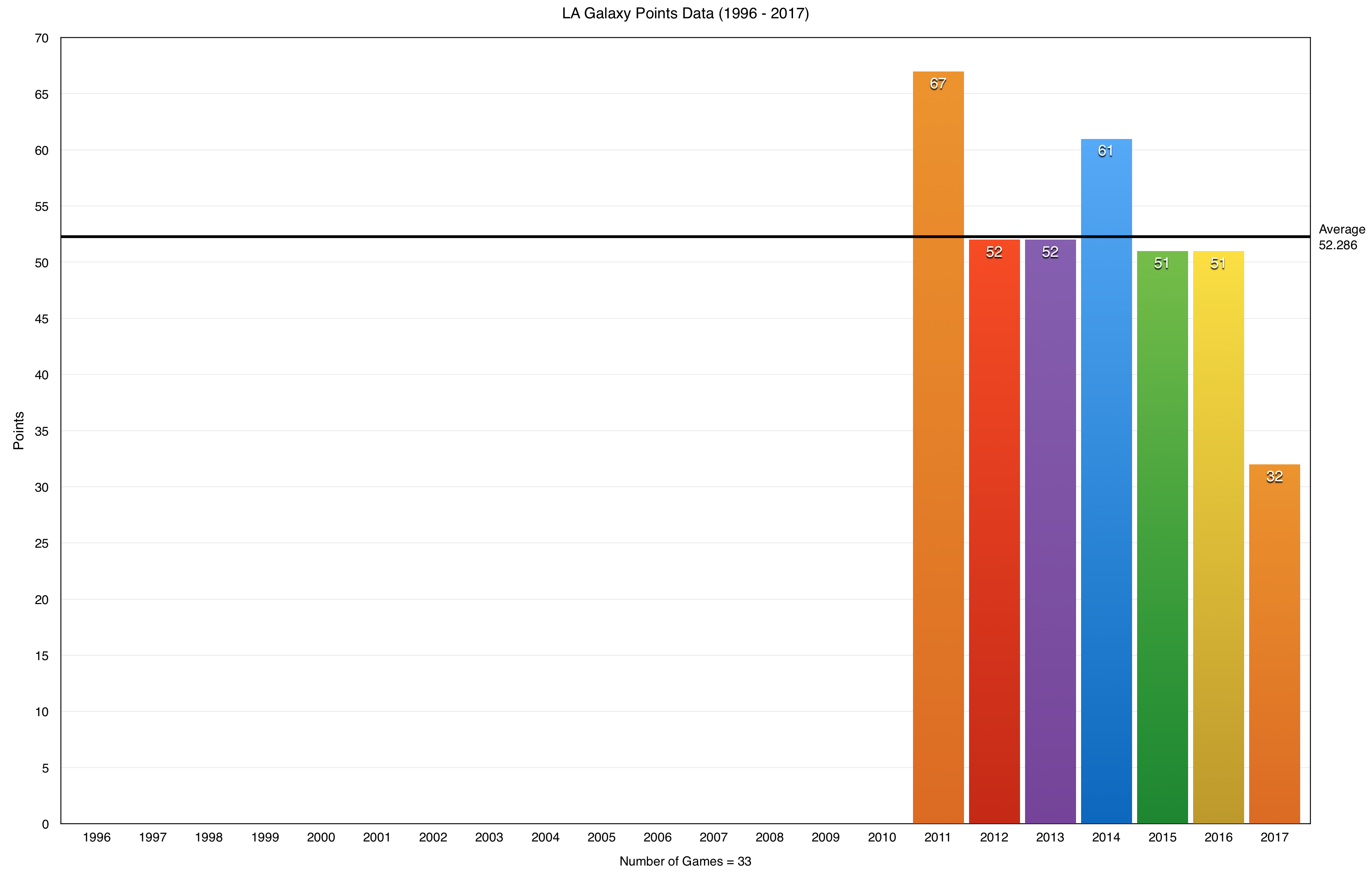 UPDATED CHARTS – THROUGH 32 GAMES
Up a man for 72 minutes, the Galaxy couldn't get the full three points. Something that isn't the least bit surprising to anyone who has watched the LA Galaxy this year.
But the fact the Galaxy scored first is something to be celebrated. It's just the ninth time all season. But it's also the second time in as many games that the club has watched a lead evaporate late in the game.
In 2017, the Galaxy have held the lead at home for just 233 minutes of 1,440 total minutes. The club has led at StubHub Center for just 16.2 percent of the time. So it's no surprise their home record is the worst in franchise history (2-9-5; 11 points), and currently, the two wins put them at odds with the worst home record in Major League Soccer history — 2-10-2 from the 2001 Tampa Bay Mutiny.
On the road (5-8-3; 18 points), where the Galaxy's record is much better than at home they have held the lead for 494 minutes of their 1,440 road minutes or 34.3 percent of their road time.
The Galaxy's goal differential is holding steady at -21, but what's most frustrating the majority of that differential has happened under Sigi Schmid's watch.
When the Galaxy fired Curt Onalfo, he left having a minus-six goal differential having scored 31-goals and conceded 37.
Under Schmid and during his first 12-games, the goals allowed has ballooned – thanks in part to two 4-0 defeats back to back – and an offense that has been anemic at best. The goal differential under Schmid is now minus-15, and the Galaxy have scored just 10-goals while allowing 25.
During the same period, Onalfo had no goal differential, and the club had scored 19 goals while conceding the same.
Under Schmid, the Galaxy have played a tougher schedule, but the comparisons should not be dismissed. It's also true that under Onalfo, the Galaxy played teams who were good at the time, even if over the course of the season those teams fell flat.
The numbers point to a more defensive Galaxy under Schmid. But the defense, one of the weaker spots on the team, just can't be relied on for any length of time.
Conversely, the offense had multiple chances on Saturday night and failed to convert. Proving, at least for now, they are just as untrustworthy.
The Galaxy are now tied with the franchise record for goals conceded in a season – 62. That 2008 record was in a 30-game season, but with two games remaining, it's likely this 2017 Galaxy sets a new record. Just as they've already done with losses (17).
And they're already guaranteed to set a new franchise low with points per game. Currently, they sit at 0.91 PPG which would fall well under the 1.10 PPG of 2008.
In fact, the 2017 Galaxy now occupy the 23rd spot on the worst MLS teams in history by points per game. But with two games remaining, that position could vary by a great deal.
The charts below tell a much better story of the season. The 2017 Galaxy sit on an island regarding points after 32 games, and there seems no chance at redemption.
2018 will almost have to be better — because it simply can't get much worse.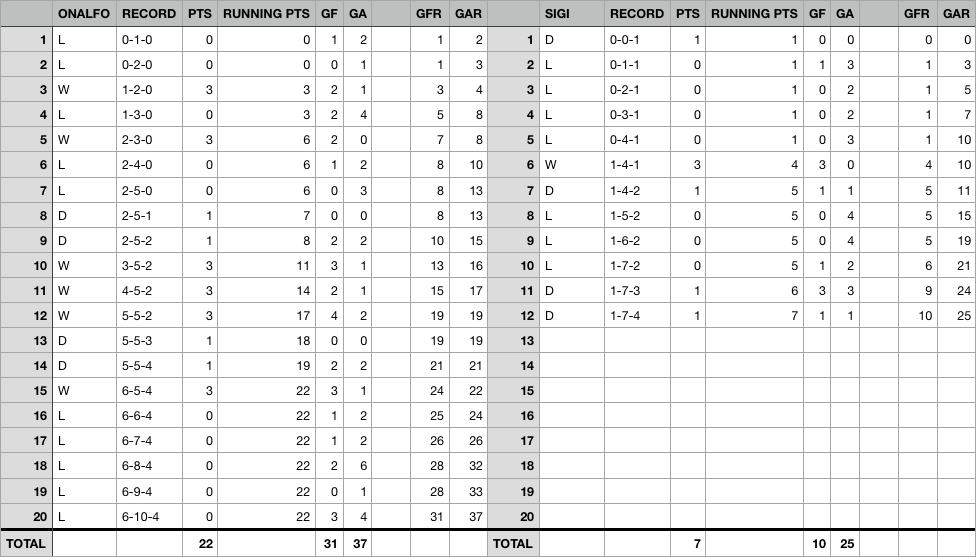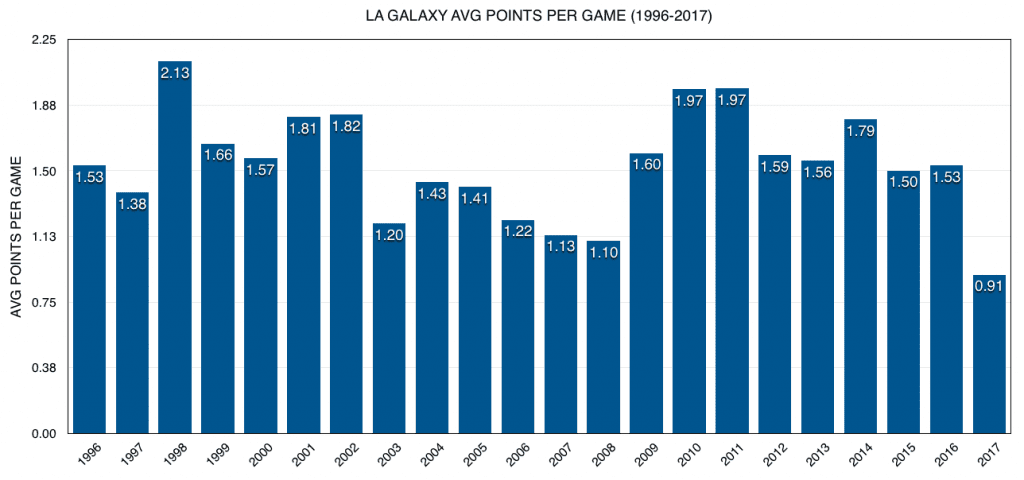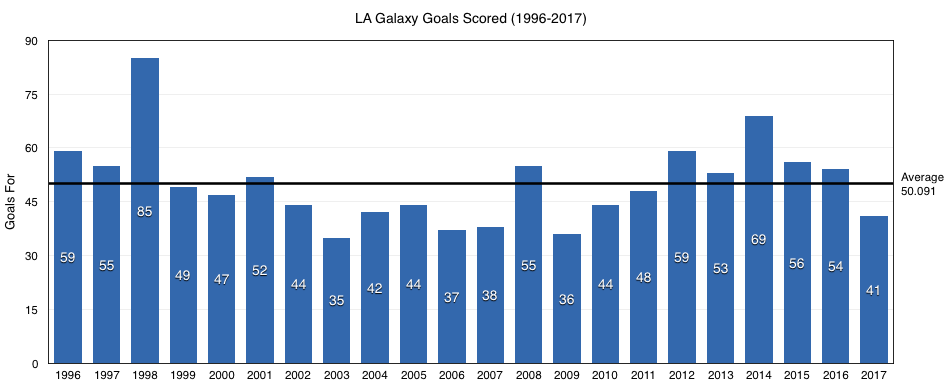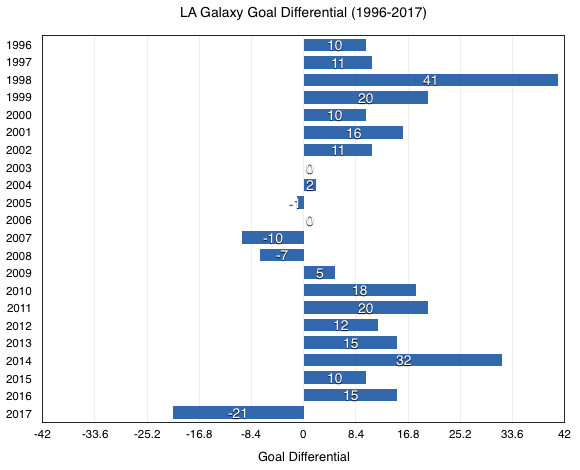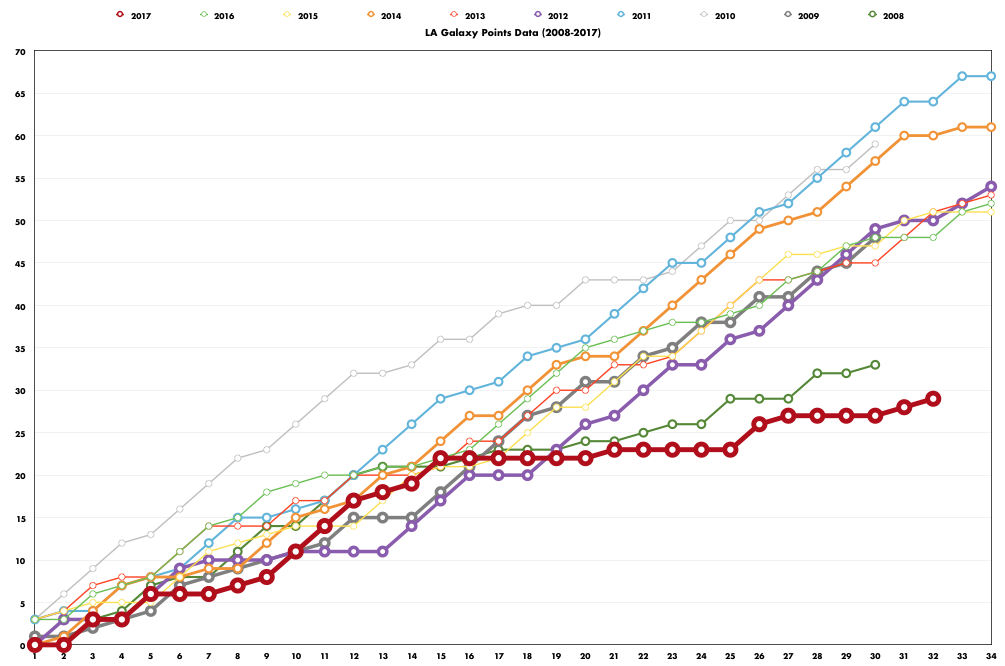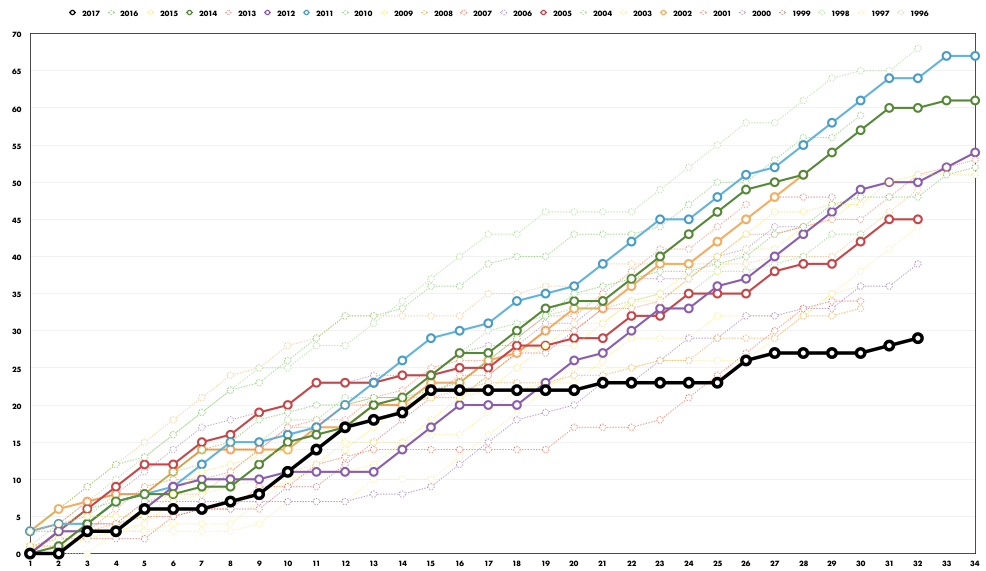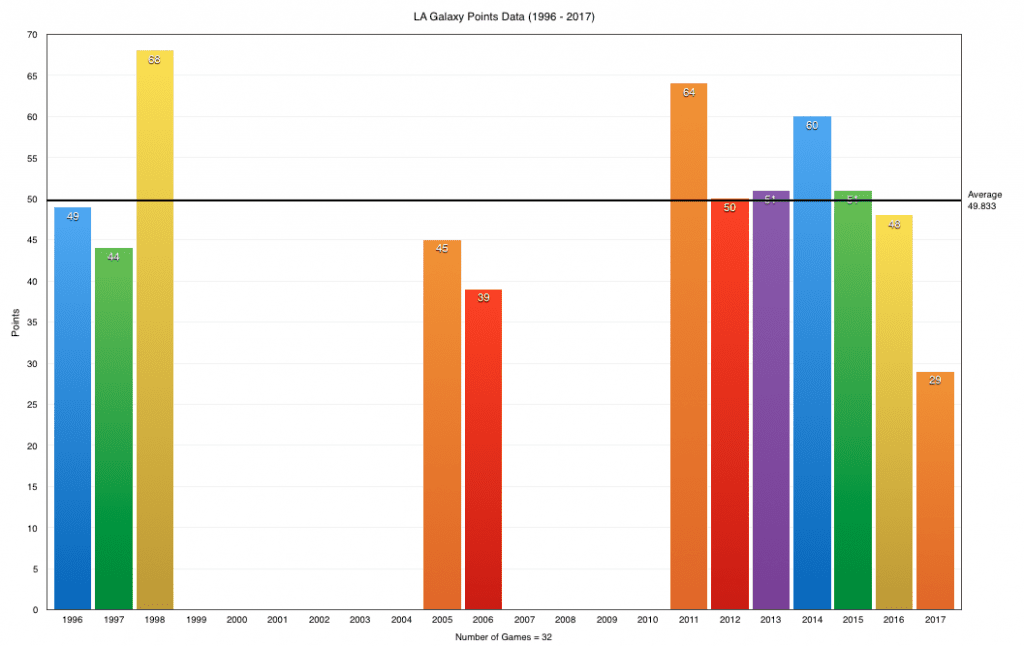 UPDATED CHARTS – THROUGH 31 GAMES
Allowing a two-goal lead to evaporate in the last ten minutes isn't a smart way to win a game. Not surprisingly, it's also not the best way to get into the playoffs. And regardless of the result, the Galaxy were eliminated during their 3-3 draw with the Houston Dynamo on Wednesday night.
The Galaxy will miss the playoffs for the first time since 2008 and for only the fourth time in franchise history (2006, 2007, 2008, and 2017).
The draw also guarantees that the 2017 Galaxy will finish with the lowest points per game total of any Galaxy team in franchise history. The previous low was 1.10 in 2008. Coincidentally, the same year the Galaxy missed the playoffs for the third consecutive season starting in 2006.
On the year, the Galaxy have now scored 40 goals. And Romain Alessandrini has had a hand in more than half of those (11 goals and ten assists). But that's probably the only good news in the rest of this update.
On the flipside, a Galaxy defense that was short a right back for almost the entire year and has been playing musical chairs with its center backs and goalkeepers, has given up 61 goals on the season. Those 61 goals are second only to 2008's 62 (in a 30-game season). That leaves the 2008 defense as allowing 2.06 goals per game and the 2017 defense allowing 1.96 goals per game – with three games left to play.
By conceding three goals on the night, the Galaxy now boasts the worst defense in the league. They're two goals worse than Minnesota United FC (59 goals allowed) and are third to only the San Jose Earthquakes (minus-23), and DC United (minus-22) in goal differential (Galaxy are minus-21).
The minus-21 goal differential is the worst by any Galaxy team since 2007, and it's only the fourth season in franchise history to finish in negative territory on goal differential (2005, minus-1; 2007, minus-10; 2008, minus-7).
With three games remaining, it would seem unlikely that any significant improvement would take place.
The 2017 club is also the only Galaxy team to have so few points through 31-games. The closest rival is the 2006 team (a 32-game season) which had 36-points through the same number of games.
And the Galaxy are a full 20-points behind any of their teams since 2011 – the year the current 34-game schedule was introduced. Both 2013 and 2016 teams had 48 points through 31-games.
See the charts and graphs below.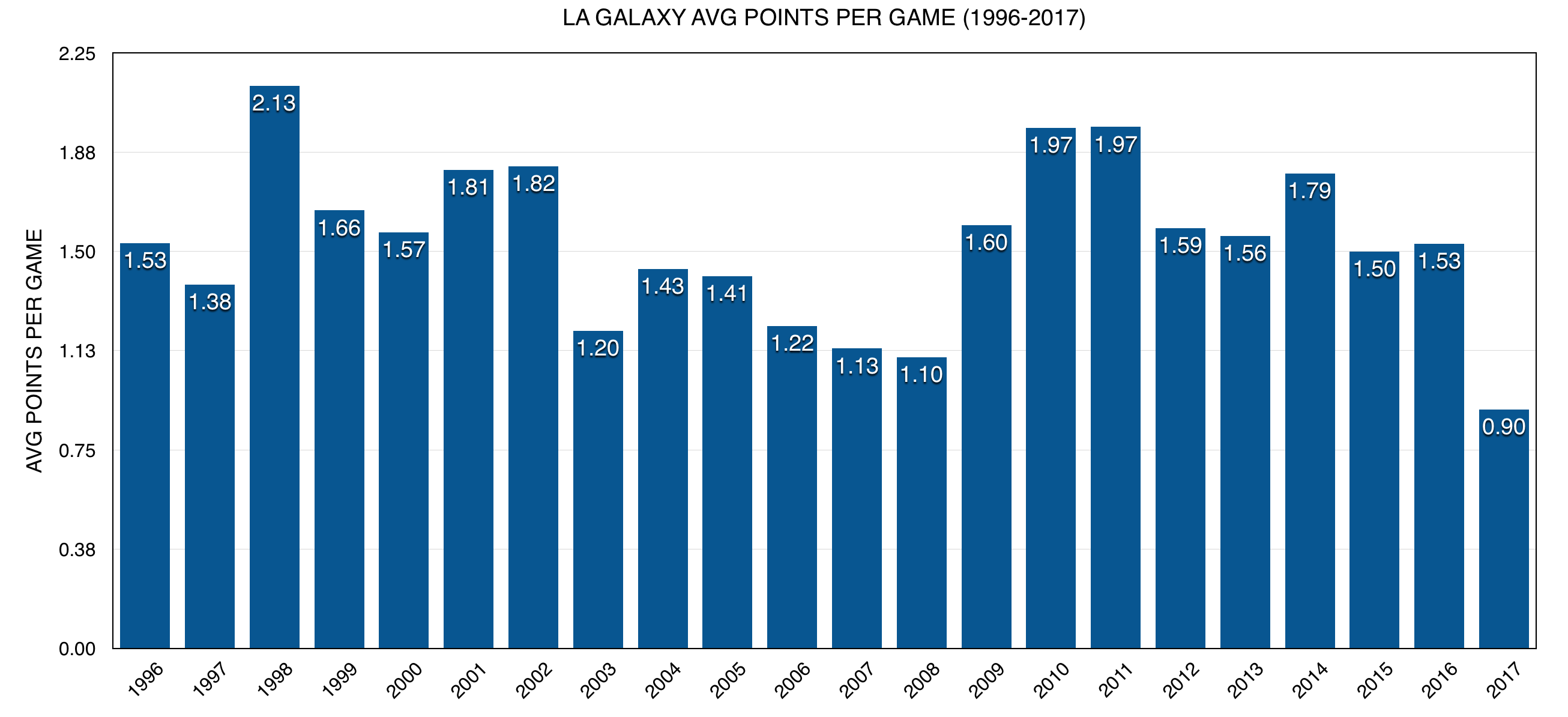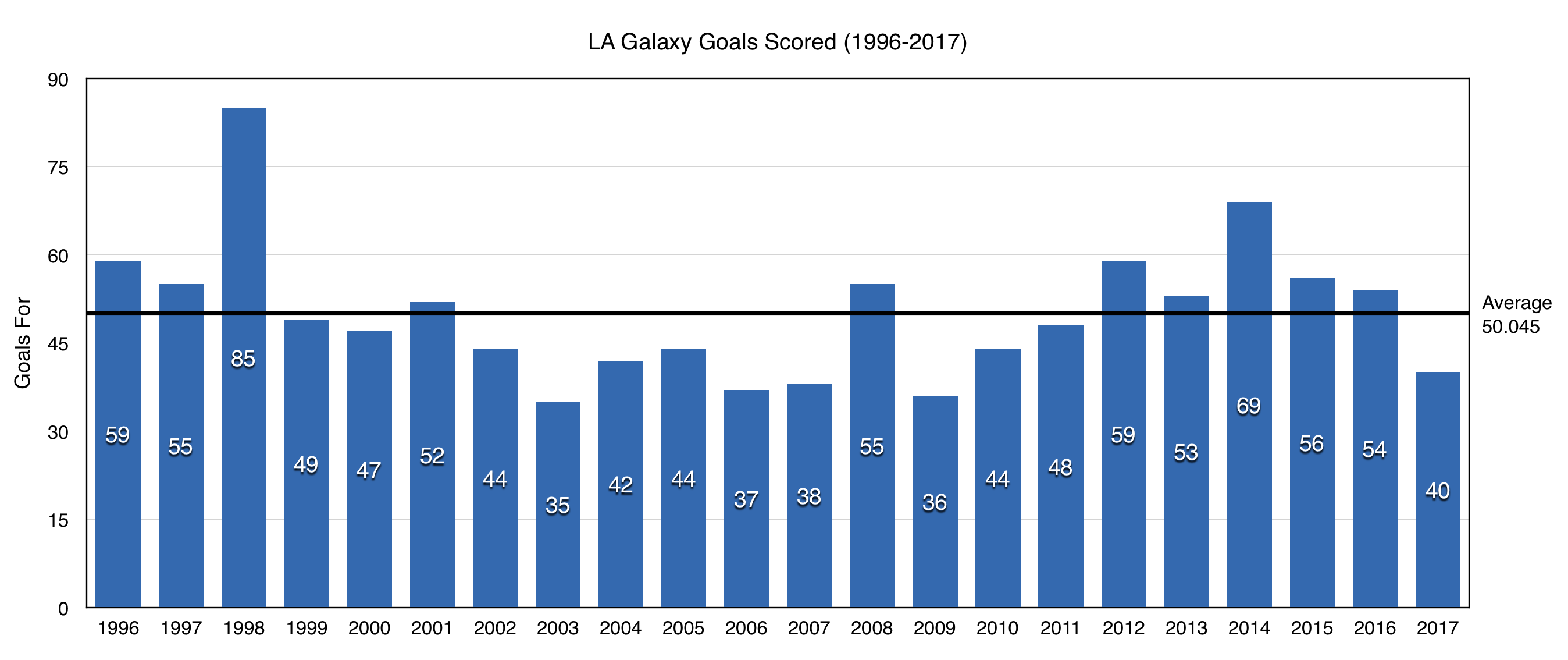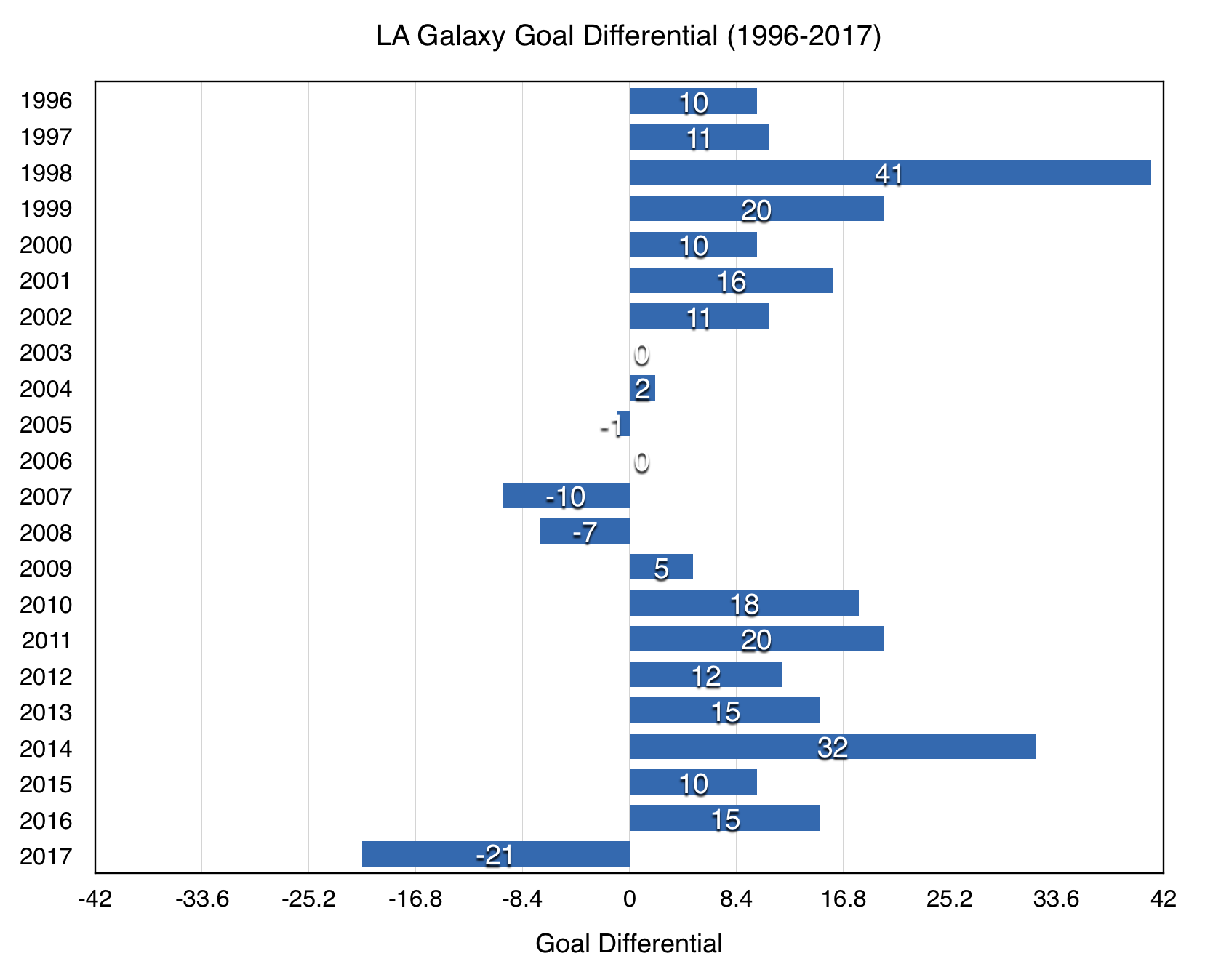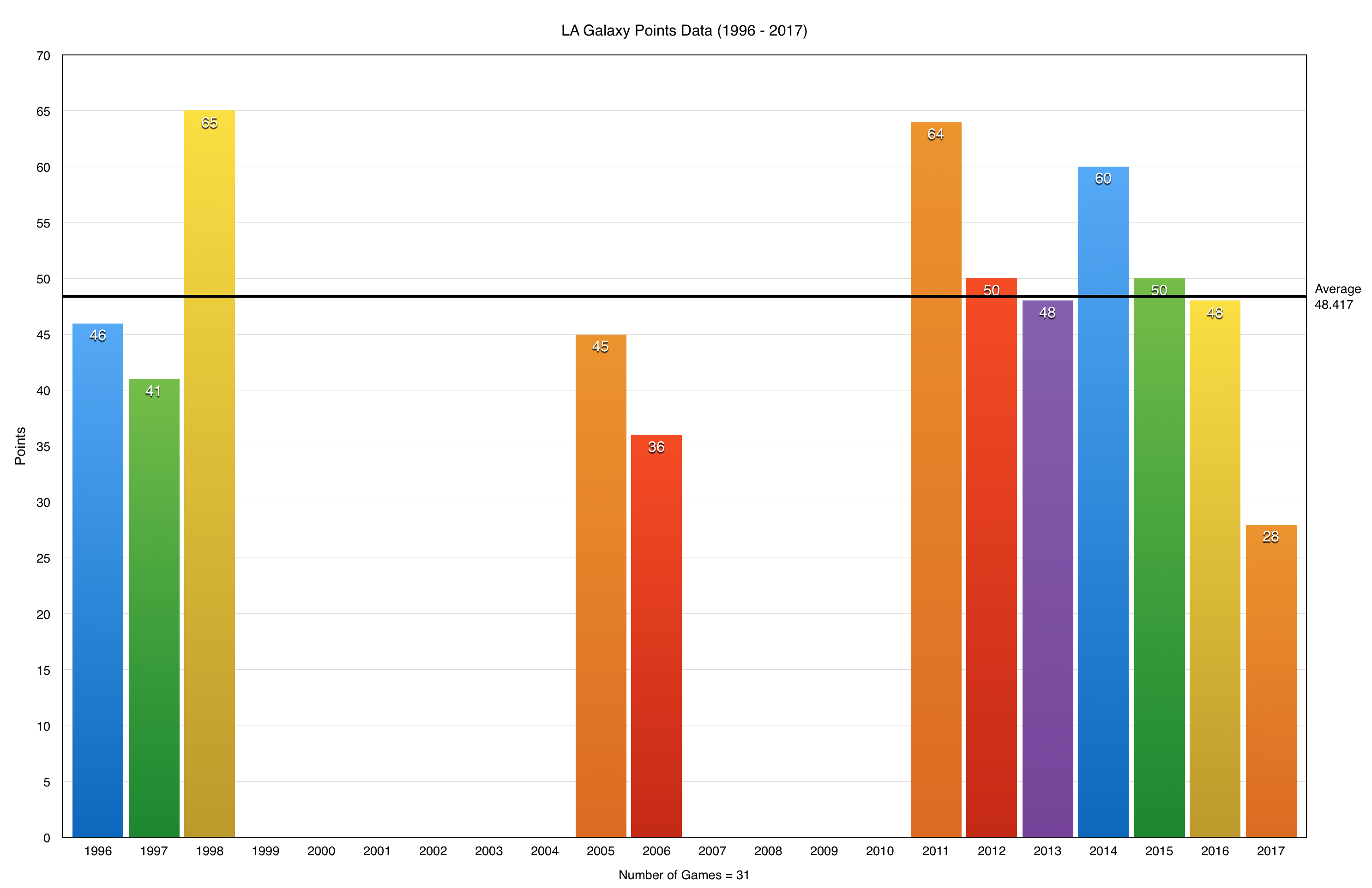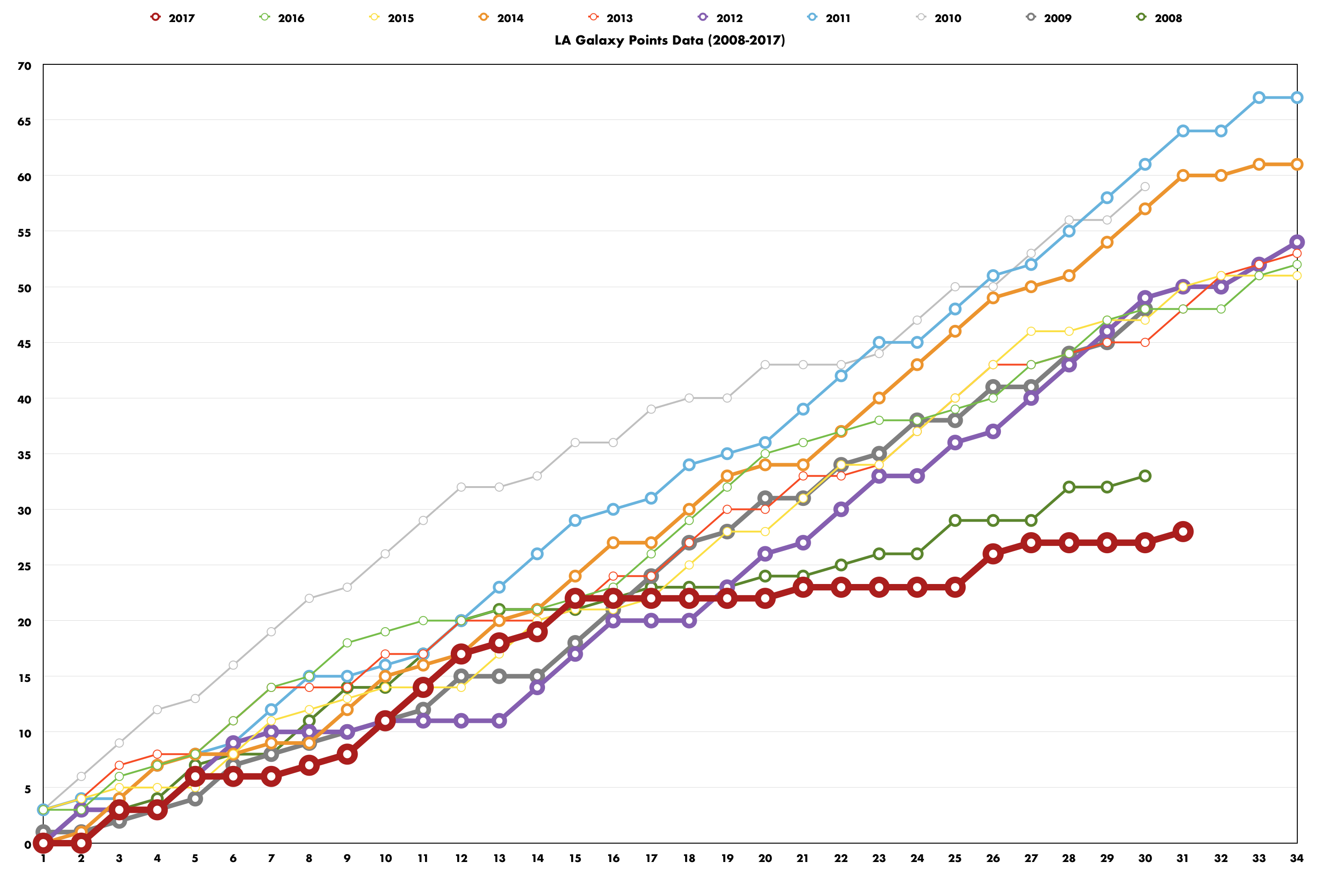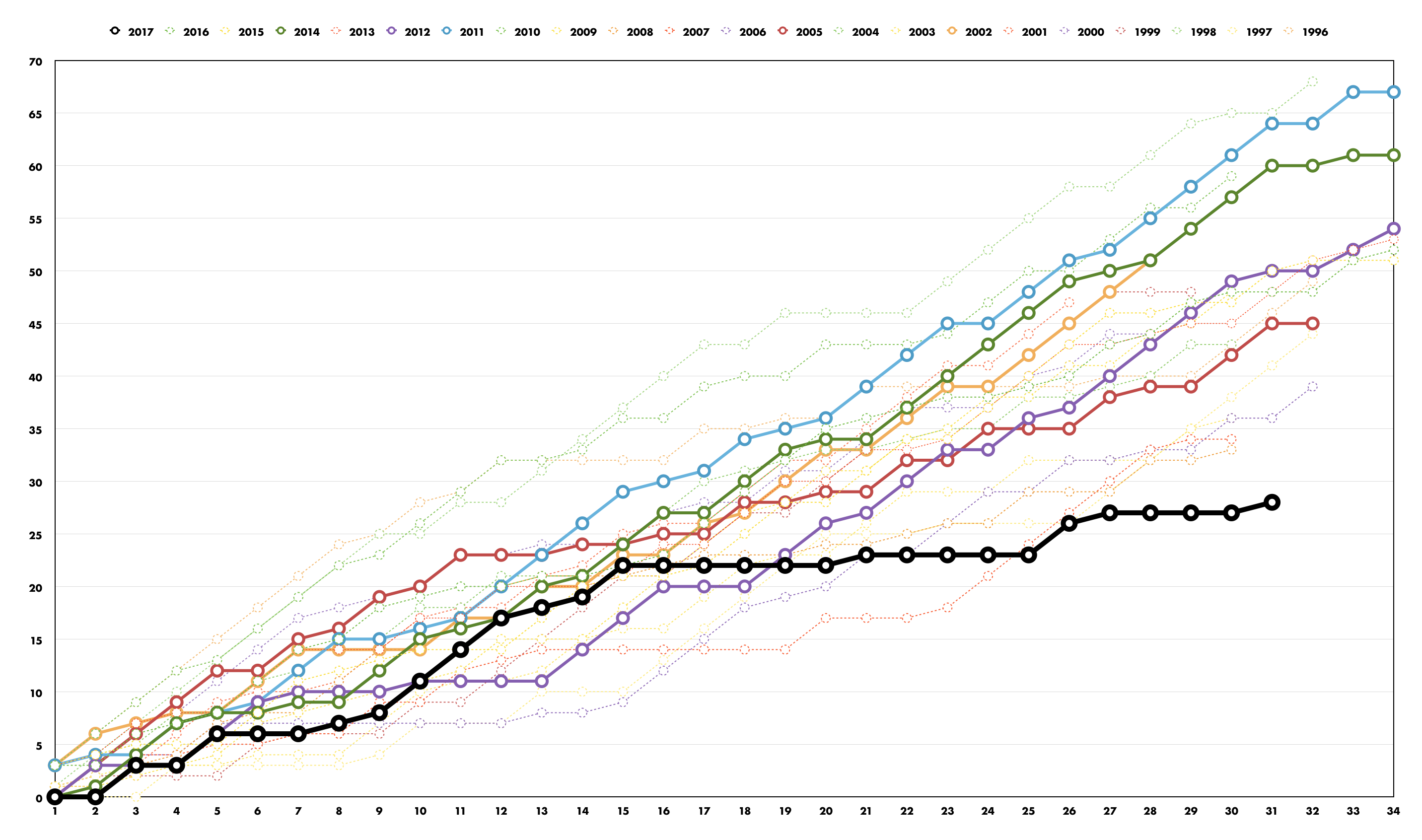 UPDATED CHARTS – THROUGH 30 GAMES
A new franchise record. Something usually associated with good times and the highest of highs. But on the flip side, there are bad times and the lowest of lows.
The LA Galaxy (7-17-6) are the latter right now. As the team struggles to come up with a coherent plan that will move them towards 2018, it's important to put this "lowest of lows" season into perspective.
The Galaxy have now lost 17 games this season. This pushes them below the all-time franchise loss record of 16 losses in 1997 – a season that saw the Galaxy win 16 games as well and also a season that saw four of their losses go to MLS' version of a hockey shootout. The Galaxy also lost 15 games in 2006 without the shootout.
The club will also need to win two of their remaining four games if they're to crest above the eight wins they earned in 2008. Otherwise both the fewest wins and most losses for a team will be owned by the 2017 squad.
Please see the charts and graphs below. It's not pretty, but this isn't about what looks good. It's about seeing how historically horrific the 2017 Galaxy have been. It's that simple!
The Galaxy sit on 27 points after 30 games. No team in franchise history has sat so low on points after 30 games. And this moves them nearly 18 points below their historical average of 45.05 points.
If the Galaxy had somehow earned 45 points from this season, they would currently sit in fourth place in the Western Conference but be within three points of first place.
Instead, the team sits in tenth place in the conference and 21st of 22 teams in the league. Even expansion side Minnesota United is ahead of the Galaxy right now.
The Galaxy have allowed 58 goals this season. That puts them only one goal fewer than Minnesota United who have conceded 59. But in the historical sense, the Galaxy have conceded more goals than any other team in franchise history besides the 2008 team who gave up 62 goals in a 30-game season. The same number of games the 2017 Galaxy sit at now.
On the flip side, the Galaxy have scored 37 goals through 30 games in 2017. That ties them for fifth fewest goals along with Sporting KC. They sit above DC United (27), Colorado Rapids (27), San Jose Earthquakes (32), and Orlando City (32).
Historically, the 2017 Galaxy are tied with the 2006 Galaxy and sit two goals above the 2003 club that scored 35 goals. Both 2003 and 2006 were 30-game seasons, so the comparison's, for this week only, are accurate.
But unless there is a sudden surge in goal scoring in the next four games, the offense will remain one of the most anemic on record.
The real surprise, when looking at the goal scoring and conceding stats is the goal differential. The 2017 Galaxy currently have the worst goal differential in franchise history. In fact, it's the worst by 11 goals, currently.
Over the course of the next four games, the Galaxy would have to score 11 more goals than they give up if they're to try and get ahead of the 2007 team that finished with a goal differential of -10.
And it's a far cry from the modern day Galaxy record of +32 for the 2014 MLS Cup-winning squad. If you want to have some fun, look at the +41 in 1998 – a year the Galaxy scored 85 goals.
Finally, the club sits on a points per game (PPG) average of 0.90 points. That is 0.20 lower than the all-time lowest finish of 1.10 PPG in 2008. The Galaxy will need to win their last four games if they're to surpass that 2008 record. Even a single draw would see them set a new record for fewest points per game.
Note: MLS seasons have been multiple lengths throughout the history of the league. If you see "missing" years on our charts, it's because those seasons concluded before the current 34-game season was instituted in 2011.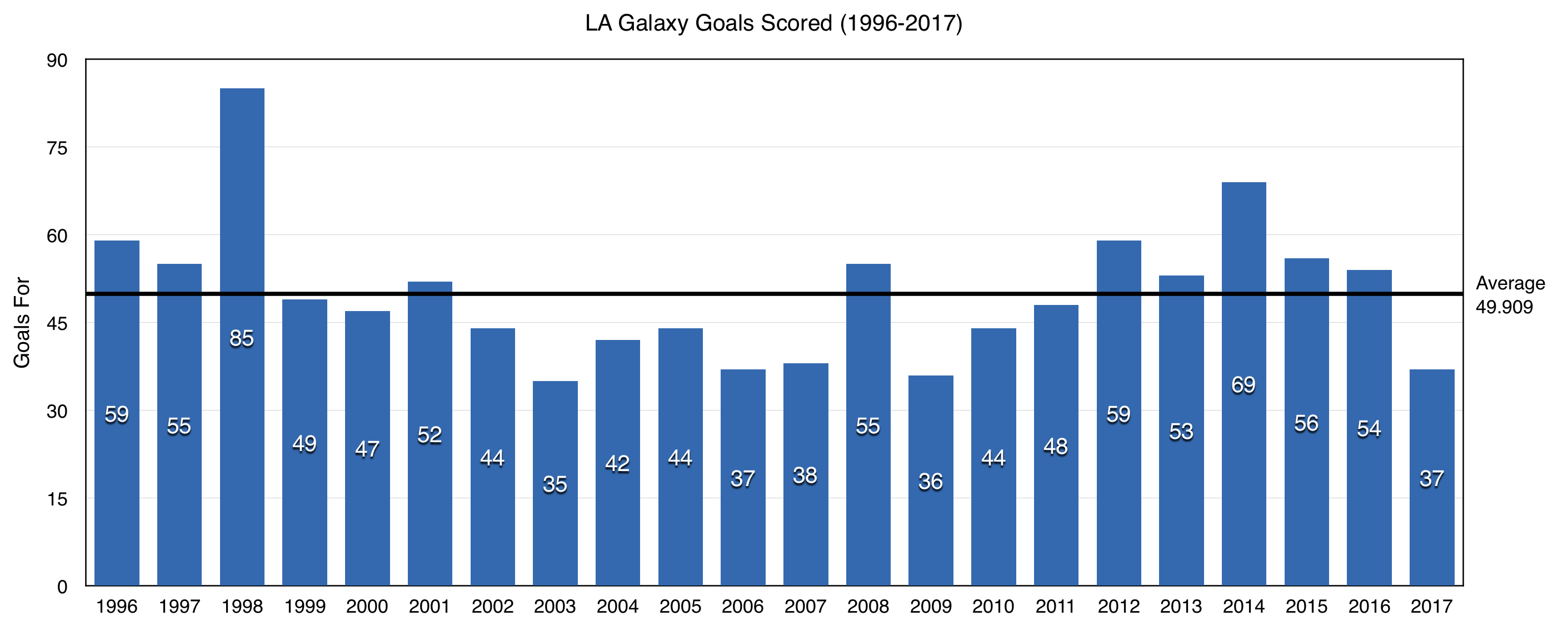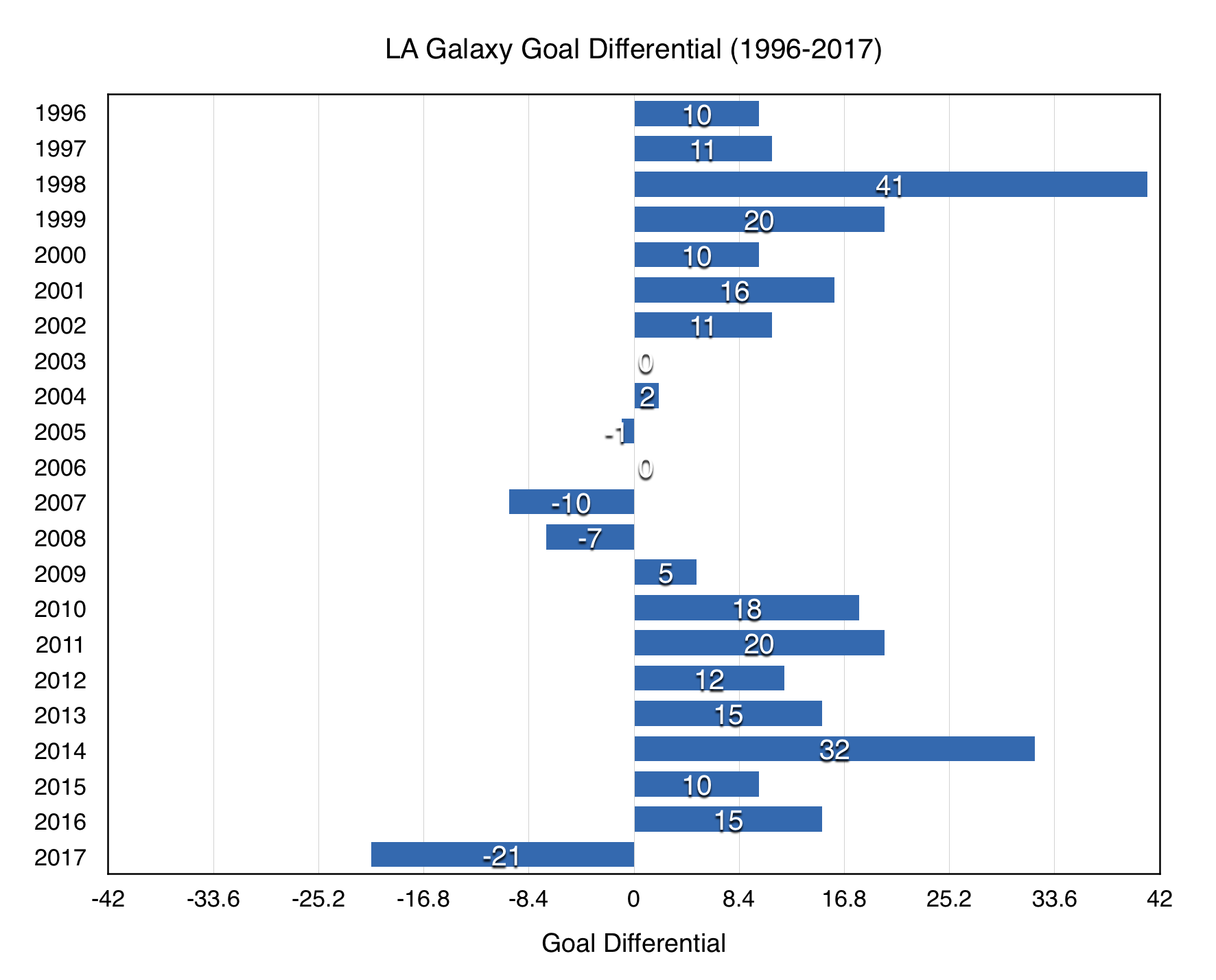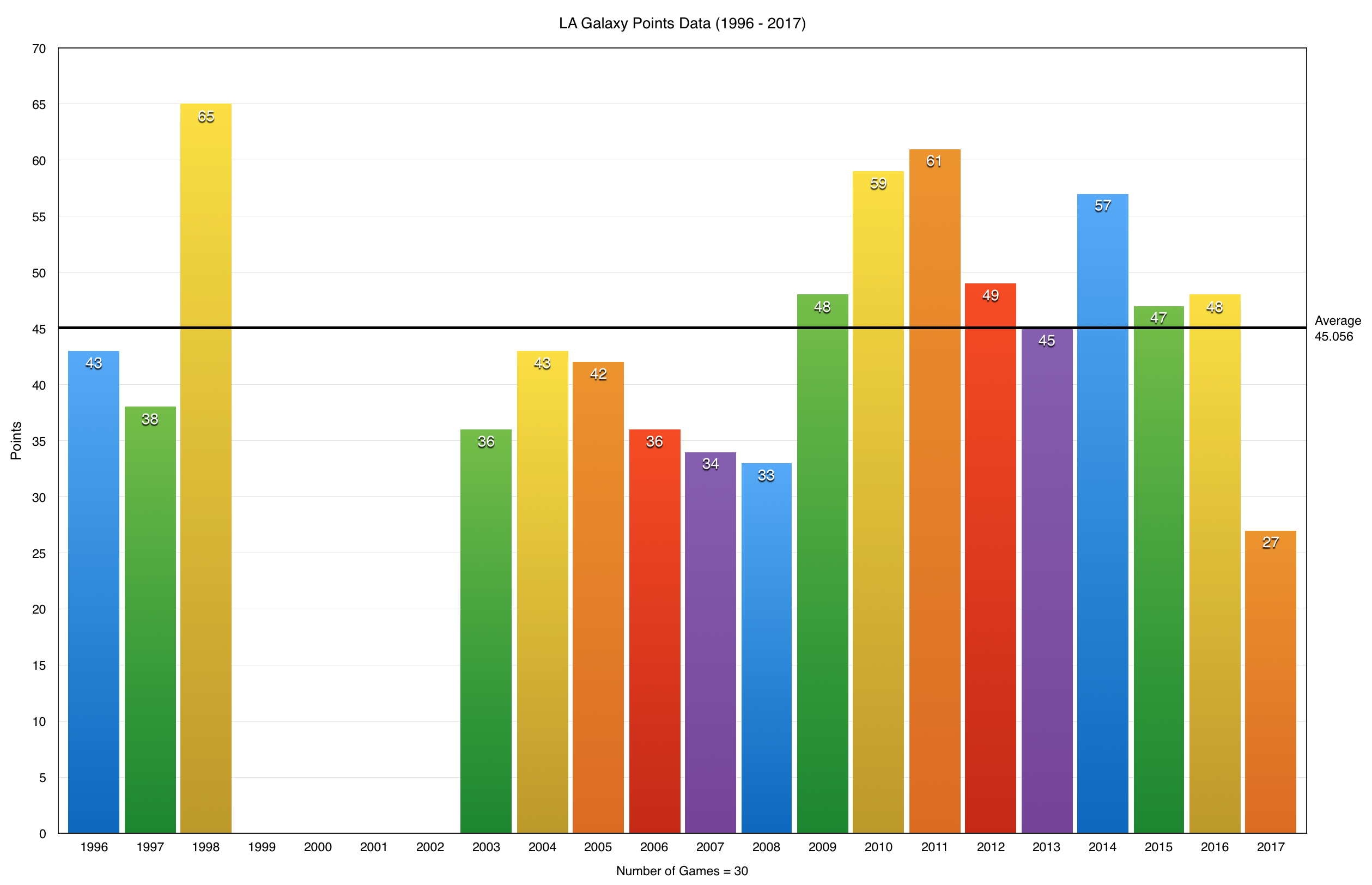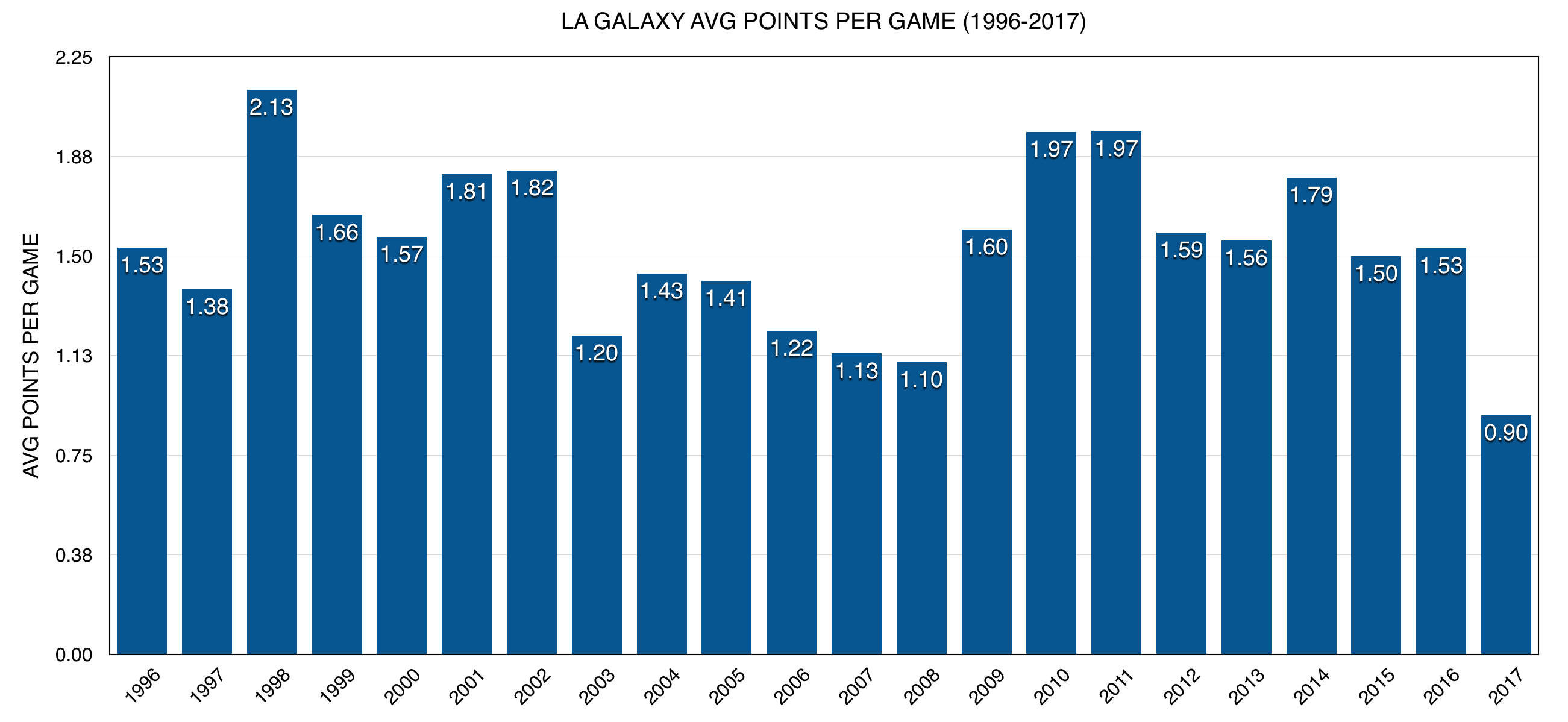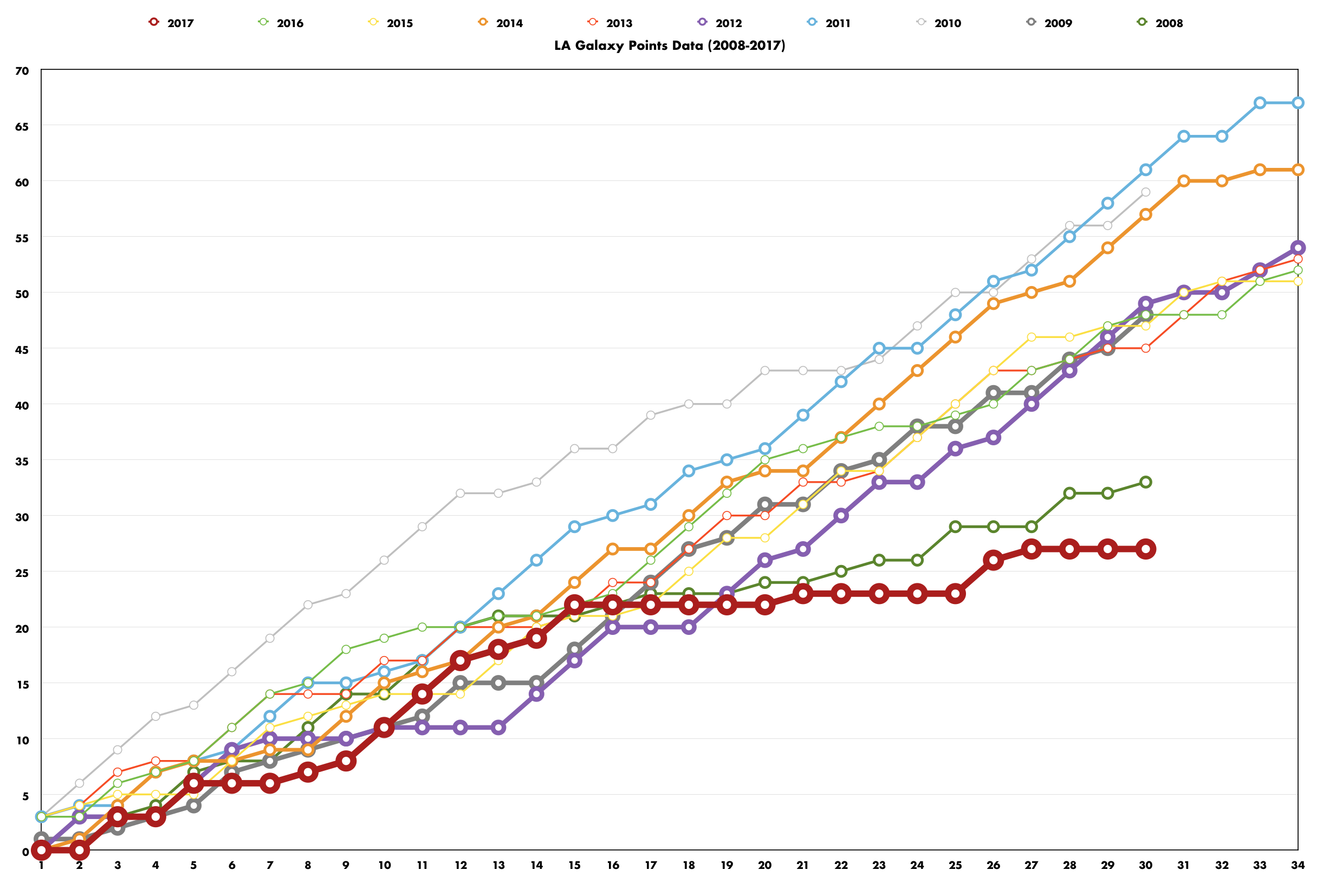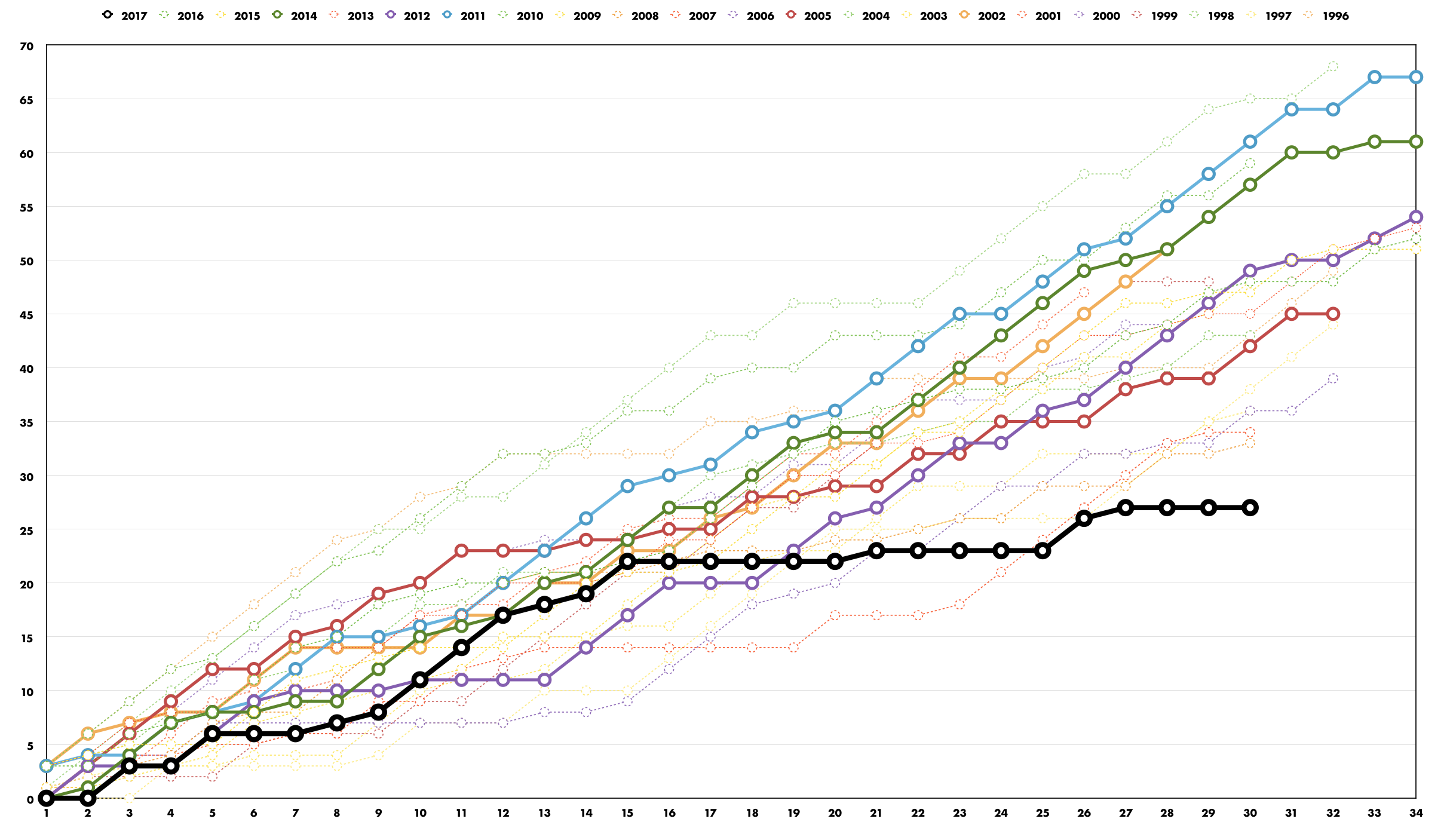 UPDATED CHARTS – THROUGH 29 GAMES
The LA Galaxy are flirting with history. Its disastrous history, but history none the less.
With their 4-0 loss to Atlanta United FC on Wednesday night at Mercedes-Benz Stadium, the 2017 Galaxy have now set a new modern-day record for losses.
In 1997, the Galaxy had a record of 16 wins and 16 losses. It was the shootout era, and that team ended up second in the Western Conference despite the .500 record.
In 2008, the Galaxy lost 15 times en route to missing the playoffs and eventually cleaning house before hiring Bruce Arena.
The 16 losses in 2017 and the likelihood that this team will surely surpass any previous year regarding lost points is a sobering statistic. Evidence of so many things going wrong in a season where everything needed to go right.
And the Galaxy will still have some work to do if they're going to try and stay ahead of 2008's lowest win total of eight total wins. With games against Sporting KC, Houston, Real Salt Lake, and FC Dallas, all putting this club in the underdog category, a home match against Minnesota United might be the only chance to salvage a win and keep them from that dubious win record.
The Galaxy have 27 points from 29 games and hold a league-low and franchise-low 0.93 points per game in 2017. That puts them almost two-tenths of a point below their worst season ever (2008; 1.10 ppg).
In 22-years no team in franchise history has had this few points through 29 games. They're five points from the 2008 team (32 pts) and six points from 2006 (33 pts).
Our graphs show this current 2017 roster in a no-mans-land of bad teams and miserable years. But nothing, and we mean nothing, has ever been this bad.
Since Sigi Schmid took over the Galaxy, have been outscored by a score of 19 to 5, and they've been shutout six times in the last nine games. In just the last three games they've been outscored 9 to 1 and have been shutout twice.
Momentum has stalled, and any chance of going down with a fight has evaporated.
Last year the Galaxy were a penalty kick away from going to the Western Conference Championship. This year, the Galaxy will miss the playoffs for the first time in eight years.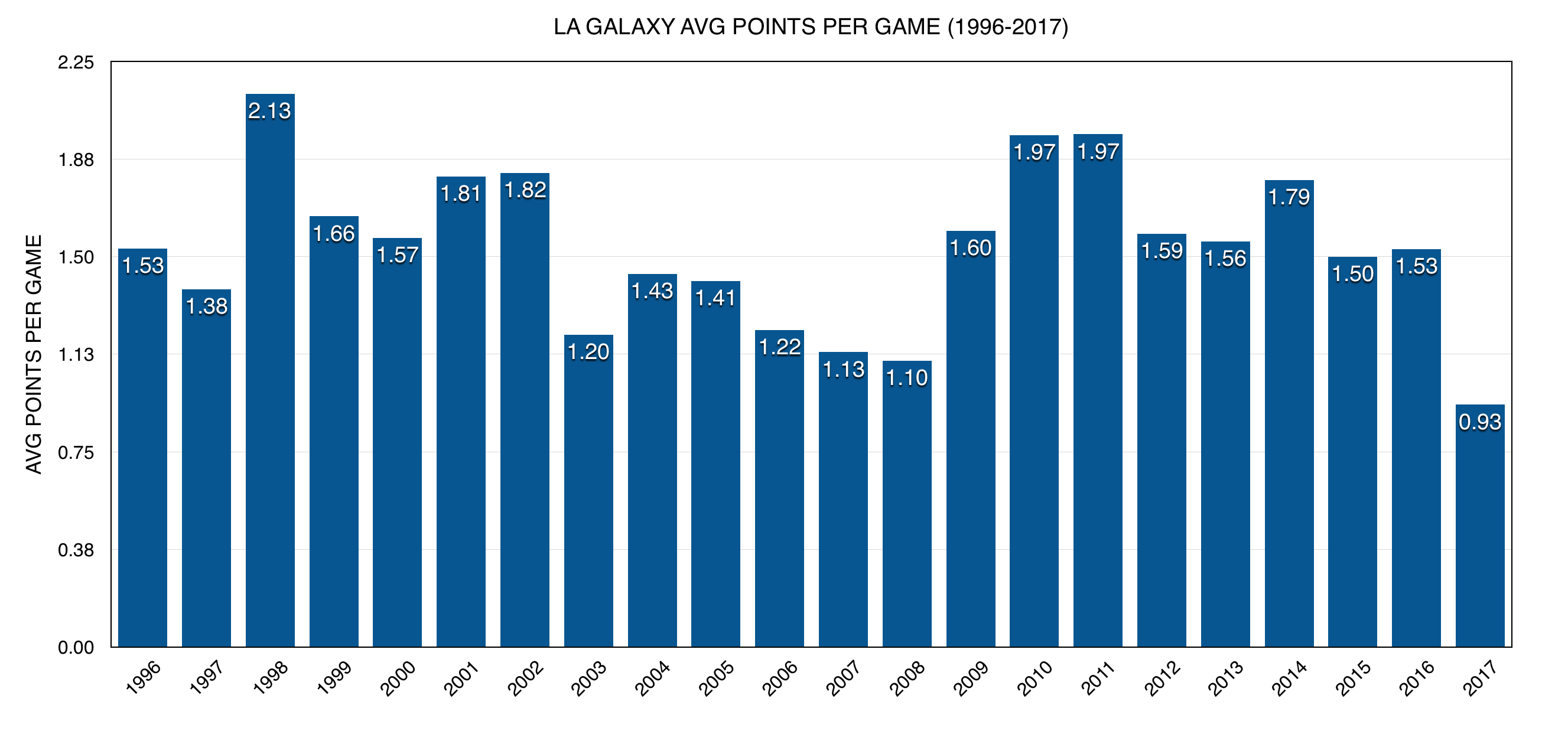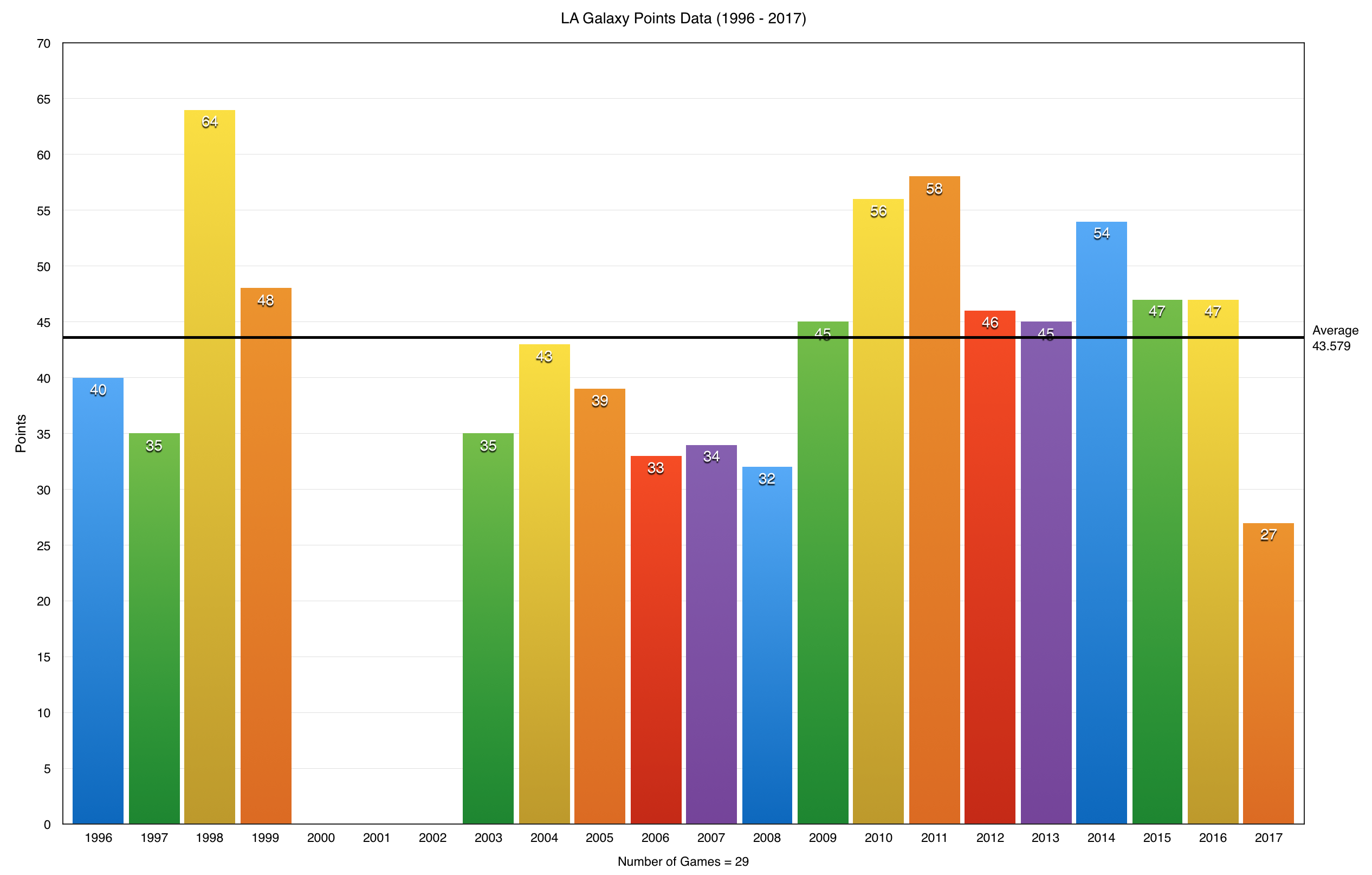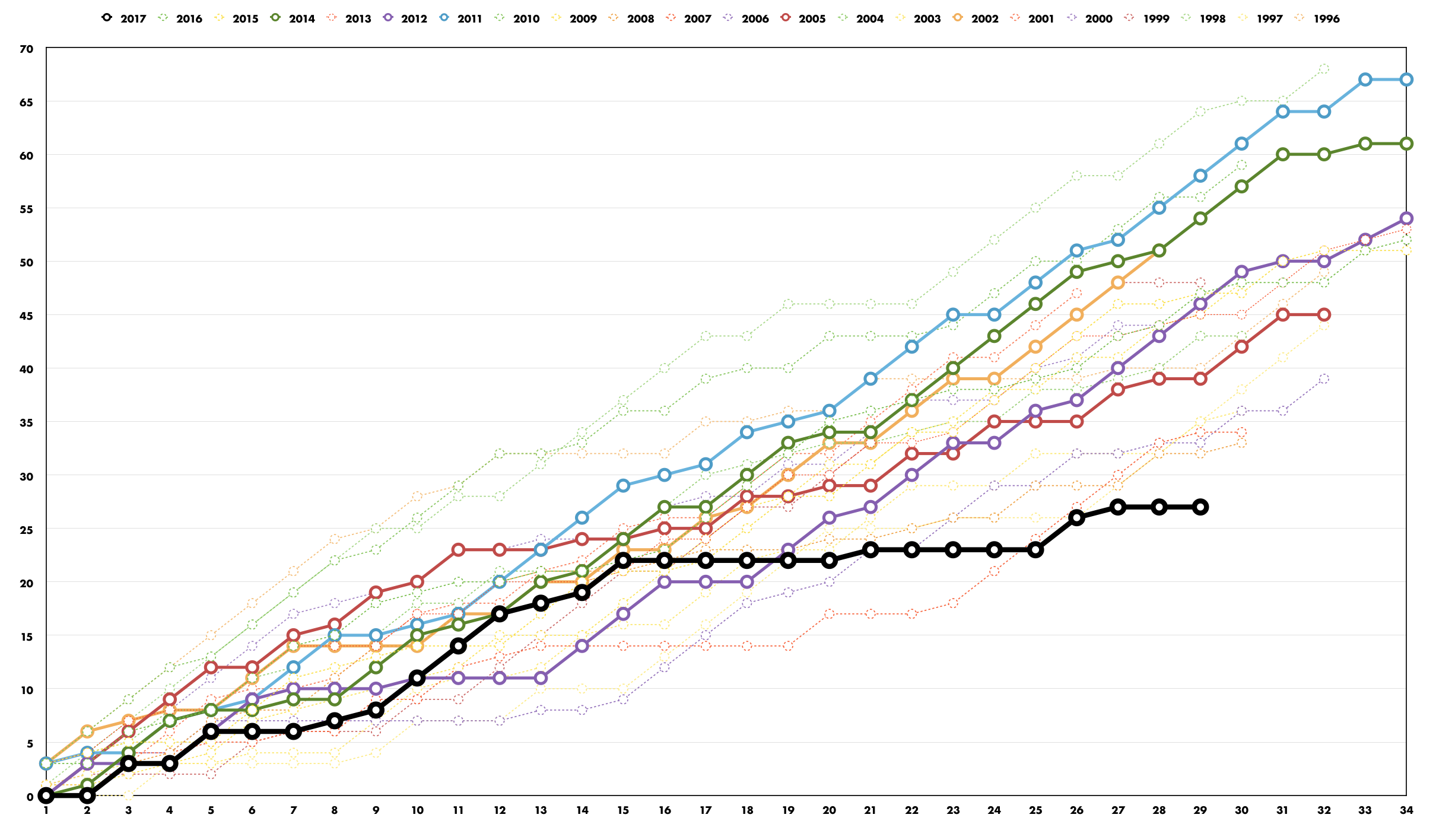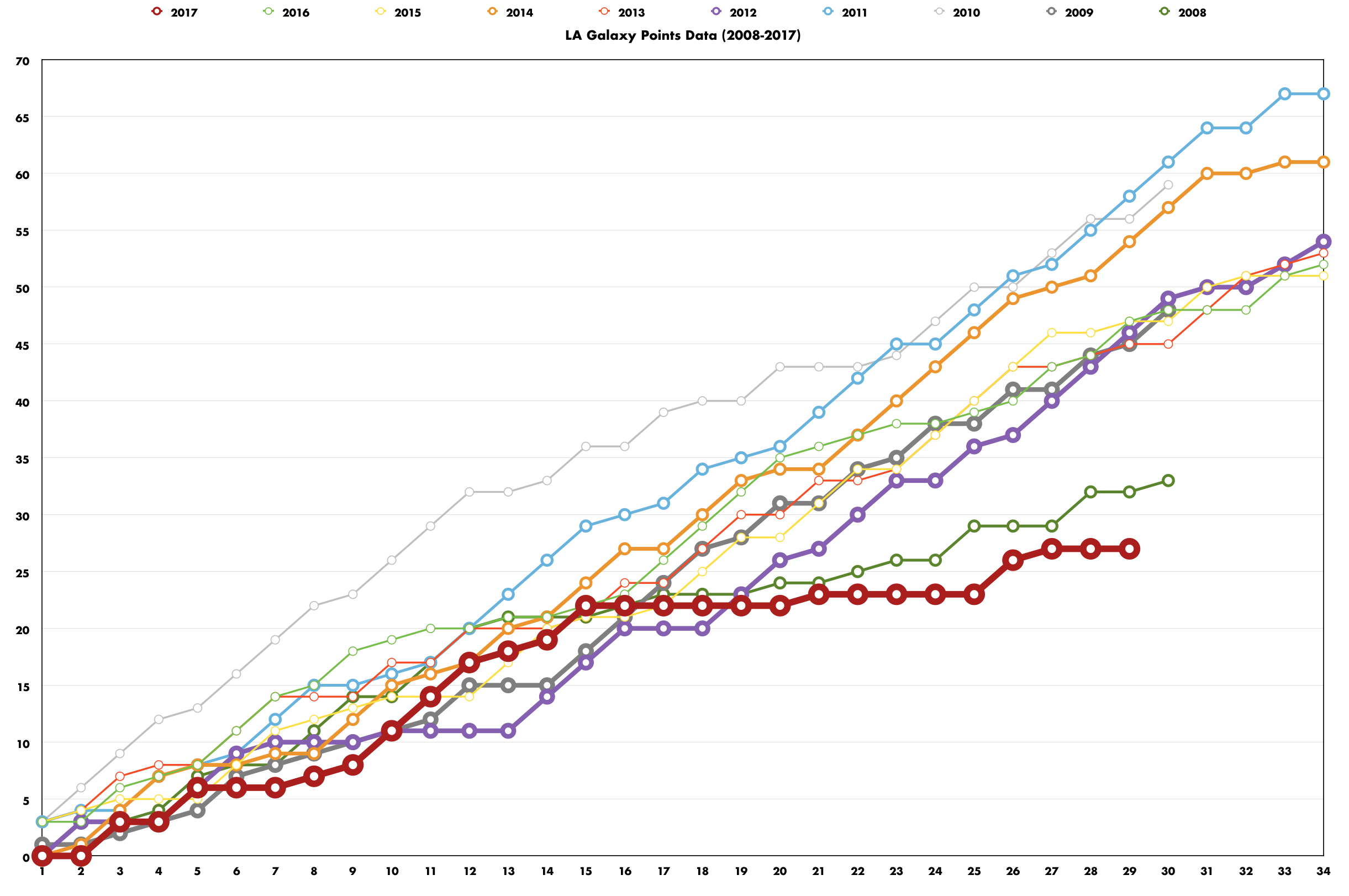 UPDATED CHARTS – THROUGH 28 GAMES
The LA Galaxy gave a rather uninspired performance against Toronto FC on Saturday night.
They allowed four goals, had zero shots on goal and were thoroughly dominated by the very best in MLS this season.
It was an ugly performance, that apparently necessitated a 15-minute closed-door meeting between Galaxy Head Coach Sigi Schmid and the rest of the team.
The Galaxy have fallen to back below an average of one point per game (PPG) and they now sit at 0.96 PPG. That's almost .15 PPG below the worst ever Galaxy team of 1.10 PPG in 2008.
With 27 points total the club sits in tenth place in the Western Conference and in 21st place overall in a league of 22 teams. Only the Colorado Rapids, with 26 points, are keeping the Galaxy from being the worst in the league.
The 2017 Galaxy are five points behind the worst record of any other Galaxy team through 28 games. With 32 points in 1997, 2003, and 2008 the gap is only widening on 2017 being the worst year in franchise history.
The club has a historical average of 42.6 points through 28 games. This years' club sits more than 15-points below that level.
There is nothing good about 2017. And it's unlikely to get better in the near future.
The Galaxy will take off to Atlanta United FC on Wednesday, Sporting KC on Saturday, and then Houston on September 27. Finally, they'll return home to play Real Salt Lake on the last day of the month.
The Galaxy have the toughest schedule down the stretch of any team in MLS.
Things are likely to get worse before they get better.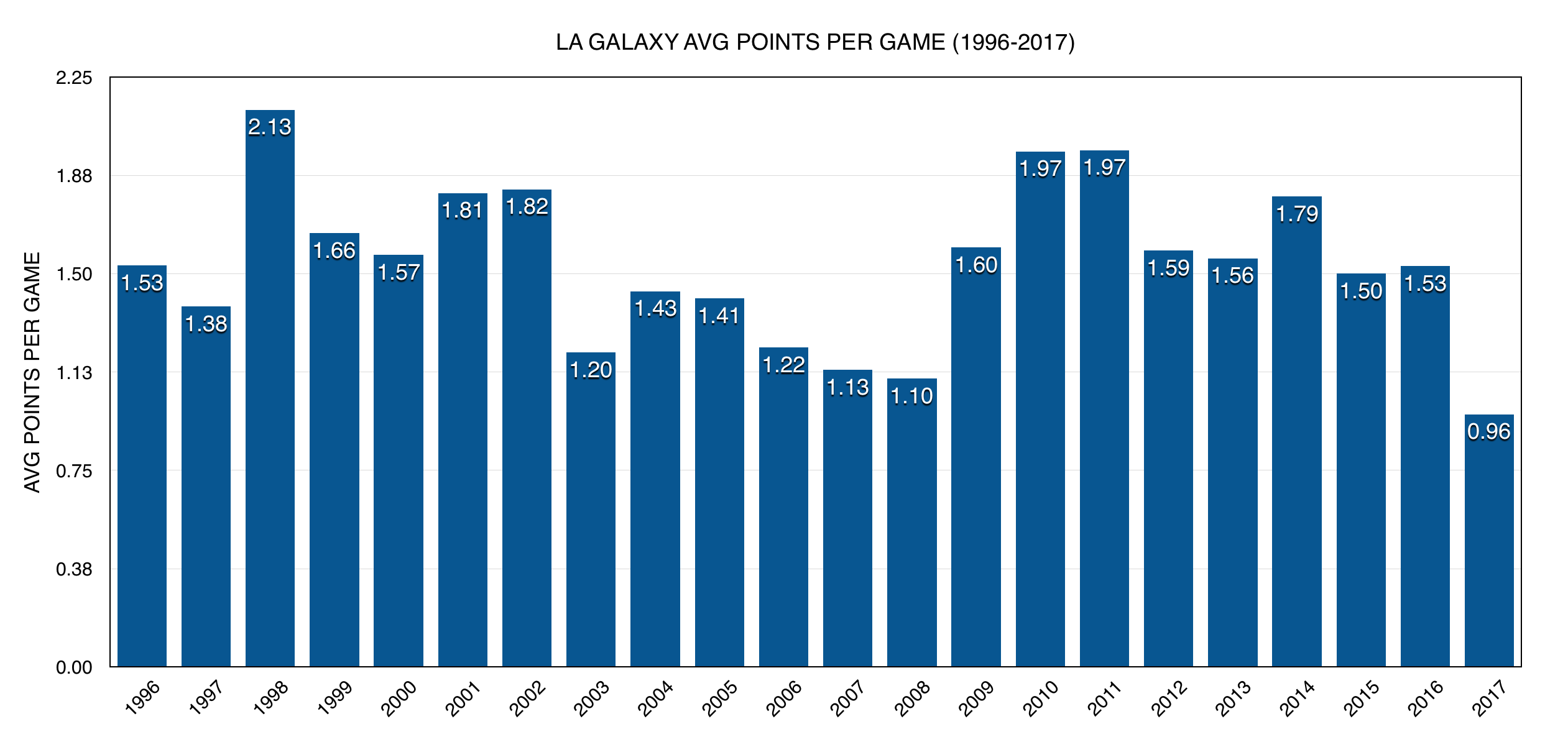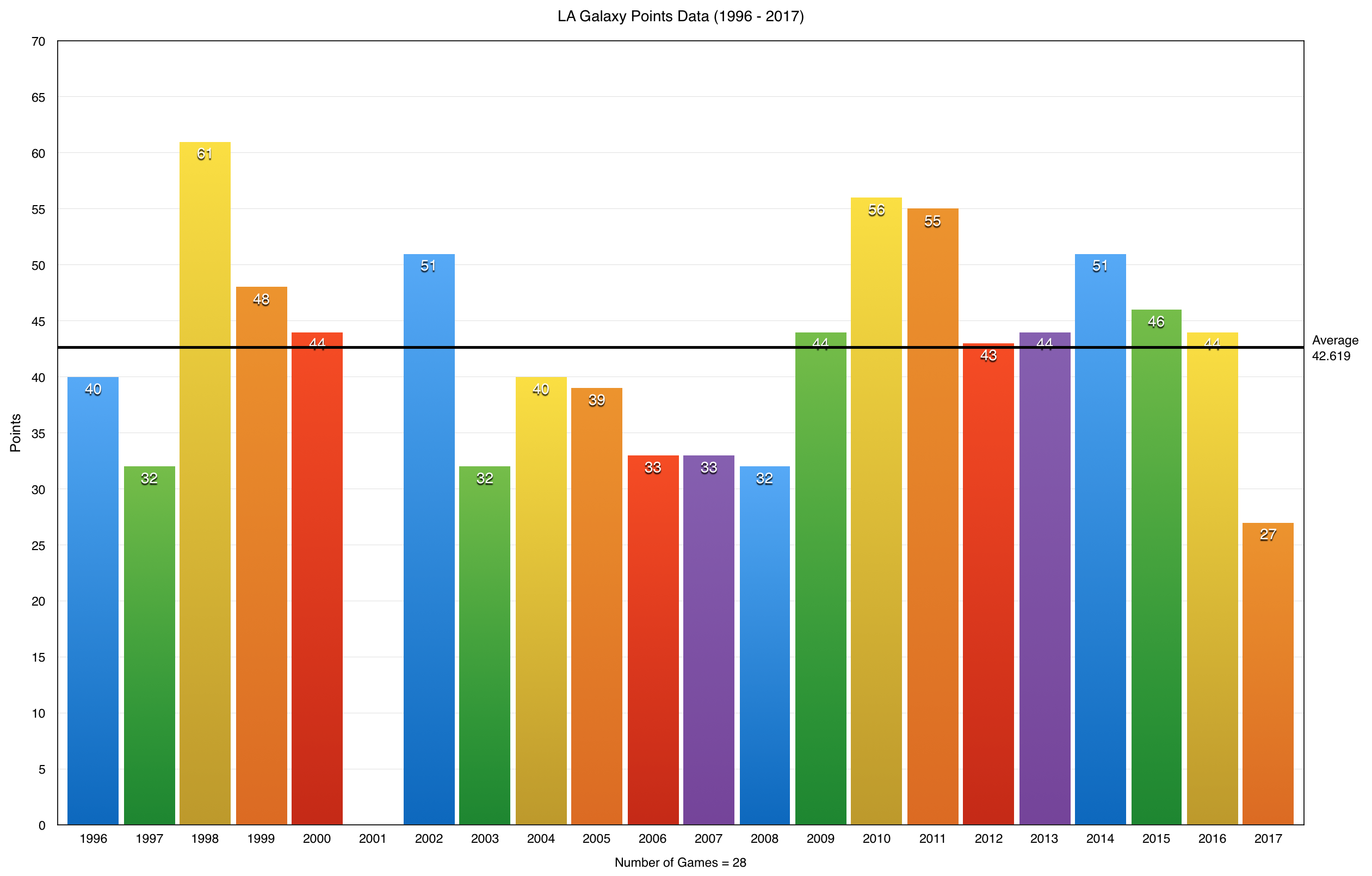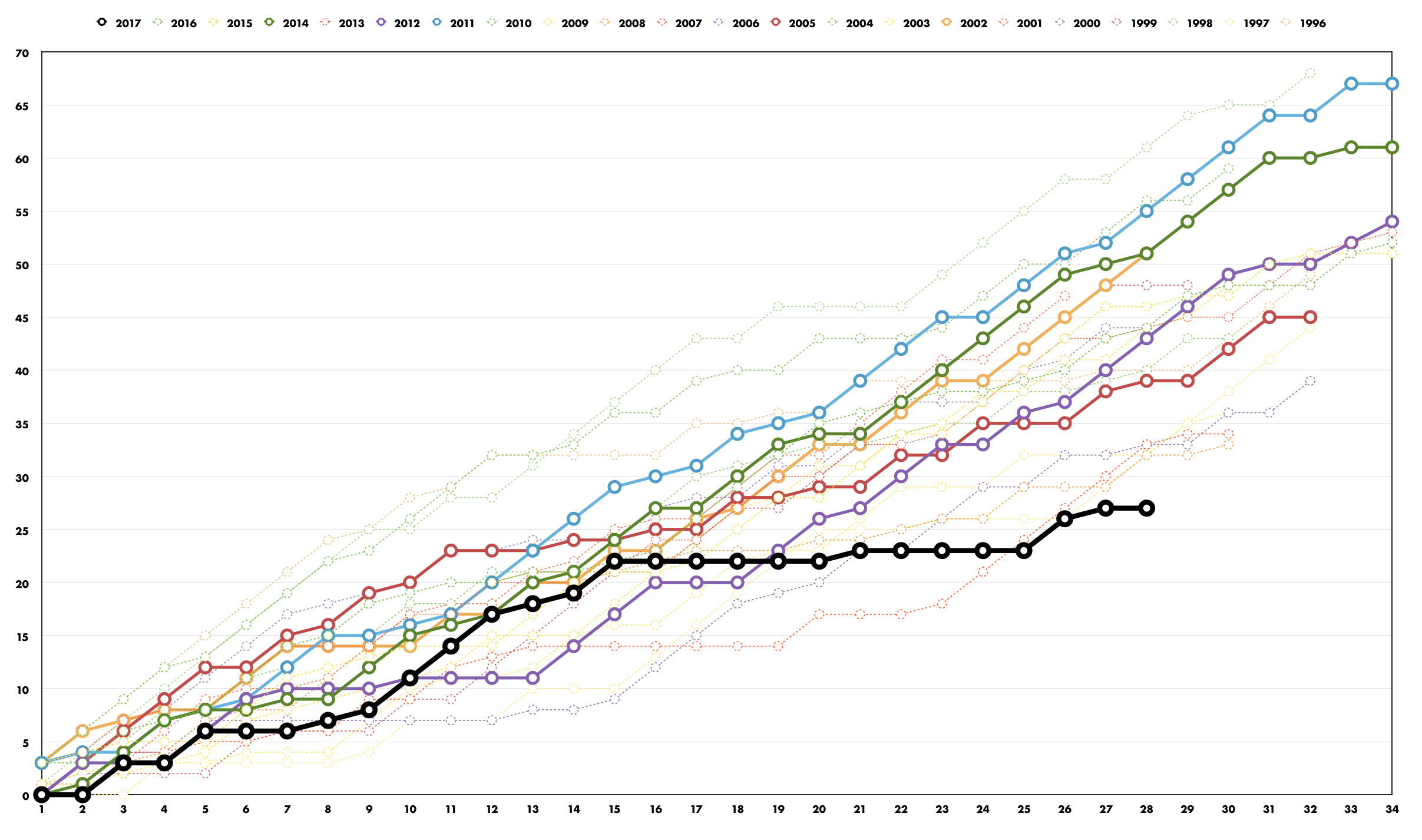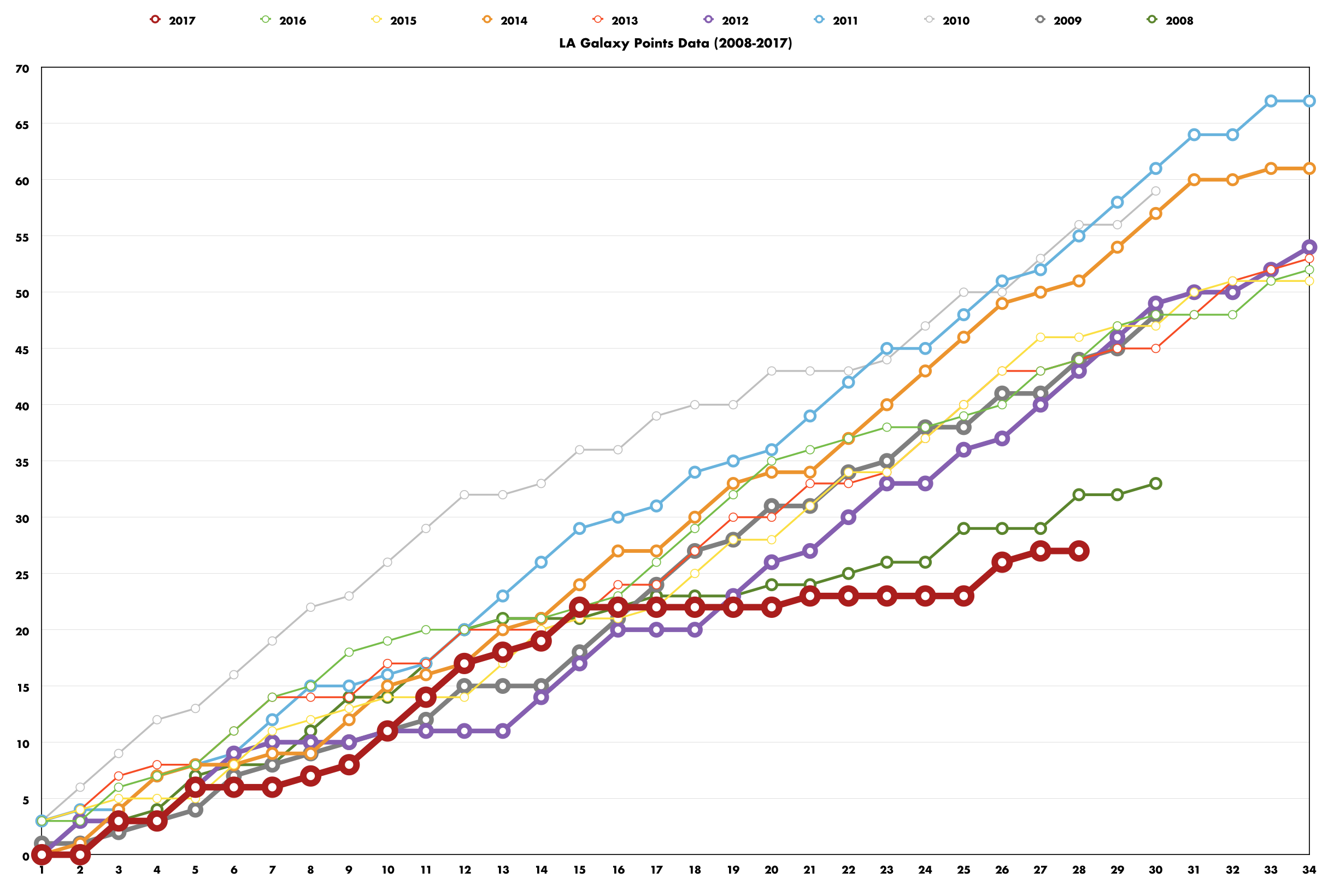 UPDATED CHARTS – THROUGH 27 GAMES
The LA Galaxy earned a hard-fought road point against a stingy Seattle Sounders team on Sunday night. Taking an early lead and holding it until the 85th-minute was no easy task.
In the process of getting the 1-1 draw against the Sounders, the Galaxy also knocked them down to second place and allowed the Portland Timbers to leapfrog into the Western Conference lead.
And while the game was a good result, the Galaxy are still in a world of trouble as they attempt to mount a playoff push with a season that is all but over.
The club is ten-points from sixth place FC Dallas and still would need to climb above three other teams. And they'll have to do it with the League's toughest remaining schedule.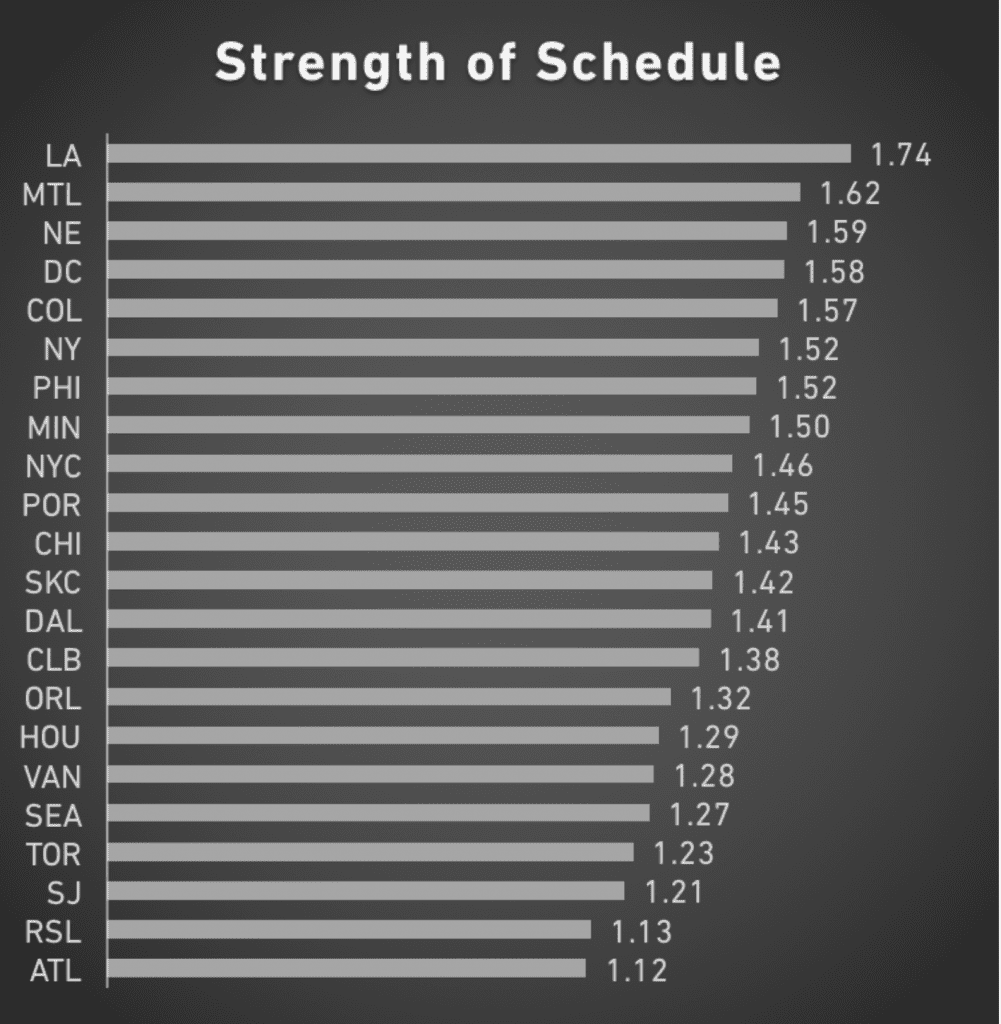 With the point, the Galaxy hold steady on their pedestrian 1.00 average points per game. Which leaves them as the worst Galaxy team in franchise history (2008 Galaxy finished with 1.10 ppg).
The club is now 14 points shy of their average number of points through 27 games (41.048 avg ppg) and has the worst points total (through 27 games) of any Galaxy team in their 22-year history. Both 1997 and 2008 saw those bad teams with 29-points through the same number of games.
For the first time, but definitely not the last time, our tracking of year by year points will see a season disappear off the chart. 2001 was removed from the chart because they only played 26-games that season. You'll notice, as we move forward that several of the seasons will disappear as the league ranged from shorter and longer seasons with variations from the current 34-games season all the way down to 28 or 26 game seasons.
34 Games Played (2011 to 2017)
32 Games Played (1996 to 1998; 2005 to 2006)
30 Games Played (2003 to 2004; 2007 to 2010)
28 Games Played (2000, 2002)
26 Games Played (2001)
With the point on the road, the Galaxy are tied for the second best road record in the league. They, along with New York City FC, Vancouver Whitecaps, and Atlanta United all have 17 points from their road travels. But everyone is chasing Toronto FC who have 23 points on the road in 2017.
The Galaxy are averaging 1.31 PPG (5-6-2) away from StubHub Center and just 0.71 PPG (2-8-4) when at home.
The point against the Sounders was important if for no other reason than to play spoiler. But the Galaxy need some significant improvement over their remaining seven games – four on the road and three at home – if they're to save themselves from being the worst Galaxy team in franchise history.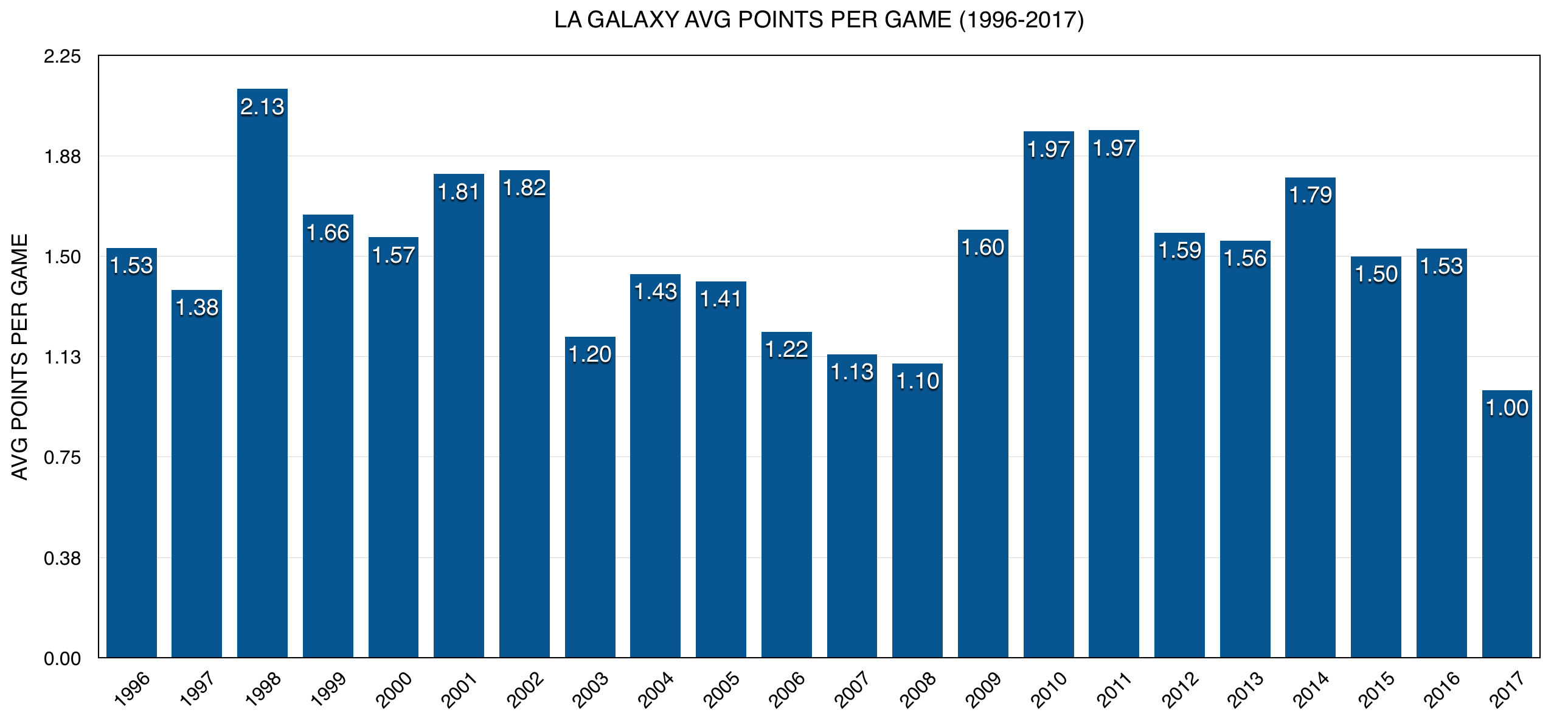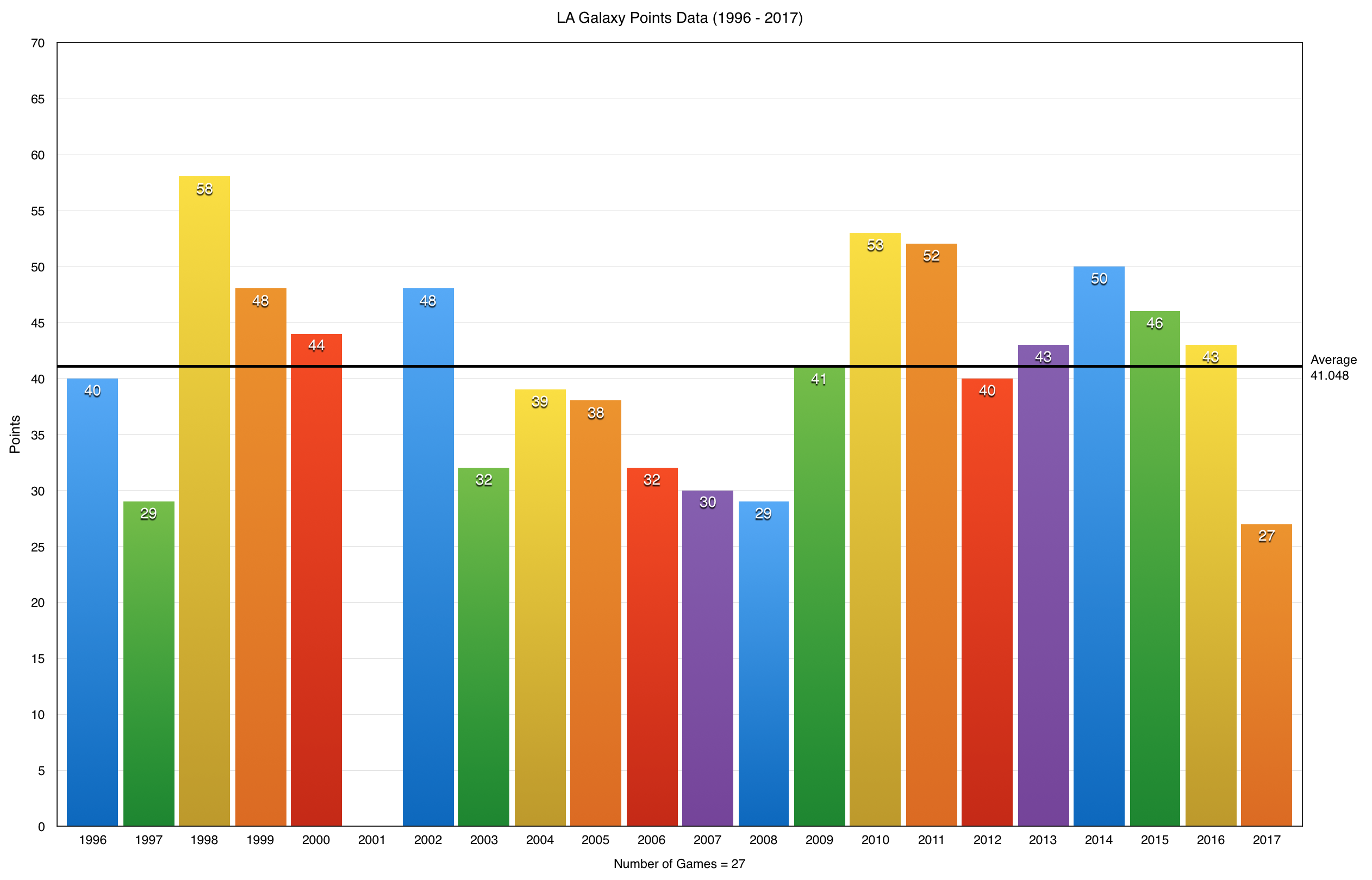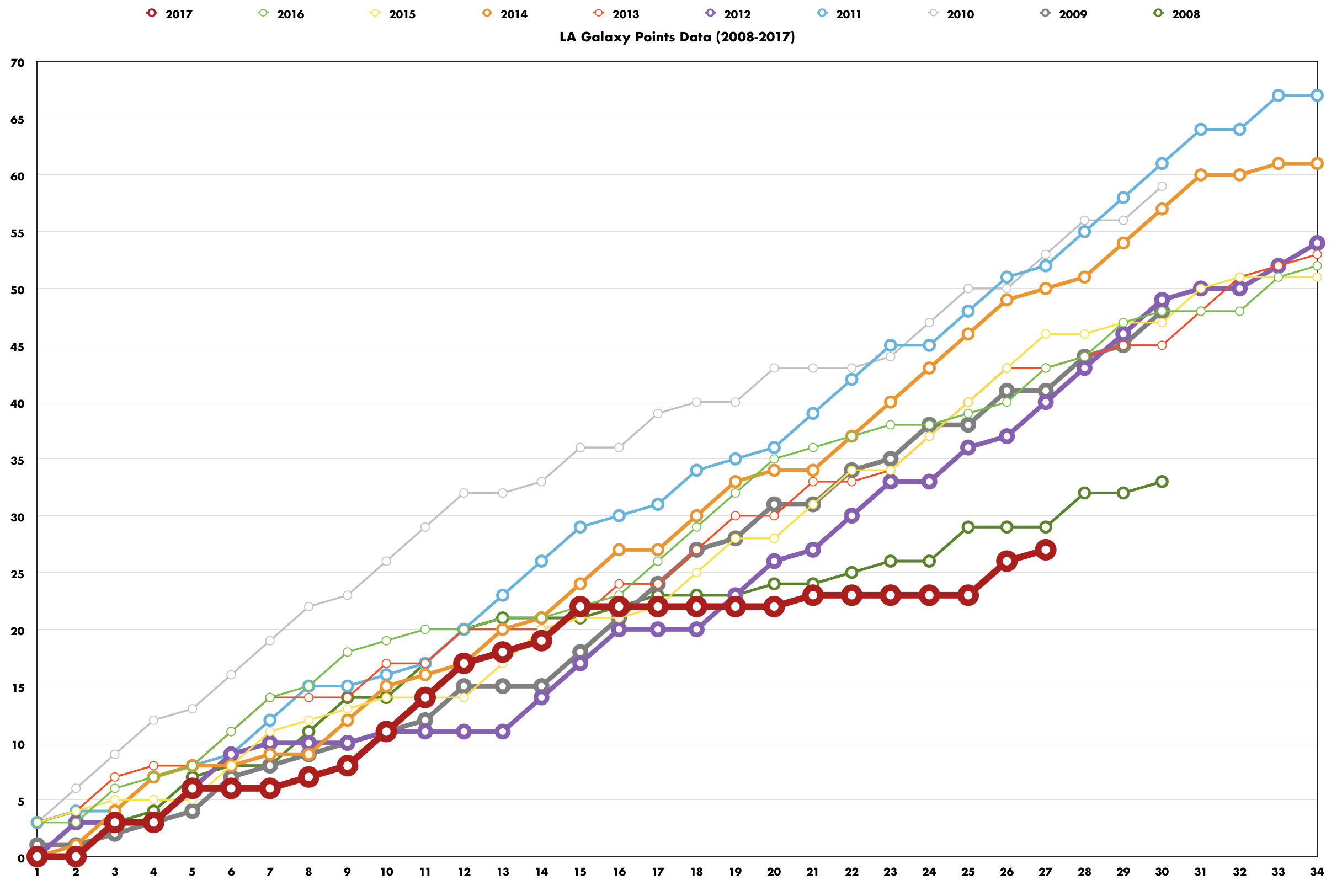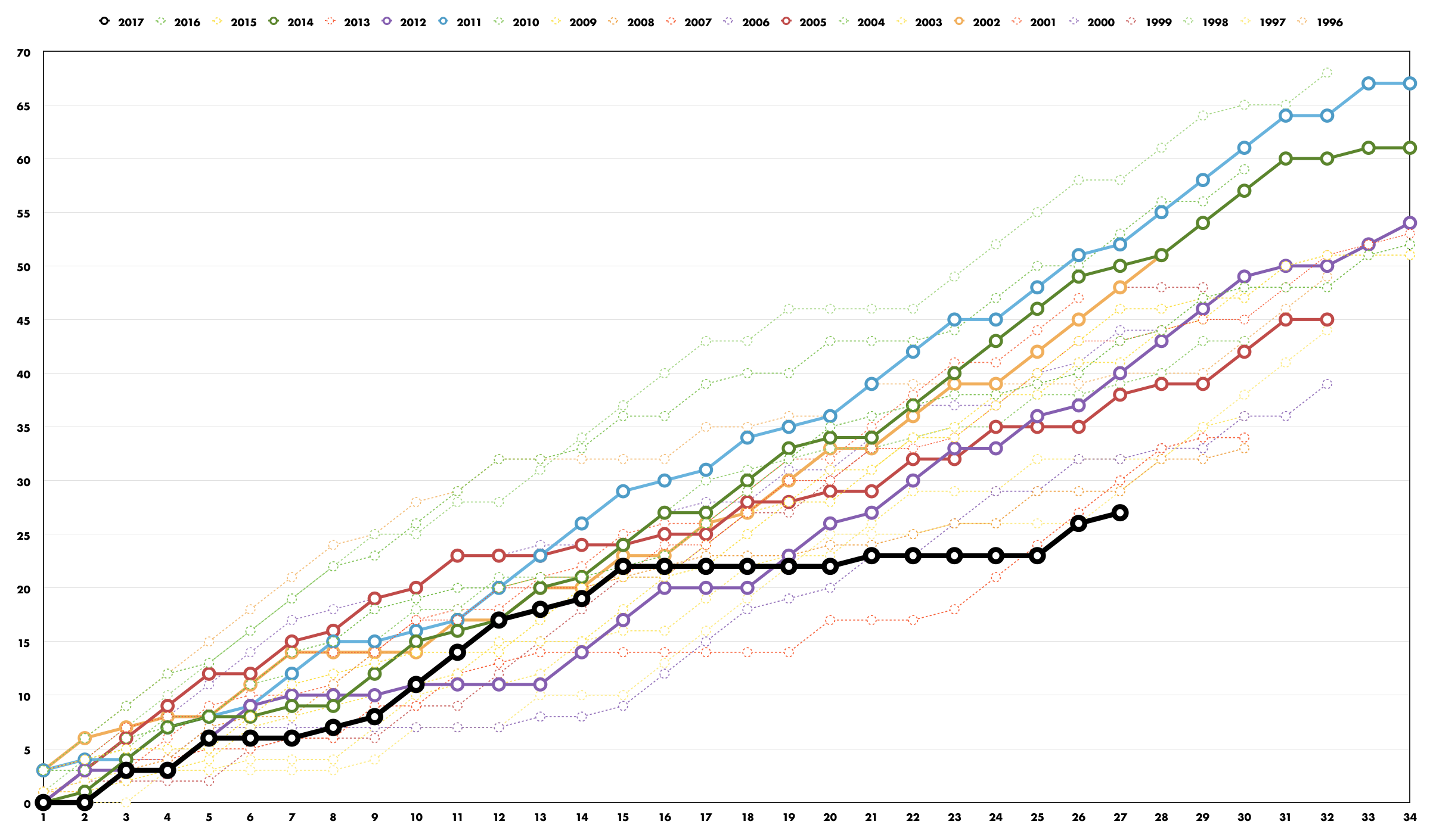 UPDATED CHARTS – THROUGH 26 GAMES
The LA Galaxy earned a 3-0 win over the Colorado Rapids and somehow kept themselves, for the time being, from becoming the worst team in Major League Soccer.
They put an end to a ten-game winless streak and stopped their home winless streak as well. The Galaxy went 149 days between home wins and it's the first time they beat an 11-man team at StubHub Center this year.
Gyasi Zardes scored for the first time in over a year and Romain Alessandrini netted his first goal since the last time they played the Rapids on June 21.
This raises the Galaxy's average points per game to 1.00 which gets them within striking distance of 2008's 1.10 — the current lowest points per game ever in a season.
But the Galaxy are well below the franchise average in points through 26-games. In fact, they sit nearly 14-points behind their historical average – 26 points vs 39.7 average.
They sit ninth out of 11 teams in the Western Conference and 20th out of 22 teams in the league. With the win, the Galaxy were able to jump over Minnesota United who was idle during the International window.i
The Galaxy now have 8 games left in the season and sit 11-points out of a playoff position with two teams above them – Real Salt Lake (35 pts) and the San Jose Earthquakes (36 pts). While it's not impossible, any more losses will likely leave the Galaxy out of the postseason for the first time since 2008.
The 2017 version of this club is only equal to the 1997 team in terms of points. No other Galaxy team has had less points through 26 games.
By all accounts the Galaxy are flirting with being the worst Galaxy team ever. Unless they can string together a series of points.
With an eye on the off-season, the Galaxy will look to impress down the stretch and start to figure out the pieces they will be keeping and those they will be parting with after this season closes out.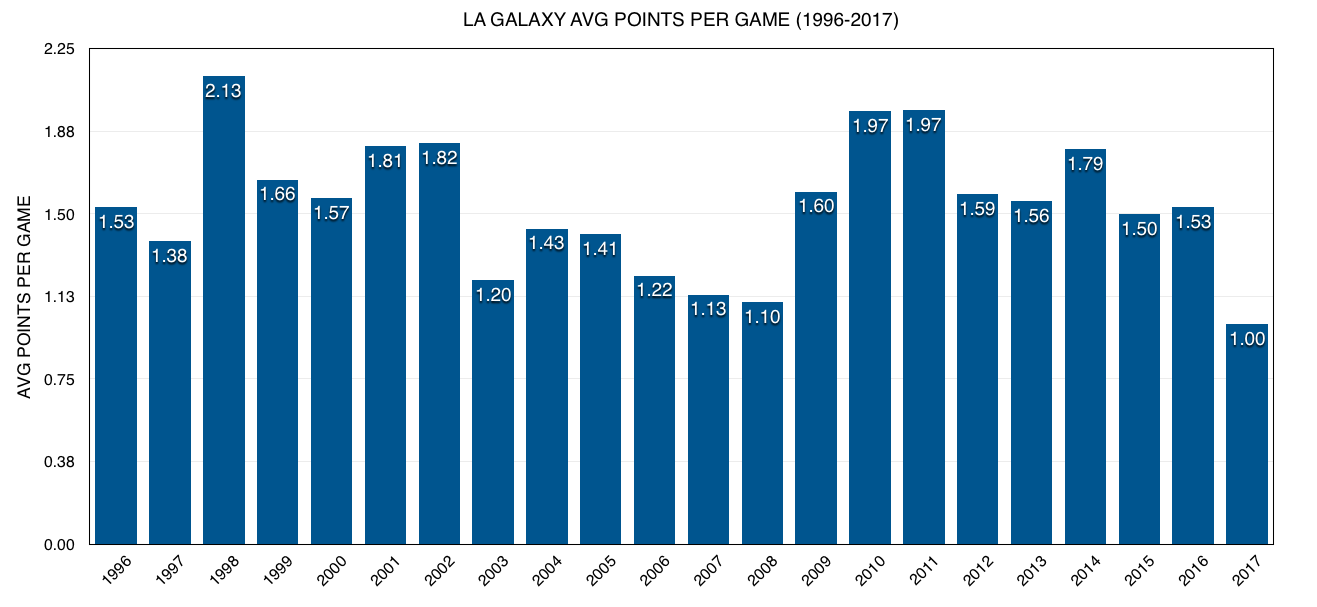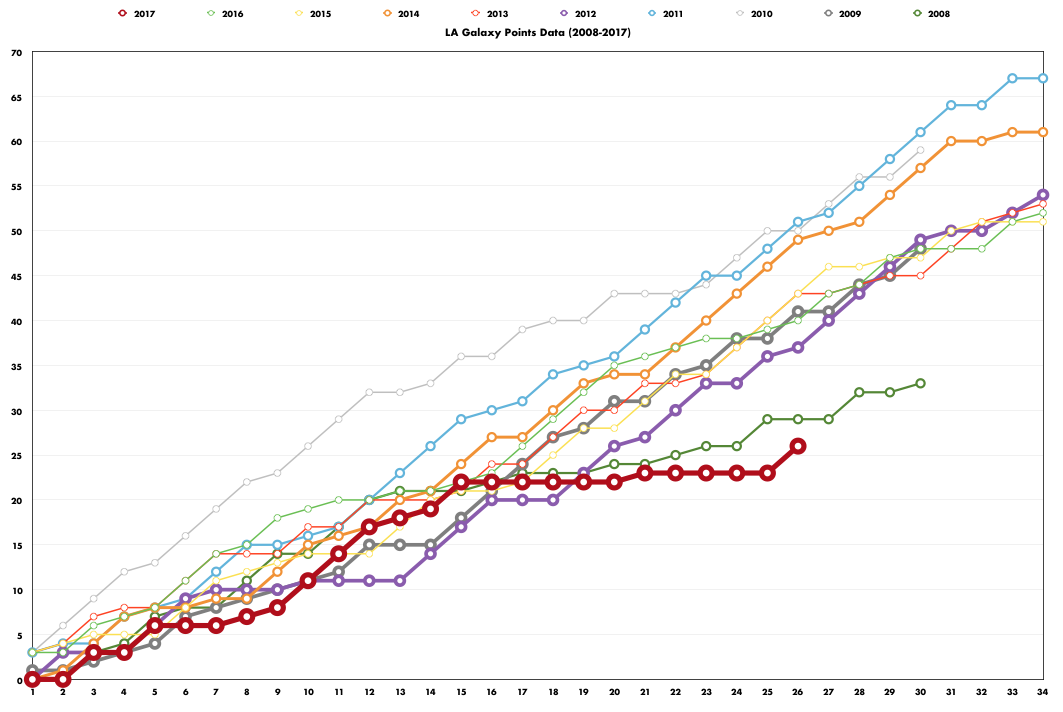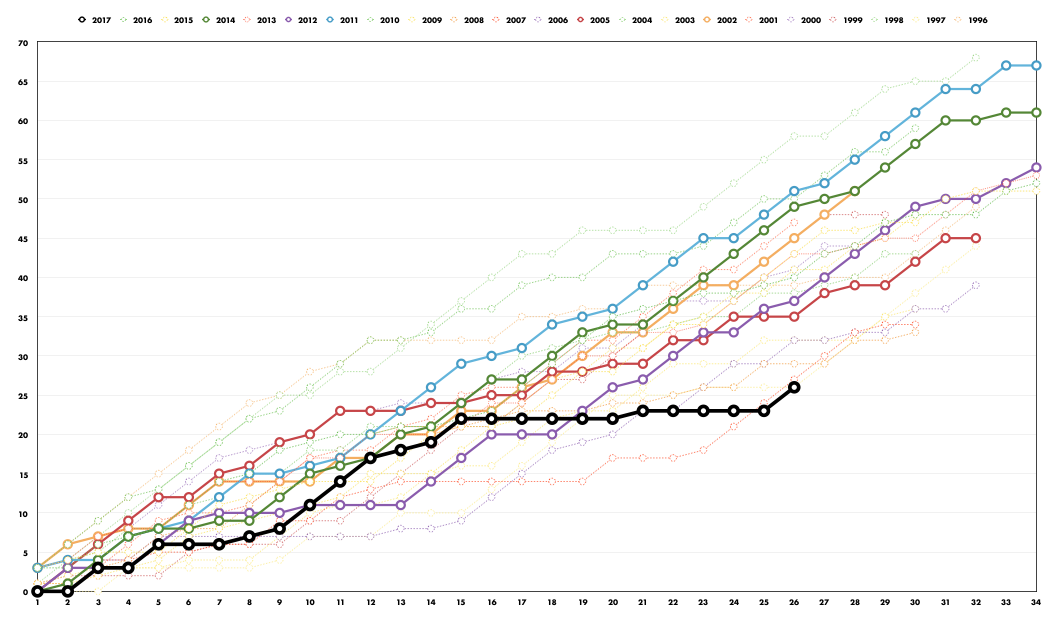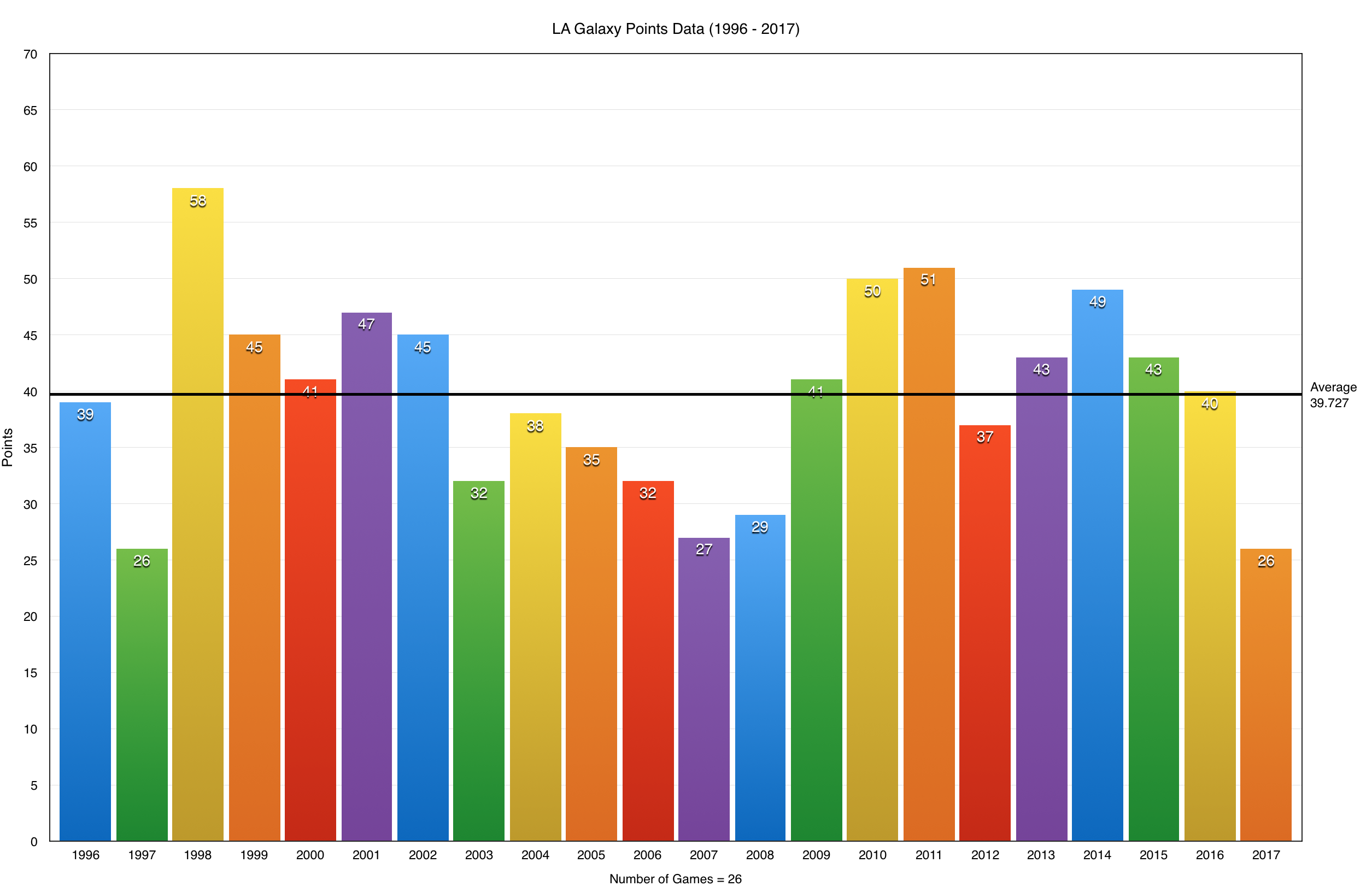 UPDATED CHARTS – THROUGH 25 GAMES
There is no good news below after this line. You've been warned and you have now chosen to look at the charts and graphs below that show you this season is the worst in the LA Galaxy's 22-year history.
So let's proceed.
After dropping another three home points to the San Jose Earthquakes on Sunday afternoon, the Galaxy now sits just one spot from the basement in both the Western Conference and the overall league standings. Minnesota United, an expansion team that lost its first two games by a combined score of 11-2, is now above the Galaxy in points and only Colorado, the Galaxy's next home opponent (September 2, 2017), is keeping the club from being the worst in MLS.
The Galaxy haven't won at home in nearly five months. A span that stretches ten home games and 143 days.
They have 23 points through 25 games which give them a 0.92 PPG average. That drops them a full 0.18 points below their worst ever finish in 2008 of 1.10 PPG. And looking at the Galaxy's schedule, anyone would be hard pressed to say there are easy wins on it. Meaning the PPG total may actually get worse.
The 23 points also mark another low in club history as at no point in the previous 21 seasons has a Galaxy team had fewer points through 25 games than this 2017 club (2007 was 24 points through 25 games).
All signs point to this season being the worst in Galaxy history unless they suddenly learn to win and learn to score.
The Galaxy are on a 355-minute scoreless streak and haven't scored at home since a 6-2 beating by Real Salt Lake on July 4, 2017. They've also scored just once since Sigi Schmidt took over for Curt Onalfo – that stretch now includes five games with a record of (0-4-1). Plus, they have a goal differential of -15 which puts them as the third worst team in the league.
Is it time for an "adjustment" to the front office staff? Do you have faith they can rebuild this team with the pieces they have in place?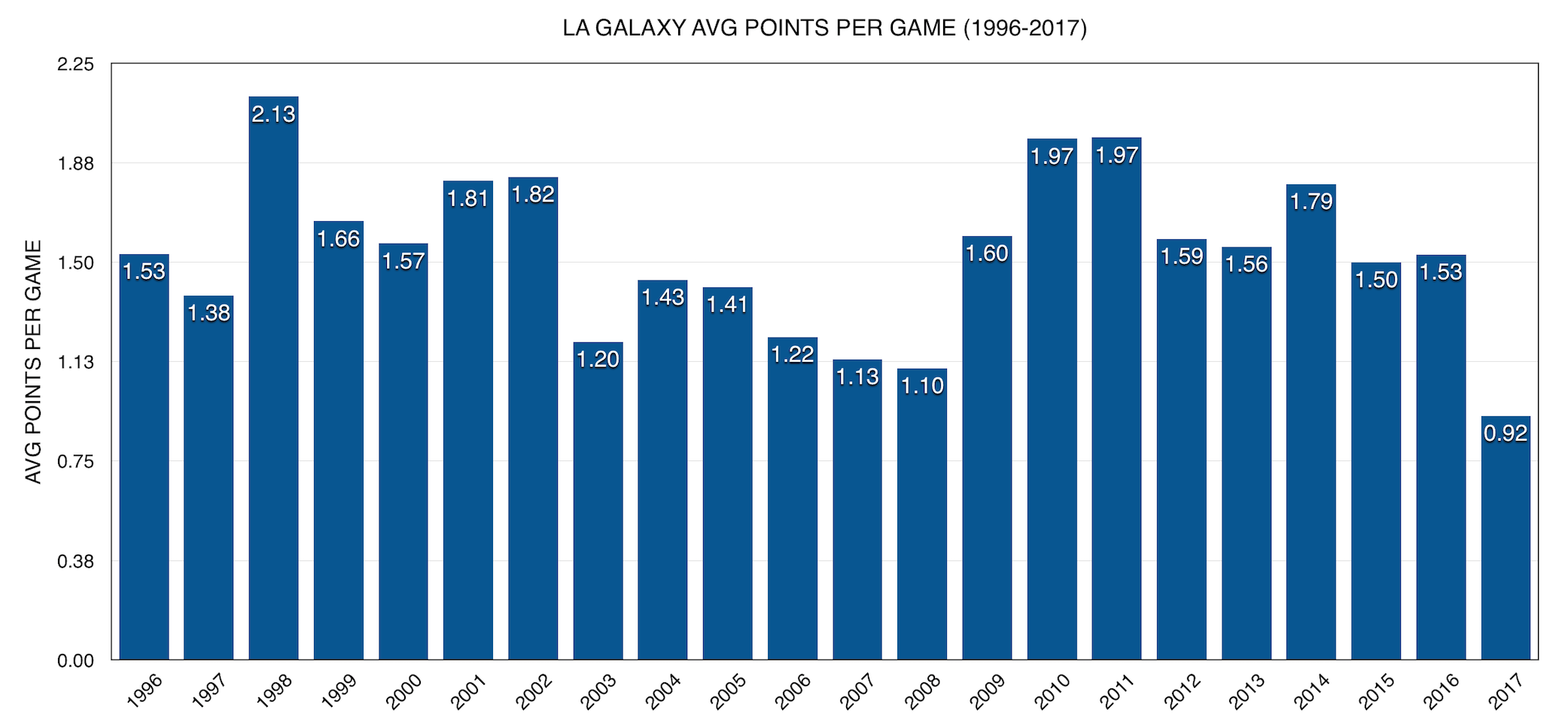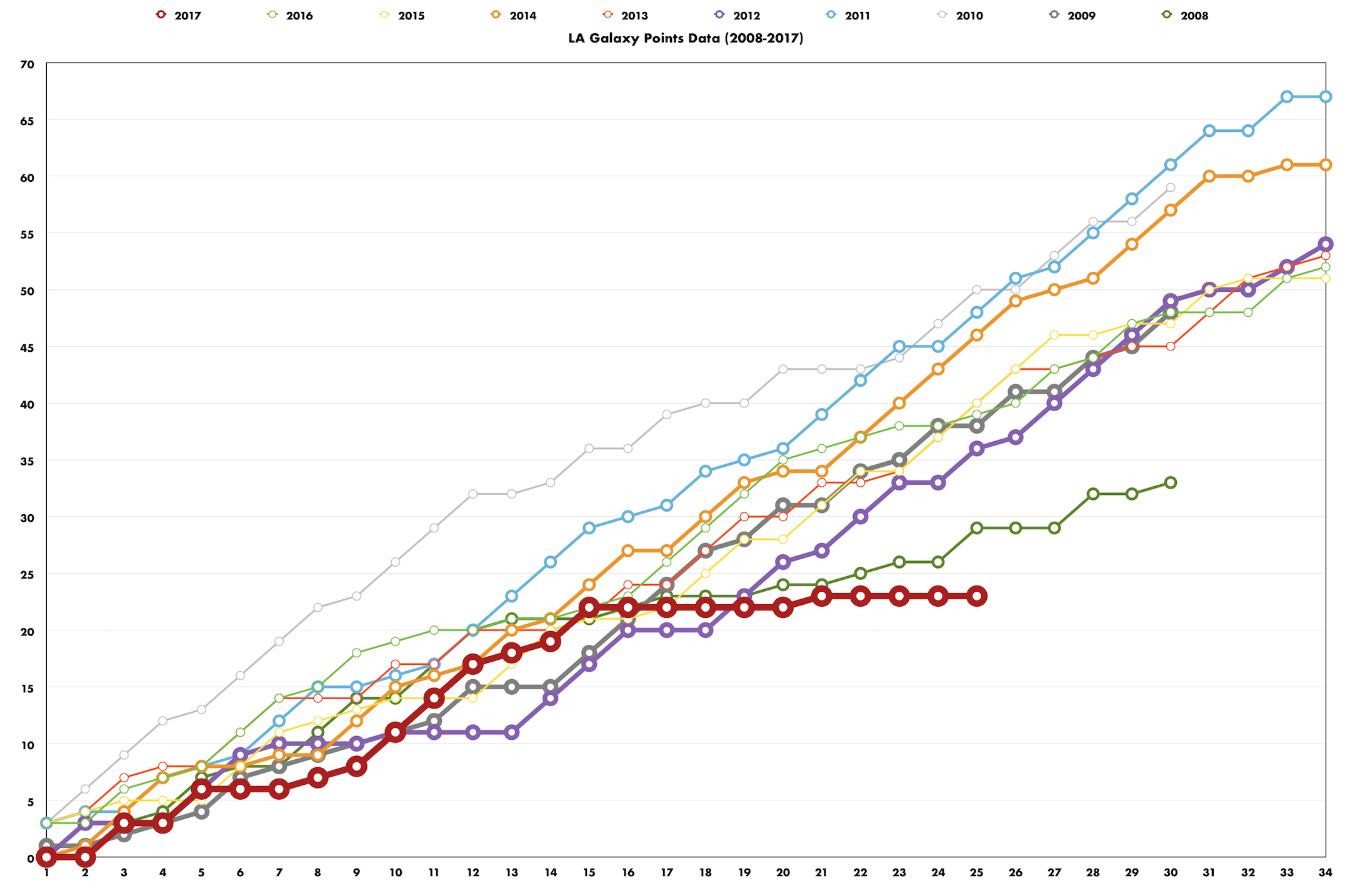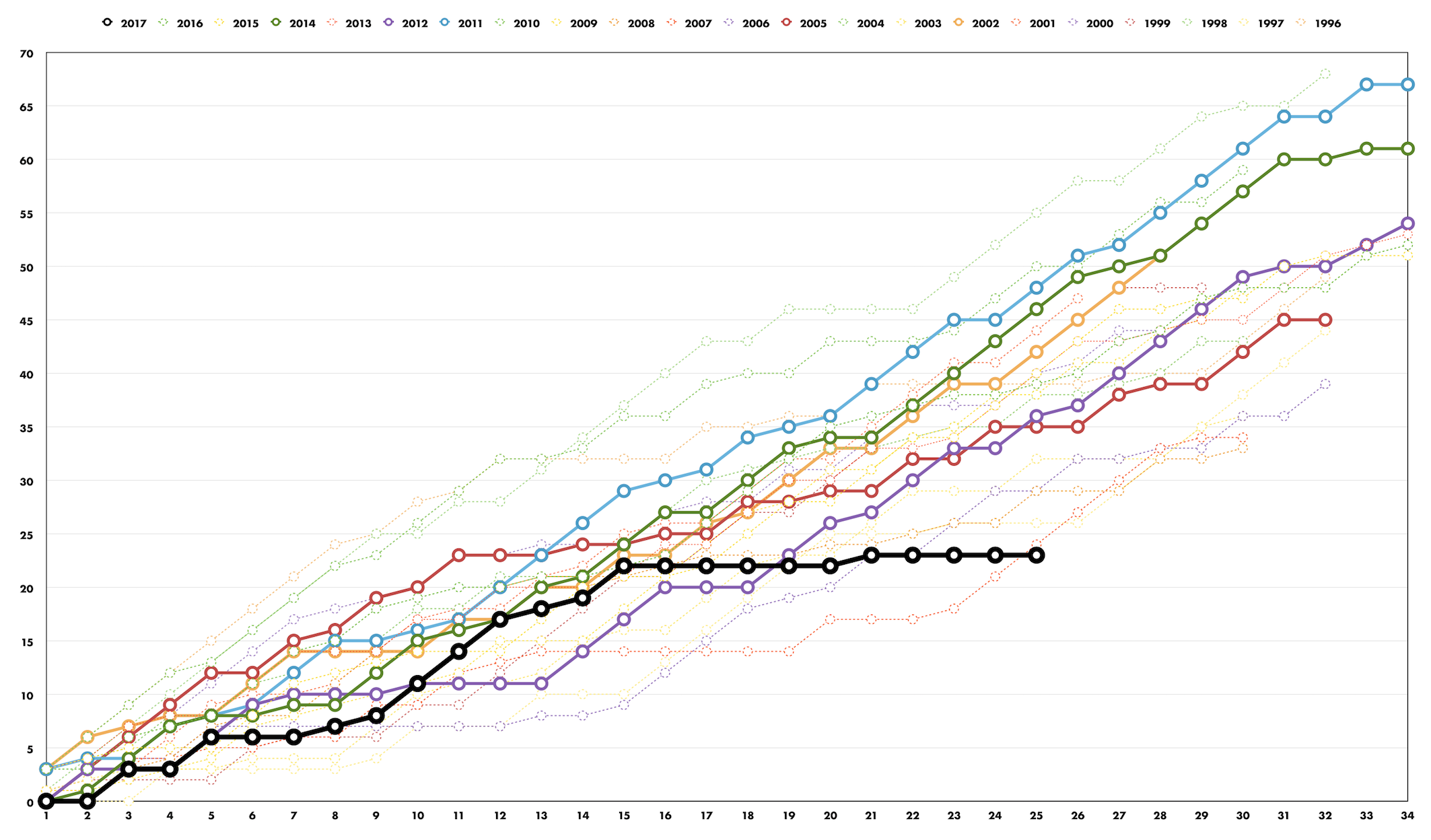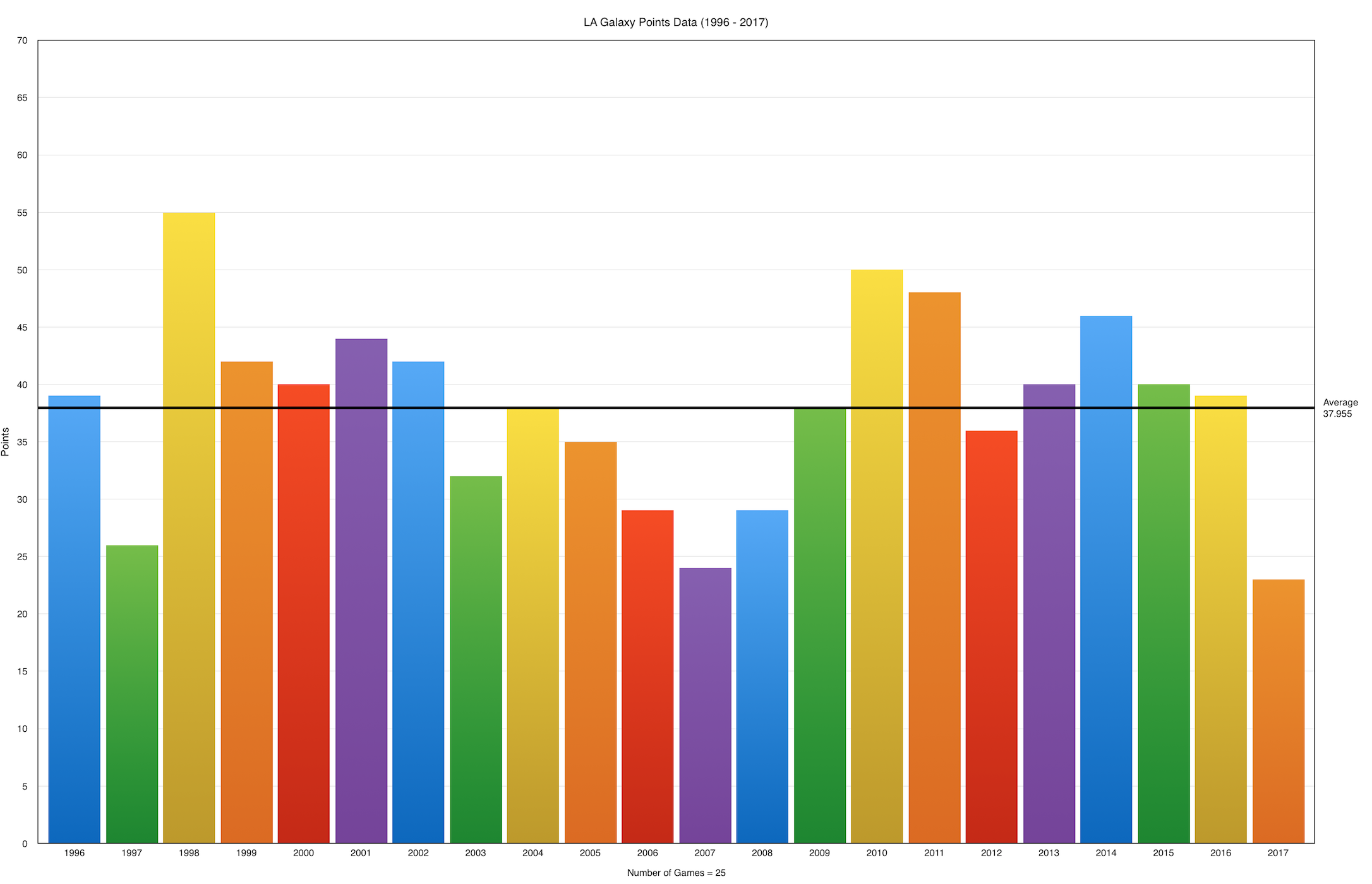 UPDATED CHARTS – THROUGH 24 GAMES
It wasn't one of those game you go back and watch over and over again. The game was thrown into disarray when Ashley Cole was sent off in the 18th-minute. But ultimately the Galaxy failed to get a shot on goal and have scored just once in Sigi Schmid's first four games. Ending in a 2-0 loss almost seems to be speaking kindly of this Galaxy team at the moment.
The Galaxy's flat-lined season has shown zero signs of improvement.
They have just six points from their last 12 games, are on a 264-minute scoreless streak, and will need to get at least one point in their next game – against the San Jose Earthquakes – if they are to keep from being the worst Galaxy team ever through 25 games (2007 team had 24 points through 25 games).
The 2007 team is the only Galaxy team with a worse record than the current version of the club.
The Galaxy have fallen more than 12-points below their club average through 24 games (35.86 is Avg to this point in the season.
The Galaxy's magic number is now 39 points. Or basically, the Galaxy would have to earn a certain number of points and their opponents would have to drop a certain number of points, in order for the Galaxy to make the playoffs.
.@LAGalaxy #MLS Supporters' Shield magic number is 55.
Playoff number is 39.#LAGalaxy

— MLS Magic Number (@MLSmagicnumber) August 24, 2017
Basically, the Galaxy would need 20 points out of their last 10 games in hopes that their opponents also dropped the same number of points (20 + 19 = 39) — a near impossible task, no doubt.
#MLS Western Conference playoff magic numbers table 24 August. pic.twitter.com/zGmhqy09Bj

— MLS Magic Number (@MLSmagicnumber) August 24, 2017
The Galaxy started the match without three of it's four highest earners. Basically, they were without $8,221,900 in salaried players until Romain Alessandrini entered the field in the 66th-minute of the match.
And Schmidt has decided that leaving Brian Rowe out of the lineup and back in Los Angeles was the best move for the club. Instead, Schmidt has put his trust in Jon Kempin. And on the night, his decision was rewarded as Kempin had a fantastic night becoming just the fifth goalkeeper in league history to save two penalty kicks in the same game — surprisingly, Nick Rimando isn't one of those five.
Finally, a new chart! We've charted every Galaxy team and their avg points per game. The chart is current as of the last game and we'll update it after every game.
The 2017 Galaxy, if they finished the season today, would be the only season in club history to finish below one point per game. So there's something to work for.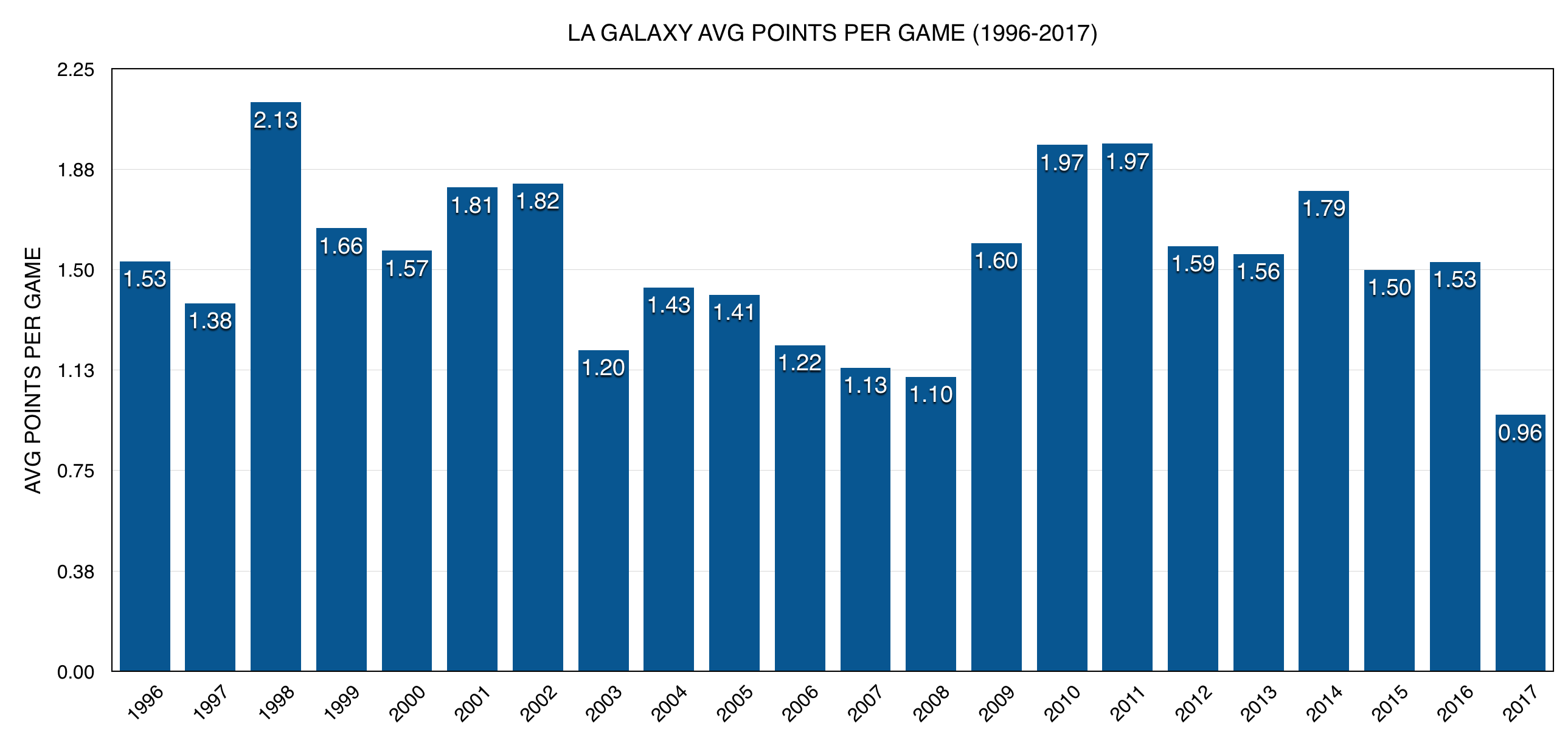 There's not much more to say about this game or about the season. While coaching may have been one issue, the continued injuries and the way the team was constructed didn't give this 2017 team much of a chance.
This Galaxy offseason could start after the game on Sunday!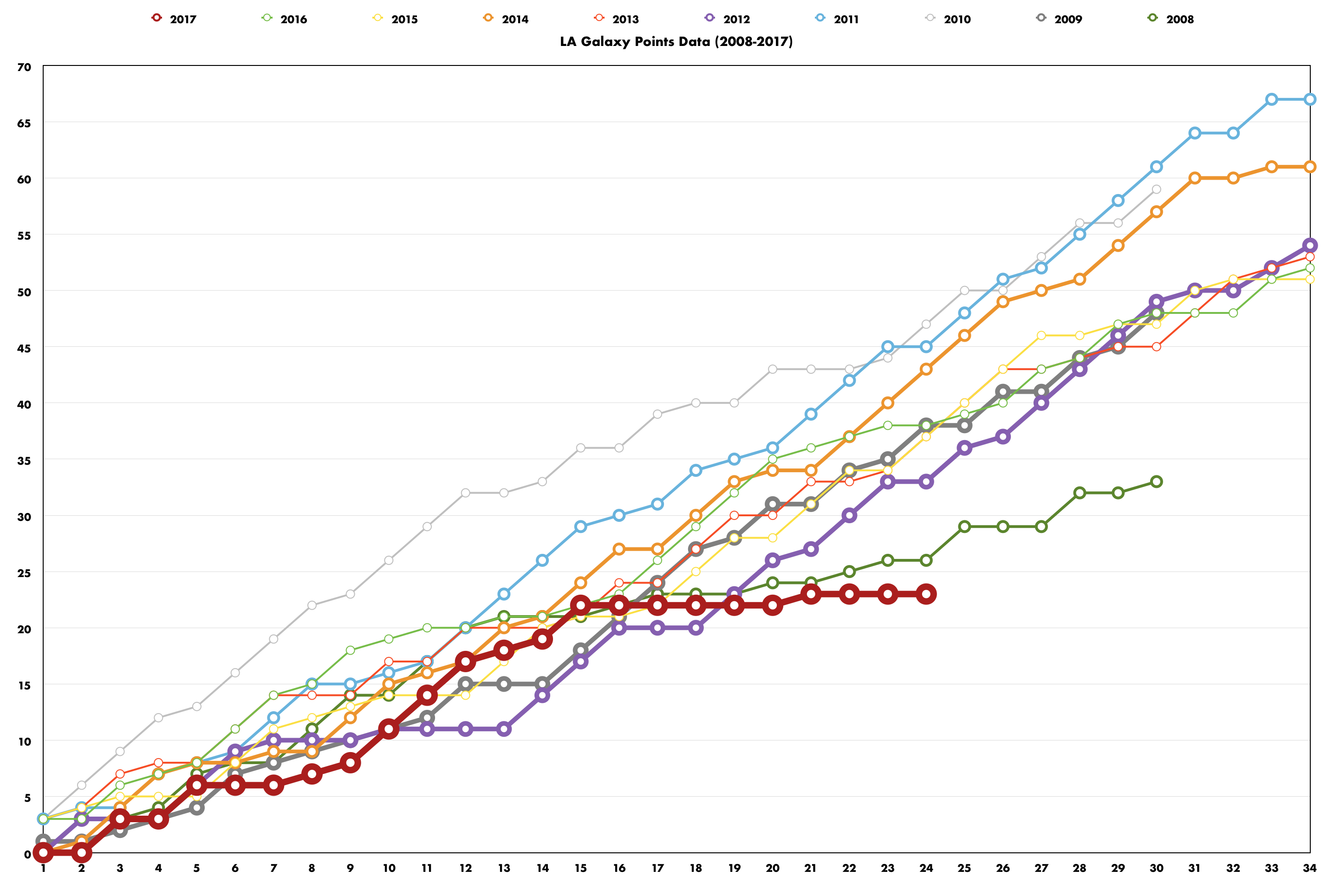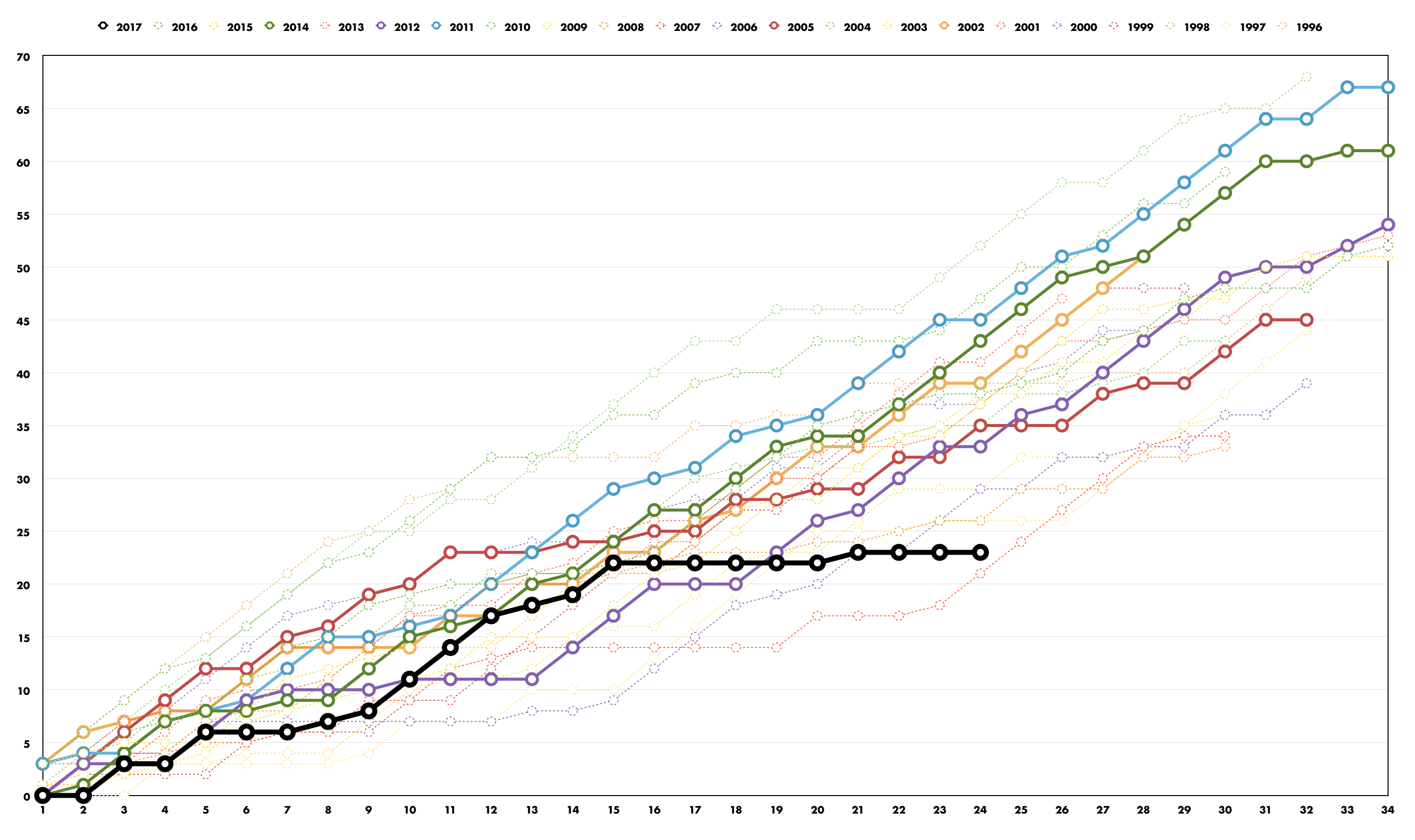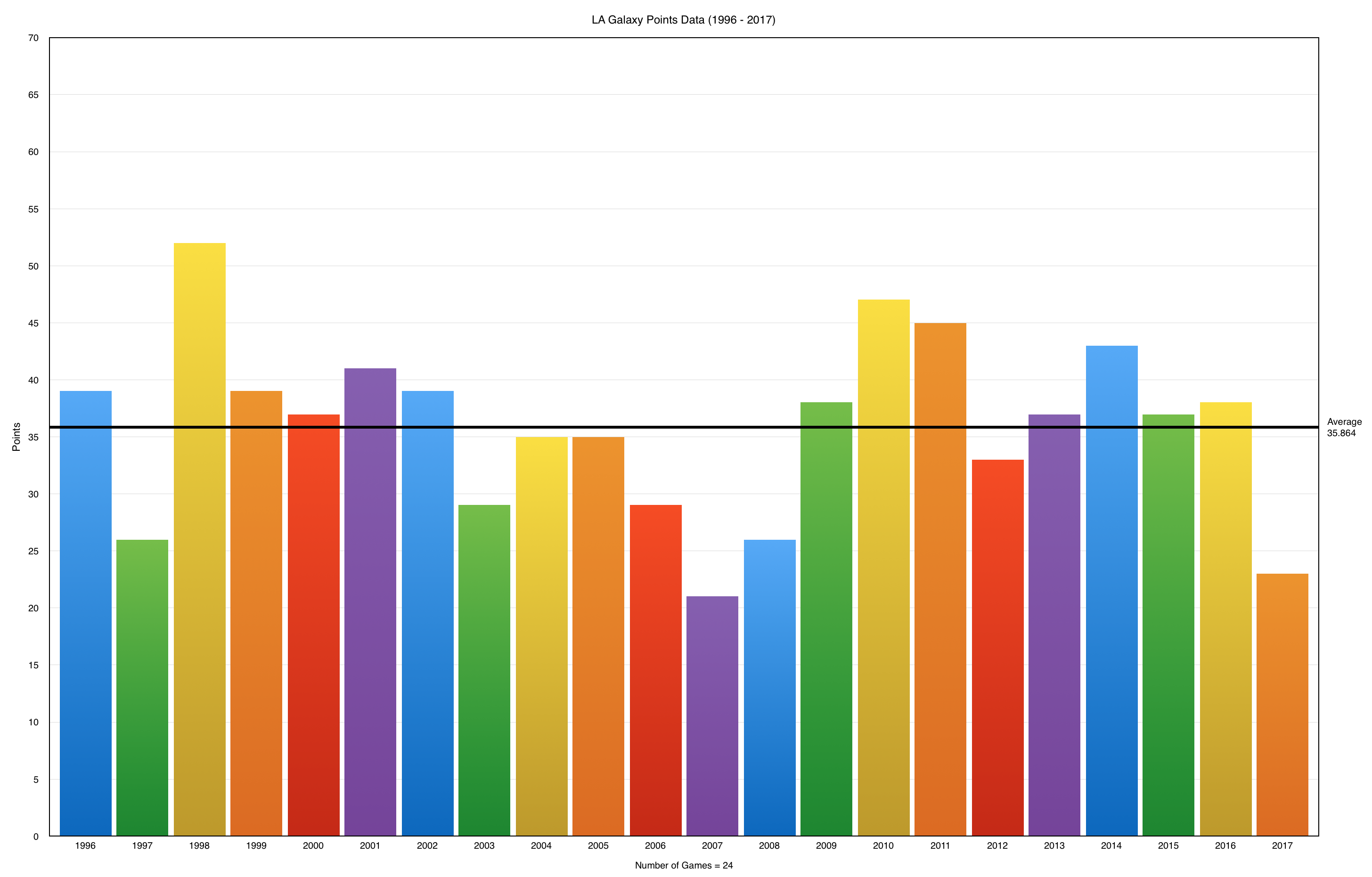 UPDATED CHARTS – THROUGH 23 GAMES
You could point to 21 shots and five shots on goal for the LAGalaxy. Or you could look at the five saves New York City FC's Sean Johnson made. Maybe you're a fan of Emmanual Boateng's work-rate and his self-proclaimed ten to 12 good crosses he sent in the box. All of those things would be worthy of a mention. But the bottom line is that the Galaxy, and their 2-0 loss to City, are now irrelevant to the rest of the Major League Soccer season. Unless you like playing "spoiler."
They are now more than 11 points shy of their historical average through 23 games (34.636 avg)
The 2017 Galaxy are now just barely above the worst Galaxy team in club history – the 2007 club. Through 23 games the 2017 club has 23 points. This puts them in 9th place in the Western Conference and 19th out of 22 teams in the league – unchanged from the previous week but somehow also so much worse.
This years' Galaxy will have to get 11 points from the remaining 11 games just to finish even with that horrible 2007 team did. And they'll get four more games to do it as the 2007 season ended at just 30 games.
We've included an additional graph below. This graph charts every Galaxy season. So you can visually see just how tough a situation the Galaxy are in.
Next season?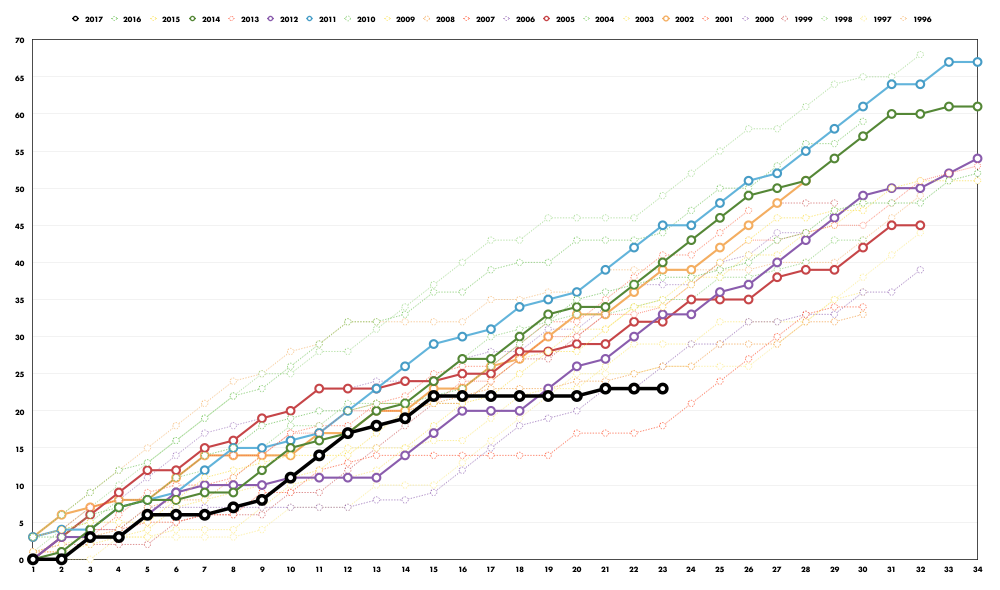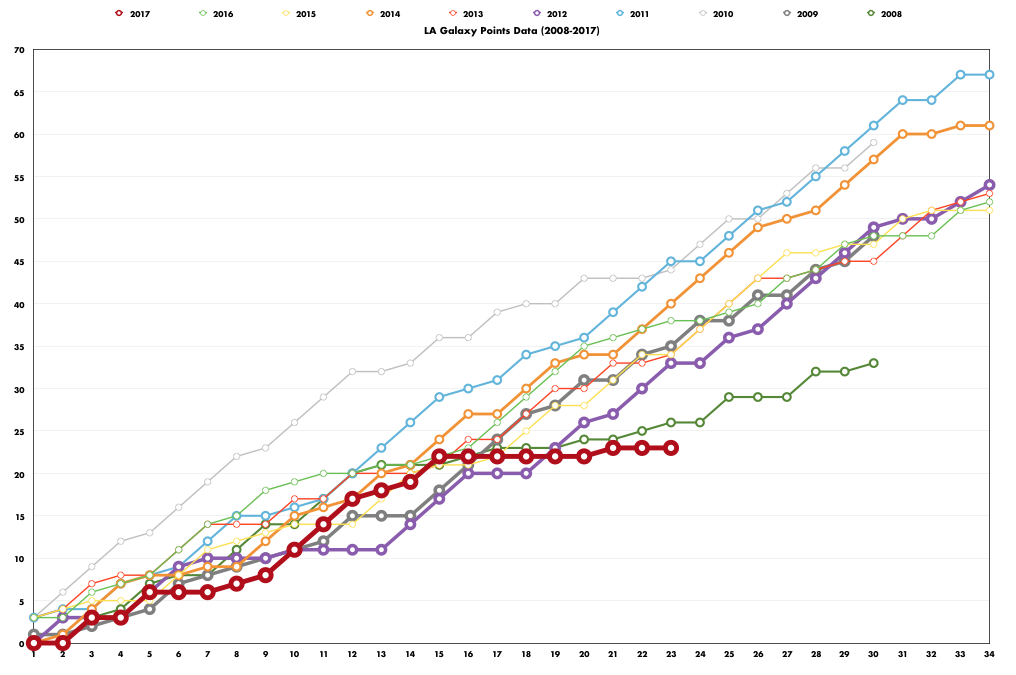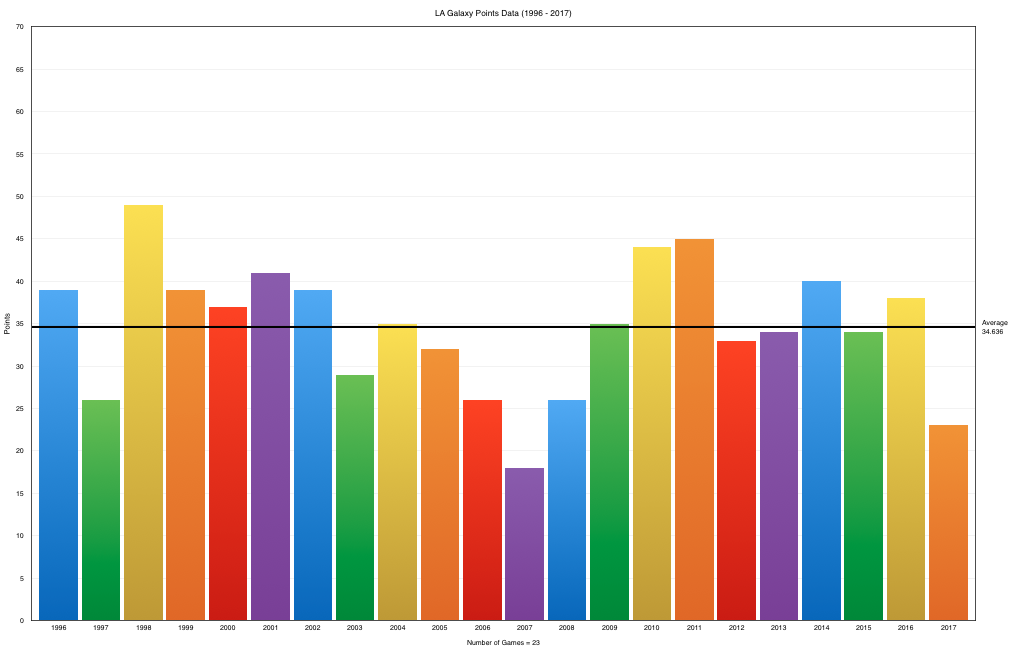 UPDATED CHARTS – THROUGH 22 GAMES
It's not looking good, and there's no way that anyone can say it ever started out that way, as the LA Galaxy lost another game during the 2017 season. The Club has the 6th most losses in the league and currently sits in 19th out of 22 teams in the league.
At this point, Galaxy fans should be thankful that the club doesn't play in the Eastern Conference. Because with the caliber of teams they'd have to regularly face they'd probably be right next to DC United who currently has 14 losses on the season and the worst points total in the league (19 points, 23 games played).
The Galaxy sits in 9th place in the Western Conference with 23 points out of 22 games (1.05 ppg).
And those Eastern Conference clubs that we just warned you about are ready to invade StubHub Center in the next couple of months. New York City FC is next up for the Galaxy Toronto FC isn't far behind them. They've both been very good on the year and sit in third and first place respectively in both the conference and the overall league.
But this Galaxy team just isn't gaining any momentum as they only have 12-games remaining. They are still tied with the 2006 galaxy on 23 points through 22 games and still hover above the worst club season ever in 2007 (17 Points through 23 games).
The charts at this time look more like a dismal EKG tape than anything resembling a soccer team ready to capture some points and climb the standings.
There's no doubt about it, the Galaxy are quickly running out of time and are in danger of missing out on the playoffs for the first time in eight seasons (2009-2016).
Wow, what a difference a year makes. The Galaxy had 37-points through 22 games in 2016. That point total would put them in first place if they had replicated those results this year.
Is there anything left to lose?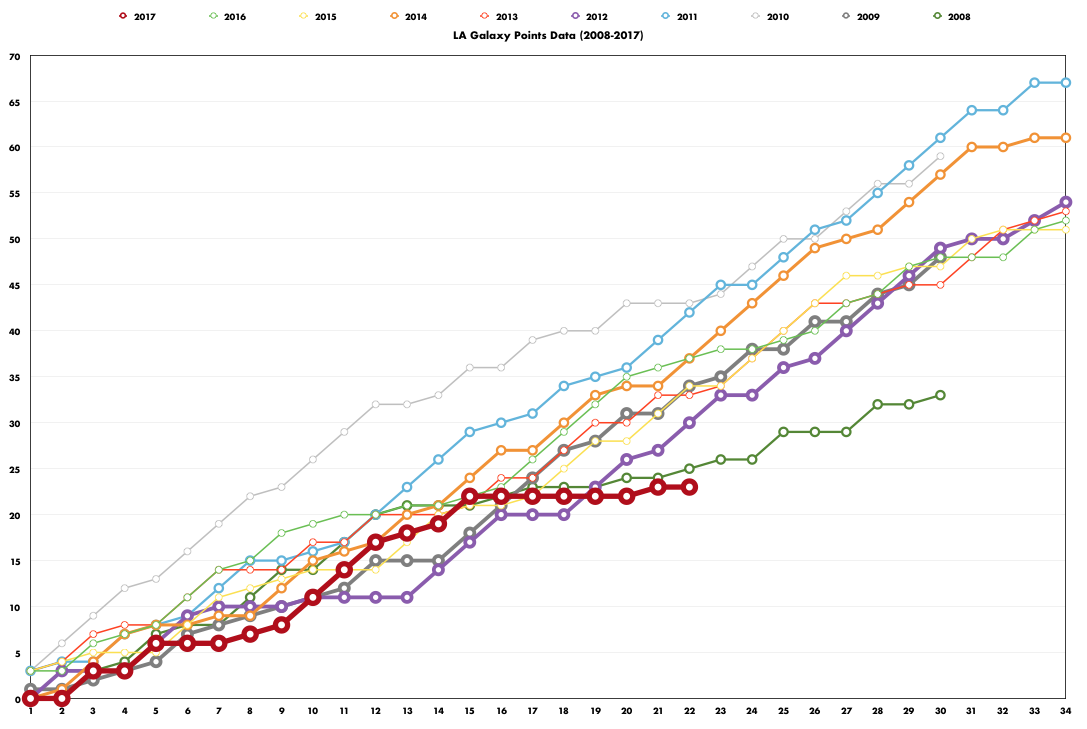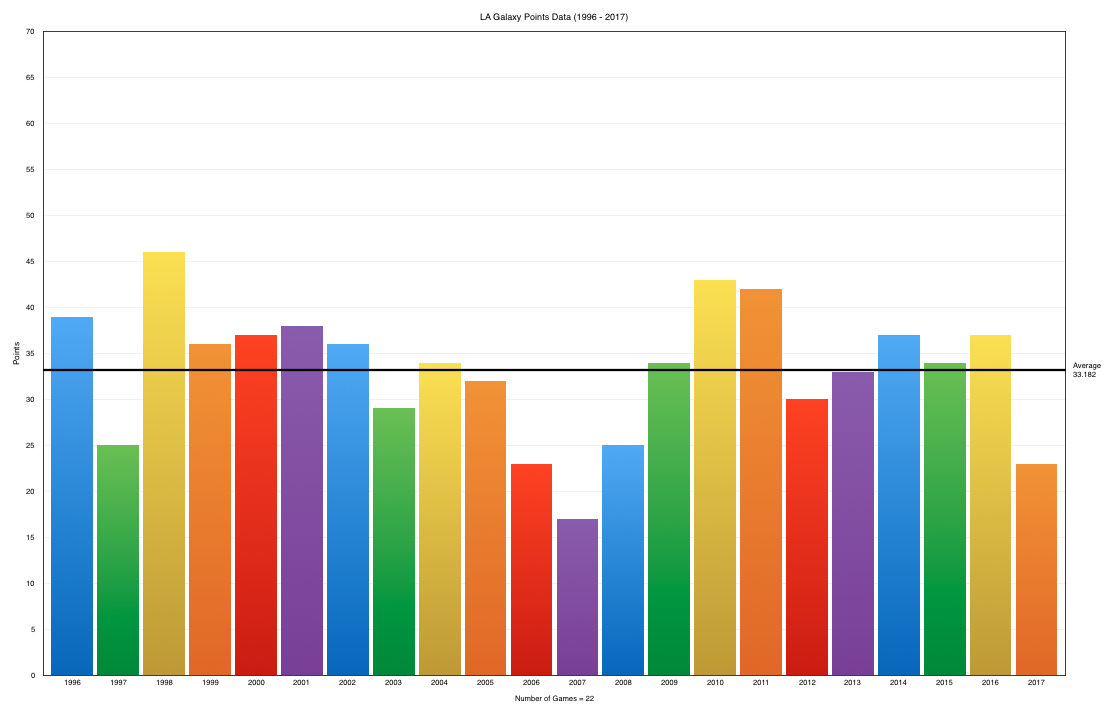 UPDATED CHARTS – THROUGH 21 GAMES
The LA Galaxy got a point at home. Something they haven't done since drawing with the Houston Dynamo back on June 17, 2017 – a duration of 43 days. And while they weren't able to end the 114-day streak without a win at home, they'll get another chance on August 12 when New York City FC comes into town (128 days since their last home win).
With 23 points through 21 games, the 2017 Galaxy are now tied with the 2006 club. Meaning 2007 is the only Galaxy team in club history to be worse than the current club through 21-games. But in all honesty, this team has been flirting with that moniker for quite some time. It's no longer surprising.
They also sit more than eight points behind their historical average of 31.545 points through 21 games.
Even if the Galaxy were to win every single game from here on out, they would finish with 62 points — one point above the 2014 total. While 62 points would be great, this thought experiment carries no weight with the current club being incapable of winning out for the rest of the season.
The Galaxy sits in ninth place in the Western Conference and is currently seven points from the last playoff spot. Any race for that last spot will need to begin shortly. Making up 7 points in 13-games isn't impossible, but the club will certainly need some help along the way. And that's something you can never count on in Major League Soccer.
UPDATED CHARTS – THROUGH 20 GAMES
Here we go again. It's been pretty easy to update these charts over the last five games. Mostly because they've all been losses. The Galaxy are now just one loss away from tieing a six-game losing streak they had in 2007 and could flirt with the 2006 losing streak of seven-games. Neither of those seasons ended well. And we already took a look at those seasons directly below.
Those same two seasons are now the only thing keeping this 2017 Galaxy team from being the worst Galaxy team ever. Yes! Those are the statements this team is flirting with! And this is what ownership, management, and coaching will have to answer for when everything is done and settled.
The Galaxy has 22 points through 20 games and sits 9th in the Western Conference. They also sit just four points from being the worst team in the league (19 of 22 teams). And all of this is happening as Los Angeles Football Club readies themselves for their 2018 debut.
Through 20 games the Galaxy sits nearly 8 points below their historical average (30.182).
Could things get worse? Historically it would be tough to make that argument with only two other seasons sitting below them. But this team could set new records in futility and it wouldn't surprise anyone to see them lose their next 2 or 3 games.
So yes, there is a chance for this team to get worse. But a turnaround of any sort could also see this team rise to being perfectly mediocre. And mediocrity, at this point in their death spiral, might be a welcomed change.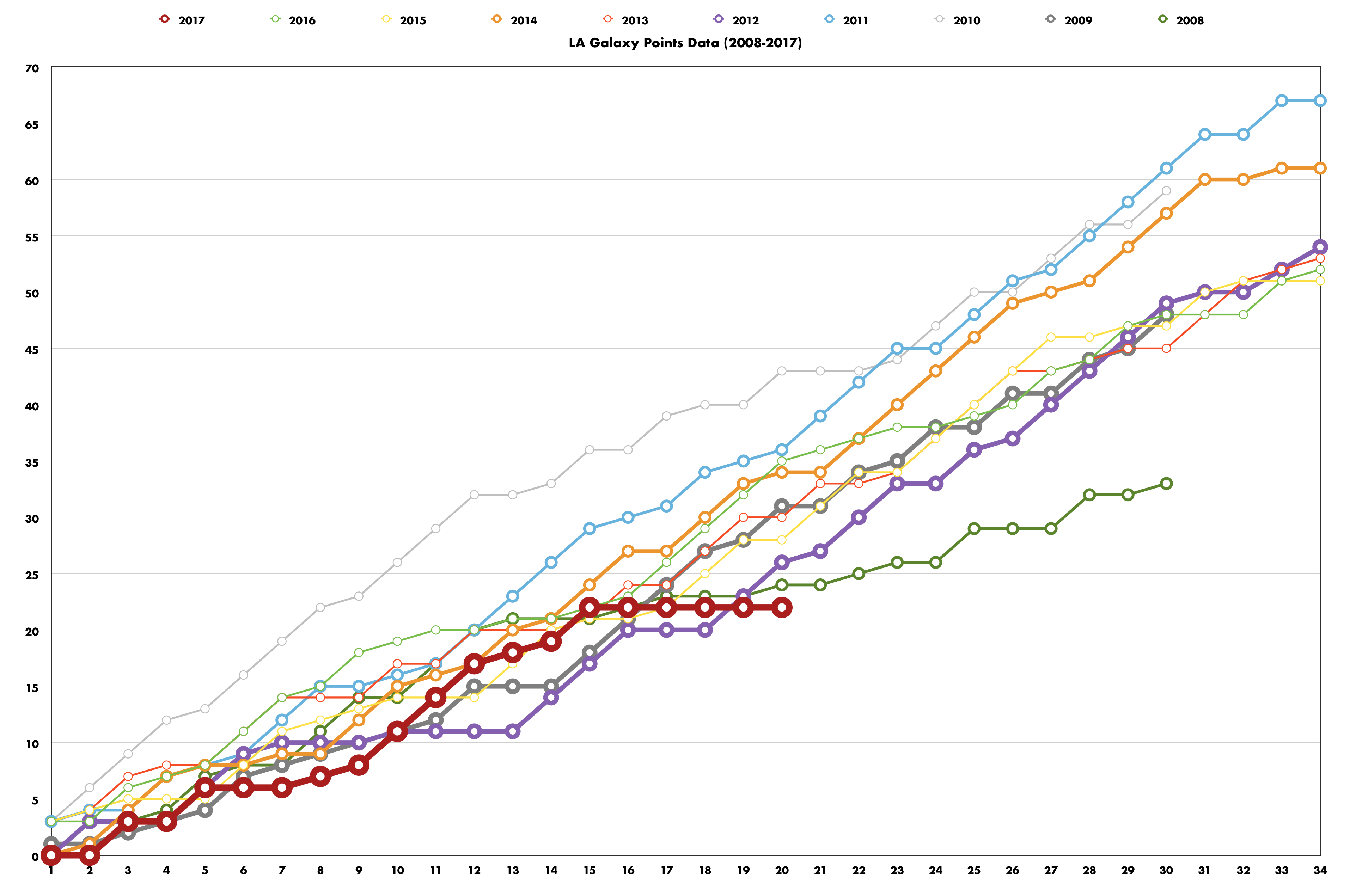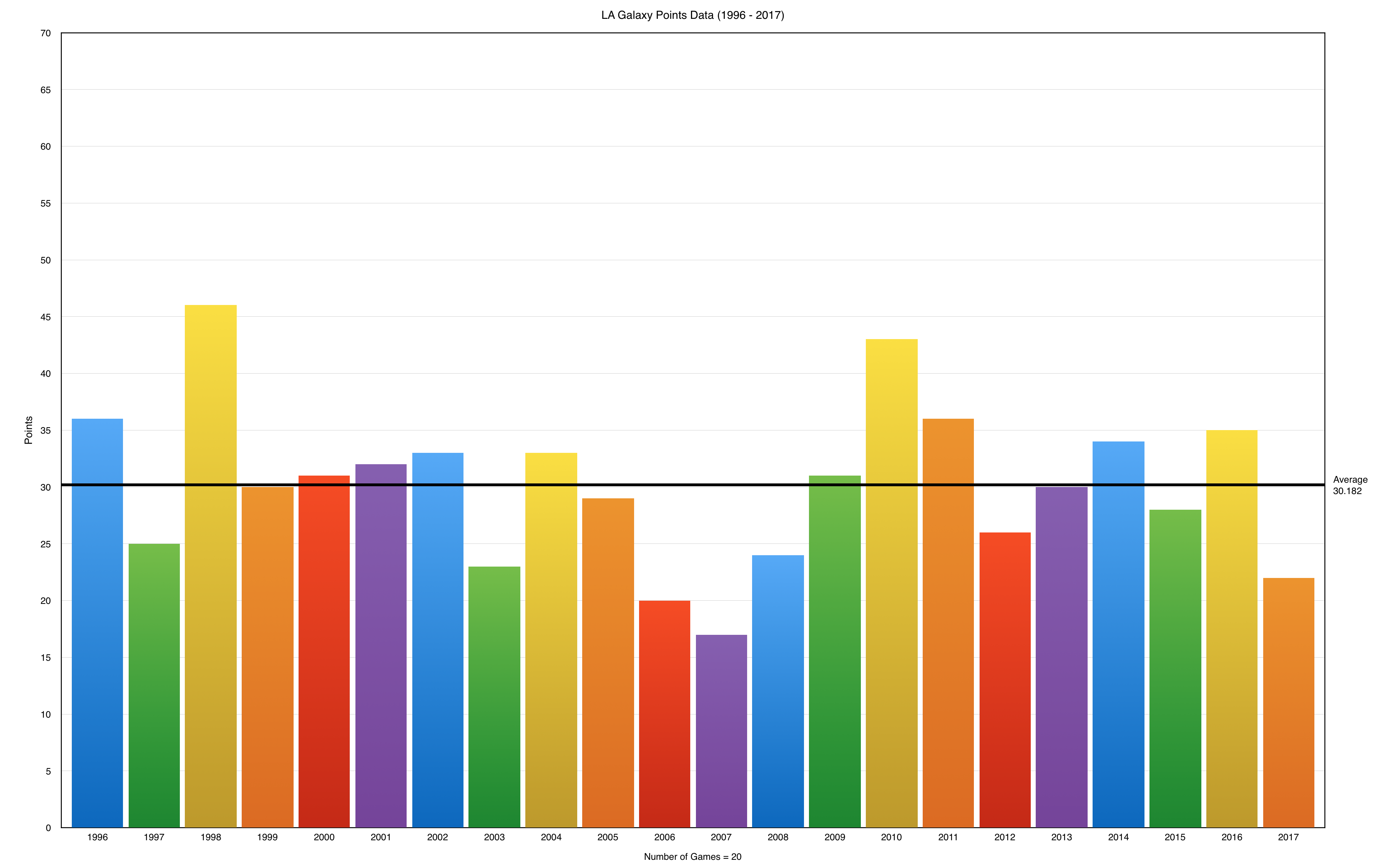 UPDATED CHARTS – THROUGH 19 GAMES
Your LA Galaxy are in a tailspin. They've lost four league games in a row – the longest losing streak since 2007 –  and are currently level with the 1997 squad with 22 points through 19 games.
To make matters worse, this is their worst record through 19 games going back to the 2008 season. And they are now only above two previous seasons – 2006 and 2007.
In 2006 they finished fifth out of six teams in the Western Conference with 39 points, had a record of 11-15-6, and ended up 16 points behind supporters shield winner DC United (55 Points) with 12 teams in the league.
2007 was even worse. The Galaxy again finished behind DC who was 21 points clear at the end of the season. That year the Galaxy only had 34 points (9-14-7) and finished fifth in the Western Conference in a league that had 13 teams.
In addition, the 2017 squad is now nearly seven points behind their historical average of 28.8 points through 19 games.
Things need to start changing. Because Bruce Arena isn't available to save the club like he did after the 2008 season. They've got themselves into this hole. Now, they must find a way out.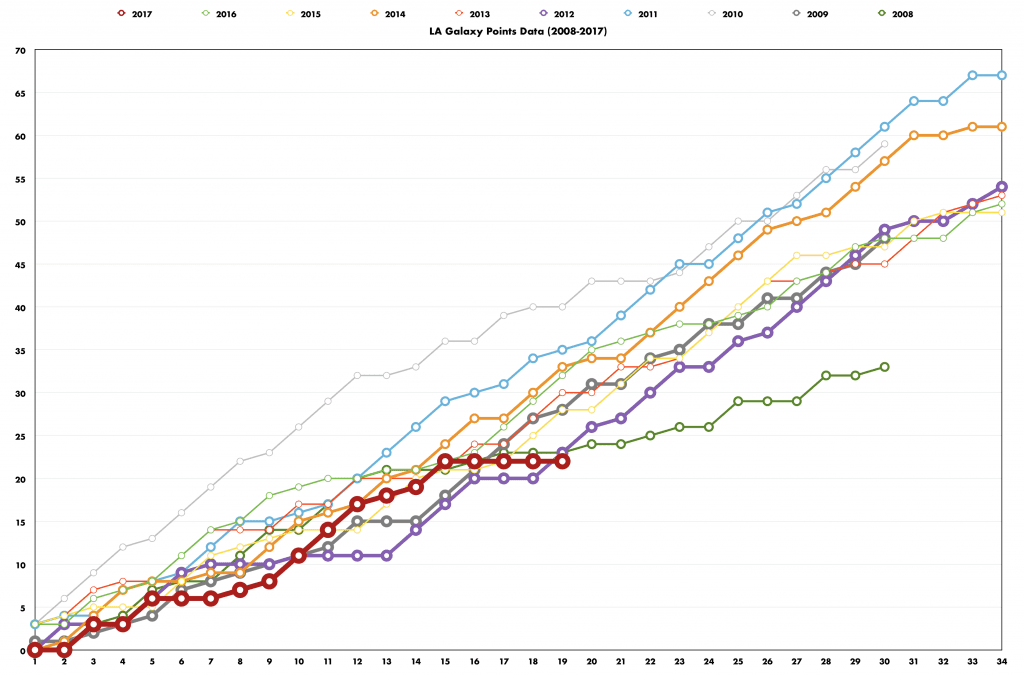 UPDATED CHARTS – THROUGH 18 GAMES
Losing 6-2 to the worst team in Major League Soccer is not the way you start the second half of the season. The effort was pitiful and the result was disastrous. If this outcome doesn't rekindle the fire that was burning under the club's front office, it's not clear what will.
This now puts the 2017 Galaxy equal to or better than just five previous seasons – that's 5 of 22 seasons. And while they hover just above the MLS Cup winning 2012 team (20 points through 18 games), no one should feel comfortable with any comparison to that roster.
The rest of their company comes from 1997 (19 pts), 2003 (22 pts), 2006 (18 pts), and 2007 (14 pts). All point totals through 18 games.
The Galaxy falls to seventh in the Western Conference and has a home record of 1-5-3. That's just six points from 27 possible at StubHub Center in 2017. That's worst in MLS and clearly something to be focused on. No other team in Major League Soccer has fewer than three wins at home. DC United, who just took over for RSL as the worst team in the league, has earned 11 points at home this season. Five more points than the Galaxy.
The 2017 Galaxy have fallen five points below their historical average which is 27.2 points through 18 games.
If you're looking for a previous season to find a trend line you might have some difficulty. Over the last decade, the Galaxy have only had one season dip to below 22 points through 18 games and that was the aforementioned 2012 squad.
But that 2012 team started a climb in game 19 that rocketed them to the playoffs and eventually an MLS Cup. Do you see this team about to do the same?
Injuries, absences, suspension, and tired legs aside, this performance wasn't even close to good enough. But can the season even be saved? Can the Galaxy find the one piece they're missing in terms of an impactful Designated Player?
The charts and graphs below have no answers. But they can certainly put into perspective the kind of season 2017 has been.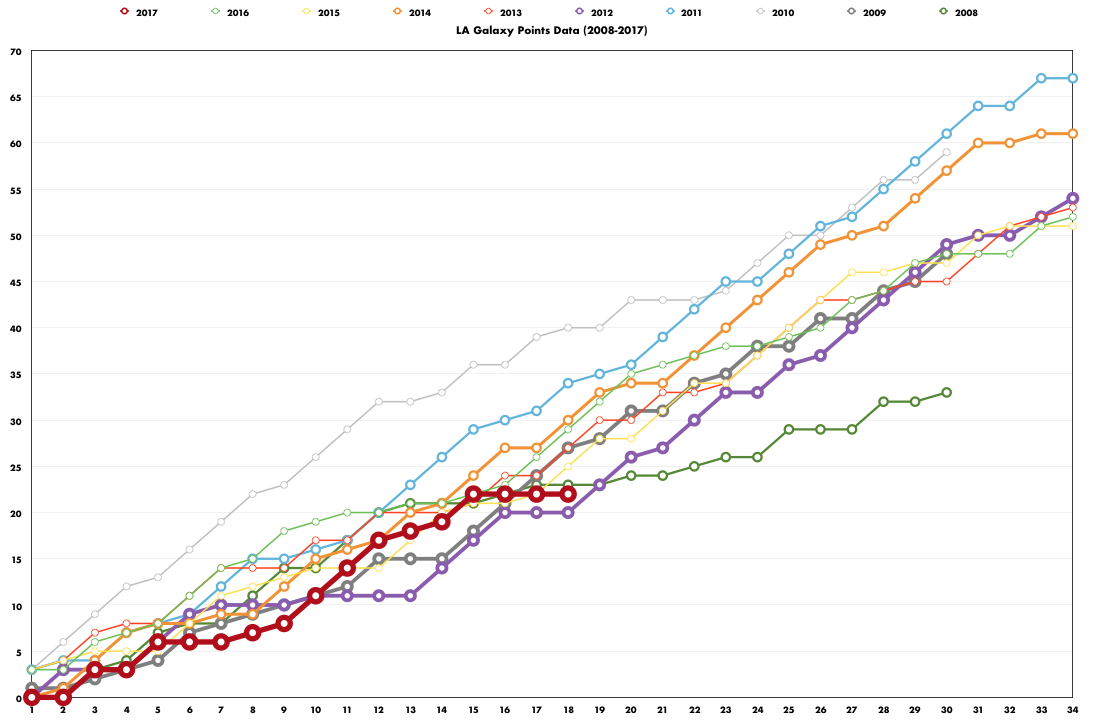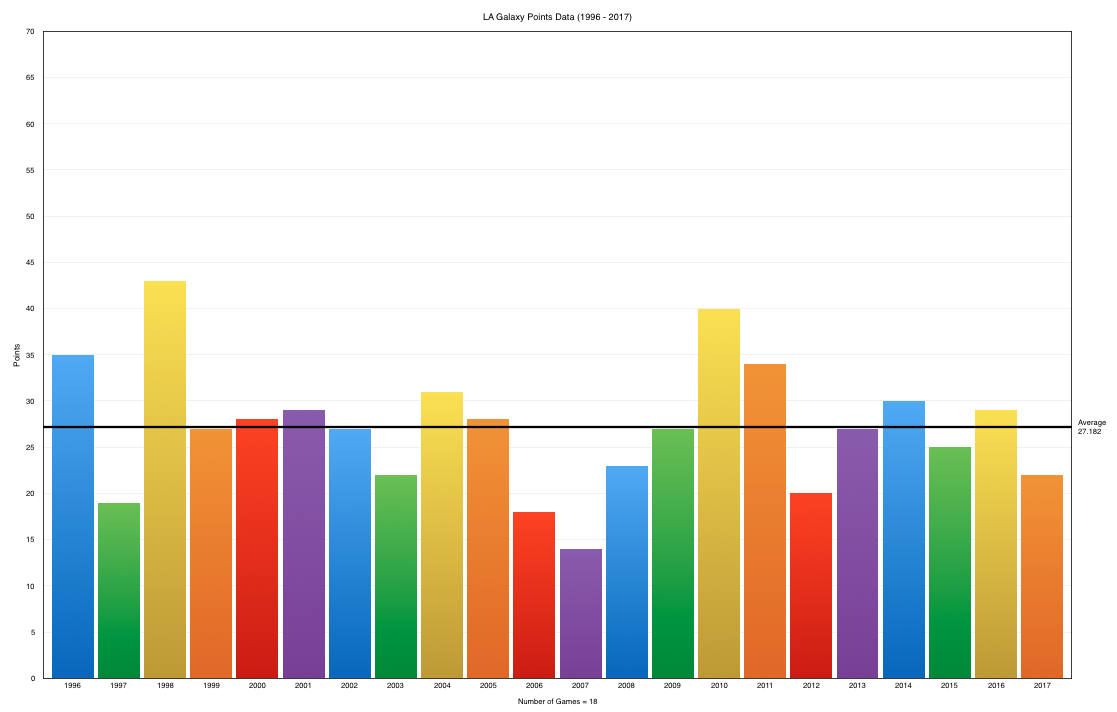 UPDATED CHARTS – THROUGH 17 GAMES
If you watched 90 minutes of this game, then you know how painful it was to watch a team get dominated in the second half and give up a stoppage-time goal to lose on the road at San Jose. Oh, they got help from a handball in the box from Earthquakes defender Victor Bernardez. The play was more reminiscent of a volleyball spike than any soccer move. But it doesn't excuse the meltdown.
The Galaxy road record falls to 5-3-1 (16 pts) and, at least for the moment, they remain in sixth place in the Western Conference until the July 4th games kick off on Tuesday.
They have 22 points through 17 games (6-7-4). This 2017 team is now better than or equal to only 6 previous seasons (2015, 22 pt; 2012, 20 pts; 2007, 14 pts; 2006, 15 pts; 2003, 19 pts; 1997, 16 pts). If there's one bright point, the 2012 MLS Cup winning team only had 20 points through 17 games. There's an extreme optimism in that last sentence – one that simply can't be ignored.
But this is the midway point of the 34 game season and the 2017 Galaxy have only won a single game at home (1-4-3) for just 6 points out of a possible 24 points.
If anything is to be blamed for the Galaxy being where they currently are, it's that home record. The last time the Galaxy won at home it was April 7th of this year and they beat a Montreal Impact team that was reduced to 10-men. It's been crickets at StubHub since. Even a .500 record at home would see them with six more points than they currently have and would have them tied for second in the Western Conference with 28 points.
When you look back at the first half of the season, it's almost a miracle that the Galaxy are even close to the playoff position they currently inhabit. But with 2012 a reminder of what is possible, it's not totally out of sight that this team could still produce some interesting results.
But the 2008 Galaxy squad was one of the worst in recent memory. And even that team was a point better at the midway point.
The Galaxy will need to get healthier and they're going to have to be aggressive during the transfer window. This team is short more than one player. And they're short goal production outside of Romain Alessandrini. The return of Giovani dos Santos should help, but ultimately, this season will be decided by who the front office can secure. And secure quickly.
Here's to 17 more games that are even more interesting than the first!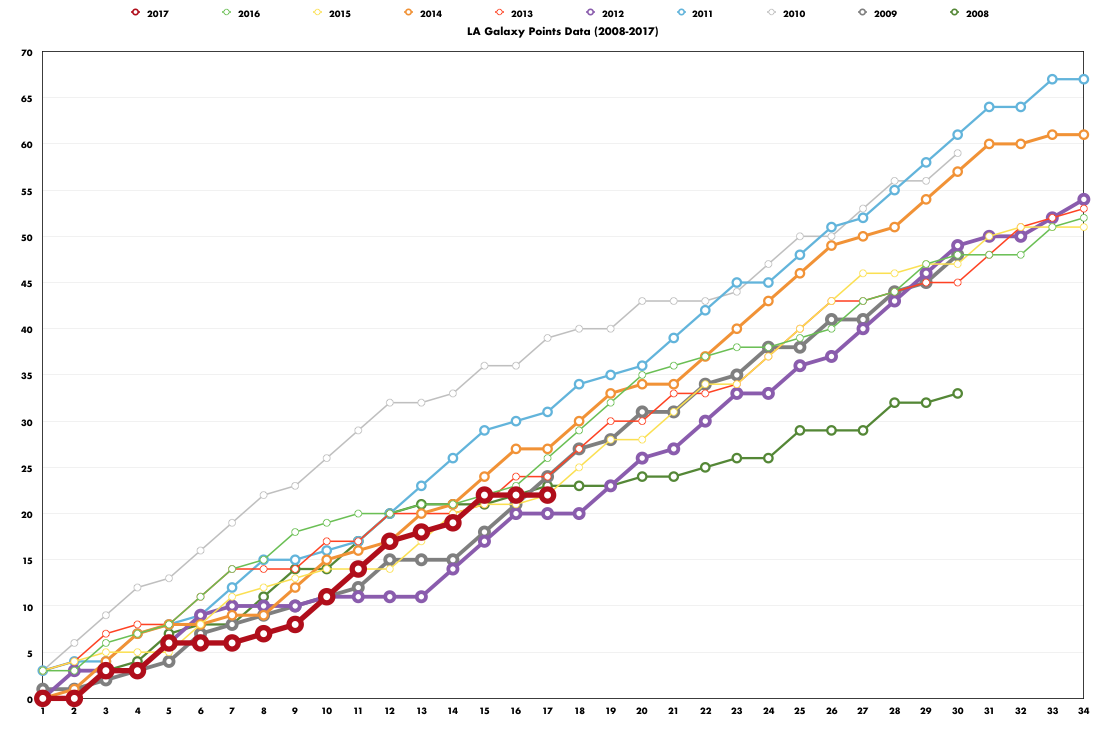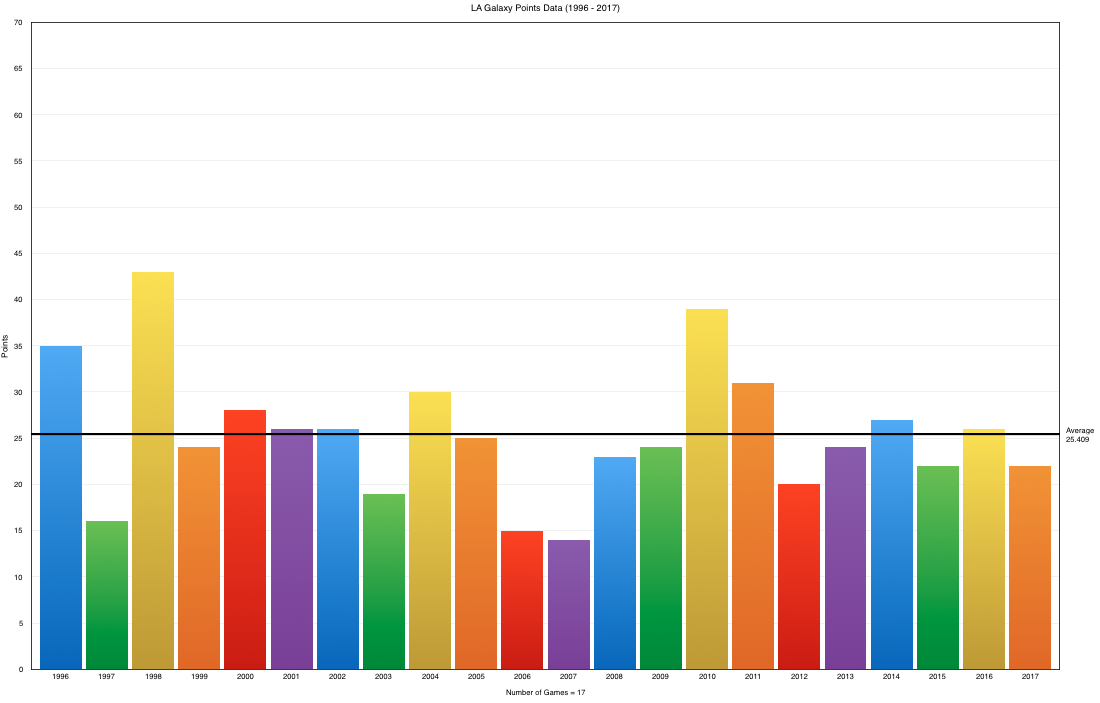 UPDATED CHARTS – THROUGH 16 GAMES
Why can't the LA Galaxy win at home? No one seems to know – and that's scary.
After another home defeat, the Galaxy are now 1-4-3 on the year at StubHub Center and snapping their eight-game winning streak. They've captured just six points from eight games and are leaving supporters and reporters alike questioning why they're so bad in Los Angeles.
They've also slipped back under the Galaxy historical
The Galaxy fell to sixth in the Western Conference, after entering the day in fifth place, and sit at 6-6-4 for 22 points on the year. With the overwhelming majority of their wins (5) and points (16) coming on the road.
If we look at our charts and graphs we'll see that the Galaxy are now level on points with the 2008 season – a season I'm sure most fans would like to forget. The Galaxy went 8-13-9 in a 30-game season in 2008 and finished tied for last in the Western Conference.
As we've seen, the charts vary wildly on successful years versus flops, but the Galaxy are quickly approaching a point in the season that will define them. It's just a matter of either getting hot and winning games or staying average to below average and letting this season slip away.
One would have to think a big signing or two would also factor into how this plays out.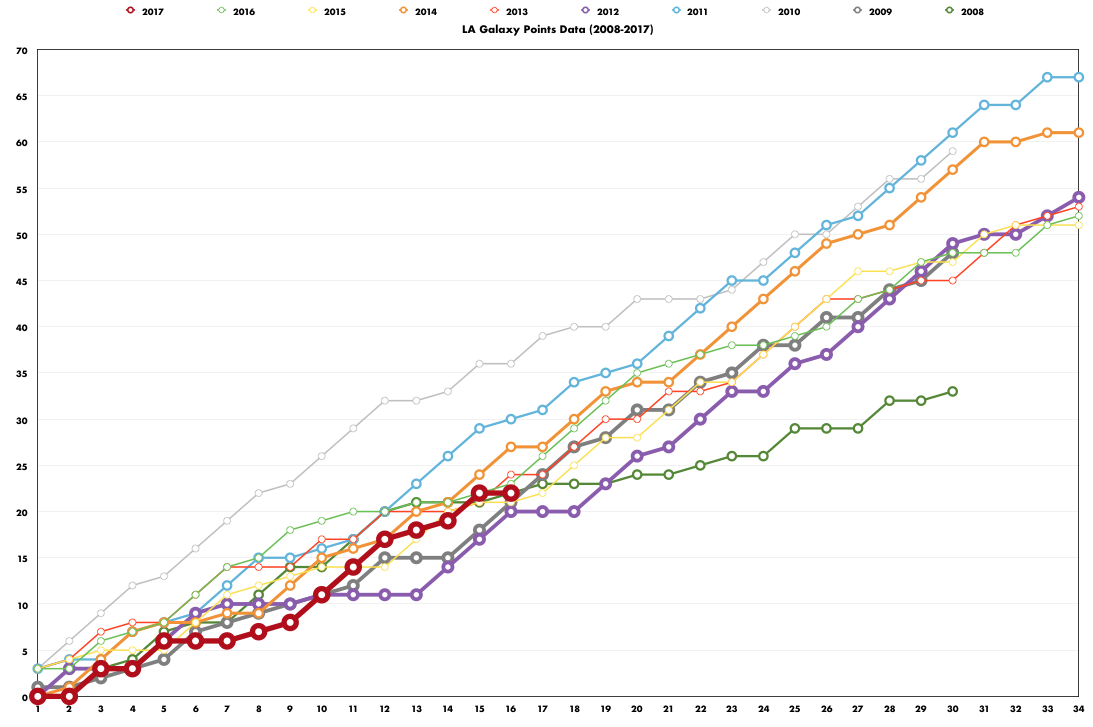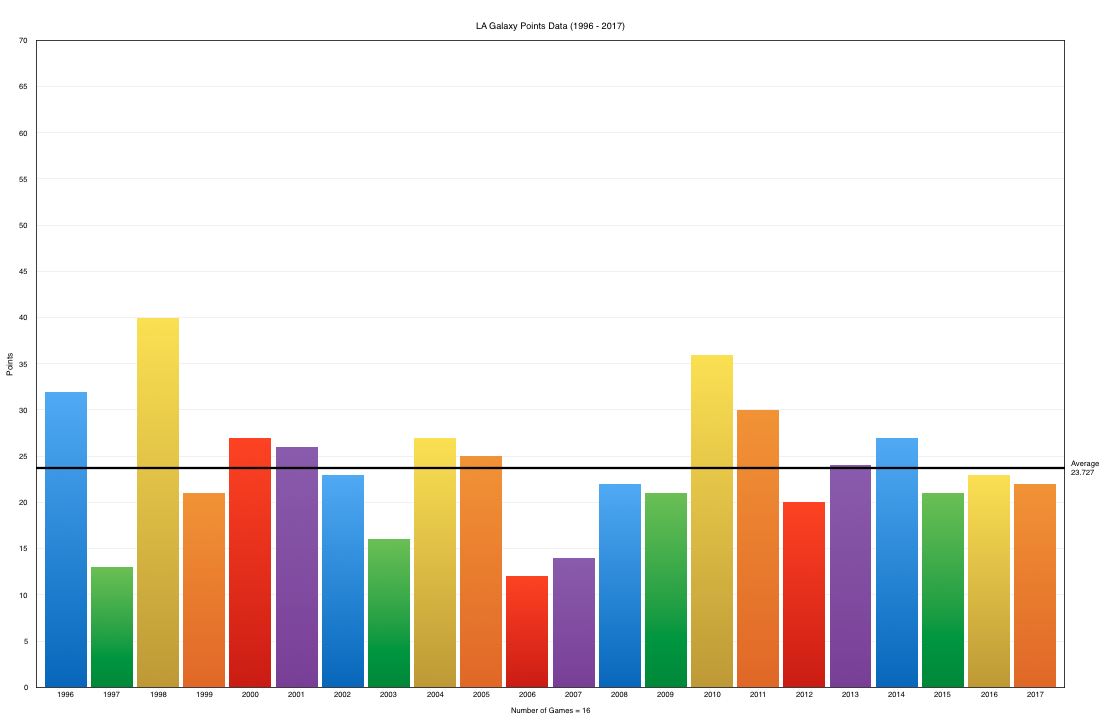 UPDATED CHARTS – THROUGH 15 GAMES
The LA Galaxy are the best road team in Major League Soccer. It's actually extremely surprising and goes against almost every trend in the league. They are now 5-2-1 and have extended their unbeaten streak to 8 games (4-0-4).
In addition, the Galaxy finally got some goals from a striker as Jack McBean scored twice.
The Galaxy are now equal with their counterparts from last year through 15 games. They have 22 points and a record of 6-5-4 and sit in fifth place in the Western Conference. Their points total now makes them better than or equal to 11 previous seasons and have also pulled them level on the historical club average through 15 games of just over 22 points (22.273)
The fact that they were able to accomplish this while getting some rest for Alessandrini in the process is even better as they get ready to take on Sporting KC this Saturday.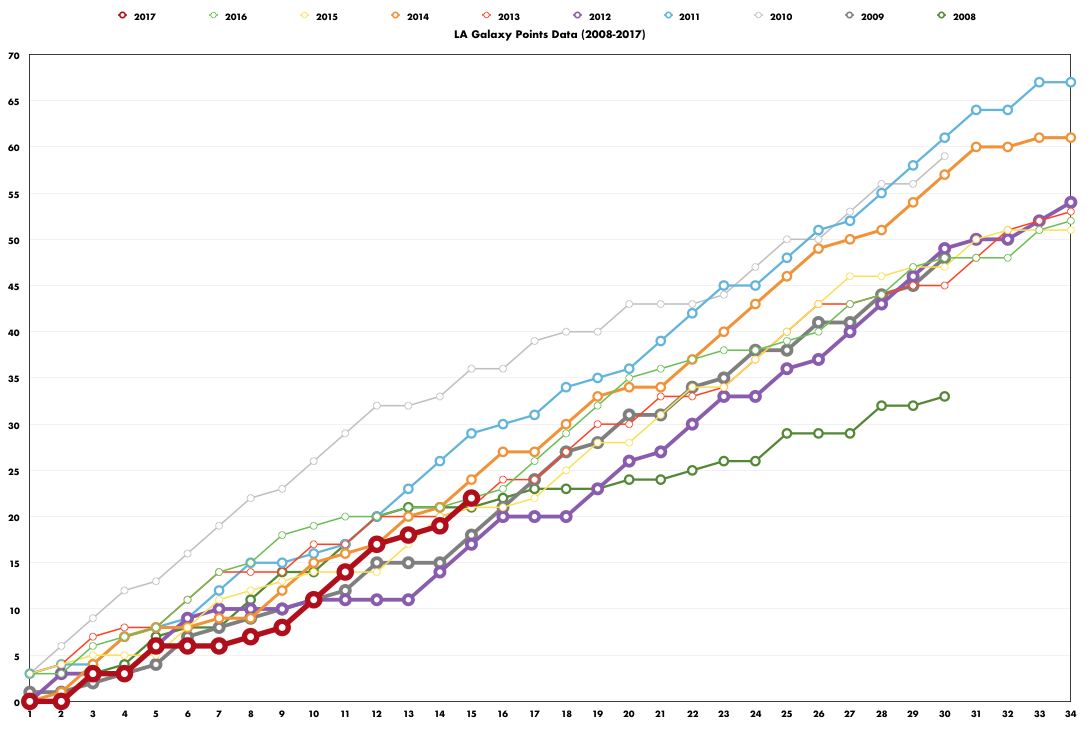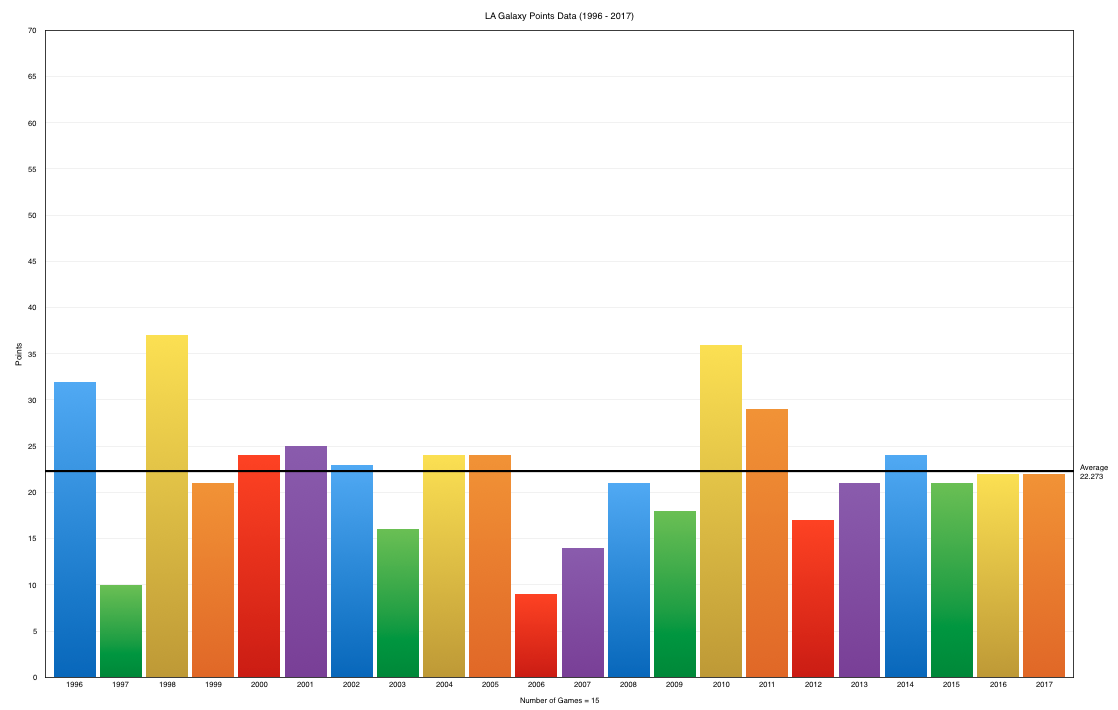 UPDATED CHARTS – THROUGH 14 GAMES
It was late drama for the Galaxy as Romain Alessandrini scored deep into stoppage time on a goal that probably should have been whistled for offside. But if he doesn't care, neither do we. A draw against Houston isn't great, but when you look at what they had to go through to get it, take that point and run.
As for stats, the Galaxy have now reached 19 points from  14 games. They sit at 1.36 points per game and are seventh in the Western Conference – just out of playoff position. The Galaxy's historical point average through 14 games is 20.5. So you might say this Galaxy team is just a bit below average.
They're now better than seven other seasons and have once again made history by being the first Galaxy team to have tallied 19 points in 14 games.
If you want some previous seasons to compare to, they sit between the 1999 season (18 points) and the 2002 season (20 points). And their current arc has them looking more like the 2008 team (finished with 31 points) or the 2015 team (finished with 51 points) than any MLS Cup winning side. But you didn't need the stats to tell you that.
Needless to say, their home record (1-3-3) is hauntingly horrible. They've managed to grab just six points from seven games and have allowed the first goal in five of those seven games and nine of 14 total games. That can't keep going.
Enjoy the charts below. Hopefully, they'll keep giving you a very important perspective on exactly how good or bad this team is.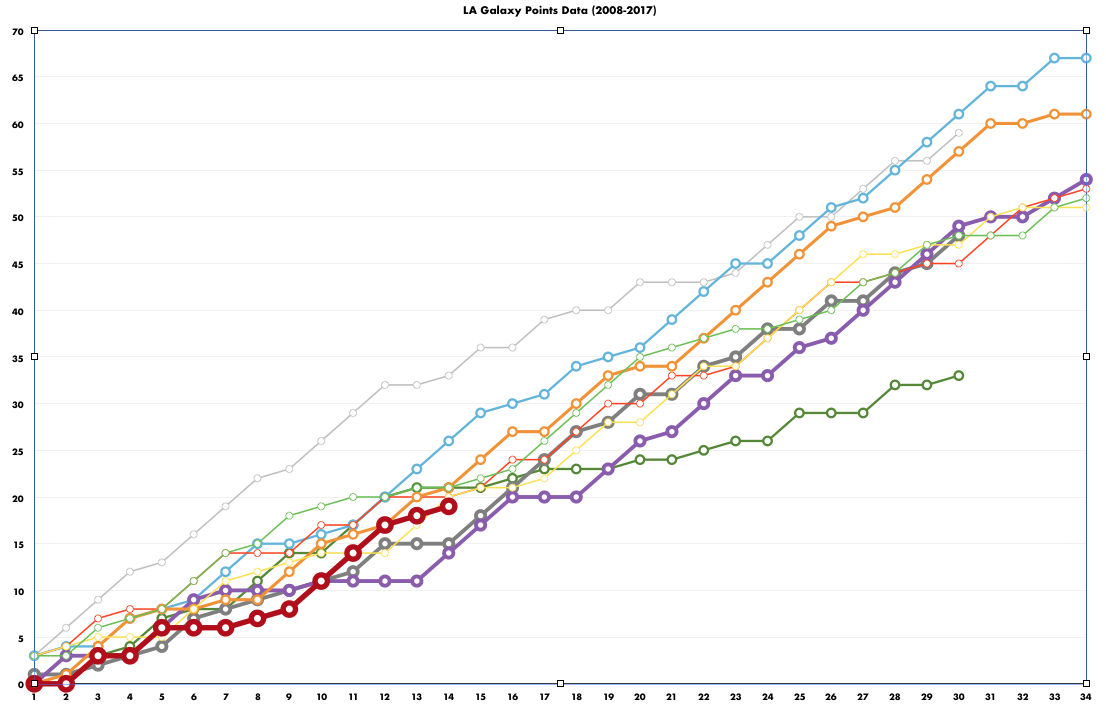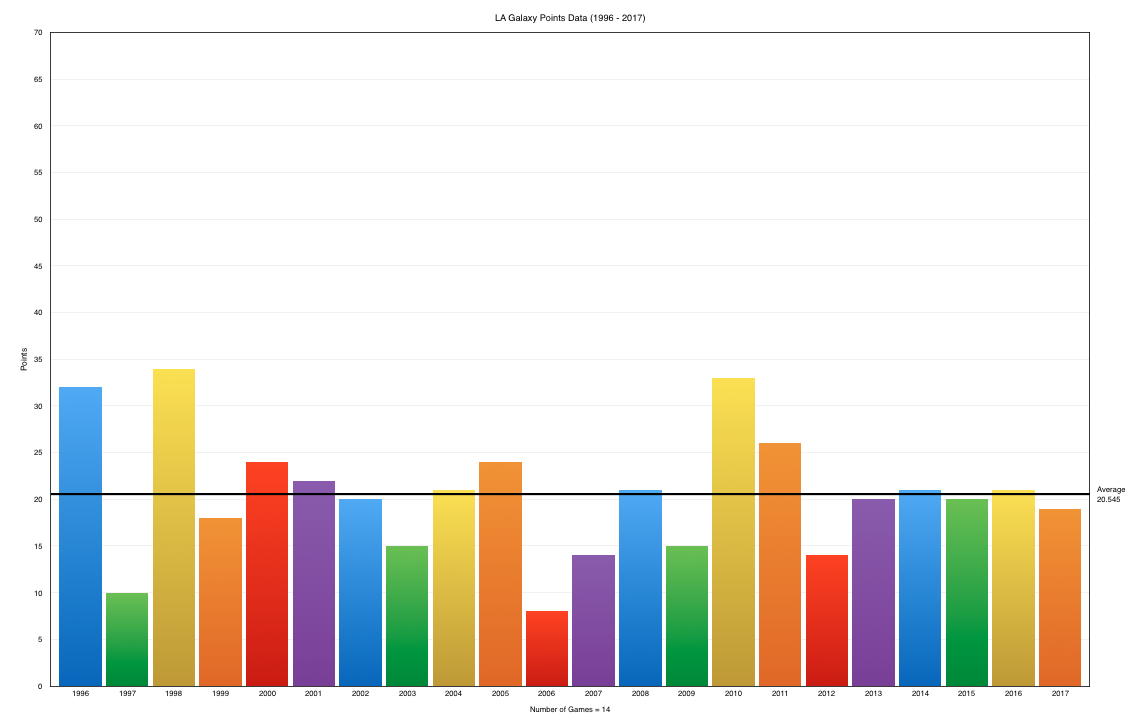 UPDATED CHARTS – THROUGH 13 GAMES
The LA Galaxy got a 0-0 draw to end their four-game road trip. If you thought 10 points was going to happen then you're probably psychic. Can you give us the lottery numbers?
The team will now head into the international break this weekend sitting in eighth place in the Western Conference – two spots below the playoff line. But their points per game average (1.38 ppg) has them sitting at sixth in the conference (was fourth after 12 games). So don't let the temporary drop sully your opinion of the team. There's still a mountain to climb, but the Galaxy are back into the race with Houston coming to town on June 17th.
Before that, the Galaxy will play a US Open Cup match, so watch for the lineups and see how Onalfo is going to attack the tournament as they start with Orange County SC (LAFC Affiliate). But the team is still dealing with a lot of injuries, so maybe the league is more important? We'll find out.
No for the charts and graphs.
The Galaxy's rocket-rise has shallowed out a bit into the 13th game. They sit better than or equal to 8 previous seasons. That's down from last week when they were better than or equal to 10 seasons.
Side note: no LA Galaxy team has ever had 18 points through 13 games. What does that mean? Nothing, just thought we'd throw that in there. 
The Galaxy sit just one point ahead of their 2015 total through 13 games (17 points) and just two points shy of their last MLS Cup winning year, 2014 (20 points).
They're only 1.5 points below the Galaxy's historical average of 19.5 points through 13 games.
If you look back at the 2012 Cup winning season, the 2017 Galaxy are a full seven points ahead of their total through 13 games. That was a strange year. No one should expect a 2012 rebound in 2017. It wouldn't be prudent.
This team is solidly in the center of the pack. Now all they have to do is take one of the League's worst home records (1-3-2) into something respectable. Even though the last four games have shown that the team is capable of winning on the road, I don't think that should be something this team relies on.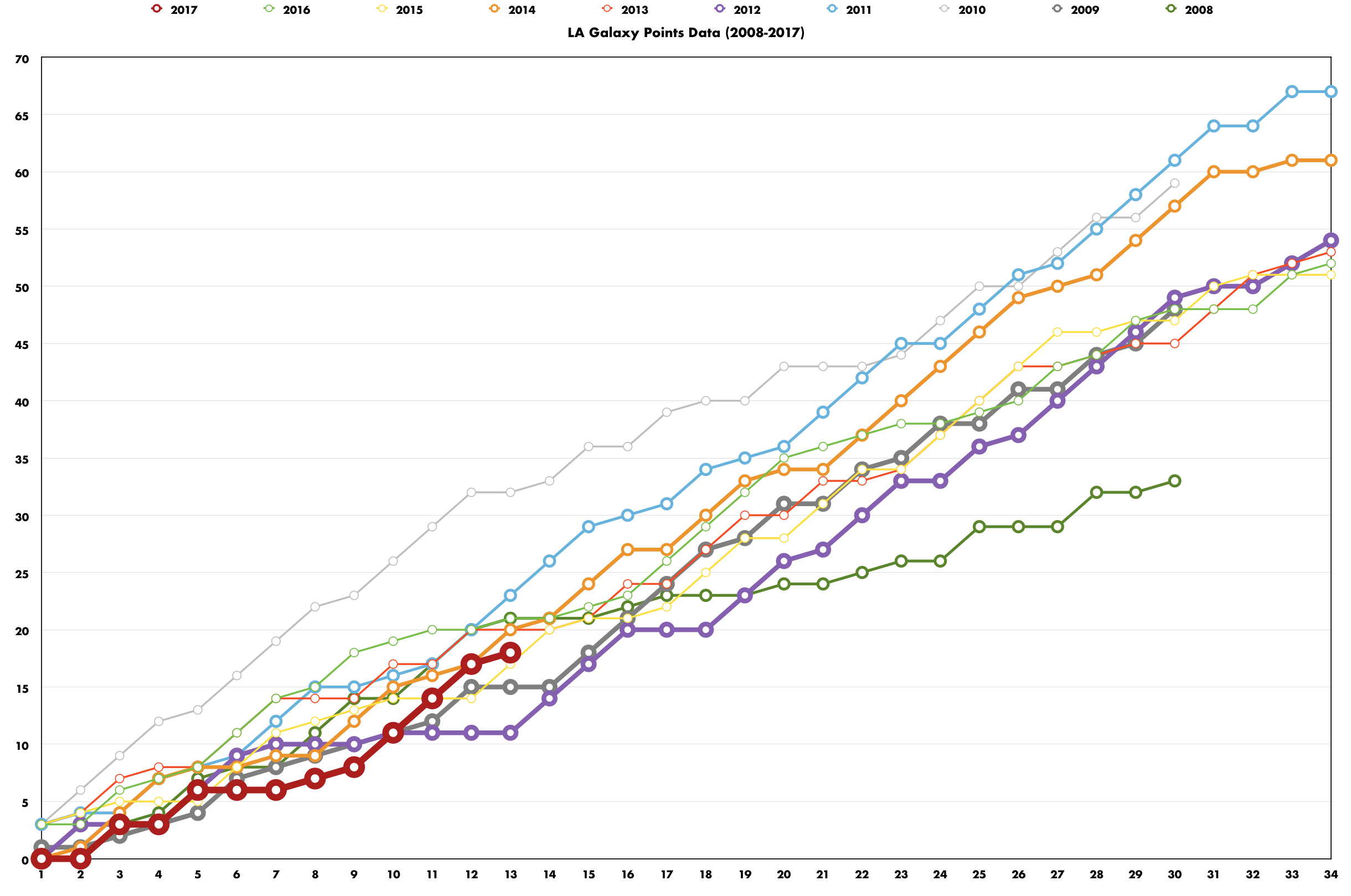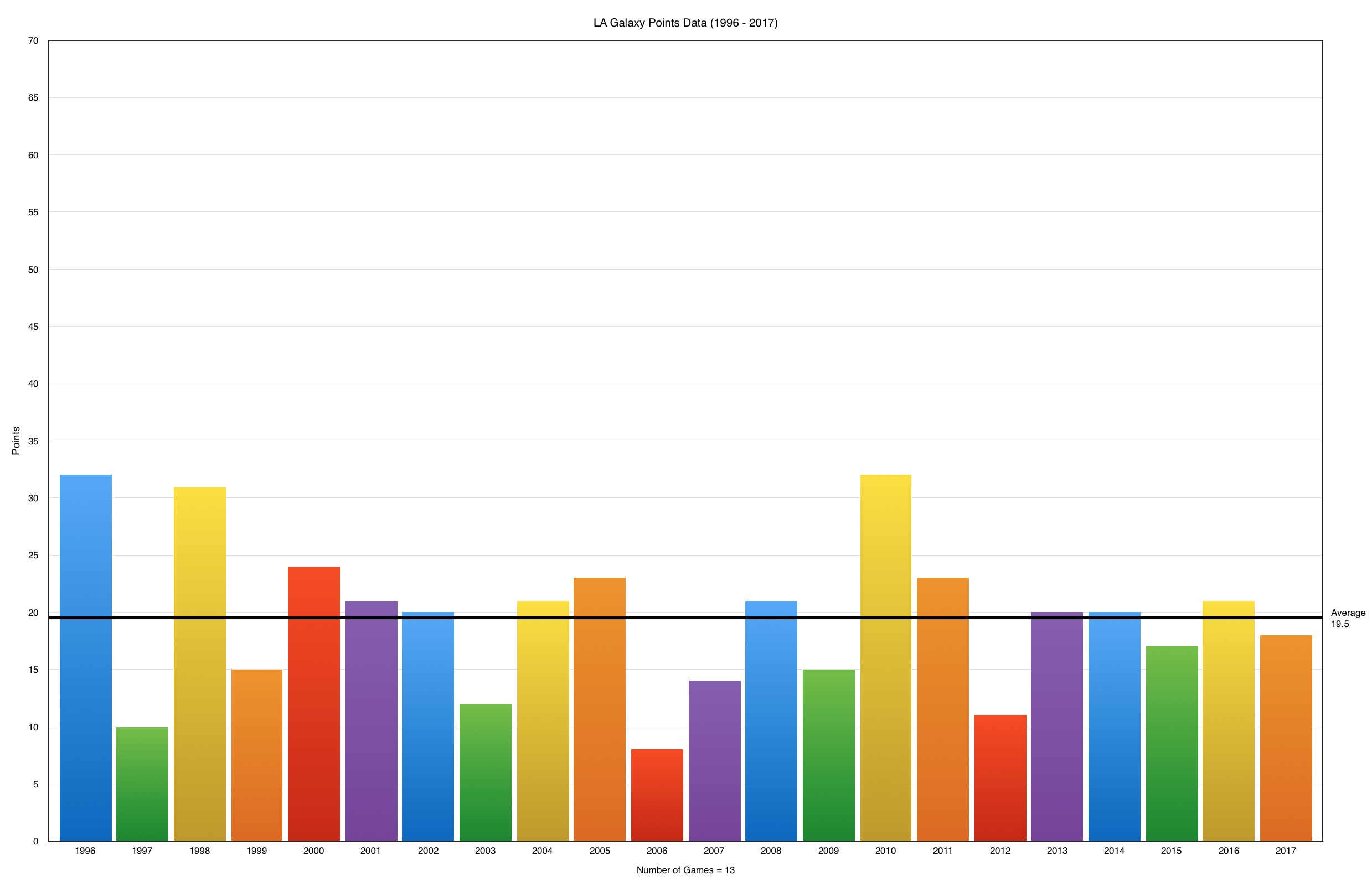 UPDATED CHARTS – THROUGH 12 GAMES
The LA Galaxy are on a roll. They've won three games in a row and have, for the first time since May of 2010, won three games in a row on the road. A 4-2 victory over the Earthquakes is nothing to sneeze at. And with the win comes the realization that they've now pulled even on points with the 2014 and 2002 Galaxy teams of old.
Additionally, they're now only a single point (and some change) off of the historical Galaxy average through 12 points (18.091).
They sit 4th in the Western Conference in terms of points per game (1.42) and ninth overall in the League using the same metric. And, for the first time in 2017, they're above the red playoff line and sit in sixth place in the West.
They're also now equal or better on points with 10 other Galaxy seasons.
Something strange is going on here!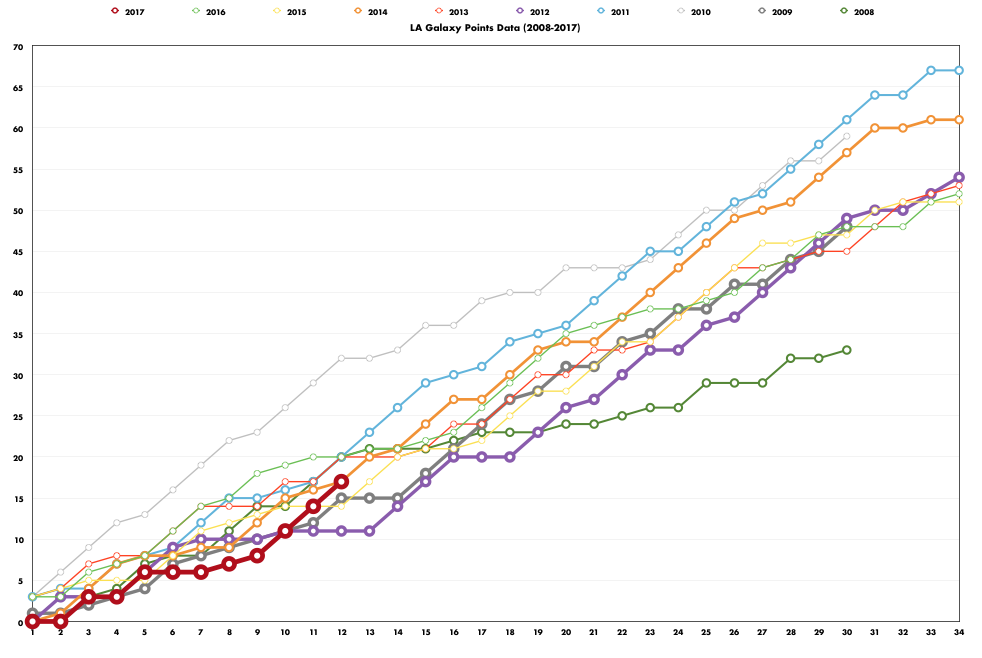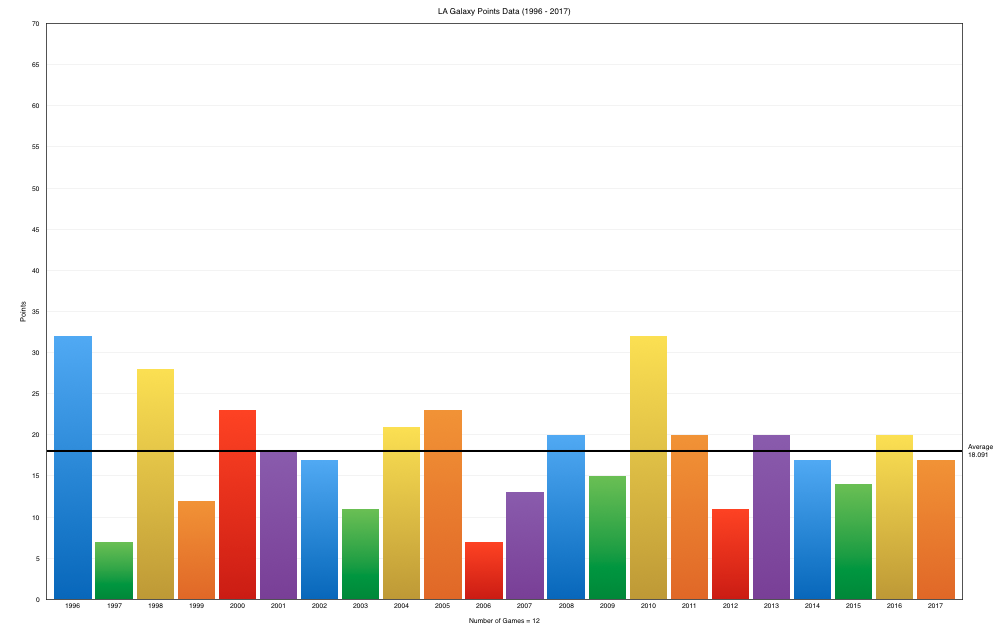 UPDATED CHARTS – THROUGH 11 GAMES
The LA Galaxy got another road win and start their four-game road trip with two wins and six points. They're now unbeaten in four games and have 8 points out of those games.
But the really interesting things is what the win has done to the Galaxy's ranking against all other seasons. 2015 was no banner year for the club, but with the victory over Minnesota United, the 2017 team just pulled equal with the 2015 start. Both teams had 14 points through 11 games. What does that mean? Nothing, really. But you can see how steeply teams can rise through the league standings and our updated charts when you win games.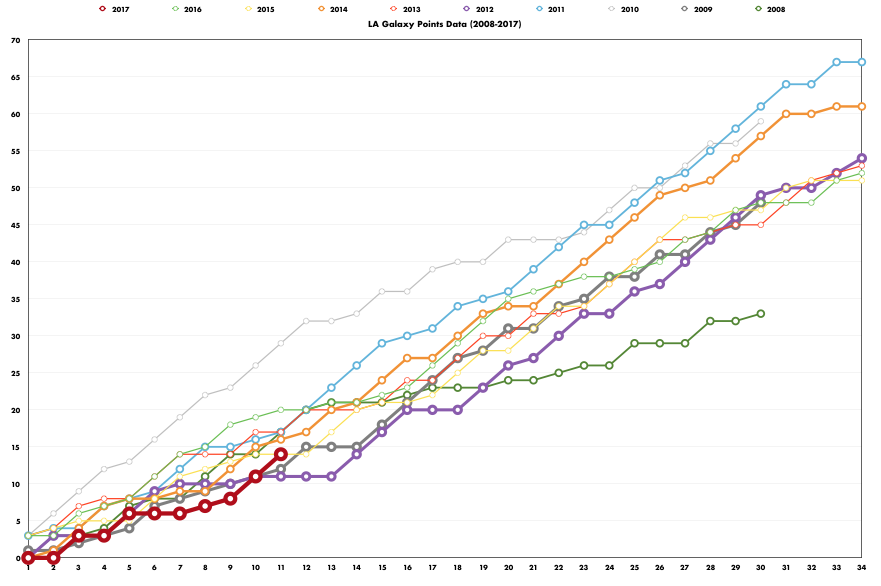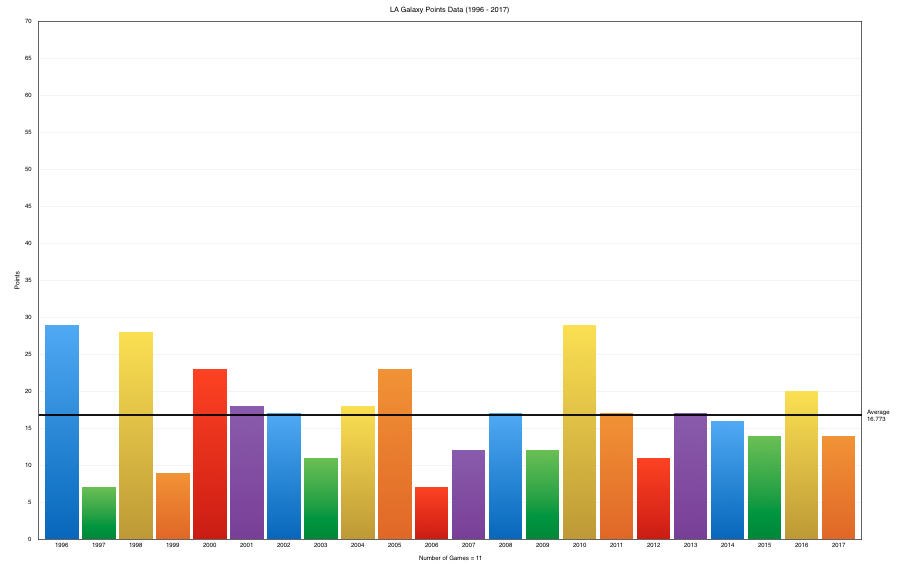 UPDATED CHARTS – THROUGH 10 GAMES
GAME 10
Galaxy earns a win at Red Bull Arena (Game Recap) for the first time since 2010 (regular season), and win on the east coast for the first time since 2013. It's a dream start to a 4-game road trip and it moves the Galaxy back onto both the 2012 MLS Cup winning line and the 2009 MLS Cup Final line. In fact, the Galaxy are now equal or above seven other seasons through 10 games (1997 (7), 1999 (9), 2003 (10), 2006 (7), 2007 (9), 2009 (11), 2012 (11)).
So enjoy your Game 10 charts. Are the Galaxy back on track in 2017? See below for any of our originaly explinations.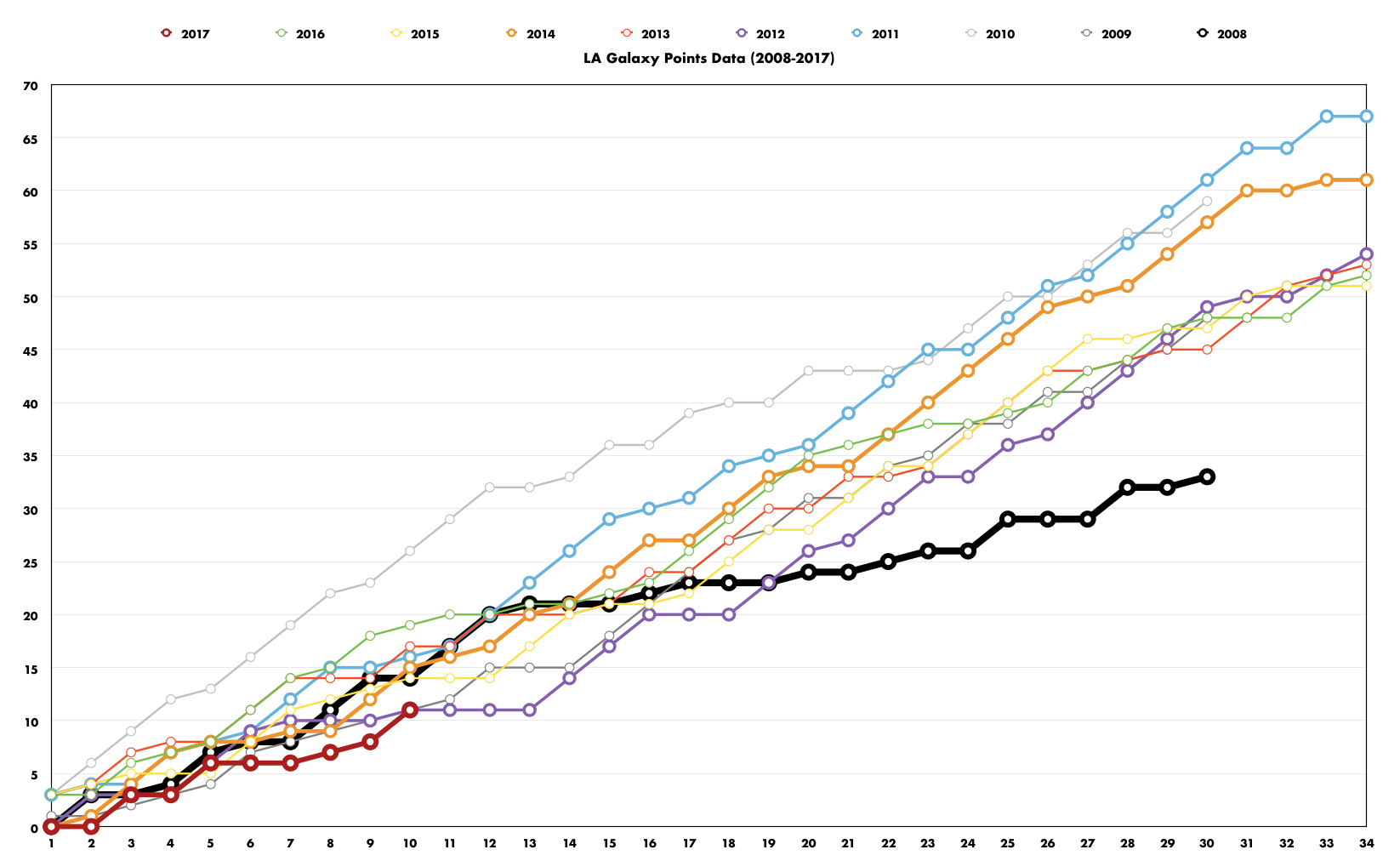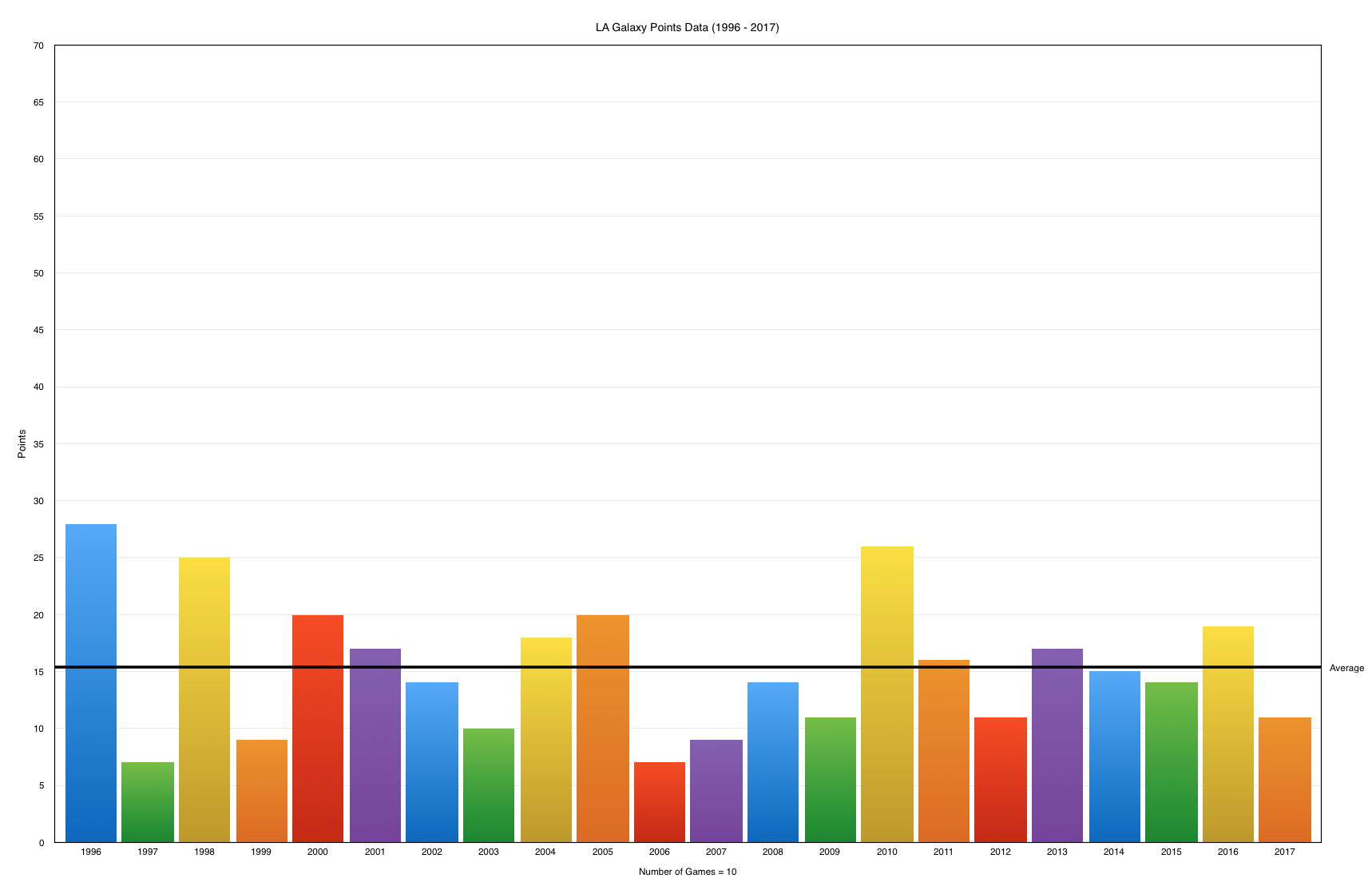 ORIGINAL STORY: THROUGH 9 GAMES
CoG Studios, CA – The LA Galaxy are bad. You didn't need this small article to tell you that. But just how bad they are is something of a question mark. The only real way to do that is to take a look at previous Galaxy teams and find out where this one currently stands.
The Galaxy have just eight points from nine games. They sit in ninth place in the Western Conference and in 19th place overall in the league. They have only earned four points from six home games and have only won two games on the season. Both of those wins came by playing teams that were reduced to 10-men through a red card ejection (Montreal Impact and Real Salt Lake).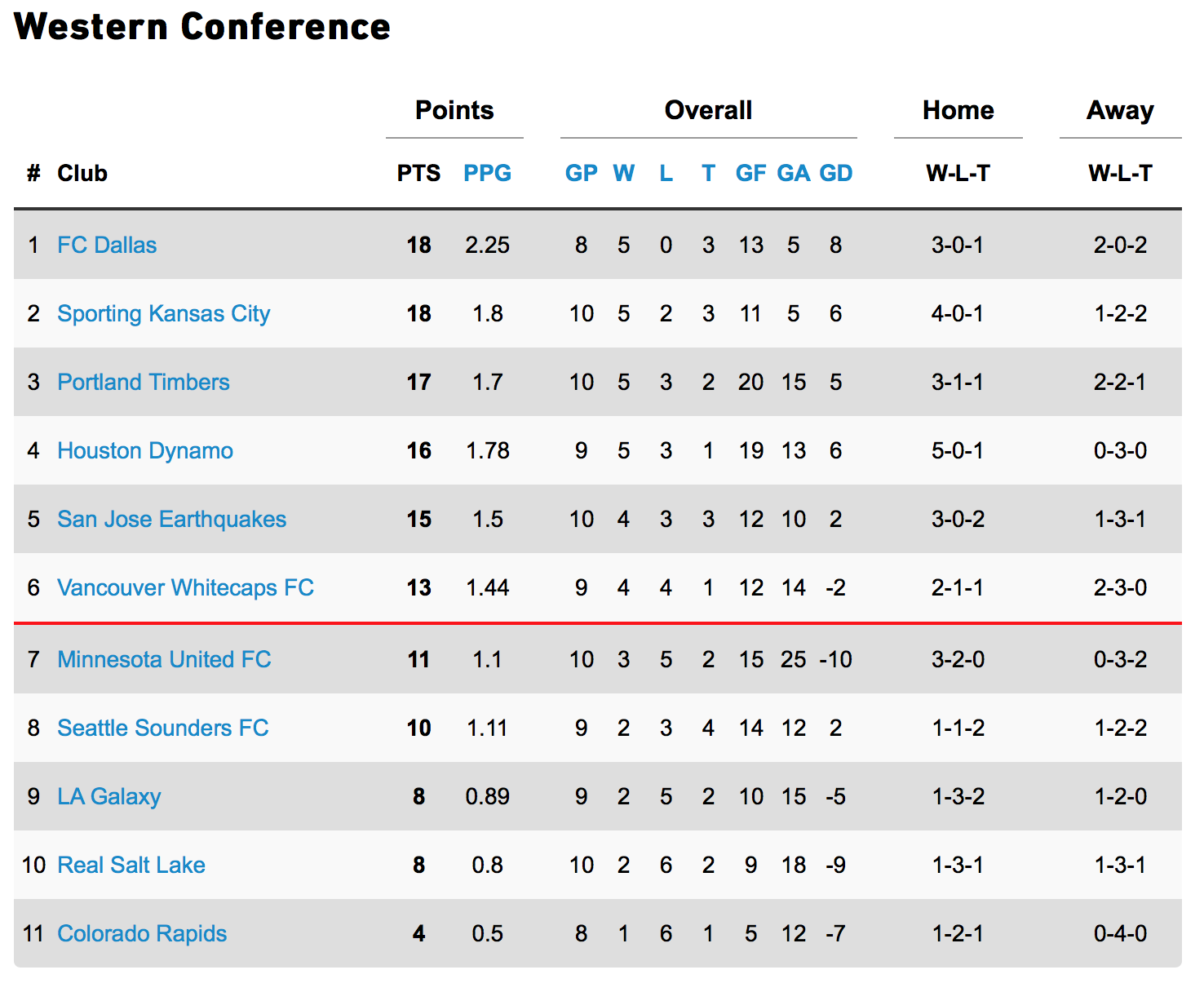 In the modern MLS era (excluding the years the modified penalty kick shootout was used to determine a tie game, 1996-1999) the Galaxy have only had two worse starts to the season than they have in 2017. Through nine games in 2003 and 2006, the Galaxy had only accumulated seven total points.
In 2003, the Galaxy didn't win a single road game going 0-9-6 in 15 games away from Los Angeles. They finished 4th out of five teams in the Western Conference for a total of 36 points. They made the playoffs, however, but with only 10 teams, it was harder to avoid postseason action then get in. They were eliminated by the San Jose Earthquakes in one of the largest playoff comebacks in MLS history.
In 2006, the Galaxy finished the season with 39 points but still finished 4th out of five teams in the Western Conference. They missed the playoffs that year and started a downward trend that wouldn't see them return to post-season action until 2009.
That 2009 team, through nine games, had only 10 points — relatively close to the 7 points the Galaxy currently have. They were able to put together a cinderella season that saw them finish first in the Western Conference with 48 points. Their quick rise catching many other teams off-guard. That run ended in an MLS Cup loss to Real Salt Lake in Seattle.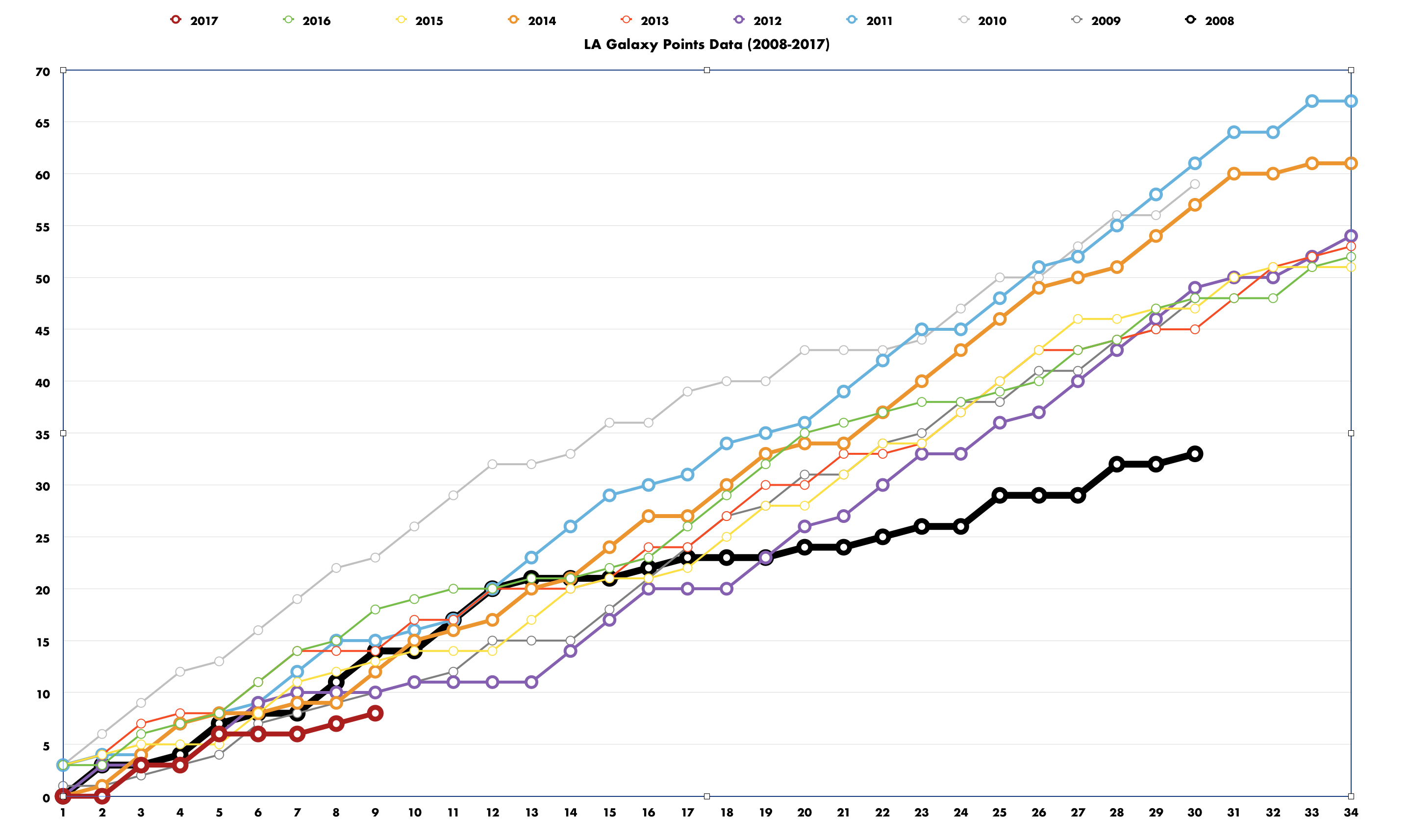 In the chart above, we compared the last 10 years of points by week. There are three MLS Cup runs included in this chart – 2011, 2012, 2014. There is also an MLS Cup Final, 2009, and the last time the Galaxy missed the playoffs – 2008.
It's easy to discern that through nine games in 2017, this is the slowest start to the season. But if you look at the shape of the lines, one can easily find very successful years that have started just slightly better. The 2012 season, so far looks to have the same shape as this year. And that team only had one more win through their first nine games.
So while the chart above gives an idea the kind of trouble the Galaxy are in, it doesn't necessarily mean that the season is over.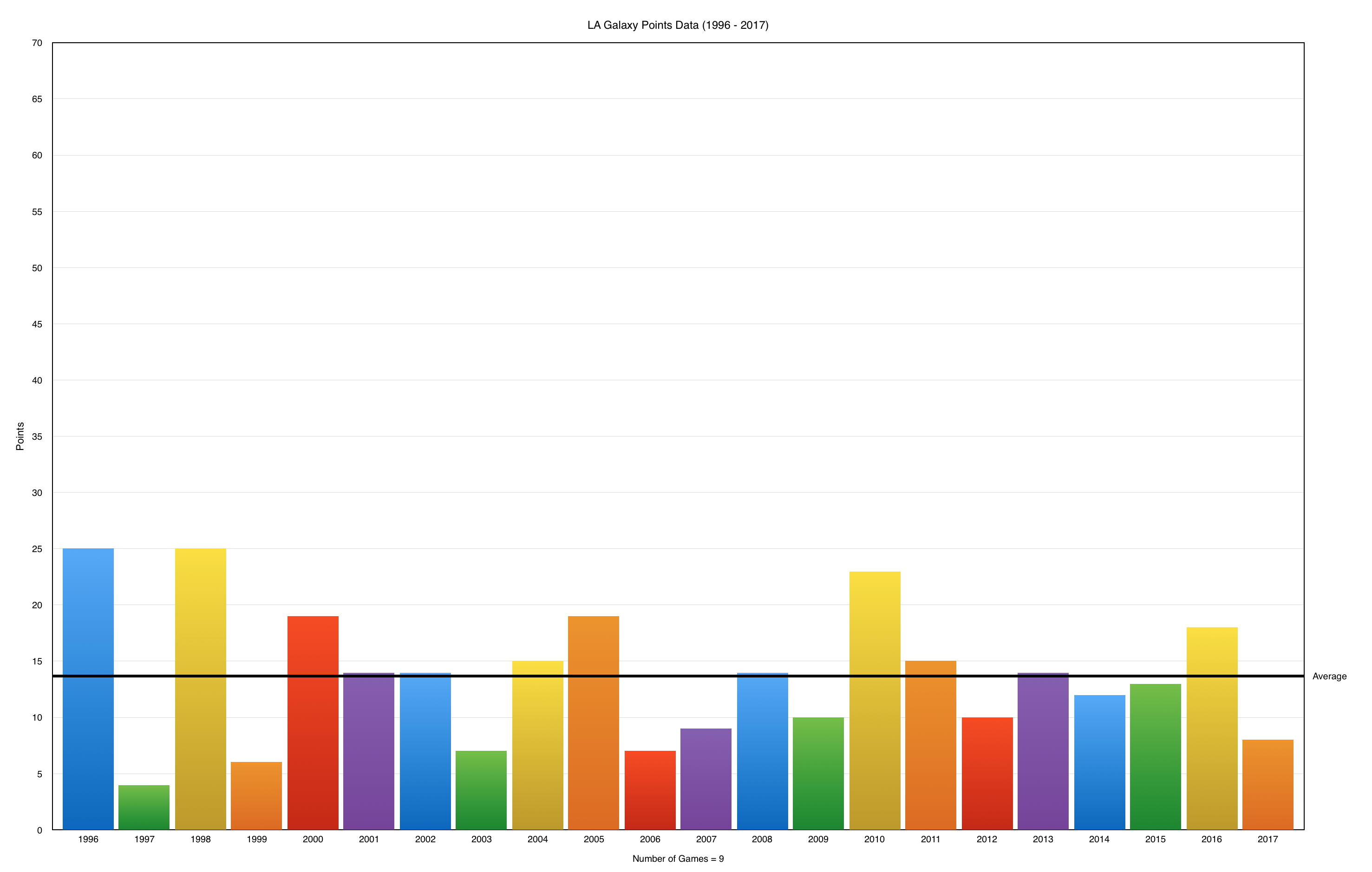 Finally, if we gather all the data from 1996 to 2017, we can take a snapshot of how things looked across every season after nine games. Not the worst start in history. Perhaps even middle of the road. But this is a chart we can keep coming back to after every game. To see where the Galaxy starts to trend.
And just as a point of reference, the average number of points through 9 games looks to be around 14 points. So the Galaxy are definitely behind.
2017 was always going to be a year of transition – Bruce Arena leaving the team after guiding it through it's most successful years in team history, older players being phased out, and a new management team being put in place. But what every chart shows us right now is that they need points and they need them soon.
Understanding the need to rise in the standings and also understanding that the Galaxy are starting a four-game road trip makes the next couple of games vitally important if any of these charts and graphs are to start a move upward.
Hold onto your hats, Galaxy fans. This is going to be one wild ride.
We'll update this chart on a weekly basis. So make sure you're following us on twitter (@GalaxyPodcast) and on Facebook!
Even When the LA Galaxy are Good, They're Still Bad. NYCFC Wins.