Carson, CA – The LA Galaxy got goals on both sides of halftime to beat New York City FC 3-0 on Saturday night at StubHub Center in their first preseason match in Southern California.
Newcomer Ola Kamara buried a ninth-minute rebound from just inside the penalty box after a rocket of a shot from Romain Alessandrini pinged off the crossbar.
"I actually slipped," Kamara confessed, "but when it bounced, like that, I just wanted to hit it first-time."
It was a laser of a right foot that found NYC goalkeeper Brad Stuyer flatfooted and watching as the ball sailed past his right shoulder.
The goal was the product of a very dangerous attack on the night that saw Kamara, Giovani dos Santos, Romain Alessandrini, Jonathan dos Santos, and Emmanuel Boateng get into the attacking third early and often. And it led to a couple of chances that were more than likely squandered in front of the net. But that should come with a greater familiarity with the new pieces involved in the attack.
But for Kamara, it was about having a good night of fitness and something to show for that continued partnership with those around him.
"It's always a good feeling scoring goals and I love scoring goals. But preseason is more about fitness," Kamara told reporters after the game. "But it was a nice feeling."
The Galaxy were helped out on the night by an NYC team that had just three regulars on the field in their starting XI — Alexander Callens, Ronald Matarrita, and Maximiliano Moralez. And they were further handicapped when Matarrita was shown a straight red card in the 41st-minute after a sliding tackle on Alessandrini towards the far touch-line.
Alessandrini stayed down momentarily but was on his feet and up to his normal tricks just moments afterward. Thus putting to rest any hints of an injury.
The second half saw an entirely different lineup, as is customary in preseason games.
And Baggio Husidic, the longest-tenured Galaxy player, would figure in both goals. He first found rookie and second overall draft pick Tomas Hilliard-Arce open for a header that saw the Galaxy double their lead and he then put one into the back of the net himself one minute into stoppage time.
It was a complete performance from Husidic who was quick to point out that they were playing against 10-men.
"It makes it much easier when they are down one player," Husidic reported, "but overall it was great.
"Of course, anytime you get to score a goal it doesn't matter what competition, it's good for yourself, it's good for the team, and it's good for the coaches."
Hilliard-Arce, for his headed goal, said it was "ecstasy" to see the ball go into the back of the net.
"Honestly, the best moment of my life. I know tonight I'm going to go back and just stare at my wall for like 12 hours because I just won't believe it happened."
Overall, the Galaxy can be proud of the work they put in over the 90-minutes. Perry Kitchen was particularly aggressive again in the defensive midfielder role, and he's been the clear-cut best player on the field over the 75-minutes the Galaxy have played.
His determination to win balls, dive into tackles, and track back on changes of possession will continue to bolster this Galaxy defense that saw Michael Ciani start in Place of Daniel Steres – the only change from the starting lineups in the first two preseason games.
The Galaxy will return to training this week before heading to a game in Santa Barbara on Thursday, and hosting the San Jose Earthquakes on Saturday at the Great Park in Orange County.
Schmid is confident that the next couple of games will see some of the players go 90-minutes on their way to full game fitness. Which is good for a team that will open the regular season on March 4, against the Portland Timbers.
1ST HALF LINEUP: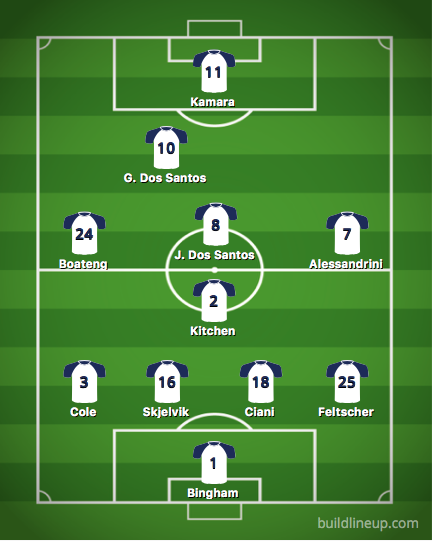 2ND HALF LINEUP: