Zlatan Ibrhamović smiled as he exited the black limo van just minutes after arriving in Los Angeles as the newest member of the LA Galaxy on Thursday night. Dressed sharply in a self-branded, black tracksuit, and looking very refreshed for the long journey he'd just completed, the $3-million dollar striker ($1.5 million over two years) signed autographs and seemed genuinely amused and pleased with the turnout in front of him.
His journey had started more than 10 hours earlier when his chartered Bombardier Global 6000 business jet took off from Manchester England at around 7 p.m. local time. The jet, one of the few private planes able to make the more than 5,300-mile journey non-stop, took the usual route from Europe. It scraped across the North Atlantic eventually making it's way over Iceland, Greenland, and Canada, before finally plunging southward through to the United States by way of Montana, Wyoming, Utah, Arizona, Nevada, and California.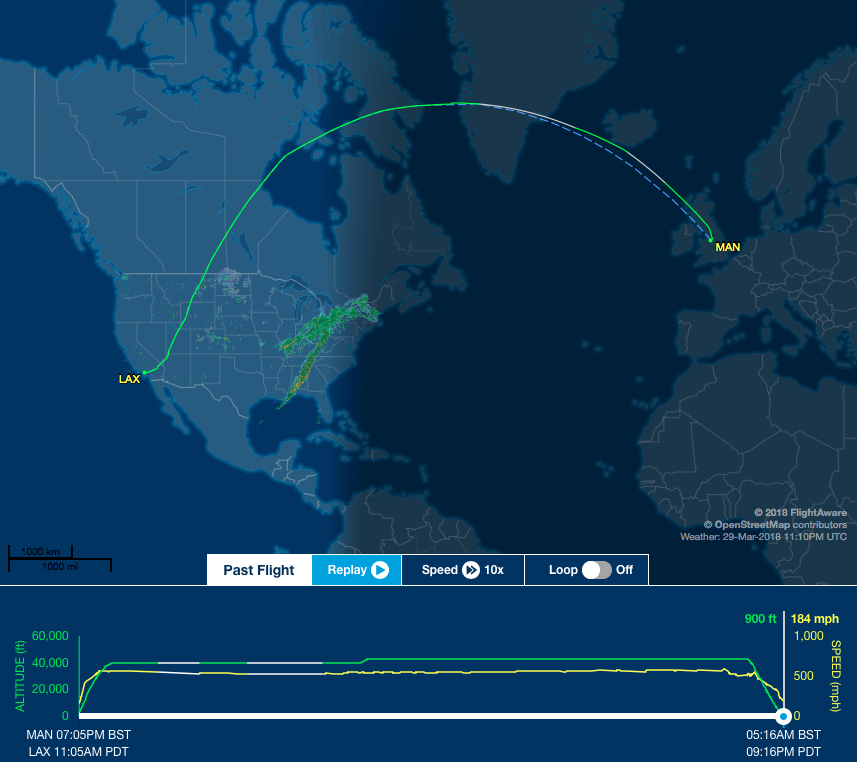 The Wheels touched down on the North side of LAX at approximately 9:16 p.m. before the plane taxied oto the south side of the airport.
Waiting for him were approximately 150 supporters that the Galaxy had bussed into the private airport terminal from the StubHub Center. 150 fans who were given short notice and almost no time to arrive. But they still did, it great numbers.
Decked out in their Galaxy scarves and jersey's, the fans chanted and cheered as Ibrahimović emerged. Only minutes earlier, the star striker had met with Galaxy President Chris Klein in the terminal and was supported on the trip by Galaxy Technical Director Jovan Kirovski – who was integral to the signing of the star.
Ibarhimović eventually posed for a group photo with the fans before departing for his first night in Los Angeles and his first night of sleep in the city.
On Friday morning, the real hard work will begin. Ibrahimović, the 36-year old world super-star, will get to train with his new club for the first time before being officially introduced in a press conference streamed on the Galaxy's website (1:30 p.m. LAGalaxy.com).
And less than 24-hours from the press conference Ibrahimović is expected to be dressed and on in the 18-man roster for the Galaxy's sold-out matchup with LAFC – the first time the two clubs meet in both of their histories (March 31 – Noon, FOX)
It remains to be seen what impact Ibrahimović will have on the Galaxy and MLS, but one thing is for sure, the man knows how to make an entrance. And he has supplied MLS and the Galaxy with one of the flashiest global arrivals ever. Afterall, this is a league more synonymous with flying coach across the country than it is private jets and tracksuits!