It's Monday morning and I'm sure most of you are still wondering what the heck happened on Saturday afternoon. Words still evade us for any worthwhile description of what the final 30-minutes of the LA Galaxy 4-3 win over LAFC was like. No, the only thing that will ever help explain what we all witnessed on March 31 is a simple "I was there," which will either be met with a knowing nod of "me too," or a self-convincing look of someone who didn't get to experience that in person.
So, while words utterly fail us for the moment, let's dive into the game 4 numbers and see what they can teach us about this 2018 Galaxy team and its newest arrival.
Before we get to some charts like we normally do, let's get some housekeeping out of the way. And by housekeeping, we mean Zlatan talk.
ZLATAN STATS
Zlatan Ibrahimovic, on his league and Galaxy debut, scored two goals. Toronto FC's Jermaine Defoe was the last to do that as he scored twice on his debut in 2014. And only two other players have scored a game-winner in 2nd-half stoppage time in their MLS Debut. Onandi Lowe (KC) and Michael Butler (Metro Stars) with both coming in 2001.
Without confirmation, I think it's safe to assume that no others have scored the game-tying goal and the game-winning goal (with that game-winning goal coming in stoppage time. It's specific because it's really hard to look up with some serious time on our hands).
Zlatan Ibrahimovic is the 1st player to score twice in his MLS debut since Jermain Defoe for Toronto in 2014 (3/15 vs Seattle), per @EliasSports.

Only 2 others scored a game-winner in 2nd-half stoppage time in their MLS debut, both 2001: Onandi Lowe (KC) and Michael Butler (MET)

— MLS Communications (@MLS_PR) April 1, 2018
Ibrahimovic has now scored on his league debut in the Champions League, Serie A, La Liga, Ligue 1, the Premier League, and MLS. In addition, he's scored on his team debut in five of his last six teams – LA Galaxy, Manchester United, Paris Saint-Germain, and Barcelona.
He currently leads the Galaxy in scoring in 2018 with two goals, has played a total of 19-minutes, and has a goals-per-90-minutes average of 9.47 goals. His two goals came on two total shots.
He's going to win Goal of the Week – and quite possibly has a chance at Goal of the Year. Maybe that's some hyperbole because the goal was outrageous and it's so early in the season, but let's not pretend like we won't see it as the season wraps up.
BACK TO THE LA GALAXY
The LA Galaxy are just the second team in Major League Soccer history to come back from a 3-0 deficit to win. The only other team to accomplish that feat was the 2017 Seattle Sounders who went on to beat DC United 4-3 on July 23 of last year.
The other additional note to this story is that the Sounders accomplished their comeback in the 4,916 game in the history of the league. It had never been done before that. And just 198 games later the Galaxy pulled off their comeback. Maybe this is going to be a regular occurrence in MLS from here on out?
For just the second time in #MLS history, in 5,114 regular season games, a team has come back from 3 goals down to win: @LAGalaxy 4, @LAFC 3

The first happened last July 23: Seattle 4, D.C. United 3, in what was game no. 4,916

— MLS Communications (@MLS_PR) March 31, 2018
Everyone remembers that the 2017 season was a dismal year for Galaxy soccer. Making it so bad was the fact the galaxy won just three times at home and only managed to scrape by with 14 points total from those games.
But in 2018, there is already some realistic hope that the Galaxy can easily surpass that number. Through just two games at StubHub Center this year, the Galaxy have two wins for six points. That puts them one win away from tying last years total number of home wins and only eight points from tying their home point total.
In 2017 it took the Galaxy eight games to reach 7 points and 14 home games to reach their second home win. Needless to say, 2018 seems to be trending in the right direction.

We now shift our attention to our favorite chart. This where we keep track of the running points total and compare it to other Galaxy teams through their history. And today, we learn that the Galaxy are at a point in the season where it's difficult to tell which direction they're headed.
11 other teams have had seven points or more in the history of the club. And that basically splits it down the middle. The Galaxy are also trending slightly above their historical points average of 6.217 points through four games.
Remember, this chart gets better as we get further down the road. For now there isn't much differentiating this 2018 team with most of the other seasons.
Only 1996 and 2010 standout on this chart at the moment. With both teams starting with fconsecutive wins and neither of those teams won an MLS Cup.
Finally, the Galaxy made a significant leap in the standings thanks to their Saturday Victory. The club currently sits in third place in the Western Conference and sixth place Supporters' Shield. The Galaxy jumped up four spots from last weeks seventh in the conference and up six spots in the overall table.
The current lowest ranked positioning in the conference was ninth, and their lowest ranked positioning the Supporters' Shield was 14. We'll continue to track the teams positioning throughout the year.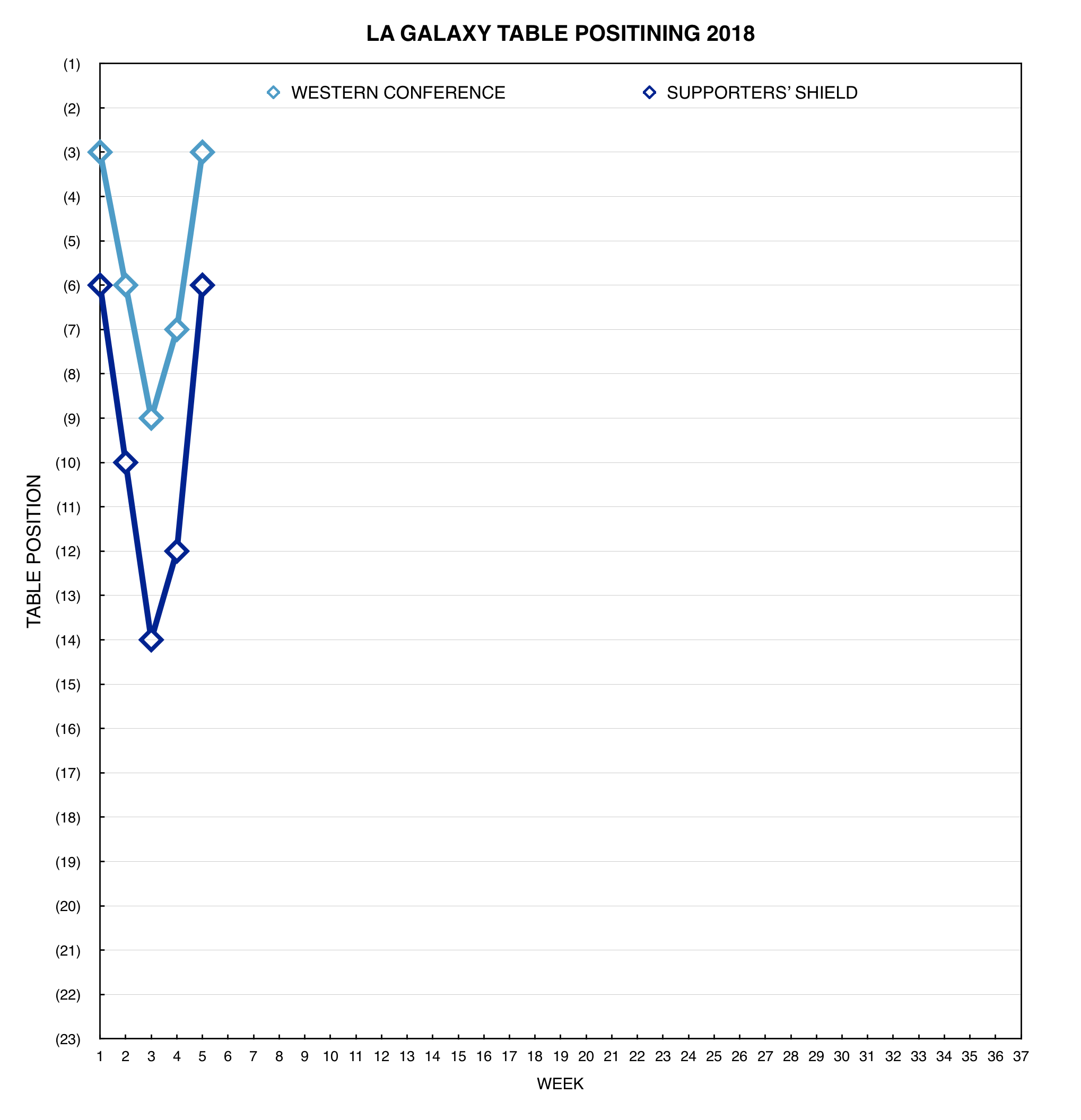 That does it for this weeks data dump. Be sure to check out all our other charts below. Let us know if you have any other stats you'd like us to try and keep track of!
MISC LA GALAXY CHARTS