Carson, CA — The LA Galaxy went about their training with a sense of purpose ahead of their matchup with Sporting KC on Sunday (FS1, 6 p.m. PT). Players gleefully arrived to the session making jokes and smiling. Even newcomer Zlatan Ibrahimovic had a bounce in his step as he walked through the screened-in fence and down onto field 1 at StubHub Center.
With momentum still pulsating from an electric atmosphere and win last week, the Galaxy have a chance to do something significant. And in a drastic change from a dismal home record in 2017, the club, for the first time since a three-game stretch in 2015, are looking to win their third straight home game. A number that would see them match their entire number of home wins from last season (three) if they were to be victorious on Sunday.
June 20, 2015 5-1 victory over Philadelphia
June 24, 2015 5-0 victory over Portland
July 4, 2015 4-0 victory over Toronto FC
Outscored opponents 14-1 in those three games
The Galaxy (2-1-1) are coming off an emotional victory that saw a miraculous come-from-behind victory and two goals from Zlatan Ibrahimovic lift them over inner-city rivals LAFC. But concern about a hangover from that game is still something on the minds of the players.
"I think that game just gave us positive energy in the group and we've been feeling it in training too," Galaxy striker Ola Kamara explained after training on Saturday. "So I think we're going to go out hard because of that. We have a little bit more confidence now, I think and we have a positive group."
The Galaxy will be hoping they can manage a better start than in their previous match where they gave up three goals in the first 47 minutes of the game.
"I think (we need to) be more compact," Galaxy captain Ashley Cole said. "I think, If you look at their goals, we knew they play on the counter-attack, and we still gave them chances from our attacking play and then we end up kind of everyone running back. So this needs to change. We need to be more compact. More kind of in a fighting spirit around their box to stop their plays."
Sporting KC (3-1-1) currently sit in first place in the Western Conference with 10 points and have played one more game than the Galaxy. Since losing their season opener to New York City FC – the same team the Galaxy lost to – Sporting is unbeaten in their last four games; winning three games and drawing one.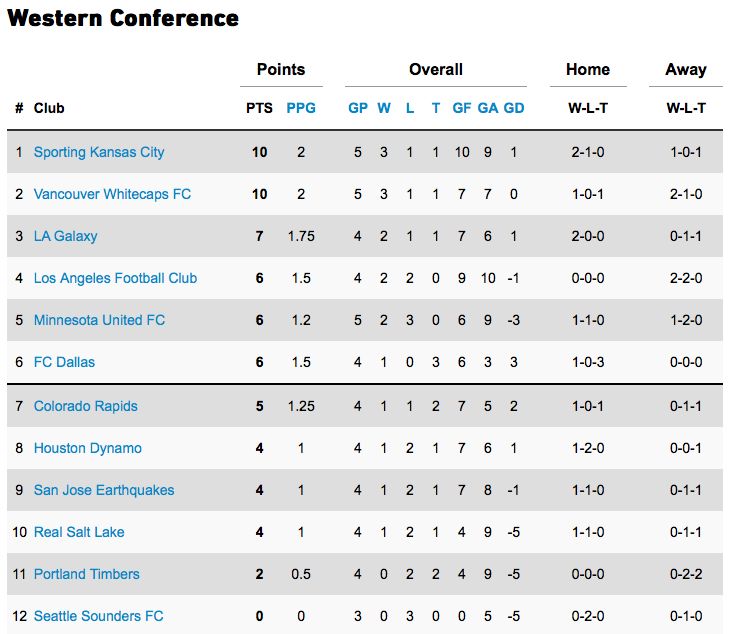 But the quality of those opponents may be in question. With all but NYC being near the bottom of the league's table. Sporting also leads the league in goals scored and is tied for second worst in goals conceded. Hardly the mark of a "league-leader."
But to add to their numbers, Sporting also have a record of 3-0-3 when facing the Galaxy since 2015. Last year, it was a bicycle kick from Ike Opara that saw them victorious at StubHub. But in a blow to their winning ways this season they look likely to be without their leading goal scorer, Felipe Gutierrez, who is nursing a minor pelvic injury he received during the previous week.
The Galaxy, on the other hand, look to be getting Romain Alessandrini and Jonathan dos Santos back after two lengthy hamstring injuries that have kept the Designated Players off the field. Giovani dos Santos, who hasn't been training with the club at all this week, will not be available for this match.
The club should be returning a solid lineup with questions still to be asked about the defense. Michael Ciani, who has been training after missing games with an abdominal injury, should return to the bench with Tomas Hilliard-Arce getting time with LA Galaxy II this weekend.
Alessandrini and Jonathan dos Santos are probably healthy enough to get the start, with Chris Pontius and Servando Carrasco backing up the players on the bench. But don't expect either player to be 90-minutes fit.
Sebastian Lletget, who missed some days of training this week after he was stepped on in the LAFC tie, looks to be fully fit and could reprise his role as the central playmaker underneath Kamara.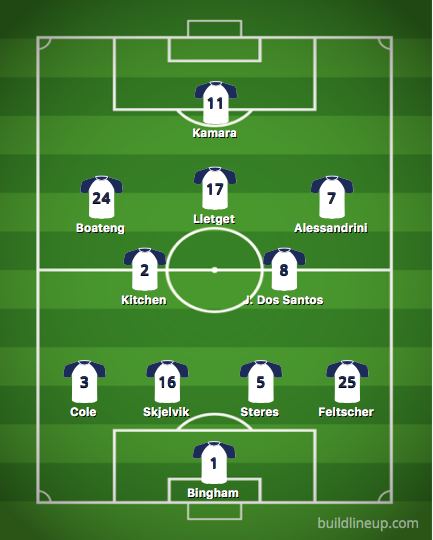 And Kamara, who recently confirmed he signed a three-year contract extension with the Galaxy, might have some extra incentive to prove his reportedly new price tag is worth every penny. And that's with Ibrahimoivić waiting in the wings. However, any indication that Kamara and Ibrahimović are battling each other for minutes is overblown. They should be able to co-exist on this team for some time to come.
As for the flat performance in the first half of the LAFC game, Kamara is convinced this time will be different.
"You kind of know what you're not supposed to do, right," he said. "And then, of course, it's a different team but we're well prepared this time so it will be a good first half this time."
Cole is also convinced that a better effort will be made this time around and that the club is not lost in the memories and intoxicating feelings of last week's win.
"It's a big game. We kind of forgot about that game last week, even though it was hard to," he laughed. "Now we've got to focus on Sunday because it's a big game against – I think they're top ranked. It would be a nice game to take some points off them (Sporting KC)."
This is a crucial time for the Galaxy. Winning home games is a good indication that this year will be different than 2017. And keeping the momentum and confidence from Ibrahimovic's arrival could be key to a string of games that seem to be winnable for the club.