Welcome back to another edition of "By the Numbers" where we track the LA Galaxy through a bunch of different charts and graphs we put together. Most of these charts pit the club against itself so that we might glean some understanding in that historical space.
Today, we take a look at the Galaxy's five-game start compared with their long and illustrious history! Or at least that is our focus. As always, we'll throw all of our charts in at the end so that you can draw your own conclusions.
Don't let the 2-0 loss get you down. Charts are more fun than games, right?
THE START
We started tracking this chart to show the differences in coaching from Curt Onalfo and Sigi Schmid. It's no secret that we believe Onalfo was a sacrificial lamb for the 2017 season. That being said, there's been a huge amount of turnover with the Galaxy from that horrendous season last year. Now there probably isn't anyone out there who doesn't agree that this 2018 team, at least on paper, is much better than 2017. But the numbers are going to make you a little nervous.
Through five games, the 2017 and 2018 season are nearly identical. In 2017 the Galaxy went 2-3-0 through their first five, scoring seven goals and allowing eight. In 2018, the record is 2-2-1 for one more point than 2017, and the goal totals are exactly the same.
Not exactly the good news you thought you would hear and that's mostly because the 2018 team seems to be passing the eye test. But the results are nearly identical.
What isn't identical is how difficult or easy the first five games of the season were. So let's also give you a look at that. And while the data we have isn't a perfect match, we are able to compare the positions of each team in the league table. For 2017 that data is taken from the final season standings. For 2018 we're stuck using their current positions.
In 2017 we arrive with an average table position of the first five opponents at 11.6. With the highest ranking team being the Portland Timbers who finished sixth in 2017. In 2018 the average table position of the Galaxy's opponents is 7.8. With New York City FC at number one and Sporting KC at number two.
So with one more point and a harder list of opponents (we're assuming), maybe the 2018 Galaxy are doing better than the 2017 version. Maybe.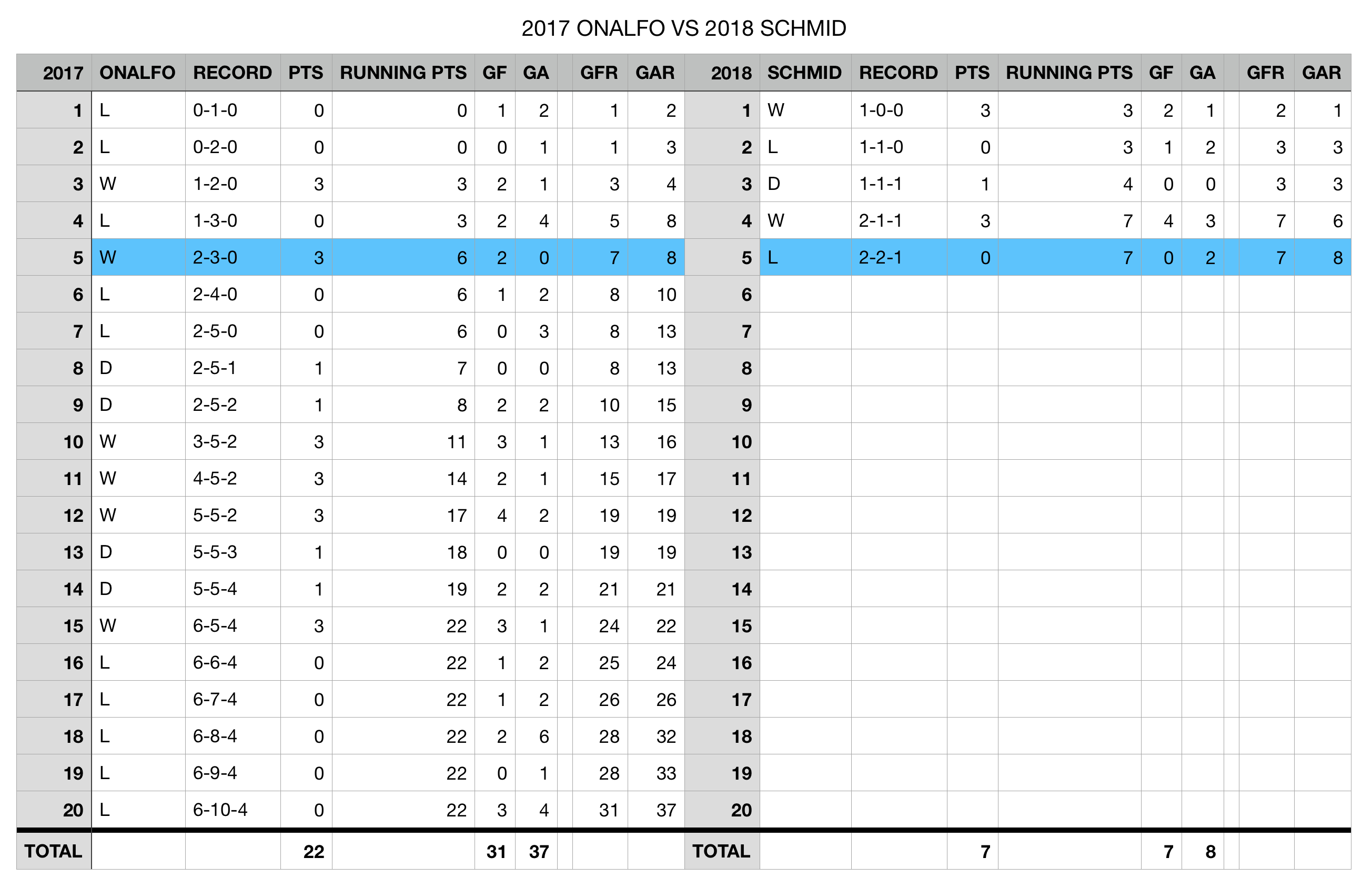 If we continue looking at the Galaxy's start let's compare them across the entire history of the club. You'll find that eight previous seasons have started out worse ('97, '99, '03, '07, '12, '15, '17). There are two seasons that have seen a similar start after five games ('06, '08), and 12 years that have done better ('96, '98, '00, '01, '02, '04, '05, '10, '11, '13, '14, '16).
If you really want to have some fun, let's look at the five MLS-Cup-winning years. Only 2012 stands out as being in a worse position than this 2018 team with three of the cups – 2002, 2011, 2014 – having eight points after five games. And with the Galaxy just one point back from the eight, there's still plenty of hope.
To be clear, we're not making any predictions based off of these numbers. Again, we use these charts as tools to put things into perspective.
By the way, the Galaxy are just barely below their all-time average of 7.652 after five games. Which means that as of right now, just five games into the season, the Galaxy are a slightly below normal Galaxy team. That's it!

That's all the fun we have in store for today. But be sure to check out all the other charts we've listed below. Use them to annoy your friends and impress your enemies. Thanks for joining us on another quick jouney into the number behind the Galaxy.
THE REST OF THE CHARTS