Carson, CA — It wasn't the result the LA Galaxy had hoped for when a very talented Atlanta United team invaded StubHub Center on Saturday night. The loss, a 2-0 shutout victory for the team from Georgia, once again proved how chemistry and personnel are directly related and how the Galaxy are still lacking that final bit of polish after an offseason overhaul and a superstar addition.
"We haven't played 4-4-2 before, but now we have Zlatan and Ola so, two strikers," Galaxy midfielder Romain Alessandrini said after the game. "So we need to get used to playing 4-4-2 and I think we'll work every day to be better."
The final result could have been much worse if not for a shaky but, sometimes valiant, effort from Galaxy goalkeeper David Bingham who made five saves on the night and saw his crossbar rattled twice.
He even survived a Penalty kick in the 20-minute when Galaxy defenders Rolf Feltscher and Dan Steres combined to controversially bring down Atlanta's Miguel Almiron. Josef Martinez, who left the match tied for the most goals in the league (5), stood over the spot to take the kick. But his halting approach pulled the shot off the bar where Bingham looked to have had it covered.
But Martinez would have his revenge after two finger-tip saves from Bingham eventually put the ball on the line for him to tap into the goal. The Galaxy's defense, quick to scramble, couldn't regroup in time as the ball bounced off Steres' chest and into the path of Martinez. The crossbar, and the post all being rattled within 80 seconds of each other.
The Galaxy (3-3-1) found themselves in a shooting gallery and only mustered a single shot on goal in response – a 60th minute shot that Atlanta 'keeper Brad Guzan easily handled. Meanwhile, Atlanta launched 19 total shots with seven on target, not including those three woodwork incidents.
The final goal, another penalty kick, this time conceded by Galaxy defender Jorgen Skjelvik, sealed the game in the fourth minute of stoppage. Where referee Baldomero Toledo had waved off an appeal for a penalty when Ibrahimovic looked to be dragged down in the box just minutes earlier, there was no hesitation on this foul when he quickly pointed to the spot to end the game.
It was a goal that Almiron easily pushed past Bingham. A perfect exlamation point to a game that Atlanta had so thoroughly dominated.
But perhaps luck wasn't on Galaxy's side from the very beginning.
The club announced a starting lineup that mirrored last week's starting XI that secured a 1-0 victory over Chicago but during pregame warmups they'd seen that plan fall apart. Jonathan dos Santos, who only recently returned from a Hamstring injury, pulled up lame in a warmup drill and immediately went over to the trainers.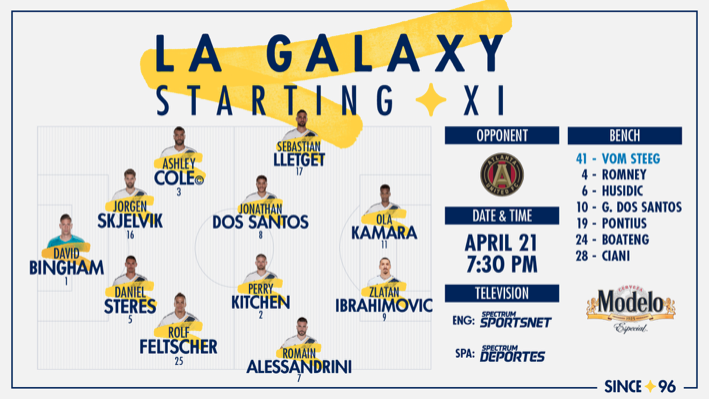 When asked about the injury after the game Sigi Schmid seemed a bit perplexed by the happenings.
"You've got to talk to Jonathan, I mean he felt something in the warmups," he said. "He didn't feel he could go. It looked like he almost thought he could go, consulted with our trainers, consulted with his brother and others, and felt he couldn't go."
Jonathan dos Santos, via his Instagram account, confirmed it was a right calf injury and that he'd have tests on Monday to assess the severity.
Baggio Husidic, making his first start since breaking his right leg on May 21 of last year (a 2-1 win over Minnesota United), slotted into Jonathan's position.
The Galaxy midfield was overrun for large portions of the first-half and Husidic and Perry Kitchen struggled to match the quickness and pace of Atlanta through most phases of the game. Although Kitchen would put in a much better effort in the second half, the Galaxy's inability to corral Atlanta's front attackers hurt them time and again.
Ola Kamara, who received praise from Sigi Schmid after the game, was dropping deeper to involve himself in the game and create more space for Ibrahimovic. All his efforts almost coming to fruition when he almost saw a 7-minute bicycle kick find a home. And he did collect three shots on the night – the most by any Galaxy player.
But disappointment was still palpable for the Norwegian defender who's very clear: if he isn't scoring he's not doing his job.
"Usually I'm standing a little bit more between the two central defenders and now I'm running a little bit more," Kamara told reporters of his positioning in the game, "I want to do that, but I think still I have to score goals. For me it was frustrating today, I had a couple of shots. Half-chances like you said, but they didn't go in and for me and that's very frustrating."
Also frustrated was Zlatan Ibrahimovic. The man who scored the Galaxy's only goal in their win over last weekend, was kept without a shot on the night.
"When it doesn't go in, it doesn't go in," Ibrahimovic told reporters after the game. "But it's not like we had clear chances, to be honest."
"I think it's the collective," he continued. "If you get collective organization, then everything else will work. We work hard. We had a good week. The outcome of the week today wasn't the best. It was the opposite. It was shit. But okay, shit happens also.
"We need to focus and continue. Tomorrow is a new day."
The Galaxy have now played the top three teams in Major League Soccer through their first seven games, have lost all three games, and been outscored six to one – NYCFC (2-1, Loss), Sporting KC (2-0, Loss), and now Atlanta United (2-0, Loss).
And the Galaxy have played behind in four of their seven matches this year (1-3-0 when giving up the first goal) while being shutout three times. These are combinations that can't continue. The game becomes too difficult to try and solve when playing from behind.
Ibrahimovic agrees.
"When you're losing 1-0 you need to chase the game," he said. "It's a different game when you chase goals because you take risks and the space becomes different. You risk much more and the opponents can punish you if they're good and they're intelligent, which they did.
"Now we've played three games at home and every game we've been chasing the game. It's not easy."
Things will continue to not be easy for the Galaxy. They'll face uncertainty with Jonathan dos Santos as they prepare for next week's match against the Red Bulls, and they'll soon be facing a three-game road trip that will take them to Texas twice and Montreal.
The early part of this season was always going to be about getting to know each other. With a new star, a new formation, and an injury bug that won't go away, the Galaxy need to hope that all these speed bumps they're hitting right now, will go away by the time the team shakes off the World Cup break.
https://www.youtube.com/watch?v=dobTwf5-v08