The MLS Players Union has released salaries for the entire league, again. And while Major League Soccer and the clubs within, won't confirm the accuracy of the numbers, it's still a great chance to find trends, and issues with the LA Galaxy and how they spend their money. This is your 2018 LA Galaxy Player Salaries first release.
As we always do, we'd like to start out with a definition of the different types of compensation that you'll see mentioned and give you any other information we can about player salaries.
It should be noted that the MLS Players Union releases this information as part of a concerted campaign to familiarize fans and the media as to what their players are paid. In large part to facilitate future negotiating points. When asked specifically about the accuracy of the numbers, agents and players have responded with a "fairly accurate" statement.
For the purposes of these charts today, player positional accuracy was not checked. And players who may have been listed at one position but actually play another position for the majority of their minutes will not be moved to the correct position. For example, the league designates Emmanuel Boateng as a forward. Where, in actuality, he's a midfielder for most of his minutes. For the purposes of these comparisons, he's a forward and will show up under the forward stats.
The Players Union lists two different salaries for each player. Those can be explained by the following information:
The charts below contains salary information for all MLS players as of the date shown. In the survey, all player salaries are broken down into two numbers. The first is the player's current base salary. The second is characterized as annual average guaranteed compensation. The annual average guaranteed compensation number includes a player's base salary and all signing and guaranteed bonuses annualized over the term of the player's contract, including option years.

For example, if a player has a base salary of $50,000, has a two-year contract with two one-year options and received a $10,000 bonus when he signed, his average annual guaranteed compensation would be $52,500 (base salary plus signing bonus ($10,000), with the signing bonus divided by the number of years covered by the contract (4)).

The average annual guaranteed compensation number also includes any annual marketing bonus to be received in the current year and any agent's fees annualized over the term of the contract. The average annual guaranteed compensation figure does not include performance bonuses because there is no guarantee that the player will hit those bonuses.

These figures include compensation from each player's contract with MLS. They do not include any compensation from any contracts with individual teams or their affiliates
OVERALL SPENDING:
Since the lofty expectations of 2015, the Galaxy's payroll has been shrinking.
They were paying nearly $19-million in 2015 with the likes of Robbie Keane and Steven Gerrard. But after the failures of that season, the Galaxy immediately started reeling back the spending. In 2016 the club spent just over $16-million. And in the lowest figure since winning their last MLS Cup, the Galaxy spent just $11.8-million in 2017 amid the worst season in franchise history.
But in 2018, the Galaxy are back to spending a considerable amount of money. Their base salary for this year is $14,799,180. That means they've raised their spending on the base salary side by $2,974,514.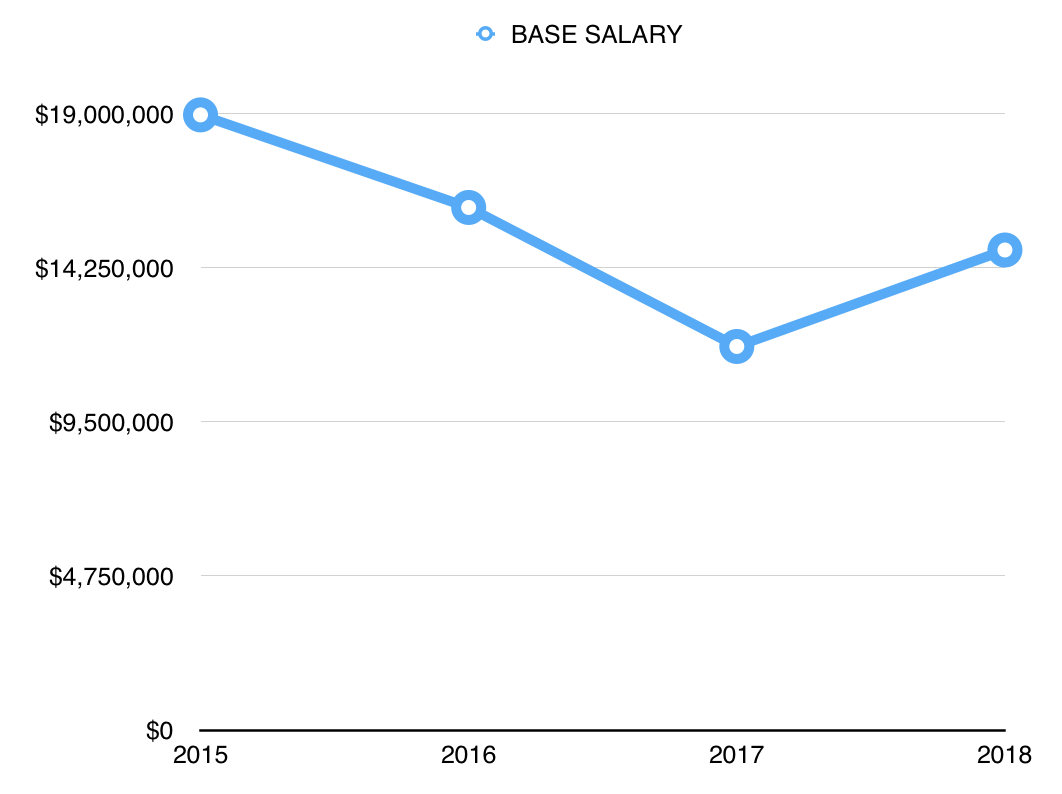 And if you look at the total compensation paid by each team, the Galaxy are now the second highest-spending club in MLS with a full roster of $17,502,008. That puts them well behind the highest-spending club in MLS, Toronto FC. Toronto's total compensation is $26,167,498.
A complete list of total compensation can be found below.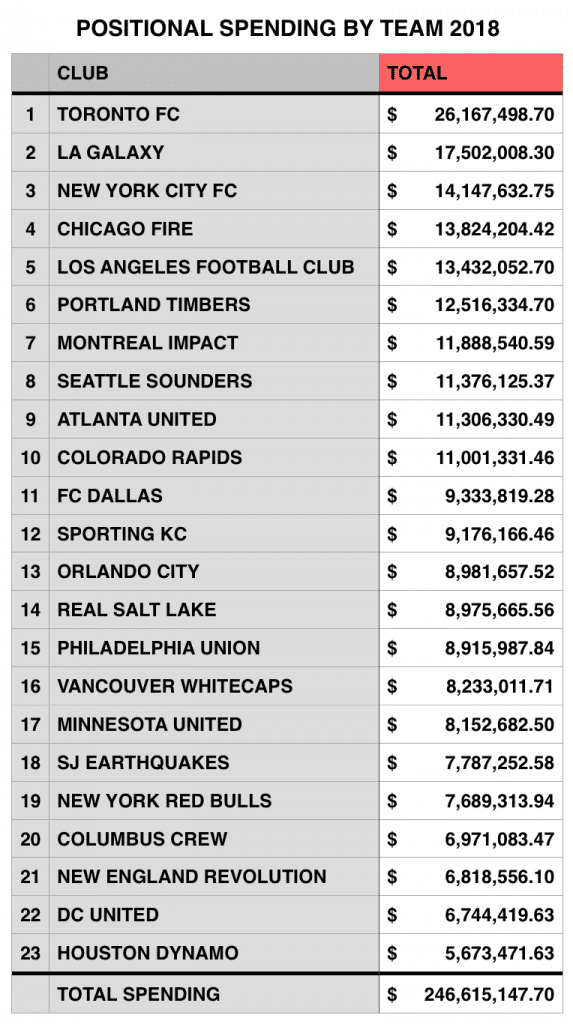 In total, clubs pay out more than $246-million dollars to player salaries this year, and that doesn't account for players whose contracts are paid directly by the league. There are eight such players being paid directly from the league – usually due to expiring contracts and players who have been cut – and account for $2,836,075 that isn't accounted for in any of the above totals.
LA GALAXY MOST EXPENSIVE PLAYERS:
The LA Galaxy have four of the league's top 25 highest paid players. Toronto's Sebastian Giovinco is worth $7,115,555.67 per season with his teammate, US Men's National Teamer Michael Bradley coming in a close second ($6,500,000).
The Galaxy's Giovani dos Santos sits in the fifth position on the list making $6-million a year – seeing his contract rise $500,000 since last year. His brother, Jonathan dos Santos, is the 14th highest paid player in the league earning $2-million a year. Romain Alessandrini earns $1,869,996 a year – a reduction of $129,403.96 from 2017 – and Zlatan Ibrahimovic, the world superstar, earns just $1.5-million a year. Alessandrini and Ibrahimovic sit at the 18th and the 25th positions respectively.
When glancing specifically at the Galaxy's highest-paid players, you can list the four guys above in order, and then continue with that list with Jorgen Skjelvik. Skjelvik will make $1-million a year and is the highest paid defender in the league. CoG correctly pointed that out when he was signed in the offseason and the numbers confirm it.
Next up, is Ola Kamara who recently signed a 3-year contract extension (2 years plus a 1-year option). Kamara clocks in at $925,000 in total compensation and stays a little more than $200,000 over Galaxy defender Ashley Cole who received a significant bump in year-over-year salary – nearly $345,000.
Giovani dos Santos

$6,000,000

Jonathan dos Santos

$2,000,000

Romain Alessandrini

$1,869,996

Zlatan Ibrahimovic

$1,500,000

Jorgen Skjelvik

$1,000,000

Ola Kamara

$925,000

Ashley Cole

$722,499

Michael Ciani

$620,000

Perry Kitchen

$474,166

David Bingham

$275,000
"FUN" SALARY STATS
Giovani dos Santos is the third highest paid Striker in the league and the fifth highest paid player in the league
The Galaxy have four players in the top 25 highest-paid players in the league. (5) Giovani dos Santos, (14) Jonathan dos Santos, (18) Romain Alessandrini, (25) Zlatan Ibrahimovic
The Galaxy have three defenders in Top 25 highest-paid defenders in the league. (1) Jorgen Skjelvik, (10) Ashley Cole, (21) Michael Ciani.
The Galaxy have two players in the top 10 of the highest paid Midfielders in the league. (7) Jonathan dos Santos, (9) Romain Alessandrini.
YEAR OVER YEAR CHANGES:
Another important topic to cover is the year over year changes. Who got raises, who saw their contracts bump up, and who lost some money from year over year.
UP GOES THE CONTRACT
Let's start with players who have either seen their contracts bump them up or their contracts see some improvement. For some players we don't have their salary information from last year and therefore can't directly compare. So for those players that were either with the Galaxy the previous season or with another MLS team last season we can take a look at the year over year increase/decrease.
Giovani dos Santos sees his contract bump up again. It's important that you understand this wasn't a raise given to him because of his performance. Instead, this looks like a planned contract increase. So Giovani dos Santos sees his total compensation go from $5.5 million in 2017 to $6.0 million in 2018. The increase of $500,000 keeps him as the highest paid player on the team by a significant margin.
Kamara is next on the list with an increase in salary of $442,500 from last year. His $925,000 salary for 2018 nearly doubles his take from 2017 when he was with the Columbus Crew ($482,500).
Ashley Cole is next on the list with an increase from last season of $344,874.98. If you remember there was a lot of talk in 2016 and 2017 of Cole being promised more money when he joined the club by then head coach and general manager Bruce Arena. With Arena's departure, the Galaxy failed to hold up to their end of the bargain. This increase is most likely a make-up for how they treated Cole and you can tell there's something significant to it. Cole's base salary is $450,000 – an increase of $100,000 from 2017. But his guaranteed compensation, which could include bonus money that is guaranteed, tops out at $722,499.98.
It has always been assumed that Salary Cap determinations come from the Base Salaries, in most cases. So it seems the Galaxy have found a way to keep Cole below the TAM threshold but have bonused him an increase of $344,874.98. That's more of a deduction than anything else, but Ashley Cole has been well taken care of this year and clearly is receiving some back payments for what the Galaxy have paid him previously.
João Pedro is next on the increase list making $240,996 in 2018 which gives him an increase of just shy of $100,000 from 2017. This is another contracted salary bump and not indicative of his production last year. But for a guy who is currently the odd man out, and for a player the Galaxy spent close to $1.5 million on for a transfer fee, he's one of the more questionable numbers on this entire list.
Finally, we get to David Bingham. The former San Jose Earthquakes 'keeper was on the outs in the Bay Area and was riding the bench for the second half of last season. But that didn't keep him from getting a raise in a league that was short on experienced, domestic goalkeeping talent. Bingham sees an increase of $77,250.04 from his 2017 deal with SJ.
Giovani dos Santos

+$500,000

Ola Kamara

+$442,500

Ashley Cole

+$344,875

João Pedro

+$99,996

David Bingham

+$77,250
WHERE'D THE MONEY GO?
We'll close this section by looking at three players who have seen their contracts come down from what they were paid previously. Not on this list is Zlatan Ibrahimovic. Because we can't confirm his exact salary from Manchester United we'll leave him out. But clearly, he's the guy who took the biggest pay cut by a mile! We're talking somewhere around a $20 million loss from year to year.
Servando Carrasco was picked up in the second round of the 2017 MLS Re-entry Draft by the Galaxy from Orlando City. Orlando was paying him $114,996. But the Galaxy were able to secure the midfielder's services for $67,500 – the league minimum. That means Carrasco lost $47,496 from last year.
Romain Alessandrini is next up on the list and this one is a head-scratcher. Alessandrini was the Galaxy's best player in 2017 and if anything deserved a raise. But there seems to be something in his contract that accounts for this regression. Perhaps the Galaxy front-loaded the contract at a time where they had the cap space and the contract will decrease over the years.
But Alessandrin sees a year over year decrease from 2017 to 2018 of $129,404. He's still the club's third highest-paid player but it's an odd situation to see and one that seems to come down to contract mechanics.
Finally, we get Galaxy midfielder, Chris Pontius. Pontius joined the Galaxy from the Philadelphia Union. With the Union, he made $431,000 in 2017. With the Galaxy in 2018, his total Salary decreased by $256,000.
Pontius made his interest in coming home to Los Angeles pretty well known and this seems like a situation of an older player getting to pick where he plays. It also meant that Pontius would see a significant decrease in his wages and that's what ended up happening.
Chris Pontius

-$256,000

Romain Alessandrini

-$129,404

Servando Carrasco

-$47,496
POSITIONAL SPENDING:
We already know that the Galaxy have the second highest payroll in MLS. But where are they spending that money and what effect is it having on the club.
In 2017, the franchise was widely panned by what seemed to be a cost-savings program that crippled the Galaxy's depth and saw them finish at the bottom of the table. To their credit, they've significantly increased spending in 2018. But the results, so far, have been anything but improved.
Per the MLSPU positional designations, CoG constructed a list that was categorized by position. In other words, how much did each team spend on the four different segments of the team – Forwards (F), Midfielders (M), Defense (D), and Goal Keeping (GK).
When it comes to the forwards, the Galaxy sit in second overall having spent $8,870,264.96 on those positions in total compensation. Only Toronto outspends the Galaxy there and by a significant margin.
But for all their spending, the Galaxy have an offense that is ranked 13th in the league and have only scored 12 goals on the season.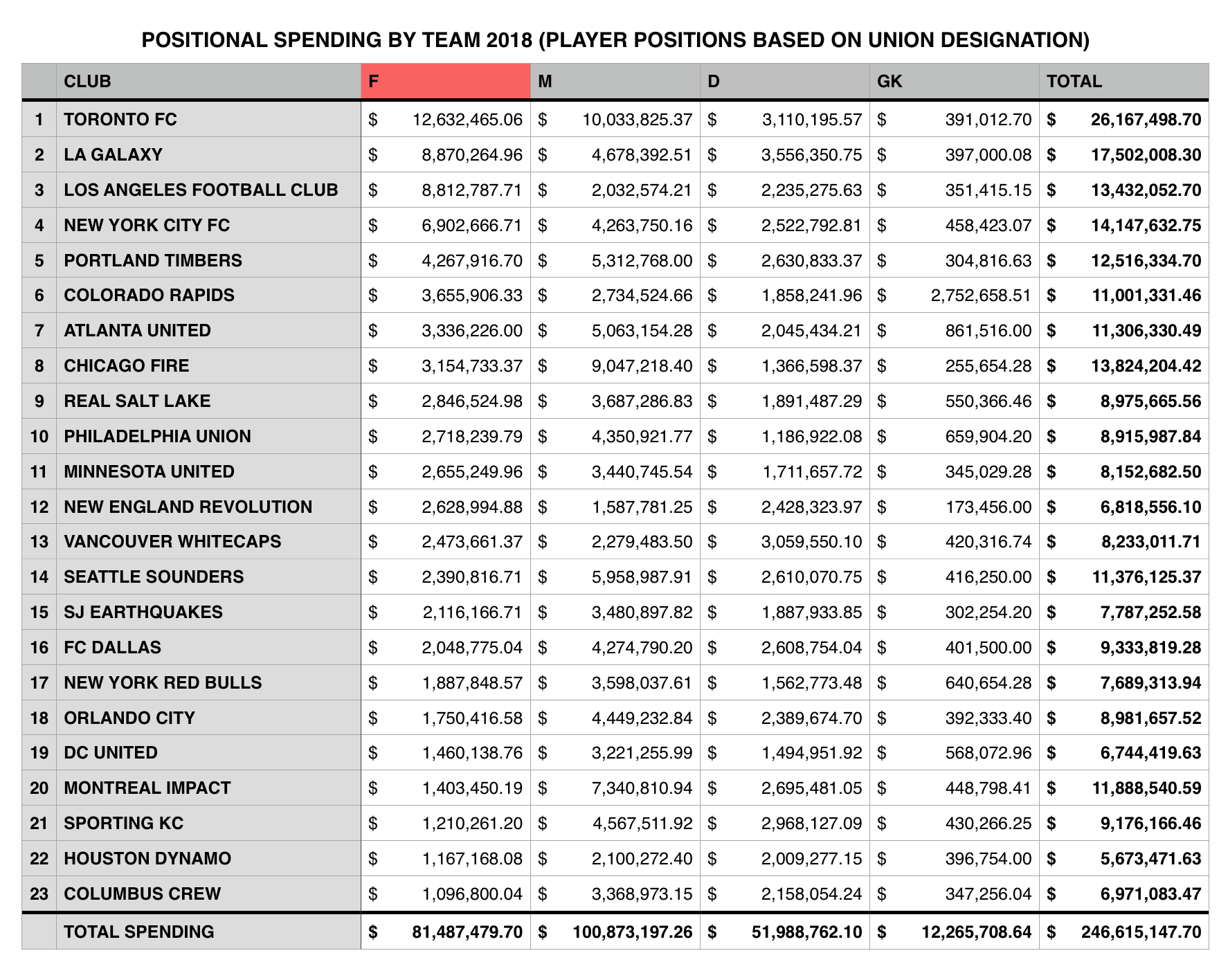 Next, let's shift our focus to the midfield. The Galaxy spend $4,678,392,51 on the midfield and that puts that 7th in the league in terms of spending on the center of the field. And you most certainly could blame the subpar play from some of the midfielders as a reason the Galaxy ranking near the middle of the table in both offense and defense.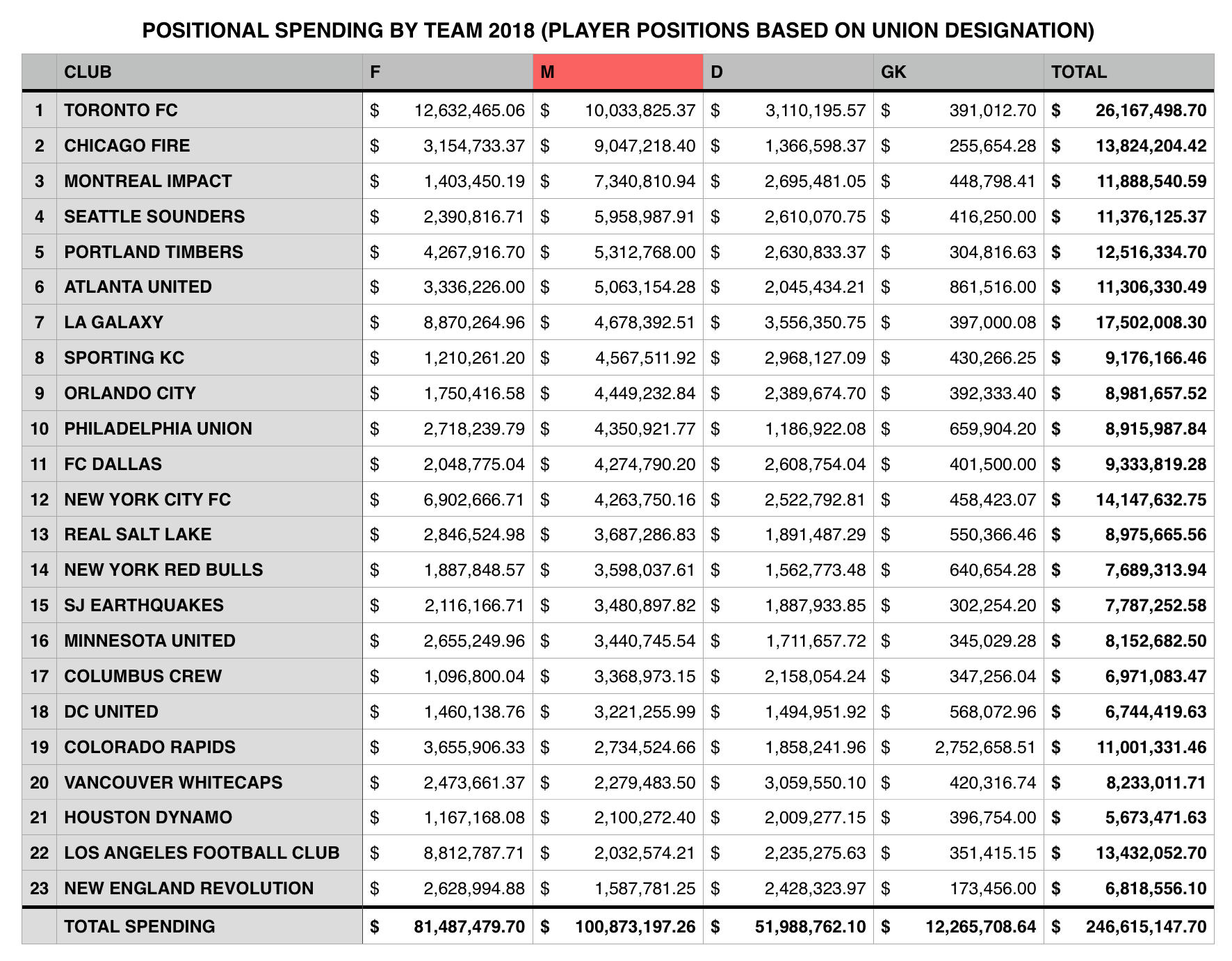 The most shocking number comes when you compare the Galaxy's spending on defense to the rest of the league.
The Galaxy have the highest payroll for defenders in the league and currently sit 18th in terms of the best defense. That's despite spending $3,556,350.75. But is it really a surprise when you have Skjelvik making $1-million a year and Ciani making $620,000?
Last year the Galaxy were rightfully taken to task as not investing enough money into the defense. This year, with significant investments in the defense, that argument no longer holds true. But the smartness of how they spent that money should certainly be questioned.
On the year the Galaxy have allowed 16 goals. Only five other teams in the league keep the Galaxy from mounting the bottom of the table in defense and those teams didn't spend nearly as much as the Galaxy.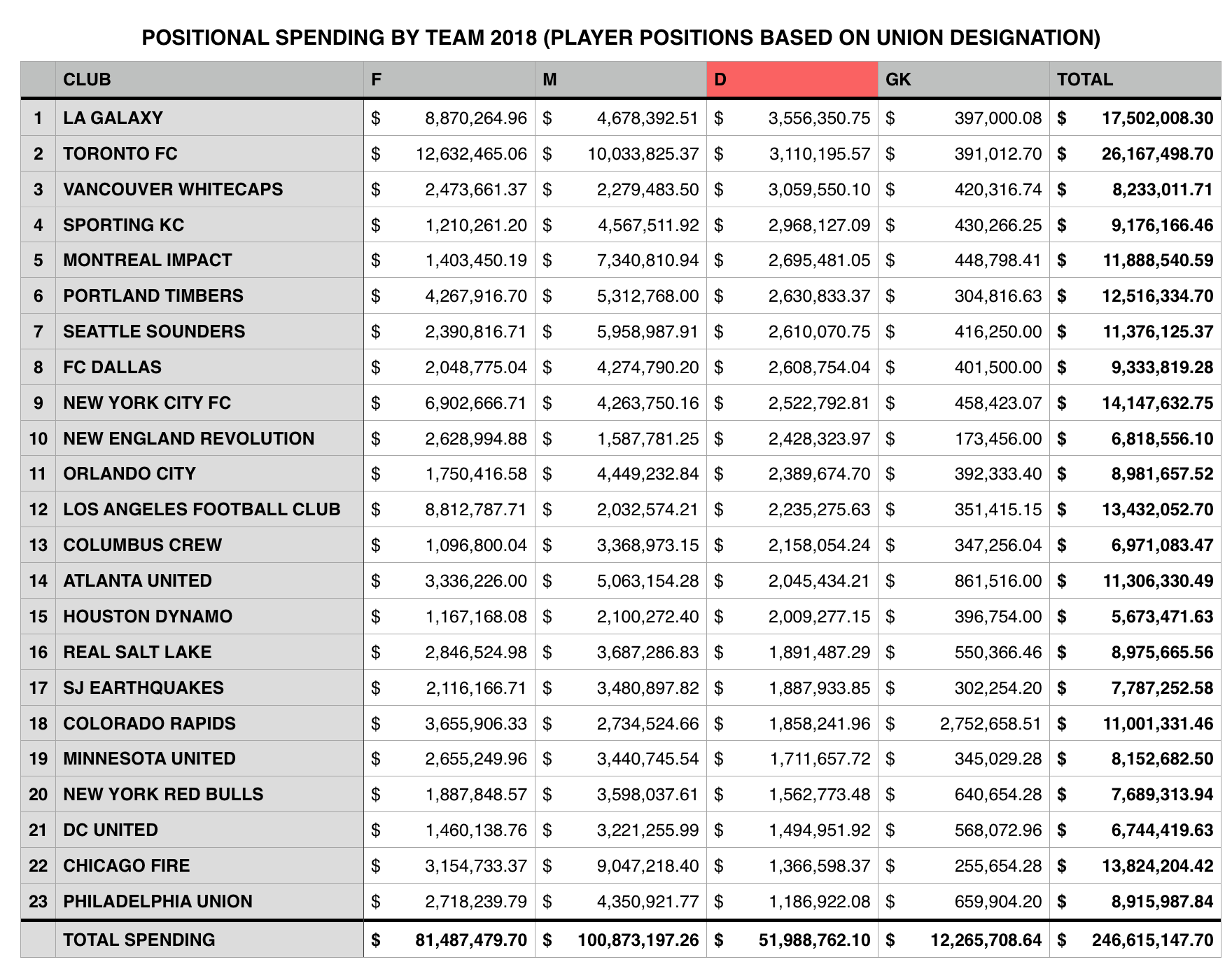 To finish out the positional spending, we'll also include the GK spending where the club spends the 13th most on that position in the league – $397,000.08.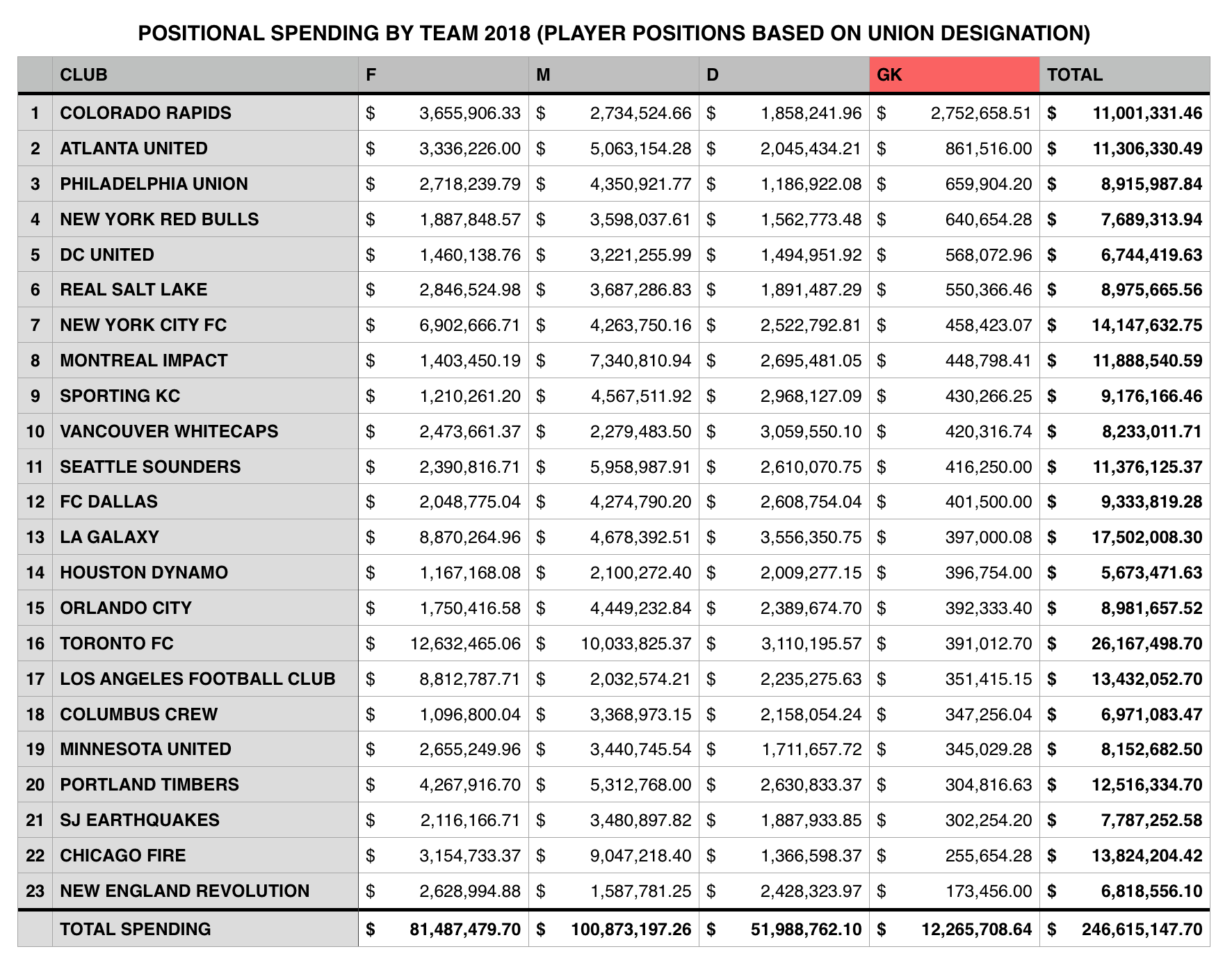 Below, you'll find the LA Galaxy's complete roster with salary information included. This is information collected from the MLS Players Union Survey.