The LA Galaxy may be in the midst of a World Cup break, but that hasn't stopped the club from making a roster move ahead of their US Open Cup matchup with the Portland Timbers on Friday (8 p.m.; LAGalaxy.com).
The club announced on Thursday that it had signed veteran defender Sheanon Williams to the roster while releasing former Sacramento Republic defender Emrah Klimenta.
Williams, a 28-year-old defender formerly of the Vancouver Whitecaps, Houston Dynamo, and Philadelphia Union, has made 192 appearances, has scored seven goals, and has added 25 assists, as he enters his ninth season in Major League Soccer at the right-back position.
But he hasn't played since September 27, 2017, where he went a full 90 minutes for the Whitecaps in a 3-0 loss at the Seattle Sounders.
"Sheanon is a player that adds valuable MLS experience to our backline at a position of need," said LA Galaxy Head Coach Sigi Schmid. "We believe he will bolster our right back position and we are excited to add him to our roster."
Williams, at 5-foot-11, was briefly mentioned by Schmid in May after he was spotted trialing with the club at that time. But that trail turned cold until the announcement on Thursday.
Williams also voluntarily entered the league's Substance Abuse and Behavioral Health (SABH) program and was assessed by program doctors after an assault charge was brought against him in the summer of 2017. However, those charges were stayed by the British Columbia prosecutors and the case seems to have been put on hold.
He was suspended by the League pending their own internal investigation, as well as the active police investigation and was reinstated after the conclusion of those investigations and the SABH program.
However, the B.C. Prosecution Service has one year to re-file charges. That year expires on June 19 or 20 of this year.
Internationally, Williams has played in two youth World Cups. In 2007 he was part of the U.S. team at U-17 World Cup in South Korea, and, in 2009 was part of the U-20 World Cup in Egypt.
Williams will be available for selection for Friday's US Open Cup match.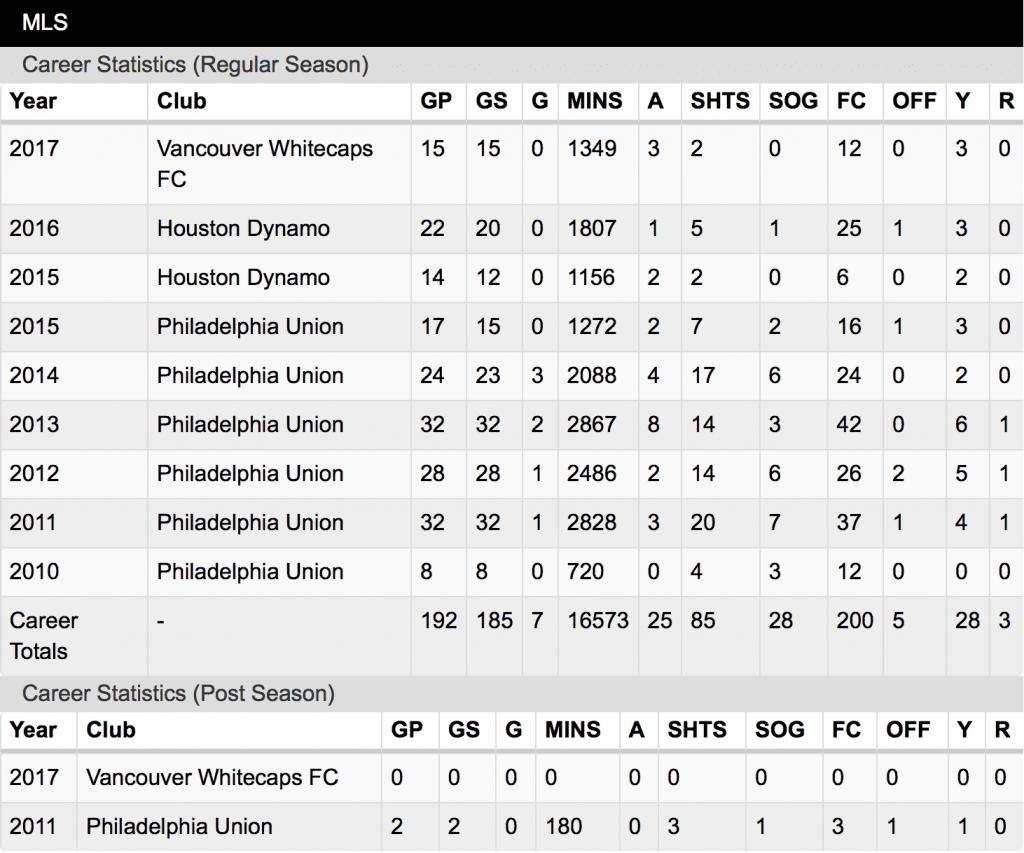 KLIMENTA
On the other side of this transaction, Klimenta had a rough go of his brief time with the Galaxy. Starting and playing in just two games on the season (and one US Open Cup match), he amassed just 156 minutes and seemed overwhelmed by his top-flight experience.
The Montenegran International was held off the field for most of the season even as the starting right-back, Rolf Feltscher, was placed on the disabled list with a torn pectoral muscle.
Klimenta was signed on January 16 of this year ahead fo the Galaxy's season and was added to the roster to back up Feltscher at right-back. Corner of the Galaxy was the first to announce his signing.
"We thank Emrah for his contributions," Schmid said in a team press release. "And wish him the best of luck."
LA Galaxy sign defender Sheanon Williams; LA Galaxy release defender Emrah Klimenta
PLAYER BIO
Name: Sheanon Williams
Pronunciation: SHAY-non
Position: Defender
Height: 5'11"
Weight: 170 lbs.
Born: 3/17/1990
Age: 28
Last Club: Vancouver Whitecaps FC (MLS)
Birthplace: Boston, MA
Nationality: United States