On today's show, your hosts dig into the big items that came out of the LA Galaxy victory over Orlando City and they try and decide if this team is a contender!
CoG Studios, CA — The LA Galaxy kept their unbeaten streak alive by taking down Orlando City in another exciting game at StubHub Center. But continued defensive issued once again marred a Galaxy victory and there may not be any answers to this puzzle!
On today's show, your hosts Josh Guesman and LA Times soccer reporter Kevin Baxter are back to go back over all the good and the bad from that game and try and decide if the Galaxy should make some moves to make the defense better, or ride the wave of results to the playoffs. Coul they even be considered contenders at this point?
First, Zlatan Ibrahimovic had another huge game for the club. His first Galaxy hat-trick follows another big Galaxy name. And it's been quite some time since someone in the blue, white, and gold put three into the back of the net in a single game.
Josh and Kevin will next look at Giovani dos Santos and how the Mexican National teamer has been playing much better over the last couple of games. He scored a goal, assisted on another, and generally looked to be an important piece of the Galaxy's unlocking of Orlando. But is his self-imposed press exile hurting him with the fans, the league, and the press? Should the most expensive player on the field be able to shrug off his post-game responsibilities?
Finally, the guys will look at the other impact players like Sebastian Lletget, Perry Kitchen, and Ola Kamara and see how they rubbed this game the right or wrong way. And does Sigi Schmid deserve some serious praise in how he's reconstructed the roster and how he makes his halftime adjustments?
We've got 75 minutes of Galaxy-Talk headed your way! Don't miss it!
Music Provided by Back Pocket Memory
PANDA & PATO IN THE MORNING T-SHIRTS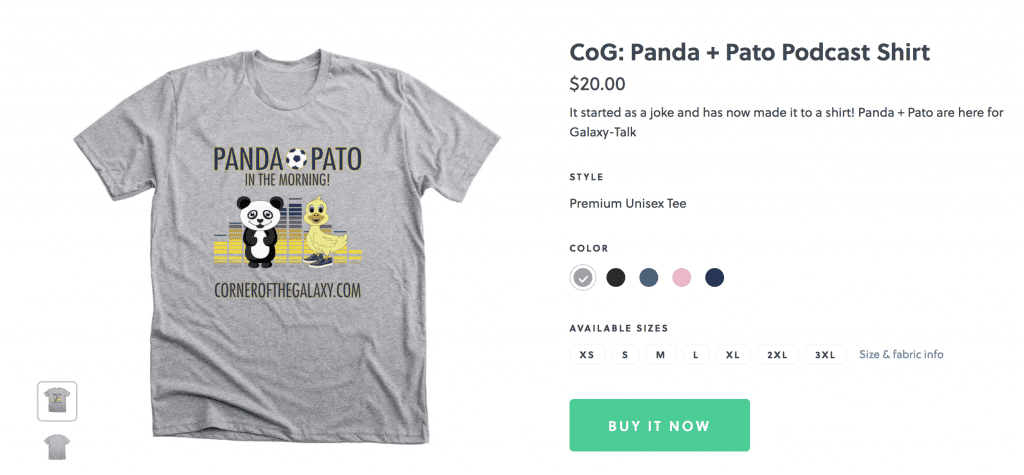 CORNER OF THE GALAXY
ITUNESSTITCHERSOUNDCLOUDYOUTUBE
MUSIC PROVIDED BY BACK POCKET MEMORY