CARSON, Calif. – "We know it's a must-win, but we can't add extra pressure on ourselves," LA Galaxy midfielder Sebastian Lletget explained ahead of Friday's clash with LAFC at StubHub Center (7:30 p.m.; ESPN, ESPN Deportes).
"We have to keep calm and just get the job done."
Keeping calm might be a much more difficult task than Lletget or his teammates had in mind as they enter the third, and final, El Tráfico of the 2018 regular season.
And keeping calm will be especially more challenging coming off last weekend's 5-0 loss to the Seattle Sounders. It was a game in which the Galaxy played without 68 percent of their team salary while four injured starters and Zlatan Ibrahimovic, who chose not to play on turf, sat at home in Los Angeles.
"It would be hard for me to believe any team has had their (designated players) miss more games than we've had," Galaxy head coach Sigi Schmid said after training this week.
"But the most frustrating thing about it is because of the constant change in lineups and personnel. You're shifting things around. We get Rolf (Feltscher) back and we say, 'Ok, we're close to being healthy,' and we lose four guys.
"Now you're starting off again."
The Galaxy (10-9-7) are 0-2-2 in their last four games and failed to convert three of those results into victories after scoring first (0-1-2), thereby allowing two league bottom-feeders (Colorado and Minnesota) to steal unlikely draws at StubHub Center.
They also picked up injuries to all three designated players – Romain Alessandrini (knee bruise), Giovani dos Santos (grade 2 quad strain) and Jonathan dos Santos (grade 1 groin strain) – and Michael Ciani (hamstring) in those games.
Of the four injured players, only Jonathan dos Santos' playing status remains up in the air. But Alessandrini, Ciani and Giovani dos Santos all will miss Friday's clash, Schmid said.
Meanwhile, LAFC (12-7-6) enters the match with a two-game win streak and is coming off a 2-0 victory last weekend over the same Rapids team that troubled the Galaxy in the last few weeks with a win and a draw.
LAFC, however, is 1-4-1 in their last six road games and has been outscored 16-10 in those losses. They are led by forward Carlos Vela, who has eight goals and seven assists. His goal total is topped only by teammate Adama Diomande, who has nine and poses a real threat with speed and his ability to outwork a defense.
It was Vela who twice scored the opening goal in the previous two matchups with the Galaxy. He scored in the fifth minute in the first meeting between the clubs and did it again in the seventh minute in the recent rematch.
LAFC, much like the Galaxy, has given up more than its fair share of goals. The Galaxy currently has the fifth-worst defense in the league (47 goals conceded); LAFC is 12th overall with 39 goals allowed.
LAFC also should enter Friday's matchup with a healthy roster, something that should harken back to the first meeting between the clubs. LAFC jumped out to a 3-0 lead without a single designated player available for the Galaxy.
The lead didn't hold up, thanks to Ibrahimovic's memorable MLS debut and four consecutive goals.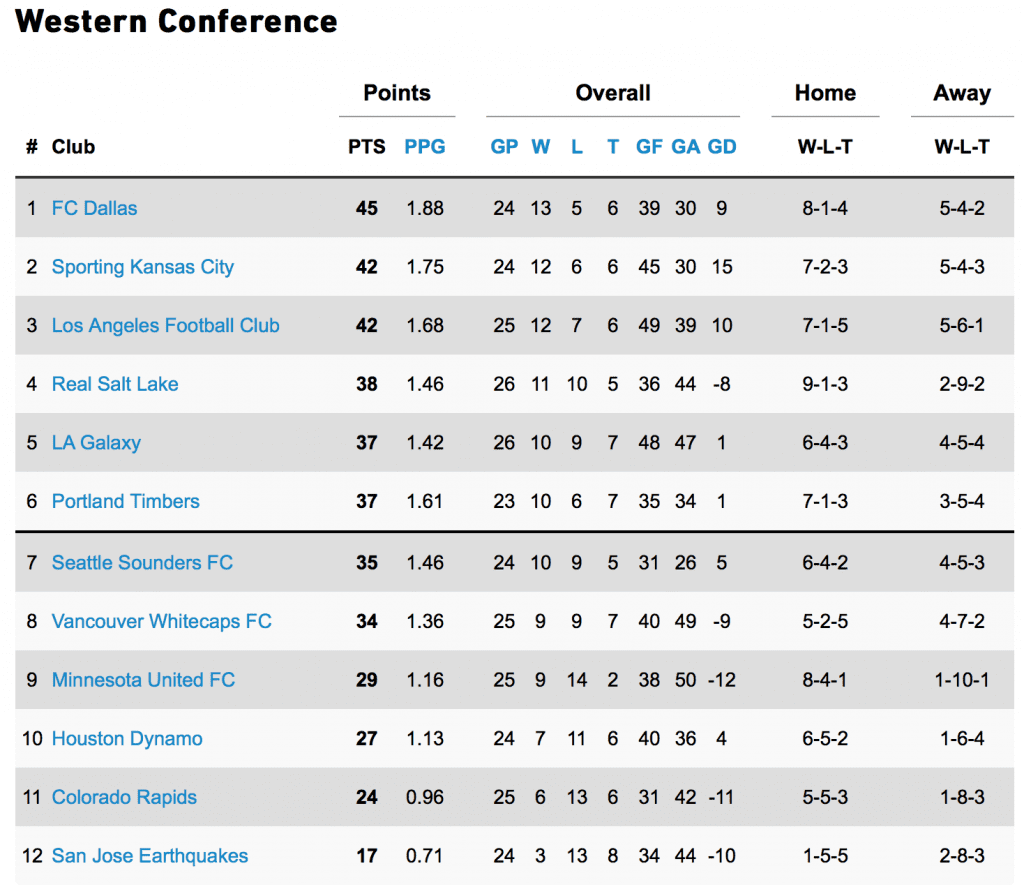 The Galaxy likely faces another uphill battle on Friday. They are fifth in the Western Conference with 37 points, have played one more game than almost every other team in the conference and their points per game (1.42) puts them seventh behind Real Salt Lake (1.46), Seattle (1.46) and Portland (1.61) and out of the playoffs.
"I don't like to call games must-win games," Schmid said. "That's just me personally. It's an important game for us and we need to get points. It's a home game, it's a rival, and we need to continue to move up the standings.
"We gave away four points at home in games against Minnesota and Colorado, but then we also gained some points in New England and so forth that people didn't think we were going to get.
"It evens out a little bit," he went on. "It's important for us to get maximum points at home."
Ibrahimovic viewed Friday's game as an intriguing one, despite the brief history between the sides.
"I think it's a big game," he said. "The rivalry between Galaxy and LAFC is still fresh. It's the third game, everything is new, things have to settle. This is the first season for them.
"But by time, by the years, it will be more heated. The buildup, the surrounding atmosphere, that will come."
One thing is certain: a playoff atmosphere will be in full swing before kickoff at StubHub Center.
"The sense of urgency is there, certainly," Schmid said of the remaining games. "We see the tables, we see the point totals, we see the tightness that exists between spots three and eight, so we know we're in for a battle."
Schmid, always one to try and keep everything in perspective, didn't think the game meant more than their ultimate goal of reaching the postseason.
"For us, our number one objective is to make the playoffs," he said. "I don't want to lose this game, for sure, and we want to win the series. But at the end of the day if winning the series means not making the playoffs we'd rather make the playoffs and not win the series."
Any loss for the Galaxy in their remaining eight games will deal a serious blow to their playoff chances. And losing to LAFC doesn't appear to be an option for the club.
"There's more hostility," Lletget said about the relationship between the Galaxy and LAFC. "I think it's only going to get bigger and better in that sense. I think it's just going to thicken even more as we play more games.
"You can't ask for more from the first two games. We just want to win this game whichever way that happens."
Larry Morgan contributed to this article.