CARSON, Calif. – It's been a difficult week for the LA Galaxy.
Monday's announcement that head coach Sigi Schmid was leaving the club threw any game preparation for Saturday's match against Toronto FC (4:30 p.m.; SpectrumSN, Spectrum Deportes) into disarray. And with interim head coach Dominic Kinnear taking the helm, there are bound to be questions about how focused he can get this team.
"If you have 700 games, 499 goals you focus on only one thing – that's playing the game and doing your job," the Galaxy's Zlatan Ibrahimovic told reporters. "I've been doing this for 25 years. Whatever happens on the side I still have to do my thing on the pitch. And I just repeat what I've been doing before – play the games, create, score the goals.
"It cannot be a distraction," he continued. "You have to be mentally focused on what you need to do. For me, it's not a distraction."
The Galaxy (10-10-8) are winless in their last six games and haven't secured three points from a match since July 29 at StubHub Center, when they defeated Orlando City 4-3. Since then the Galaxy have been outscored 18-8, including 13-3 in three road games.
Not surprisingly, for a defense that ranks second-worst in the league, the Galaxy have allowed 11 goals in their last two outings.
But the Galaxy are 4-6-4 on the road in 2018 and are entering a critical stage of the season. The goal is simple: win as many games as possible and hope they can sneak into the playoffs – even if FiveThirtyEight.com has their chances of making the postseason at 11 percent headed into the weekend.
Toronto (7-14-6), much like the Galaxy, are suffering from its own inconsistency. One year removed from winning MLS Cup, Toronto has languished at the bottom of the table for most of the year. It currently is ninth in the Eastern Conference and nine points below the playoff line with even slimmer hopes of reaching the postseason (4 percent on FiveThirtyEight.com).
"The last few years they've been doing very well," Ibrahimovic said about Saturday's opponent. "This season, up and down.  They have good players and are playing good football.
"I think it's a big game in MLS. These are games we like to play."
Ibrahimovic will be looking for career goal 500, a milestone he's surely been thinking about while scoring just once in his last four matches. He has 16 goals and eight assists on the season.
If the Galaxy are going to make a playoff run, he'll be the reason why.
The Galaxy defense, on the other hand, will need to be concerned with some giants of MLS. Sebastian Giovinco leads Toronto with 10 goals and 14 assists. It's a down year by his standards, but he'll have every reason to believe he'll be able to slice through the Galaxy defense like so many lesser teams and lesser players have.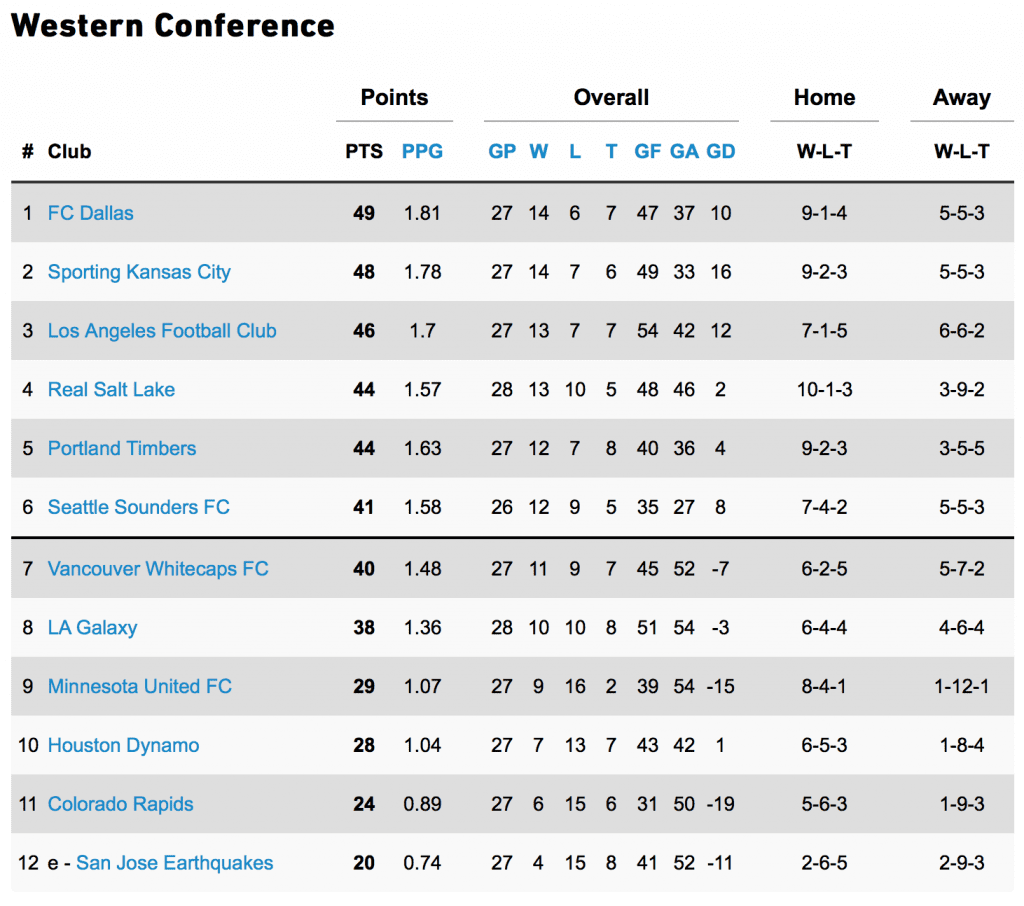 Jozy Altidore and Michael Bradley also will figure into the match. Toronto has a strong spine which matches very nicely against the weak middle the Galaxy usually field. And with Sebastian Lletget, Giovani dos Santos, and Rolf Feltscher all seemingly questionable for Saturday that soft spine and the positions that might need to shift to cover for it could be even more of a target.
"I think the way this season's gone it's been up and down," Galaxy captain Ashley Cole said. "Imagine if we had won five games we had draws, we'd be near the top. It's not impossible. And it starts on Saturday.
"They're a good team and they're fighting for a playoff position as well. So yeah, it's a must-win game for us."
The "must-win" sentiment has rung true throughout the last couple of games. But without wins, it's hard to see it's made much of a difference.
Toronto is the worst team the Galaxy will face in their final six regular-season games. And even being on the road facing the defending MLS Cup champions, it represents a chance for a much-needed three points.
"I think everyone knows the urgency of the situation," Kinnear said. "We don't have the coach that started the season with us. We have six games left, still have a chance to make the playoffs. The only thing we can do the last six games, starting Saturday in Toronto, is just to treat it like you should every game.
"You have to play with pride and play from minute one to 90 and try and win. That's what we need to do these days."
Ibrahimovic, for all his swagger and confidence, is right when he said Saturday's game is an opportunity to be seized. And if it's not, the Galaxy's season realistically could come to a close.
"For me a must-win, no problem," he said. "All the bets on this one? I have no problems with that. Let's win. I'll do my best. We will do our best.
"I like the games when there are a lot of things on the table that matter. This is what you train for, this is what you live for. This moment. We don't want an easy situation. We want it difficult.
"Because when we succeed," he went on, "the feeling of success is even better."
Larry Morgan contributed to this article.