It's unlikely a young Ashley Cole ever thought his career might come to an end under the white, blue, and gold of an LA Galaxy crest on a warm afternoon in Carson. But that may be exactly what happened after the club's 3-2 loss to the Houston Dynamo last Sunday.
After all, Cole made his senior team debut with Arsenal of England's Premier League only three years after the creation of the Galaxy, and it was well before the Galaxy moved to StubHub Center (formerly known as the Home Depot Center).
No, Cole likely was focused on nothing else but cementing his legacy as one of the best left-backs of his generation, or the world for that matter, as he plied his trade with Arsenal (1999-2006) and Chelsea (2006-2014).
When he moved to AS Roma in 2014, few would have expected him to land in Major League Soccer even as reports had him deciding between the states and Italy.
"I have had other offers from the USA," he said after his plane had just landed in Rome, "but I'm not ready to relax on a beach yet."
The comment seemingly cemented his placement in the pantheon of bad MLS takes. But as an older and wiser defender, Cole realized all things happen for a reason.
"I wanted to play Champions League football," he said about joining Roma. "Champions League football or MLS football? You can't compare.
"Then I came here and I've enjoyed it. It's been exactly what I expected. I think I've done well."
He has been a standout for the Galaxy despite joining the club just prior to then-general manager and head coach Bruce Arena's departure for U.S. Soccer and then witnessing a stunning downturn that has seen the club miss the postseason the last two years.
Since joining the club in 2016, he made 86 regular-season appearances and played almost 7,500 minutes. Offensive statistics never tell the story of defenders, but Cole scored three goals for LA – one in each season – and added 12 assists, including a franchise-record (for a defender) 10 this past season.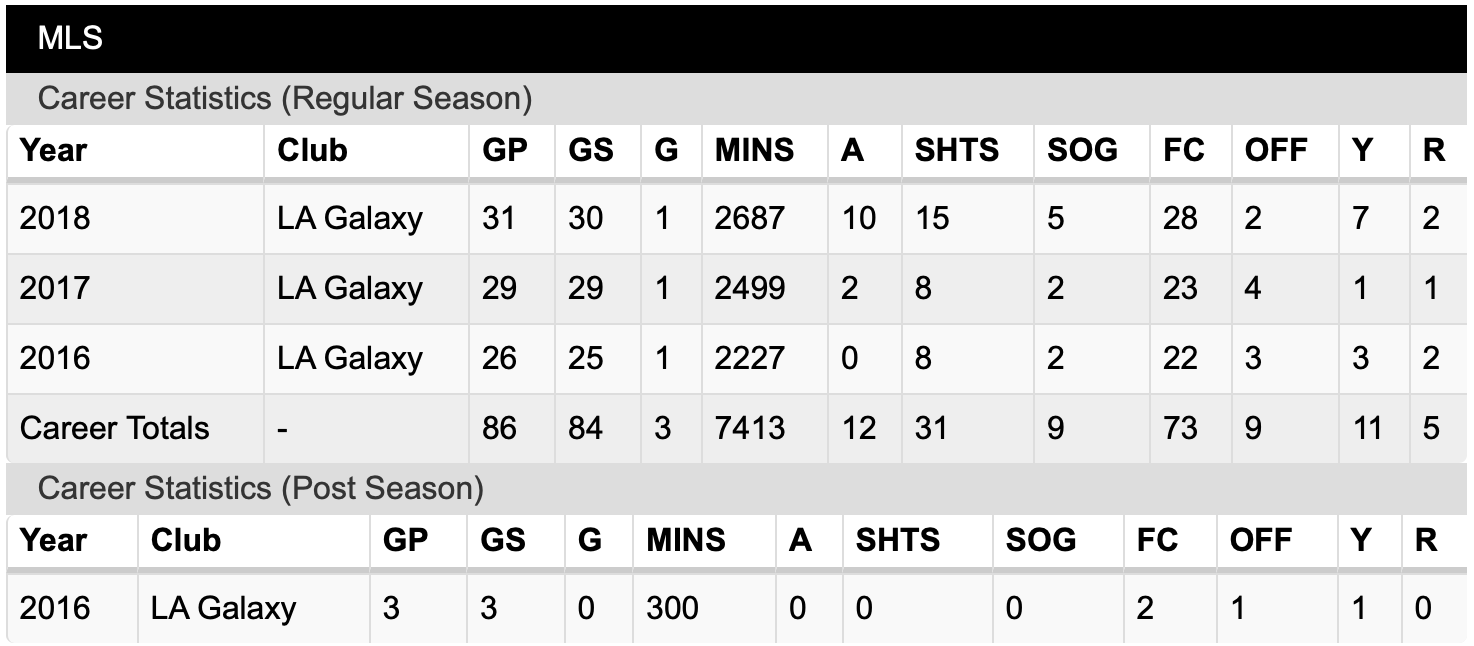 "I met my girlfriend, had two beautiful babies, then we came here and experienced another life, a different culture, a different way of living, quiet … the perfect timing for me to come here," Cole explained. "I never looked back and said, 'I should have come earlier.'
"If I would have come when I was young I would have ripped this league, just letting you know," he said with a grin.
The quiet part of that statement speaks to the longing by the Englishman to do his job and exist in a much softer light than what was cast upon him by the European and English media.
He plays for himself, but that doesn't mean he's selfish. In fact, the opposite is true. He's a quiet, team player who not only grabbed the captain's armband in the last two seasons but helped organize a team that by all accounts was steering endlessly in circles without a rudder and had a divided locker room.
Fan acknowledgment and awards – he recently was named Galaxy Defender of the Year for the second consecutive year – are nice, but that's not why he plays the way he does.
"I don't play for that (fan appreciation)," he admitted. "I love the game. My friends, family … they all appreciate me.
"When I look back, a lot of what I've done is make history. I'm not a player to make a big hooah about me. I'm here to do a job, I'm paid to play and I play."
Sure, it's his job and yes, he loves the game, but he understands the game better than most. He made it clear he's not surprised by the number of assists and goals he's totaled since joining the club.
"You're shocked," he said with a smile. "I was a striker before that until I was probably 15. Then (an Arsenal) youth team player got injured and I went back to left back. I'm not complaining."
Cole won four English Premier League titles, seven FA Cups and one UEFA Champions League trophy with the two London clubs and also accumulated 107 caps for his country – all as a defender.
But Cole's age quietly is creeping up on him and at 37 – he turns 38 at the end of December — he's had to think about the next stage in his life. That can be an uncomfortable spot for players with such long careers, but Cole said he feels there's a direction his future is headed.
"I want to coach. Or go back and work at Chelsea," he said before the recent season finale. "I haven't made my mind up yet 100 percent, but the job is there for me at Chelsea to go back and kind of learn the ropes there.
"At the end of the season, I'll kind of make a decision. I'm not going to rush into it because I still love the game,
I still love playing it.
"Whether I stay here, whether I go back and play in Europe," he continued, "I have that option. With Chelsea, it would be with the youth team. I want to learn the ropes. I don't want to go into a job not knowing the ins and outs, not knowing the full workload I have to do.
"I want to gradually climb the ladder and learn my trade as a coach."
He spoke like a coach when talking about his latest students — Galaxy defenders Dave Romney and Dan Steres.
"If it was me (as a coach), I think I'd sit down with them probably every day," Cole said with a gleam in his eyes. "I enjoy speaking to them. I love how they're willing to listen, willing to learn. Always want to know if it's the right decision to do this, is it the wrong decision?
"I think you've seen in the games, they've been solid. I enjoy helping these guys."
Coaching will have to wait, at least for the moment. Cole hasn't made a decision about his playing future; that much was clear after the Galaxy's season-ending loss to the Dynamo.
When asked if this was his last game with the Galaxy, he shook his head.
"I don't know. I think after today I'm going to sit down and kind of figure out my options," he told reporters. "See if the body can recover, and the head. But we'll see. I'm not going to make my mind up right now."
He was more certain in giving a positive spin on his time with the Galaxy.
"I've loved it," he said. "I think when I first came here, a lot of people probably didn't think I still had the kind of fight and desire to want to be here, want to play. I have to thank people like (former Galaxy head coach and general manager) Bruce Arena. When he brought me here he took a gamble on me, probably … considering the age and that.
"Ever since then, I've tried to work hard in training, help the team on the field, help the players off the field. It's been great. I've loved every minute of it.
"Even though it would have been nice to win," he went on. "I've enjoyed every minute."
Cole, regarded as a hard-nosed defender, paused for some meaningful reflection as it looks as though he's played his last professional football game.
"A little bit sad, you know, walking around the pitch today and not knowing what I'm going to do," he pointed out. "Because the fans, probably at the start, again, didn't take to me because of the comment. And in the end, the reception I got was nice.
"And to win LARS (LA Riot Squad) Player of the Year again probably shows that I've done something good in my three years."
Perhaps it's obligatory that after a full career the past becomes clearer, and steps that were taken early on become more crystallized in the mind. Cole can see where he came from and where he's been and can be happy with that, but who wouldn't like to go back in time and pick the brain of a young striker hell-bent on making it in football and tell him it will all work out?
"My mom looked after me and my brother, a single parent," he confided. "She'd have five jobs to look after us. I'd train everywhere. Meet me straight after school, after her job, to take me to training at Arsenal, then take me home obviously.
"I can picture now where I grew up," he continued, "me playing in a cage where I used to play, to see where I've been, the countries I've seen, players I've played against, it's incredible.
"If it's finished right this second, I can look back and say 'Yeah, I've had a good career playing against the best players in the world.' Never complained."
If this indeed is the end, Cole must feel satisfied. Even if that means relaxing on a beach in fulfilling his notorious "retirement league" comment or teaching the next generation of defenders how to get the job done.
Larry Morgan contributed to this article.