CARSON, Calif. – LA Galaxy striker Zlatan Ibrahimovic has been named Major League Soccer's Newcomer of the Year, the league announced today.
Ibrahimovic scored 22 goals and added 10 assists for the Galaxy in 2018 after joining the club four games into the season. He went on to make 24 starts and came off the bench in three other games en route to totaling more than 2,100 minutes for the club.
The honor was the first in franchise history. Ibrahimovic also finished second in the race for the Golden Boot, which went to Atlanta United's Josef Martinez after he set a league single-season, goal-scoring record with 31 goals. Ibrahimovic became only the third player to post a 20-goal, 10-assist season in MLS history.
The 37-year-old also joined Cristiano Ronaldo and Lionel Messi as the third active player to score 500 career goals for club and country. His combined 32 goals and assists tied him for sixth in league history.
Arguably his most impressive achievement was his comeback from a potentially career-ending injury to his right knee in April of 2017 while playing for Manchester United in a Europa League quarterfinal against Belgian side Anderlecht. Ibrahimovic was sidelined more than seven months, and the injury apparently was so severe he was warned he might not be able to play again.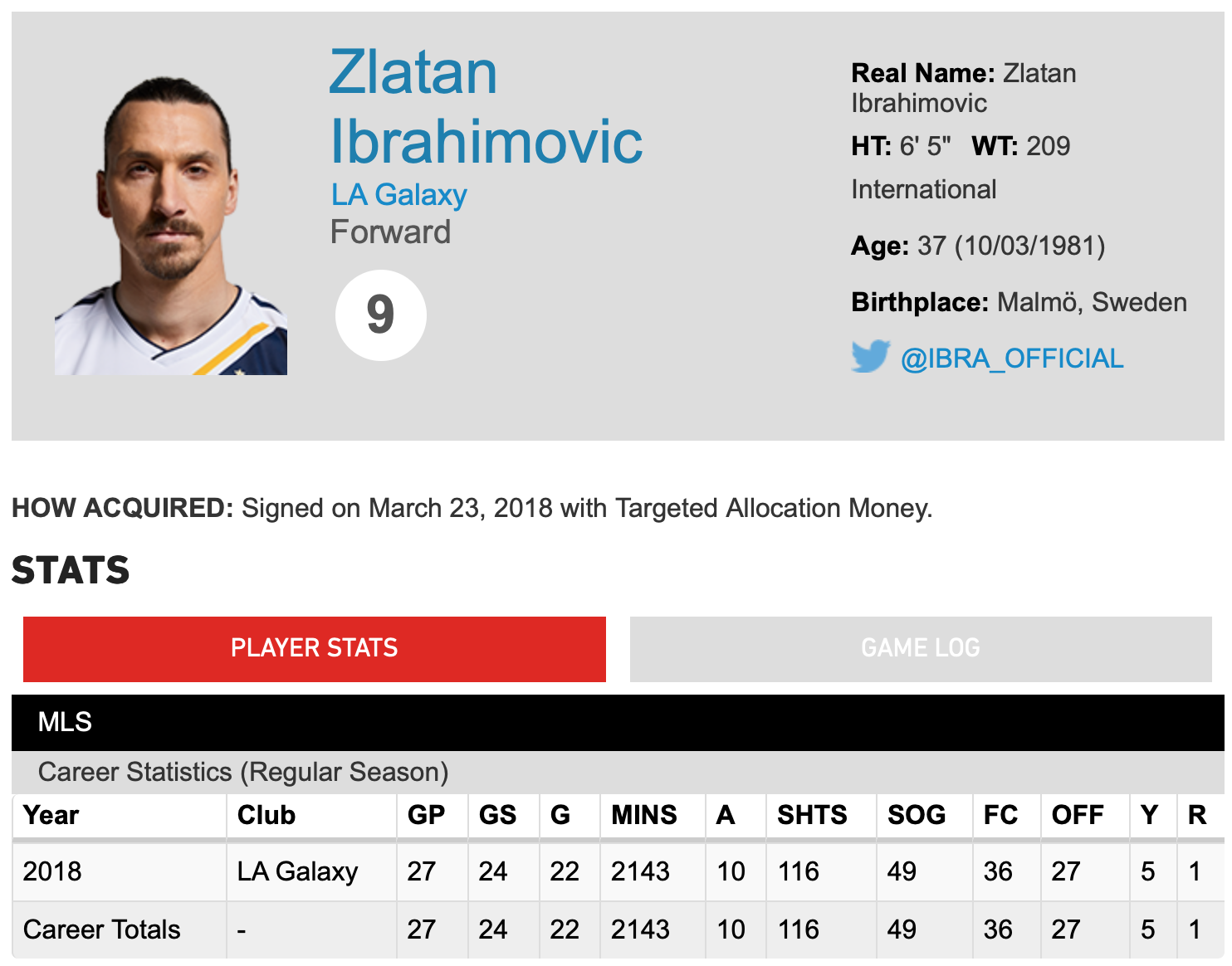 "People judged me, said it's over, you cannot come back from that injury," he told reporters during the Galaxy's final media availability of the season. "That the injury is so bad.
"But I said if I come back, I come back and show the world that I can still play like I did before the injury."
Ibrahimovic beat out a talented group of international stars to claim the newcomer award. Wayne Rooney of DC United and Los Angeles FC's Carlos Vela finished second and third, respectively, in the voting.
Ibrahimovic also was eligible for the Comeback Player of the Year award, which went to former Galaxy forward Gyasi Zardes, now with the Columbus Crew, but he's still in the running for Most Valuable Player. But that honor appears likely to land in the lap of Martinez, thanks to his goal-scoring mark. Additionally, Ibrahimovic was named to the MLS Best XI as named by the league on Sunday.
"This season was important because I played the whole season," Ibrahimovic said. "I didn't do … let's say there are 30 games, I did 15 … no. I did all the games I could play and all the training. There was no training I missed because I could not participate.
"I did everything, and that is what I am happy about. Because I could do a season without breaks or something because of my knee or something else. I was available all the time, so I'm happy for that.
"That means," he went on with a smile, "whenever you need me, I'm here."
Ibrahimovic officially is under contract with the Galaxy for 2019, but it is unclear if the Swedish standout will return. Making sure he does come back figures to be one of the club's top priorities heading into another long off-season.
Written for Corner of the Galaxy by Josh Guesman
Larry Morgan contributed to this article