The LA Galaxy are attempting to clean up the front office and keep Zlatan Ibrahimovic all while navigating the dangers of the MLS silly season. And to do that, they'll need to make some serious moves throughout the offseason that will lead them to some regular season success.
We're bringing together all the important information you need to know. We'll give you the result of each trade, transfer, and draft, and we'll do our best to keep you updated on the latest rumors surrounding the club – complete with a rumor temperature.
We've got it all for you right below. Don't forget to BOOKMARK THIS PAGE so that you can return to it regularly and pay attention to the date right below. That date will tell you when the tracker was last updated and what information was added.
This tracker was last updated on 2.27.19 at 4:31 p.m.
(2.27.19) Added Emil Cuello signing and updated roster
(2.26.19) Updated Kamara rumor with statement from GM
(2.26.19) Updated Ola Kamara rumor to the tracker
MLS OPTION EXERCISE DEADLINE
OPTION EXERCISE DEADLINE (COMPLETED)
Took place on November 26, 2018
Results: In the table below
Galaxy roster now stands at 16 players
Galaxy are likely to re-sign all three out of contract players
Galaxy are likely to re-sign some players from the options declined list
Just because options were declined doesn't keep the Galaxy from renegotiating a contract with that player
Coverage of the Option Exercise Deadline can be found right HERE on CoG!
| | |
| --- | --- |
| OPTIONS DECLINED | Michael Ciani, Brian Sylvestre, Ariel Lassiter, Sheanon Williams, Ashley Cole, Rolf Feltscher, Baggio Husidic, Servando Carrasco |
| OPTIONS EXERCISED | Sebastian Lletget, Daniel Steres, Bradford Jamieson IV, Justin Vom Steeg |
| OUT OF CONTRACT | Dave Romney, Chris Pontius, Emmanuel Boateng |
2018 MLS EXPANSION DRAFT (COMPLETED)
Took place on December 11 at 11 a.m. PT
Galaxy protected 11 players
Some draft rules HERE

While Generation adidas and off-budget Homegrown Players are automatically exempt, eligible MLS clubs may protect up to 11 players from selection in the Expansion Draft.
The list of players available for selection in the Expansion Draft will be released by MLS Communications on Dec. 10.
FC Cincinnati may select up to five players from the eligible MLS player pool. Only a single player can be drafted from any one club.
Below you'll find the list of protected and unprotected Galaxy players for the MLS Expansion Draft. The club can protect 11 players. DP's must be protected if they have a no-trade clause. HG's are exempt from the Expansion Draft. Players who had their options declined can still be protected in order to maintain the rights of the club to that player. Players who are out of contract are also protected for that reason.
LIST OF PROTECTED/UNPROTECTED PLAYERS:
NOTES ON THE LIST:
The only difference from the list the Galaxy put out and our original projected protected list is that Chris Pontius, who is a free agent this year, was left unprotected and Daniel Steres is left protected.
Pontius is a Free Agent and even if FCC selected him, they'd still have to negotiate for him to come to their team. So picking him doesn't mean anything and it's unlikely that FCC would gamble on him.
As for other "big names," Skjelvik's salary would preclude FCC from taking him. The same is probably true for Kitchen. Either way, the Galaxy would be okay with losing either player.
Hilliard-Arce is under supplemental roster designation. If FCC were to choose Hilliard-Arce they'd need to guarantee him a senior roster spot. Usually, teams don't pick up supplemental players and guarantee them that senior spot. So he's unlikely to be picked.
RESULTS OF EXPANSION DRAFT:
No Galaxy players were selected in the 2018 Expansion Draft by FC Cincinnati.
| ROUND | PLAYER | FROM | NOTE |
| --- | --- | --- | --- |
| 1 | Darron Mattocks | DC United | |
| 2 | Kei Kamara | Vancouver Whitecaps | Traded to Colorado for INTL slot |
| 3 | Roland Lamah | FC Dallas | |
| 4 | Eric Alexander | Houston Dynamo | |
| 5 | Hassan Ndam | New York Red bull | |
2018 MLS WAIVER DRAFT (COMPLETED)
Took place on December 12, 2018, at 1 p.m. PT

Consisting of players who have been waived by clubs and do not meet minimum years of service requirement for Re-Entry Draft or Free Agency; the Waiver Draft is conducted in reverse order of 2018 season finish, taking into account postseason performance, with expansion FC Cincinnati selecting last.
The list of players eligible for selection in Waiver Draft will be released by MLS Communications by 7 p.m. ET on Dec. 11.
MLS WAIVER DRAFT RESULTS:
The LA Galaxy did not select a player in the MLS Waiver Draft. In total, only four players were selected. Results below.
| PLAYER SELECTED | TEAM FROM | TEAM TO | NOTES |
| --- | --- | --- | --- |
| Marcus Epps | Philadelphia Union | New York Red bulls | NYRB made a trade with SJ to acquire the no. 1 selection |
| Cristian Martinez | Columbus Crew | Chicago Fire | |
| Marco Ureña | LAFC | Chicago Fire | |
| Ricky Lopez-Espin | Real Salt Lake | LAFC | |
2018 MLS RE-ENTRY DRAFT STAGE 1 (COMPLETED)
Took place on December 14, 2018, at 12 p.m. PT

The Re-Entry Draft (both stages) is conducted in reverse order of 2018 season finish, taking into account postseason performance, with expansion club FC Cincinnati selecting last.
The list of players eligible for selection in the Re-Entry Draft – Stage 1 will be released by MLS Communications by 7 p.m. ET on Dec. 13.
MLS RE-ENTRY DRAFT STAGE 1 RESULTS:
Only three players were selected in Stage 1 of the Re-Entry Draft. The LA Galaxy did not make a selection.
| PLAYER SELECTED | TEAM FROM | TEAM TO | NOTES |
| --- | --- | --- | --- |
| Nick DeLeon | DC United | Toronto FC | |
| Andre Rawls | New York City FC | Colorado Rapids | |
| Donny Toia | Orlando City SC | Real Salt Lake | |
2018 MLS RE-ENTRY DRAFT STAGE 2 (COMPLETED)
Took place on December 20, 2018, at 11 a.m. PT

Teams selecting players in Stage 2 may negotiate new contracts with the player.
The list of players eligible for selection in the Re-Entry Draft – Stage 1 will be released by MLS Communications at 7 p.m. ET on Dec. 19.
MLS RE-ENTRY DRAFT STAGE 2 RESULTS:
Only two players were selected via the second stage of the Re-Entry Draft. The LA Galaxy selected 29-year-old goalkeeper, Matt Lampson and the Houston Dynamo selected 27-year-old Tommy McNamara.
Lampson will enter his eighth professional season in 2019 having played for the Columbus Crew (2012-2015), the Chicago Fire (2016-2017) and Minnesota United (2018).
He's played in 60 games (58 starts), racked up 5,270 minutes, and has made 194 saves for a record of 24-26-9.
Lampson is likely to backup Galaxy goalkeeper David Bingham who started every game for the club in 2018. The Galaxy also continue to keep goalkeeper Justin Vom Steeg on the roster as well.
The Galaxy will get to negotiate a new contract with Lampson and have seven days to issue the player a genuine offer. The offer would then ensure the Galaxy keep the rights to Lampson even if he decided not to sign with the club.
| PLAYER SELECTED | TEAM FROM | TEAM TO | NOTES |
| --- | --- | --- | --- |
| Tommy McNamara | New York City FC | Houston Dynamo | |
| Matt Lampson | Minnesota United FC | LA Galaxy | |
2019 MLS SUPERDRAFT (COMPLETED)
The 2019 MLS SuperDraft will take place on January 11 at McCormick Place in Chicago, Illinois. That will follow the 2019 MLS Combine which returns Jan. 3-9 to Orlando City Stadium, host of 2019 MLS All-Star Game.
The LA Galaxy have the following picks in the MLS SuperDraft: (All picks are up to date as of 12.27.18)
| ROUND | PICK (ROUND) | PICK (OVERALL) | PLAYER | POSITION | PREVIOUS CLUB | NOTE |
| --- | --- | --- | --- | --- | --- | --- |
| 1 | 12 | 12 | TRADE | TRADE | TRADE | Galaxy trade the 12th pick in the 1st round to NYCFC for the 19th pick in the 1st round and $75K in GAM |
| 1 | 19 | 19 | Emil Cuello | Midfield | Southern Methodist University | Received from NYCFC in 2019 |
| 2 | 12 | 36 | Don Tchilao | Forward | Oregon State University | NATURAL SELECTION |
| 3 | 3 | 51 | PASS | | | ACQUIRED FROM ORL ON 12.27.17 |
| 3 | 4 | 52 | PASS | | | ACQUIRED FROM COL ON 12.14.17 |
| 3 | 12 | 60 | PASS | | | NATURAL SELECTION |
| 4 | 14 | 86 | PASS | | | ACQUIRED FROM DCU ON 12.12.16 |
Name: Emil Cuello
Position: Midfielder
Height: 5-11
Weight: 165 lbs.
Born: Jan. 2, 1997
Age: 22
Last Club: Southern Methodist University
Hometown: Orem, Utah
Nationality: United States
Welcome to Los Angeles, Emil Cuello 🌟⚽🌴 pic.twitter.com/PA1tj2OQqT

— LA Galaxy (@LAGalaxy) January 11, 2019
Name: Don Tchilao
Position: Forward
Height: 6'0"
Weight: 175 lbs.
Born: Aug. 20, 1996
Age: 22
Last Club: Oregon State University
Hometown: Chandler, Ariz.
Nationality: Benin
The #LAGalaxy have selected Don Tchilao (Oregon State University) with the 36th pick in the @MLS #SuperDraft. pic.twitter.com/3LwJECv9yh

— LA Galaxy (@LAGalaxy) January 11, 2019
NEW SIGNINGS:
2.27.19 LA Galaxy sign MLS First-Round Draft Pick, Emil Cuello (Official)
2.7.19 LA Galaxy complete the signing of defender Diego Polenta ARTICLE
1.26.19 LA Galaxy complete the loan signing of midfielder Uriel Antuna (Official)
1.23.19 LA Galaxy officially sign goalkeeper Matt Lampson (Stage 2 of re-entry draft)
1.2.19 Guillermo Barros Schelotto officially announced as Galaxy head coach
12.18.18 Juninho signs with the LA Galaxy. ARTICLE
RE-SIGNINGS:
1.9.19 Emmanuel Boateng re-signs with the LA Galaxy ARTICLE
1.3.18 Servando Carrasco re-signs with the LA Galaxy
1.3.19 Dominic Kinnear will return as assistant coach for LA Galaxy
12.19.18 Chris Pontius re-signs with the LA Galaxy
12.18.18 Zlatan Ibrahimovic signs a new contract with LA Galaxy ARTICLE
12.18.18 Rolf Feltscher signs a new contract with LA Galaxy.
12.18.18 Dave Romney signs a new contract with LA Galaxy. ARTICLE
TRADE TRACKER:
LA Galaxy Trade $75,000 in 2020 GAM to the Chicago Fire for the rights to Juninho. ARTICLE
LOAN TRACKER:
LA Galaxy have loaned midfielder João Pedro to Portuguese side CD Tondela (Primeira Liga)
The following rumors have not been confirmed unless expressly stated that they have some substance to them. Some of these are ridiculous. We didn't make them up. Go yell at someone else! Also, the temperature ranking is arbitrarily connected to how likely we feel the deal is, and whether or not we have some information on the subject.
OLA KAMARA ON THE MOVE:
VERY HOT
Update. 2.26.19, 11:40 a.m. — The LA Galaxy have released a statement from general manager Dennis te Kloese. Statement Below.
LOS ANGELES (Tuesday, Feb. 26, 2019) – The LA Galaxy will grant forward Ola Kamara's request to travel to China ahead of a possible transfer to a Chinese Super League Team, the club announced today.
Statement from LA Galaxy General Manager Dennis te Kloese:
"Ola has expressed to us his intention to pursue opportunities elsewhere and we have identified an option that would greatly benefit our club financially. We believe that this decision was needed to improve and balance our roster while granting Ola's request. The transfer would allow us to achieve the best solution for addressing our needs both now and in the future."
Kamara, 29, was acquired by the LA Galaxy in a trade with Columbus Crew SC ahead of the 2018 season. Last year, the Norway International made 31 appearances while scoring 13 goals and adding three assists during the MLS Regular Season.
Update 2.26.19 — By all accounts, Kamara has put the Galaxy in a tough spot. The Galaxy have been counting on him to be on the roster and other moves have been made around thinking he would be on the team.
So this last minute request to move caught the team off guard. That doesn't mean they don't have ideas of what they'd do if he departs, but it just wasn't something they were banking on.
The Galaxy could replace Kamara right away with a target they were investigating earlier, or they could hold that cash until summer. And if we're playing a hypothetical game, we can't assume it would be a striker replacement. It very well could be a defensive replacement.
But until Kamara actually moves, and until the Galaxy replace him in one way or the other, the team is worse off. Kamara scored 14 goals with 3 assists in 2018 and was an excellent partner with Zlatan Ibrahimovic despite playing out of position.
That's it for right now. The deal still seems likely to happen based off of conversations we had last night. So that's where we stand!
NOTE: The roster compliance deadline is March 1st, but the transfer window doesn't close until May 7th. Teams are able to add to their rosters until that date. They just have to be roster complaint the entire time. 
ORIGINAL RUMOR 2.25.19 — The Athletic's Kristian Dyer is reporting that Galaxy striker Ola Kamara could be on the move.
Hearing, per source, that #LAGalaxy forward Ola Kamara could be on the move. One possible landing spot is a transfer to China. Had also heard an Eastern Conference team had interest via a trade.

— Kristian Dyer (@KristianRDyer) February 26, 2019
Additionally, Kamara was scheduled to make an autograph signing appearance at Niky's Sports in Long Beach on Tuesday night. But he has since been replaced by Galaxy midfielder Sebastian Lletget. And that's after a press release on Monday morning had listed Kamara – a rapid change, to say the least.
First, this move doesn't make the Galaxy roster compliant. Kamara isn't a Designated Player and can't vacate a spot to keep Giovani dos Santos. Nor does he take up an international slot (green card).
However, he does play in a position that isn't really his own. He's more of a number nine. He likes to live on the back line where he pressures the defense by running in behind them. But with Ibrahimovic on the team, Kamara took up a different role where he orbits around, filling in spaces vacated by Ibrahimovic.
So if you separate out the drama with Giovani dos Santos, this move might actually make some sense. The Galaxy would get to trade a performing, high-quality asset, and in return bank some money. Not to mention they'd remove his hefty $925,000 and, depending on where he goes, could net the Galaxy a sizeable transfer fee.
CoG has spoken to a source that indicates a deal outside the league could be completed. It also seems likely that the move was at least initially initiated by Kamara himself as he looks for a bigger payday than the Galaxy and MLS could afford.
No deal is done and the devil is usually in the details. Especially when one would be moving outside of the league – like China.
LA GALAXY HAVE SIGNED JULIAN ARAUJO TO A FIRST TEAM CONTRACT:
VERY WARM
Original Rumor 2.13.19 — Ives is reporting that the Galaxy have signed Julian Araujo to a senior team contract. Some are even reporting that it's going to be a homegrown player deal.
Araujo has been training with the Galaxy since the preseason started and has been filling in at right back for Rolf Feltscher. With Feltscher picking up a tiny injury in an intrasquad scrimmage, Araujo has seright-backof time with the first team.
CoG has been told that the deal may not be completely done, but it's unlikely the deal doesn't get done.
I'm told the #LAGalaxy have signed Julian Araujo to a first-team contract. The #USMNT U-20 defender is definitely one to watch in 2019 as the Galaxy look to give their young talent more opportunities. #MLS

— Ives Galarcep (@SoccerByIves) February 13, 2019
ARGENTINE WINGER RICARDO CENTURIÓN TO GALAXY:
COLD
Original Rumor 2.13.19 — Reports out of Argentina are saying the Galaxy have been offered 26-year-old Ricardo Centurión. Centurión was recently moved down to train with the reserves after pushing his coach during a game.
So already, we're off to fun start.
This report is probably not true and the Galaxy probably don't have the cap space to entertain this particular deal. He most recently moved from Genoa to Racing for around $6-million.
The Galaxy do need some depth on forward, but this doesn't seem like a realistic get. Not with the Galaxy still trying out how to get down from 4 DP's.
Could a loan happen? Maybe. But it all seems like a stretch.
Report here from ESPN says that the LA Galaxy are interested in bringing in 26-year-old Argentine winger Ricardo Centurión.

He moved to Racing from Genoa for ~$6 million in January 2018. He was also on the 35-man preliminary squad for the 2018 WC. #LAGhttps://t.co/V0IumClqMO

— MLS Buzz (@MLS_Buzz) February 13, 2019
BOCA JUNIORS HAVE OFFERED SEBASTIÁN VILLA:
COLD
Original rumor (2.13.19) — The Galaxy are once again linked with a Boca Juniors player. 22-year-old Sebastián Villa, who hasn't seen much playing time with the Argentine giants, is rumored to have been offered to the Galaxy.
Because of the Galaxy's salary cap situation, this right-winger would probably have to come on loan.
If you add the fact that Guillermo Barros Schelotto apparently orchestrated his move to Boca, and you might be able to move this rumor into the "possible" category.
But for now, this seems unlikely and we wouldn't be holding our collective breaths.
Reports from Argentina say that Boca Juniors have offered Sebastián Villa to the LA Galaxy. Villa is a 22-year-old Colombian who has made 2 appearances for the Colombian NT.

GBS orchestrated his move to Boca last January for $2 million, but he's only made 17 appearances. #MLS pic.twitter.com/R0ooZh0Qja

— MLS Buzz (@MLS_Buzz) February 13, 2019
GIOVANI DOS SANTOS TO CHIVAS:
COLD
Original Rumor (2.7.19) — Reports out of Mexico are stating that Chivas de la Guadalajara are interested in Giovani dos Santos this summer and would pay him all $6-million that he was supposed to be getting from the Galaxy.
This all takes place in same atmosphere as rumors continue to be released surround Giovani dos Santos taking a pay cut to stay at Galaxy.
CoG, talking to people closer to Liga MX, has been told the rumors seem to be fake. And Chivas' Technical Director came out and tweeted the rumor claiming it was all lies.
So I think we have our answer.
FORWARD DARIO BENEDETTO TO GALAXY:
COLD
Original Rumor (1.17.19) — We were waiting for this name to be mentioned. And it's not because we think it's actually happening this time, but because with Benedetto recently having played for Guillermo Barros Schelotto it was all but a certainty his name — already linked with the Galaxy over the past season — would be mentioned again.
The Galaxy's focus is still to reinforce the defense with one or two players, but their second weakest position by depth is at forward where only Bradford Jamieson or Emmanuel Boateng are technically options should something happen to Ola Kamara and/or Zlatan Ibrahimovic.
Benedetto is 28-years-old and could be a wonderful addition to the club. But he's likley a starting piece and not a bench piece. But with Ibrahimovic's contract scheduled to run out at the end of the season, picking him up early wouldn't be the worst thing in the world. But at the expense of the defense?
We're not buying it. Not yet, anyway. So enjoy your rumor with a few ice cubes. This one is refreshingly cold.
💣💣💣
"Una vez terminado el partido Benedetto se despidió de sus compañeros y cuerpo técnico. Su ciclo en Boca está terminado, tiene todo acordado para sumarse a @LAGalaxy, equipo dirigido por Guillermo"😭😭

Costa x @TNTSportsLA pic.twitter.com/buKXGyn9Yh

— Bicolas Nurdisso (@Bianchismo) January 17, 2019
MIDFIELDER IGNACIO FERNANDEZ TO GALAXY:
COLD
Original Rumor (1.16.19) — Multiple outlets are reporting that River midfielder Ignacio Fernandez is a target of Guillermo Barros Schelotto's. Seeing the attacking midfielder play against his Boca Juniors club, Schellotto is apparently keen to bring in Fernandez. And despite the glut of midfielders the Galaxy currently have on their roster, they're technically missing a central attacking midfielder. So his addition would feed a position of need.
Having said all that, it seems unlikely a deal can be reached before the season starts and that the Galaxy would have room for those pieces in both salary cap and roster space.
2019 seems to be a season where Schelotto will have to do what he can with what he has. Look for real changes starting this next offseason, and perhaps this summer.
ASHLEY COLE OFFERED NEW CONTRACT BY THE GALAXY: 
DEAD
Update 1.17.19 — Ashey Cole is reportedly set to join former teammate Frank Lampard at Derby County in the English Championship for 2019. The Birmingham Mail reported that Cole is hoping to sign by Saturday.
He'll be joining up with Lampard who is the manager at County.
Update 1.9.19 — In a twist, Sam Stejskal is reporting that the Galaxy, and specifically Dennis te Kloese, have engaged the Ashley Cole in contract talks to come back to the Galaxy in 2019.
CoG has been told by a source that Cole did not go back to England as originally thought and may have stayed in LA over the winter break.
Cole turned 38 in December after starting 30 games and playing over 2,600 minutes while captaining the side that fell about 45-minutes short of making the playoffs.
He would be welcomed back by many players, if he returned.
This one is sitting out there waiting for a good upate, and when we hear something, we'll add it.
Original Rumor: The Sun, out of the UK, is reporting that the Galaxy have offered Cole a contract that is less than half of his salary from last season ($723,000). That would put Cole on a $250,000 per year salary. But at 38-years-old before the season starts in 2019, is he worth another gamble?
I'm not buying it for now. But we'll keep an eye on it and see if it becomes something more.
ALESSANDRINI TO PARMA:
COLD
Original Rumor: 1.3.19 — Alessandrini seems to be wanted by everyone and everything, this offseason. But this rumor has his agent speaking at an event and saying that both he and his client are aware of the interest from Parma (Serie A) and "Romain Likes it."
But a better translation confirms that no offers have been tendered and that Alessandrini's contract still runs through 2019.
From google translate and the original article:
"Romain has done very well in MLS in the last two seasons, we are expiring with the Los Angeles Galaxy at December 30, 2019. [He] is part of the list of the best eight players of the last two seasons of MLS. At this moment we are focused on [his] future and Parma is an intelligent club, looking for an experienced player in Romain's position, that's true. I know Romain likes it, but I have not received any offers from them right now.
"The Galaxy would like it to revisit the qualities shown by Romain but in MLS it works that the renewal is proposed near the expiration, it is not like in Europe. And we are in reflection."
Romain Alessandrini's agent has admitted that they are aware of interest from Parma in Serie A, and "Romain likes it".

We know the Galaxy have to dump a DP, and so far all of the chatter has been around Alessandrini. https://t.co/9U0262JvJb pic.twitter.com/Dc8gwepJWw

— MLS Buzz (@MLS_Buzz) January 3, 2019
Now, this once again puts Alessandrini on the move and it once again uses a ton of speculation to get him off the Galaxy.
But knowing that he's a tradeable asset will continue to mean he'll be mentioned in almost any deal. Freeing up a DP spot is as easy as trading Alessandrini and "simple" makes for good argument.
But the Galaxy have been indicating that Alessandrini is here to stay. And that means more than some Italian rumor.
So once again, we're throwing cold water on this particular rumor.
GIOVANI DOS SANTOS TO CLUB AMERICA:
COLD
Original Rumor 1.2.19 — This is a rumor that won't die. But does that mean there is something to it? We haven't found anyone saying that there is substance to it besides the fact the entire world knows the Galaxy want to rid themselves of Giovani dos Santos' contract.
And with the Galaxy currently carrying 4 Designated Players, something has got to give.
But wishes and the collective angst of a fanbase do not make these rumors a reality. And until we see or hear something more concrete, we're retisent to elevate this rumor past anything but "cold."
ALESSANDRINI TO MONTREAL:
COLD
Original Rumor: 12.30.18 — Galaxy fans are nervous. That's no surprise. But when a tweet from Montreal showing the Hollywood sign and an unidentifiable individual shows up on their account everyone immediately thought they were stealing everyone's favorite Frenchman (Romain Alessandrini).
C'est vendredi.#IMFC pic.twitter.com/4BbZYjkfyH

— Impact de Montréal (@impactmontreal) December 28, 2018
This rumor really starts right after the season concluded when reports of Montreal wanting Alessandrini started to get reported. Alessandrini in his exit interview confirmed that he had heard the rumors but said he wanted to remain in LA, but that the choice wasn't his.
Alessandrini is a very tradeable MLS asset and with the Galaxy currently over the DP limit by one, he's certainly a piece that could be moved.
BUT that doesn't seem likely. In fact, the Galaxy seem to have a plan in place for making sure they can be roster compliant before the season starts.
CoG has heard from multiple sources that the Galaxy want to keep Alessandrini and that he's being factored into the 2019 season.
And then Kevin Baxter dropped his tweet and let everyone breathe again.
FWIW I'm told by a good source there is nothing to the rumors that have the @LAGalaxy sending Romain Alessandrini to @impactmontreal

— Kevin Baxter (@kbaxter11) December 31, 2018
So rest easy, for now, Galaxy fans. We're not saying you shouldn't be worried about Alessandrini, but we are saying that you shouldn't worry right now.
CARLOS TEVEZ TO THE GALAXY FOR TAM:
COLD
Update: 1.3.19 8:31 a.m. — Schelotto cools down this rumor at his press conference. Seems that this was more hope than substance. We'll downgrade accordingly.
Original Rumor: 12.31.18 8:31 a.m. — Is Carlos Tevez following Guillermo Barros Schelotto to the Galaxy from Boca Juniors?
El DT Guillermo Barros Schelotto y el delantero Carlos Tévez. Ya se encuentran en Los Ángeles, CA.@LAGalaxy los espera😉.

En enero se hará oficial la llegada de estos personajes al conjunto angelino.

"El Mellizo" y Tévez vienen de perder la @Libertadores con @BocaJrsOficial. pic.twitter.com/06GQJuaQ9g

— Mónica Delgado (@monidelgado30) December 29, 2018
There is plenty of "that might actually make sense" to this rumor than you'd probably think.
Tevez is 34-years old, is a playmaker, and already has a good relationship with Schelotto. And at 34 (while we hate to admit this) his within the "come play in MLS" age range with an estimated worth of about $1.2-million.
Speaking to sources around the club, I can say that no one has shot this down, but nobody has also lit up and said "yeah this is happening."
Everyone, including us at CoG, are taking a wait-and-see approach.
The rumor continues that Tevez would basically take the money that Ibrahimovic had vacated when he signed a DP deal – the $1.5-million in Targeted Allocation Money.
But we're not so sure that makes all the sense in the world. Especially with an already crowded midfield and especially without a defender signing already in the bag.
Where would he play? Does he takes Lletget's middle spot? Does that push Lletget out wide and mean the Galaxy aren't going to re-sign Boateng?
If we're being honest, all the strikes against this seem to have us saying, "no, this isn't happening." But we're just not ready to give in on this. And until a source screams, "TEVEZ IS COMING," we're going to just let this one be.
DEFENDER JUAN ESCOBAR TO GALAXY: 
COLD
Original Rumor: 12.27.18, 12:31 pm. — Could the Galaxy be looking at Paraguayan defender, Juan Escobar? The 23-year-old defender is currently playing for Cerro Porteño but might be catching the eye of the Dennis te Kloese.
Our take: while the Galaxy certainly have to be looking at some defense, our sources are telling us they haven't heard the name mentioned. So for now, we're taking a cold approach to this rumor.
But if things start to heat up, we'll be changing that rating ASAP!
Word out of Paraguay is that the LA Galaxy are chasing 23-year-old Cerro Porteño defender Juan Escobar. The Paraguayan has made 1 appearance for the Paraguayan national team (in 2017), and made 40 appearences for Cerro Porteño in 2018. #LAGalaxy #MLS pic.twitter.com/yiJ4r9nlPk

— MLS Buzz (@MLS_Buzz) December 27, 2018
REESE OXFORD OFFERED GALAXY LOAN: 
COLD
Original Rumor: 12.26.18, 11:30 a.m. — I mean who wouldn't want a 20-year old defender from Westham United? Apparently, he's on the outs with his club and wants to move. So would a loan deal with the Galaxy make some sense?
In short, no. He's said he doesn't want to be on loan and at 20-years old is probably in too good a position to come to MLS.
And when CoG asked around this seems more "wishful thinking" than actually landing him. While we can't confirm if the Galaxy have actually offered the man a deal, their head seems to be in the right place.
20 year old West Ham United defender Reece Oxford has received a concrete offer from the LA Galaxy for a season-long loan. A senior source said: "Galaxy have made an offer of a loan deal but there are several other American outfits interested." #MLS #LAGalaxy pic.twitter.com/oj1aeHk0j1

— MLS Buzz (@MLS_Buzz) December 26, 2018
GIOVANI DOS SANTOS TO FC CINCINNATI:
COLD
Original Rumor 12.12.18, 10:27 a.m. – Yes Virginia, there is a Santa Clause. But no Virginia, it's probably not going to be FC Cincinnati.
It's no secret that the Galaxy want to rid themselves of Giovani dos Santos who made $6-million last year and could make as much as $6.5-million for 2019 (the last year of his contract). But getting rid of Gio is easier said than done.
Could FCC be looking for a bargain deal on the Mexican International? Sure! Is it likely? No!
Source: FC Cincinnati exploring "all player options" in the league. This includes taking a hard look at acquiring Gio Dos Santos from LA Galaxy for a discounted price.

— MLS Transfers (@MLSTransfers) December 11, 2018
There are seem to be some other avenues the Galaxy are pursuing. And that could include transferring, trading, or buying out his contract. But restructuring someone else's contract is also a viable option. Or if you want to get really wacky, you can even call for a rule change (raising the ceiling level on TAM) if the Galaxy wanted to keep Gio and all their other current DP's.
So while this particular rumor doesn't seem to hold much weight, the Galaxy have been and will continue to explore every option.
A buyout will be their absolute last resort, so don't expect a quick ending to this current saga.
GALAXY LIKELY TO LAND CALEB PORTER AS HEAD COACH:
DEAD
Update: 12.13.18, 4:38 p.m. — The Athletic's Paul Tenorio just filed a shocking report that says that Caleb Porter will sign with Columbus Crew instead of the Galaxy. In the article (Subscription Required), Tenorio reported that Columbus made a final push for Porter who has ties to Ohio.
CoG, in speaking with several sources close to the team earlier this week had been told an announcement would probably be coming later this week to announce Porter as the new head coach. But sources indicated that the deal wasn't final and didn't want to say it was done.
But the expectations were that the deal would get done.
That all seems to have changed and the deal has fallen apart.
But Baxter is reporting that newly hired GM Dennis te Kloese pulled the plug on the deal. Te Kloese continues to interview candidates for the position.
Will Dominic Kinnear be that backup plan?! Or will Jason Kreis no get vaulted into the no. 1 spot?!
The made-for-tv-movie of this saga should be very interesting!
A source close to the negotiations confirms @PaulTenorio's story that Caleb Porter is no longer a candidate for the vacant @LAGalaxy coaching job. Apparently new GM Dennis te Kloese didn't feel Porter was the right fit for the club.

— Kevin Baxter (@kbaxter11) December 14, 2018
Update: 12.11.18, 10:10 a.m. — ESPN's Jeff Carlisle is reporting that the deal is done for Porter.
"The LA Galaxy are set to re-sign forward Zlatan Ibrahimovic to a new deal as well as hire Caleb Porter as their new coach, sources have confirmed to ESPN FC." READ STORY HERE
Update: 12.11.18, 7:56 a.m. — The Athletic is reporting (subscription required) that sources within the club are stating a deal is imminent with Porter. And this time Jason Kreis seems to be ready to join his staff if he's hired.
Read the original rumor below to find out about the surprise laker game and why the Galaxy may have had a last-minute change of heart.
Sources tell @KristianRDyer that The LA Galaxy are set to name Caleb Porter as the club's new head coach, with another former MLS head man in the running for a spot on his staff: https://t.co/Qy9kjwyxKZ

— The Athletic Soccer (@TheAthleticSCCR) December 11, 2018
Original Rumor: The Galaxy don't do subtle. And taking Caleb Porter to a Lakers game where he'd sit courtside with Galaxy President Chris Klein, AEG President Dan Beckerman, and still unannounced General Manager Dennis te Kloese isn't exactly a quiet acknowledgment of their interest.
Where Dominic Kinnear seemed to be the front-runner who was endorsed by the players, it now seems as if Porter is on the verge of becoming the Galaxy's next head coach.
Reminder: he's the college roommate of Klein. So he's got that going for him.
The Galaxy were close to making an announcement last week on a GM and a head coach. But the decision stalled. And rumors have Kinnear possibly losing the job by trying to demand a two-year contract.
Regardless, Porter seems like the number one choice. And with the announcement of te Kloese expected shortly, Porter is likely to be named the head coach just days later.
The deal isn't done, yet. But don't expect some paperwork to get in the way right now.
Hey LA Galaxy fans: Dennis Te Kloese and former Timbers coach Caleb Porter have been courtside at the Lakers game with Dan Beckerman and Chris Klein. H/T to Oregon folk hero @billoram for recognizing Porter.

— Greg Beacham (@gregbeacham) December 11, 2018
ALESSANDRINI SAYING GOODBYE TO THE GALAXY VIA INSTAGRAM:
FRIGID
12.3.2018, 11:40 AM – Romain Alessandrini recently posted an Instagram picture that had most fans a little confused. The Frenchman posted, "A tough life experience is made to learn and move forward.. See you soon IG."
CoG has been able to talk with someone with knowledge of the situation and has been told the post is not Galaxy or soccer related. And that Alessandrini's status with the club has not changed. He is still a Galaxy player.
This is good information, and it should leave Galaxy fans a little more "relaxed" at the start of what could be a busy week.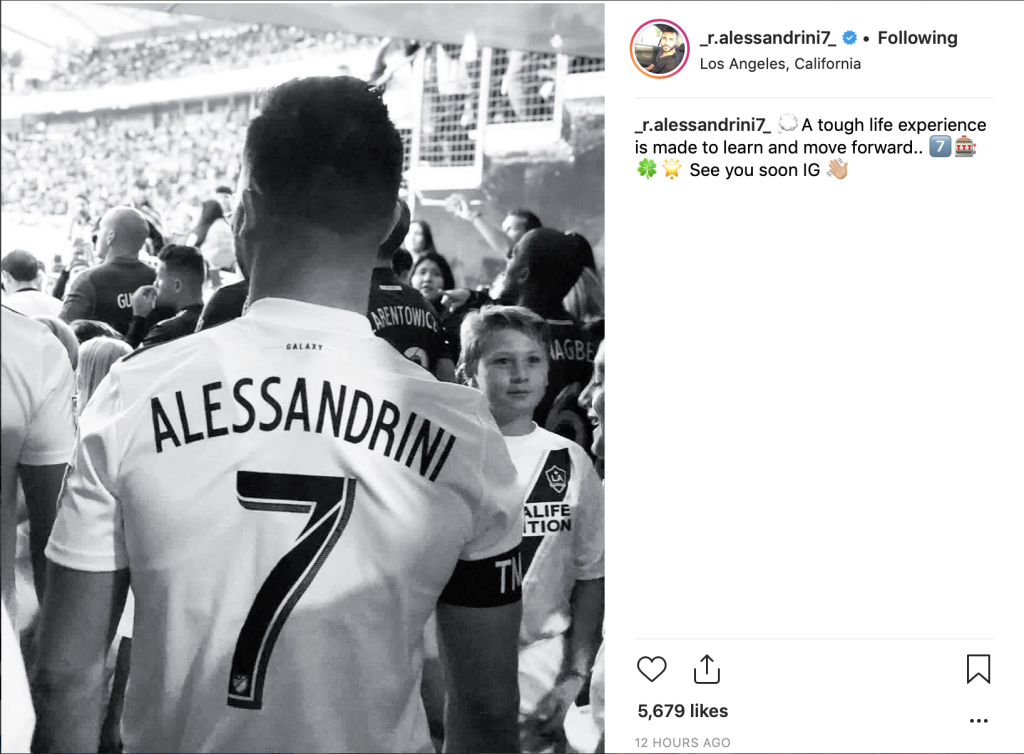 ZLATAN IBRAHIMOVIC TO AC MILAN:
DEAD
Update: 12.9.2018, 9:00 PM — AC Milan spoke to the Italian media today saying that the transfer saga between them and Zlatan Ibrahimovic was over.
"Zlatan Ibrahimovic will remain at the Los Angeles Galaxy after the Major League Soccer club agreed with his requests, according to AC Milan sporting director Leonardo," ESPN wrote in an article about the public statements.  
And as we've been telling you since the rumors first surfaced, the negotiations seemed to have stalled out because of some simple facts.
Ibrahimovic is under contract with the Galaxy for 2019 and they seem to have met his demands — although we don't know publicly what those demands were.
If assumptions are to be believed, that means that the Galaxy have figured out a way to get Zlatan more money. And if they've given him more money then under the current rules they must have opened up a DP slot.
There still seems to be plenty to this saga still to be spelled out, but for the moment, Ibrahimovic seems destined to return to the Galaxy for the 2019 season.
AC Milan confirmed to the Italian media Sunday that Zlatan Ibrahimovic won't be leaving the @LAGalaxy Negotiations ground to a halt over the last few days and a January transfer has been abandoned. "Ibrahimovic will not return to Milan," a club official told Sky Sport Italia

— Kevin Baxter (@kbaxter11) December 10, 2018
Original Rumor: Let's get this one out of the way.
No, we're not linking to any of those Italian newspapers and now we're not raising the level of this rumor to HOT!
The facts are that Ibrahimovic has a contract in 2019 with the Galaxy. The Galaxy have said they won't force him to perform for that contract. Ibrahimovic said he has some wishes/demands for the Galaxy and that if they want him back they have to meet those demands.
It's been speculated that he wants more money which would mean the Galaxy have to open up a Designated Player slot – a slot they don't have. It's also likely that he wants a stable General Manager and a stable head coach and that depending on those things, and the Galaxy competing for a title with player acquisitions, he'll be back with LA.
If the Galaxy screw any of that up, the AC Milan deal that is supposedly for 18 months and worth about $2.2-million (which doesn't sound like enough) might be something he'd take.
Keep in mind that Zlatan could be doing all of this to force the Galaxy into making good moves and to make sure his contract with the Galaxy sees a significant raise.
As one source said, "Zlatan is good at keeping his name in the news." That same source told CoG that the reports out of Italy were "inaccurate" and that Ibrahimovic remains a Galaxy player.
So this one isn't true. It could become true, but you don't give out journalism awards for guessing at something, printing it as fact, and then ultimately being right because of a change in the situation. Facts say this one isn't close to being over the line.
But we'll tell you if we think that's changing. And you can trust us. We promise!
ZLATAN UPDATE:

Wasn't it nice of the Zlatan rumors to take off Thanksgiving?

I'm told nothing has changed. These are still just the same rumors that we told you were inaccurate earlier this week.#LAGalaxy #MLS

— Corner Of The Galaxy (@GalaxyPodcast) November 23, 2018
GALAXY INTERESTED IN PSG MIDFIELDER LASSANA DIARRA:
COLD
At 33-years-old and playing a position the Galaxy have some depth at (defensive midfielder) this one feels like a bit of a stretch. But he's not getting much playing time at Paris Saint-Germain and the club seems likely to move him this winter.
Does that mean he's coming to Major League Soccer? The article (in French) points out that several MLS clubs are interested and that the Galaxy were the only one named.
But it seems just as likely he could join the technical staff at PSG during this transfer window as well.
GALAXY CLOSING IN ON JASON KREIS AS HEAD COACH: DEAD
Original Rumor: For a few brief hours on Saturday morning, Yahoo sports' Doug McIntyre had Jason Kreis as the Galaxy's primary target for their new head coach. The former Real Salt Lake, NYCFC, and Orlando City manager was apparently now in front of Dominic Kinnear for the job.
CoG was skeptical, and Kevin Baxter was sticking to his guns on the Galaxy still leaning heavily toward Kinnear.
23 Thoughts: LA Galaxy closing in on Jason Kreis – sources https://t.co/sdRDe2QiOM

— Doug McIntyre (@ByDougMcIntyre) December 8, 2018
So it didn't come as much of a surprise when McIntyre turned around and said he got the story wrong. That Kreis looks like he could actually join Kinnear as an assistant coach if Kinnear was hired.
Based on conversations I've had over the last few hours, not sure my reporting on Kreis is accurate. Seems he's in the running to be an assistant coach on Kinnear's staff, if Kinnear is hired, not the other way around. Nothing finalized yet. My apologies, Galaxy fans. https://t.co/VXPsHVFOm2

— Doug McIntyre (@ByDougMcIntyre) December 9, 2018
These things happen, but with the Galaxy seemingly closing in on Kinnear, it's nice to know that a coaching staff may also be in place as the season ramps up with considerable speed from here on out.
The following rumors have been confirmed and are no longer rumors. They are facts! Rumors will not move from unconfirmed to confirmed unless an official and trusted source has confirmed such details.
DEFENDER DIEGO POLENTA TO GALAXY: CONFIRMED
Update 1.25.19 2:30 p.m. — CoG is expecting the Polent deal to wrap up in the coming days. All signs point to the deal getting done, and an official announcement might come as soon as early next week.
Seems as if negotiations and paperwork lasted just a bit longer than everyone expected, but the deal is in no danger.
It's not done, but should be soon.
Update 1.14.19 8:00 p.m. — Kevin Baxter tells listeners of Corner of the Galaxy that the club has reached an agreement with Polenta and that all that remains is for him to sign his contract. LISTEN HERE
Update 1.11.19 4:20 p.m. — This is heating up and fast. Polenta and the Galaxy are in contract negotiations, COG has been told. But the deal isn't done. However, it looks as if a deal could be completed in the coming days and that Polenta would join the Galaxy.
The center back has the potential to be one of the top-rated center backs in MLS if the move is complete and would give the Galaxy an anchor by which to start to solidify that backline.
It's not done… that was stressed multiple times. But it's getting there.
Update 1.11.19 9:00 a.m. — Kristian Dyer of The Athletic (subscription required) is reporting that the Galaxy are in negotiations with Polenta and that he's likely to end up in LA.
The deal being discussed is a loan with the option to buy. But where he'd be loaned from is unknown being he currently doesn't have a club.
CoG has reached out to some sources and we're told that if there is a deal, it's not done as of this morning.
Now that could change rapidly as it seems that all signs are pointing toward there being significant interest in the young defender.
We'll update as necessary.
Original Rumor 1.10.19 — 26-year-old defender Diego Polenta is rumored to have reached an agreement to sign with the LA Galaxy. Polenta is a left-footed center back and is currently out of contract after captaining Uruguayan side, Club Nacional of the Primera Division.
According to the tweets, Polenta has maintained contact with new Galaxy head coach Guillermo Barros Schelotto who was once interested in the player while at Boca Juniors.
With Schelotto's move to Galaxy now complete, and the club in desperate need of some defensive changes, Polenta could be that player.
The tweets go on to say that Polenta is heading to Los Angeles on the 19th of January so that he can be ready for the Galaxy's preseason which starts with physical testing on the 20th.
This one checks all the boxes in terms of making sense both positionally and timing wise. But we haven't been able to get anyone to confirm anything. Until that happens, we'll let this one simmer on the burner.
ATENCION…!

Diego Polenta tiene todo arreglado con @LAGalaxy Viaja el 19 para firmar y el 21 comienza la pretemporada con el resto del plantel. Ya mantuvo comunicación con Guillermo Barros Schelotto. #MLS #LAGalaxy

Via @GonzaloRonchi pic.twitter.com/J0JoZT4R5l

— Elmer Polanco (@PolancoESA) January 10, 2019
MIDFIELDER URIEL ANTUNA ON LOAN TO GALAXY: CONFIRMED
Update 1.26.19 7:45 AM — Antuna has been signed by the LA Galaxy. Pictures of the signing flooded social media and Kevin Baxter confirmed the signing with the club. Official announcement is expected on Monday.
The @LAGalaxy have completed their signing of 21-year-old Mexican winger Uriel Antuna on loan from @ManCity A formal announcement is expected Monday

— Kevin Baxter (@kbaxter11) January 26, 2019
Update 1.25.19 2:30 PM — Antuna is supposedly training with the Galaxy while the loan deal with Manchester City is completed. Signing is imminent.
Original Rumor (1.18.19) — The LA Galaxy are close to arranging a deal that would see 21-year-old Mexican midfielder Uriel Antuna go on loan to the club from Manchester City (reported by Kevin Baxter of the LA Times).
Antuna is listed as an outside winger who's comfortable on either side of the field and would join Romain Alessandrini, Chris Pontius, and Emmanuel Boateng as the Galaxy's options at the left and right midfield position.
Getting him on loan makes some sense as the Galaxy are probably looking at cost savings with their remaining roster picks. He'll provide depth at the very least.
This looks to be getting done. And it will probably happen quickly.
More questions get asked about the Galaxy and their international slots. Galaxy are quickly approaching the eight slots they currently have in their possession. But there is a good chance one or more players either leaves the team or that players get green cards.
https://twitter.com/kbaxter11/status/1086324726337744896
JUNINHO BACK WITH LA: CONFIRMED
UPDATE: 12.18.18 – 10:35 a.m. — Kevin Baxter of the LA Times confirms that Juninho has signed with the Galaxy. Galaxy give $75,000 in GAM to Chicago for the rights to Juninho.
(1/2) Midfielder Juninho, who started in each of the @LAGalaxy's last three MLS Cup victories, is returning to the team. The Galaxy will announce the Brazil's return later today. Juninho appeared in 207 games for the Galaxy between 2010-15.

— Kevin Baxter (@kbaxter11) December 18, 2018
Original Rumor: Could Juninho land back with the LA Galaxy? Sometimes these rumors pan out. And sometimes it's just because fans really hope they're true.
Juninho was without a club last year and was on loan to the Chicago fire for the 2017 season. But in a crowded midfield does he even make sense?
CoG has spoken to sources that say this could be something. And that this may stretch back a couple of weeks. So talks could be advanced.
So we're buckled up for the ride.
Does this somehow tie into Zlatan becoming a Designated Player (Read that rumor below)?
THIS IS PEAK CRAZY TIME!!!
Source: LA Galaxy acquiring Juninho

— MLS Transfers (@MLSTransfers) December 11, 2018
ZLATAN BECOMING A DESIGNATED PLAYER: CONFIRMED
Update: 12.18.18 10:35 a.m. — The Galaxy put out a press release confirmed that Ibrahimovic is back and that he is a Designated Player.
Update: 12.17.18 9:45 a.m. — Zlatan is coming back to the Galaxy. That we already knew. But we also believe that a condition of him coming back was as a DP. And that seems all but confirmed as well.
We'll just leave this here to keep the flames on high.
MLZ Im not done with you yet pic.twitter.com/1F68siOV16

— Zlatan Ibrahimović (@Ibra_official) December 17, 2018
Update: 12.11.18 10:35 a.m. — Baxter is saying that the deal is done to bring Ibrahimovic back to the Galaxy in 2019 and to make him a DP.
Zlatan, @LAGalaxy reach agreement on new deal — though they were never that far apart to start with https://t.co/LP1cYFQ3Mv

— Kevin Baxter (@kbaxter11) December 11, 2018
Original Rumor: With Baxter hinting that a deal with Zlatan is now done and then with ESPN's Jeff Carlisle saying that Zlatan's new deal will definitely make him a DP, does that mean the Galaxy have found a way to move a DP, trade a DP, or buyout a DP?
So many questions! But with these two guys pointing you in that direction, you can count the DP deal as basically done!
Can confirm the te Kloese, Porter and Ibra news. New contract will definitely make Ibra a DP. #lagalaxy https://t.co/hKJi248JHk

— Jeff Carlisle (@JeffreyCarlisle) December 11, 2018
GALAXY CLOSER ON RE-SIGNING AT LEAST ONE OUT-OF-CONTRACT PLAYER: CONFIRMED
12.3.2018, 11:31 AM – Not much of a rumor here, but CoG is hearing that at least one of the Galaxy's out-of-contract players could be getting closer to re-signing with the club. We'll have more on this as we get the information. Remember that Chris Pontius, Emmanuel Boateng, and Dave Romney are all out of contract.
And CoG has theorized before that all three should be coming back to the club. So if one gets over the line, expect at least one more to follow.
DENNIS TE KLOESE TO BECOME GENERAL MANAGER OF GALAXY: CONFIRMED
UPDATE: 12.6.18 3:13 PM — LA Times reporter Kevin Baxter has reported that Dennis te Kloese will be announced as general manager/head of soccer operations. The official announcement should come early next week.
Our CoG Story here – http://cornerofthegalaxy.com/2018/12/06/report-rebuilding-galaxy-decide-te-kloese-is-their-man/
This report is now confirmed.
ORIGINAL RUMOR: We've reported on it plenty. Kevin Baxter has had talks with Dennis te Kloese. Te Kloese says he needs time to get his head around the job. It's very likely the Galaxy offered Te Kloese the job. But he hasn't said yes. And it's possible that he could say no. This is the most important hire the Galaxy could make. And right now, it's all on pause until Te Kloese makes a decision.
Latest Podcast where te Kloese was discussed with LA Times Reporter Kevin Baxter
UPDATE: 11.28.18 10:53 AM — Sam Stejskal is reporting that a deal may be done soon. Te Kloese would take over as President of Soccer Operations. Included in that report is that Dominic Kinnear is a serious candidate to continue as permanent head coach.
CoG has been telling you that te Kloese was considering the position and that he seemed to be the only candidate who had been offered the position. Te Kloese would be joining the Galaxy with international ties across countries and at least a somewhat working knowledge of how MLS operates having been with the league with Chivas USA.
Sources: The LA Galaxy are close to hiring Dennis te Kloese as their head of soccer operations. I'm told that te Kloese recently met with Dom Kinnear, who has emerged as a serious candidate to continue as full-time head coach. https://t.co/ylUg2KoE94

— Sam Stejskal (@samstejskal) November 28, 2018
UPDATE: 12.3.18 11:25 AM — Looks like a social media mistake by someone within the Mexican Federation posted a picture of what looks like a going away party for te Kloese. Couple that with rumors of te Kloese being in or around StubHub Center over the past couple of days (possibly as early as Wednesday and as late as Saturday) looks to be drawing this to a tidy conclusion.
If we are playing the guessing game, I'd imagine an announcement of some sort could be made this week. Even if that is to just set a date for the press conference.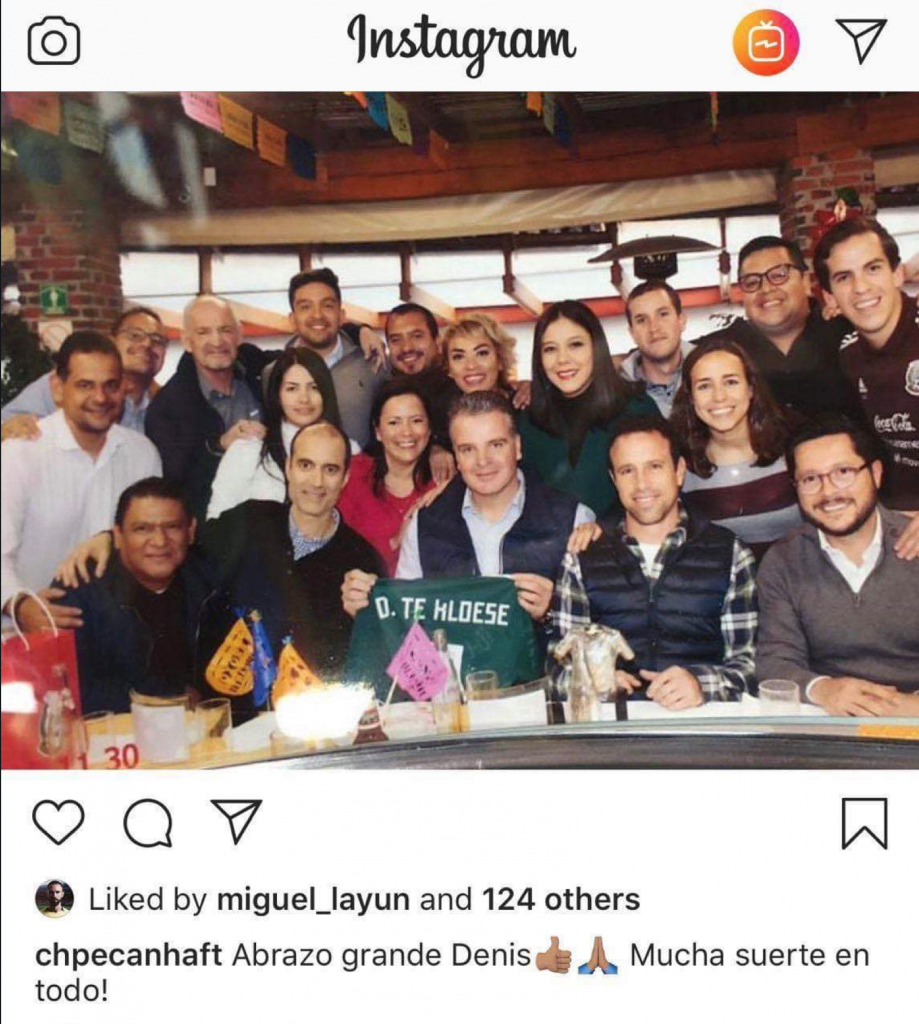 UPDATE: 12.6.18 8:35 AM — CoG was told to expect a GM announcement within a week. The speculation on why it's taking so long is probably due to MLS Cup and the usual "media blackout" that surrounds the league's biggest game.
But there doesn't seem to be any doubt that the GM everyone is talking about is Dennis te Kloese. Te Kloese has been spotted around StubHub Center for the past week at least. Making contact with some players and parents of an academy U-15 training. And generally, as we understand it, doing the job of the GM.
In fact, his involvement may even go back as far as the last two weeks.
The discussions out of Mexico seem to indicate that te Kloese will vacate his Mexican Federation position by the end of the year. But that timeline seems overly extended and te Kloese should be named GM within the next seven days.
Also tied together in this particular update is the fact the Galaxy may also have a head coach lined up. And with Dominic Kinnear being the only public name, he seems to be in the current pole position to get the job.
Good or bad, it looks like the Galaxy are wrapping up the two biggest front office vacancies in short order. And they're doing so just before MLS holds its expansion draft.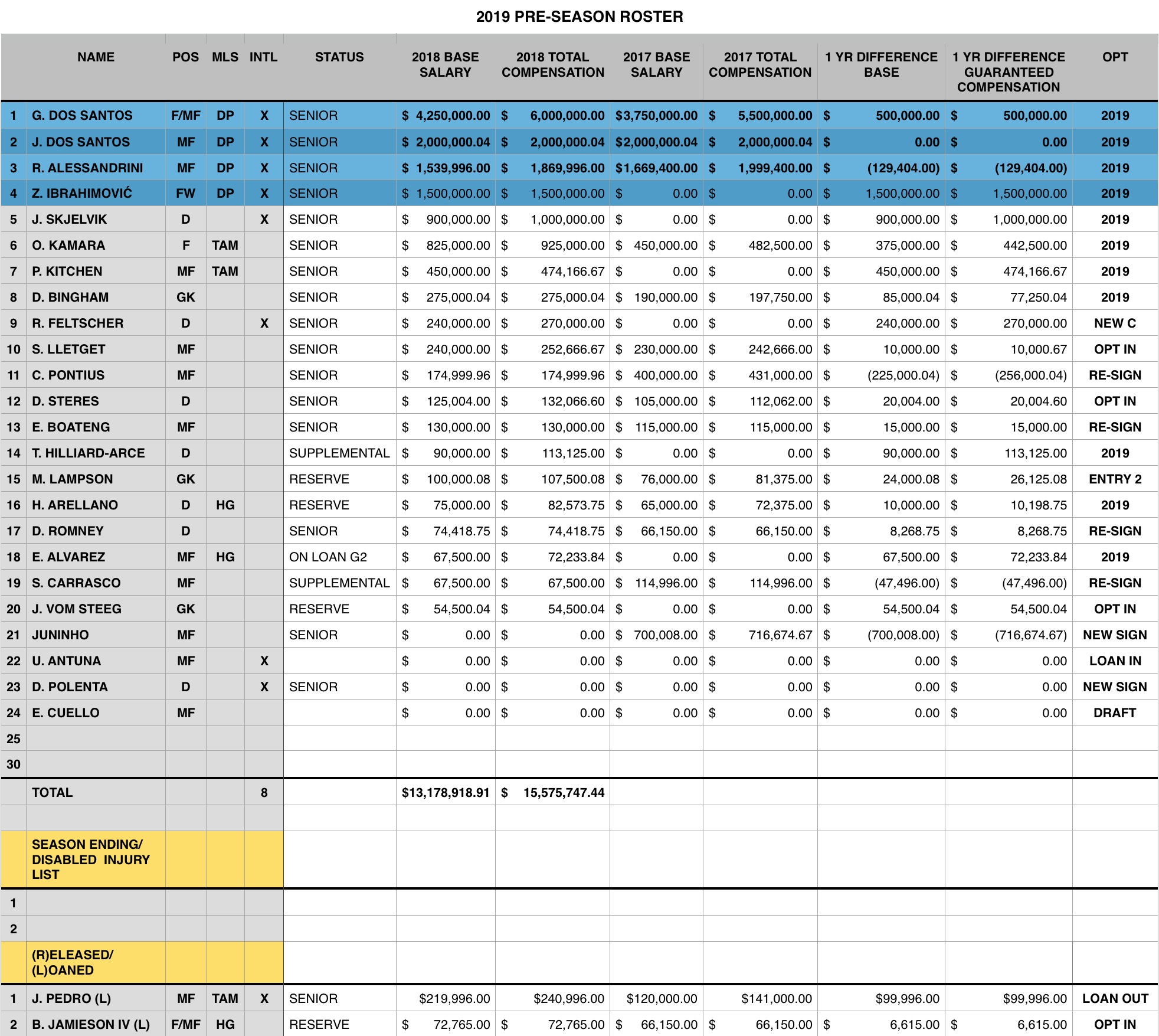 *Updated 2.27.19
FC CINCINNATI
ORLANDO CITY SC
COLORADO RAPIDS
CHICAGO FIRE
SJ EARTHQUAKES
MINNESOTA UNITED FC
HOUSTON DYNAMO
NEW ENGLAND REVOLUTION
MONTREAL IMPACT
VANCOUVER WHITECAPS
*LA GALAXY*
PHILADELPHIA UNION
DC UNITED
FC DALLAS
LOS ANGELES FOOTBALL CLUB
REAL SALT LAKE
COLUMBUS CREW
NEW YORK CITY FC
SEATTLE SOUNDERS FC
SPORTING KC
NEW YORK RED BULLS
PORTLAND TIMBERS
ATLANTA UNITED
TORONTO FC
**Allocation Order accurate as of 12.12.18**