CARSON, Calif. — The LA Galaxy (6-1-0) are riding a five-game win streak into their midweek matchup with Minnesota United (3-3-1) when they take to brand new Allianz Field on Wednesday night for some midweek MLS action.
You'll remember these two clubs faced off earlier this year when the Galaxy hosted the Loons in a 3-2 victory at Dignity Health Sports Park in the middle of March — a game that was missing one very tall Swedish striker.
Here are the big storylines you should be paying attention to for the Wednesday night matchup with the Loons (5:00 p.m. PT; TV: SpectrumSN).
INJURIES AND ABSENCES
The Galaxy will be without Rolf Feltscher (groin), Perry Kitchen (ankle) and Romain Alessandrini (knee). Chris Pontius is also questionable with some sort of muscle injury. Emmanuel Boateng limped off the field at the end of the Galaxy's 2-1 victory over the Houston Dynamo on Friday night but is expected to be available.
Minnesota will be without both Francisco Calvo and Jan Gregus as both received red cards in their previous match — a 4-3 loss to Toronto FC — and could still be without defender Ike Opara who missed their last game as well.
The Galaxy feel more equipped to handle their absences even if it stretches their depth off the bench. Boateng should fill in for Alessandrini, and if Pontius made the trip, he could be a late-game fill-in for either winger if the situation calls for it.
Alessandrini's absence is not new to the Galaxy this year and he's played less than 45% of the total available minutes this season (281 out of 630 total mins). Boateng did well on Friday to take over for the Frenchman and, as long as he's healthy, the club shouldn't have any issues going forward.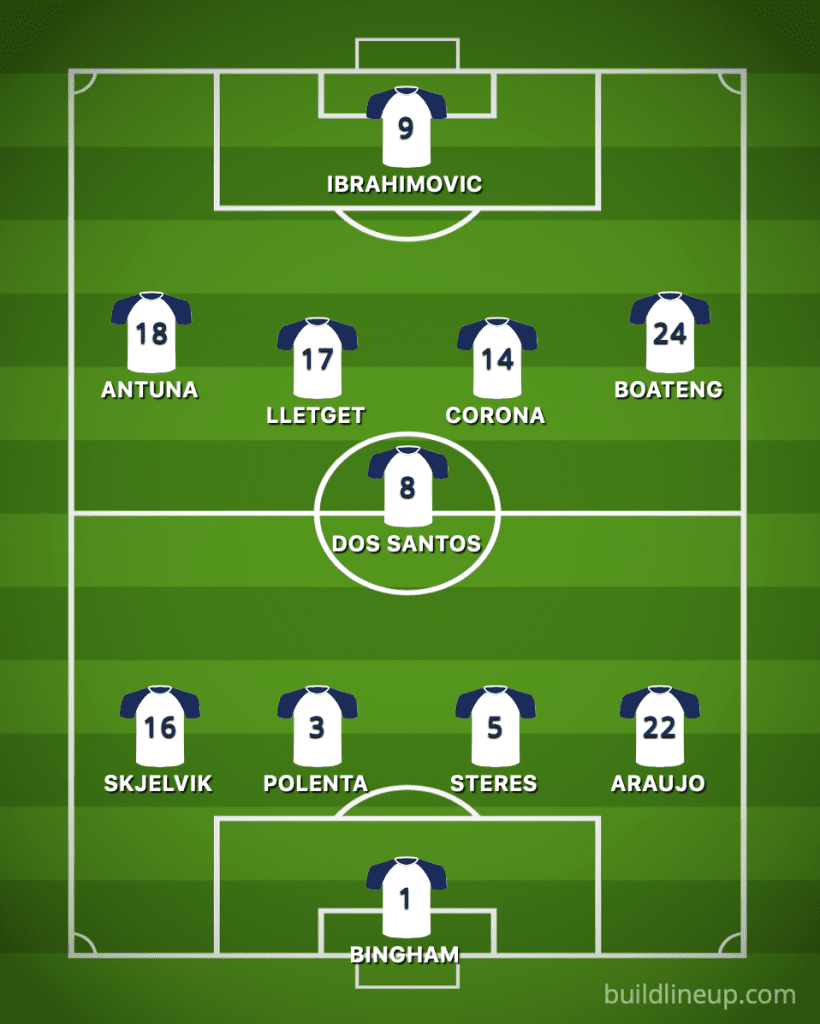 GALAXY DEFENSE AND THE ODD MAN OUT
It's going to happen eventually, but when it happens is anyone's guess.
We know the Galaxy spent significant capital to go out and acquire Giancarlo Gonzalez so he could play on this defense. And we're pretty sure that means that Dan Steres, the Galaxy's best defender so far this season, probably goes to the bench. But Galaxy head coach Guillermo Barros Schelotto hasn't let it be known when that will happen.
Gonzalez will definitely travel with the club and could come in off the bench if he doesn't start. There's even a chance that 17-year-old Julian Araujo could come out of the lineup for Gonzalez — who has played at RB for the Costa Rican National Team and who did head in that general direction when he subbed in for Boateng in the 89th minute of Friday's game. He even had a couple of good stops under his belt in those closing minutes.
The Galaxy, so far in 2019, have allowed just seven goals in as many games and are tied for the league's best defense with crosstown rivals, LAFC. That's three goals better than they were last year and six goals better, through the same number of games, than 2017.
So if you're Schelotto, when do you insert Gonzalez into the fray? Your defense is already pretty good, and any changes could have a negative impact.
Don't forget that Minnesota's Darwin Quintero is a speedy goal scorer who turns even the most put-together defenses inside out. Add in Angelo Rodriguez, who scored against the Galaxy last time, and Romain Mentanire and the Galaxy defense and mifdield will have their hands full.
CONGESTED SCHEDULE
The Galaxy approach this Minnesota game after having their best start to a season since 2010 and their fourth-best start ever. Only 1996, 1998, and 2010 have had better starts in the club's history.
They're currently a perfect 5-0-0 at home and a respectable 1-1-0 on the road.
That puts the 2019 Galaxy in both second in the Western Conference and the Supporters Shield with 18 points, and they have the best points per game average (2.57) in Major League Soccer.
But all of that will be put to the test as they have two games this week — Wednesday night at Minnesota and Sunday afternoon in LA against Real Salt Lake– and more games approaching rapidly.
If the Galaxy can close out April by staying perfect, that will set them up for a May that will see them play six times — their busiest month of the season — with four of those games on the road and two major east coast road trips included.
Wins against a team like Minnesota will undoubtedly help that cause and if the Galaxy can take advantage of a weaker opponent, who is down a few starters, then so be it.
Points are going to be hard to come by next month, and the Galaxy need as many of them in their pockets by the end of April as they can get.