CARSON, Calif. — The LA Galaxy offense sputtered against Minnesota on Wednesday night. For all the midfield possession the club had, and for all the buildup play they were able to muster, they couldn't test the goalkeeper.
But the club will have to shake that off as they face another Western Conference test when Real Salt Lake invades Dignity Health Sports Park on Sunday evening (5:00 p.m. PST; SpectrumSN).
The Galaxy (6-1-1; 19 points) enter the match on a six-game unbeaten streak while maintaining their second place standings in both the conference and the overall league.
Real Salt Lake (3-4-1; 10 points) travels to Carson on a two-game winning streak while sitting in seventh in the conference and 14th in the league.
And while RSL was slow to get started this year — with red cards and injuries causing issues — they're more than ready to get three points in LA.
Below, we'll discuss the biggest storylines headed into the match for the Galaxy.
SHORT ON REST
The Galaxy will have just three days rest when they kickoff against Real Salt Lake on Sunday. They played on April 19 when they defeated the Houston Dynamo, and then traveled to Minnesota on Tuesday for a Wednesday night game. With a point secured the team hopped back on a plane and flew back to LA on Thursday and had two days of light training to get ready for Sunday's match.
Sunday's match will mark the Galaxy's third game in 10 days as they try and navigate what's quickly becoming an injury crisis. With Rolf Feltscher, Perry Kitchen, Julian Araujo, and Romain Alessandrini all at various stages of rehab on their ailments.
Real Salt Lake will enter the game on nine days rest and playing only their second game in 10 days.
Like the Galaxy, Real Salt Lake traveled for their last game — a 3-0 victory at Cincinnati. But unlike LA, RSL then had more than a full week off.
So any disadvantage RSL would have with traveling to the West Coast quickly goes away especially as this game progresses into the second half.
OFFENSIVE CREATIVITY
Without the injured Romain Alessandrini against Minnesota, the Galaxy were unable to generate much offense. And Alessandrini wasn't exactly a goalscoring machine this season in his limited play anyway.
But Alessandrini was a legitimate scoring threat. Zlatan Ibrahimovic is a legitimate scoring threat. The rest of the Galaxy, not so much.
Ibrahimovic has scored seven goals — four from PK's that he drew. The rest of the Galaxy have scored six goals with center back Daniel Steres with two goals and the rest scattered between four others.
The Galaxy need to find dangerous players in dangerous positions. And that means feeding Ibrahimovic consistently and putting him into dangerous situations. But it also means moving off the ball and looking to find offense when playing off of Ibrahimovic.
Ibrahimovic is a good passer, and it's time the Galaxy start using his ability to make plays to get goals from multiple positions.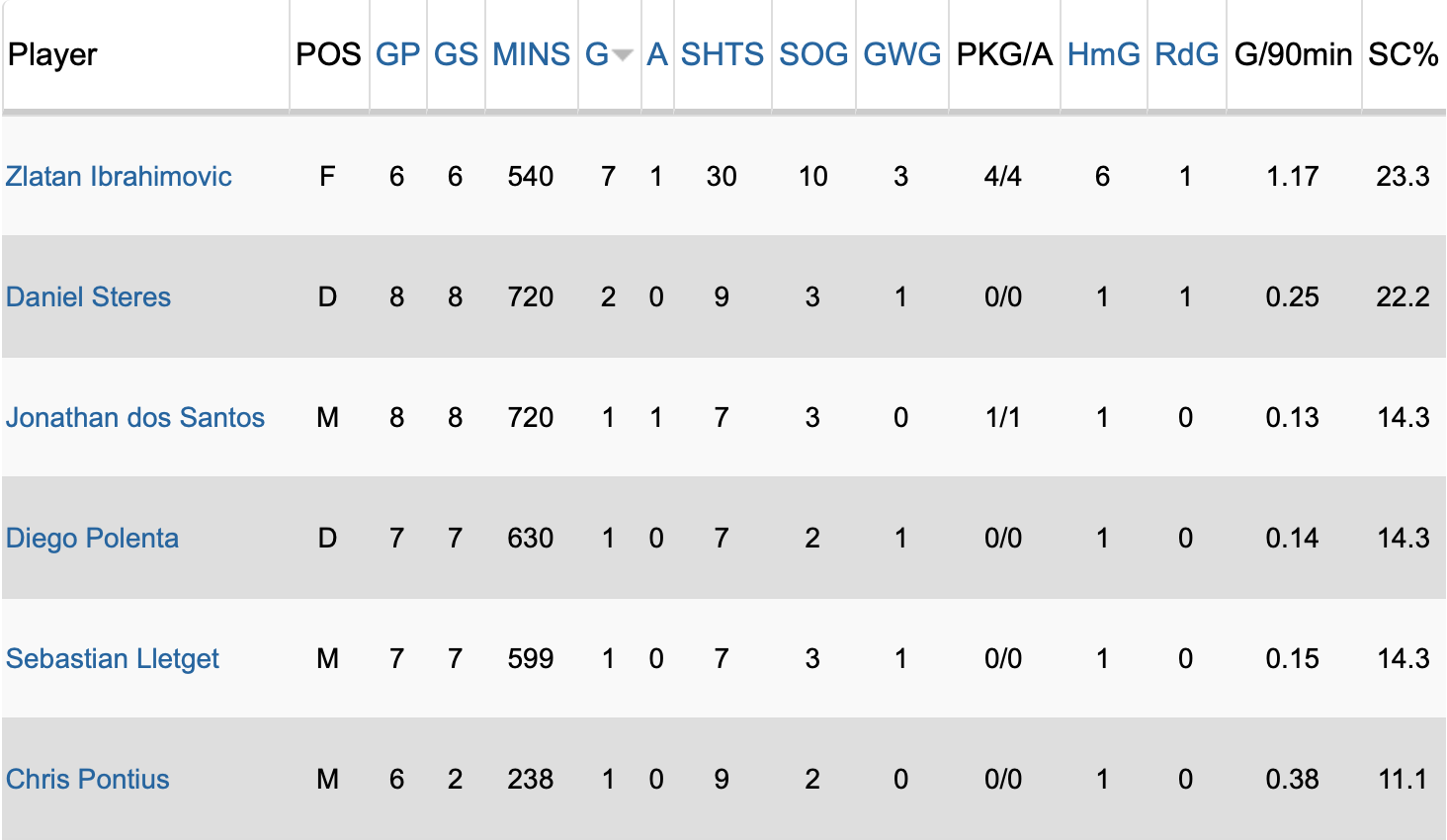 LEAGUE-LEADING DEFENSE
The Galaxy's plus-six goal differential is entirely a result of their defensive prowess in 2019. Allowing just seven goals in their first eight games, they're tied for the league's best defense with crosstown rivals LAFC.
That's quite a turnaround from the previous two seasons.
In 2018, the Galaxy allowed 64 goals. In 2017, it was 67 goals. And on their current pace, the 2019 Galaxy would allow less than 30 goals this season.
And while it's early, the addition of Diego Polenta, the outstanding play from Dan Steres, and the combined excellence of Rolf Feltscher and Julian Araujo, have meant this Galaxy defense is something opposing teams will have to plan for.
"We're a lot more organized this year," Galaxy goalkeeper David Bingham responded when asked about what the difference has been. "Everyone has played with each other for at least a year now and developed, so getting to know each other, the mistakes are getting a lot less. They're still happening here and there, but they're few and far between now."
Most notably has been the pairing of Polenta and Steres in the center of defense — an area that was a real problem last season.
"They've been great this year," Bingham said of the center backs. "What are we, in the top couple in the league in goals against? So obviously you have to say they're one of the best duos in the league. And we anticipate that getting better as the league goes on."
The Galaxy will probably find a start for Giancarlo "Pipo" Gonzalez versus RSL, as well. And that will come at the right time as the Galaxy have injuries to both Feltscher and Araujo.
And while the Galaxy expected Gonzalez to take over for Steres at some point, the smart play, at least for now, is to get their best, healthiest set of defenders on the field.
Larry Morgan contributed to this article