CARSON, Calif. — The LA Galaxy are back at home on Saturday afternoon (1 p.m. PT; ESPN) after a rough and exhausting road trip that has seen them lose back to back games for the first time in 2019. And they shouldn't expect any sympathy from New York City FC (3-1-6; 15 pts.), who got to skip a midweek match and who instead were waiting for the Galaxy's road trip to finish while already in Los Angeles.
The Galaxy (7-3-1; 22 pts.) have given up six goals in their last two games after only allowing eight goals in their first nine games. But the commonality seems to be fatigue from both traveling and from Galaxy Head Coach Guillermo Barros Schelotto's insistence and reliance on his core group of 11 starters.
Below, we'll tackle the three biggest storylines that should make this an exciting match.
DEFENSIVE CHANGES
The Galaxy don't have many options available to rotate the squad. They're not going to rest the 37-year-old legs of Zlatan Ibrahimovic, and most of the midfield needs to stay exactly where it is because the options off the bench aren't much better. But defense is another story.
Julian Araujo is healthy and ready to make a start at right back, and Diedie Traore got last game off in the only "rotation" Schelotto attempted. Both should start this game for Rolf Feltscher and Jorgen Skjelvik. Feltscher looked tired against both the Red Bulls and Columbus, and Skjelvik was a non-factor when he played midweek.
Feltscher will be unavailable for the match as he tried to play through a toe injury in the last two games, but couldn't make it through it. So that should force the hand on Araujo.
With so much offense generated from the outside backs getting forward and putting in crosses, the club can't afford to sit back and allow tired legs from the outside keep Ibrahimovic from scoring.
And when it comes to the middle of the defense, it's time to let Giancarlo Gonzalez start a game. Daniel Steres, while being the Galaxy's best defender over the first 11 games of the season, has also played every minute of every game. He needs a break, and the Galaxy need to see how Gonzalez handles a position that will ultimately be his.
With some fresh legs, the Galaxy will at least stand a chance against a well-rested NYCFC front line that will definitely cause some problems.
PLAYING WITH/WITHOUT FAVIO ALVAREZ
The Galaxy, as of Friday morning, were still waiting for the International Transfer Certificate and P-1 Visa for their newest signing, midfielder Favio Alvarez.
If it comes through in time for the game on Saturday, the Galaxy will surely shove the 26-year-old Argentine into the lineup. If he does play he would likely pair with Sebastian Lletget and play in front of Joe Corona — who would take over that spot because of the hamstring injury to Jonathan dos Santos (currently dos Santos is a game time decision).
That would preserve the formation the Galaxy are comfortable with (4-1-4-1) and provide another technical set of boots in the center of the field.
Without Alvarez, the Galaxy will most-likely lean on Servando Carrasco to play the defensive midfielder role and push Corona next to Lletget. It's a weaker midfield that lacks speed, but it's one that may have to do the job.
PERFECT RECORD AT HOME
The Galaxy are a perfect 6-0-0 at home. But this will be their most daunting test this year. And that hinges on two factors: One, that the Galaxy are already exhausted and have little room for squad rotation, and two, that NYCFC has only lost one game all season and that was at the end of March to Toronto FC (4-0 loss, 3.29).
NYCFC are a dangerous squad. While they only have three wins on the season, they've only been beaten once (mentioned above). They certainly could have had many more points, but they haven't been able to put together some complete games to get the wins.
They're road record is 2-1-2, and while they sit sixth in the Eastern Conference, they're only five points from first.
The Galaxy, up until the two-game road trip, had the benefit of playing six of their first nine games at home. In May, they'll see that flipped as they play four of six games on the road.
In Major League Soccer, you can afford to be inconsistent on the road. The Galaxy have averaged over 18.5 points on the road since the franchise was born in 1996. And with a possible 51 points from all away games, a 36-percent conversion rate isn't exactly stellar.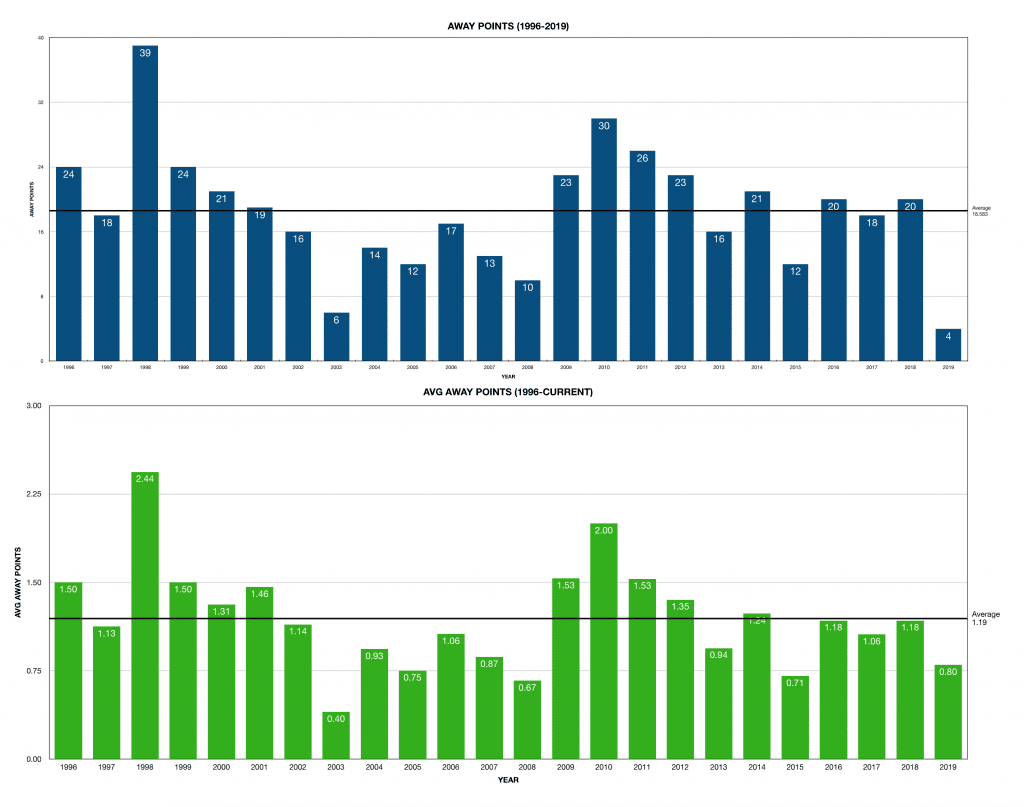 That average jumps to nearly 30 points when you look at the home points. Still, not a tremendous overall conversion rate, but MLS Cup winning years faired higher — 41 points in 2011, 31 points in 2012, and 40 points in 2014.
The bottom line is that you have to win your home games. You can afford to stumble on the road, but faltering at home is the perfect way to miss the postseason.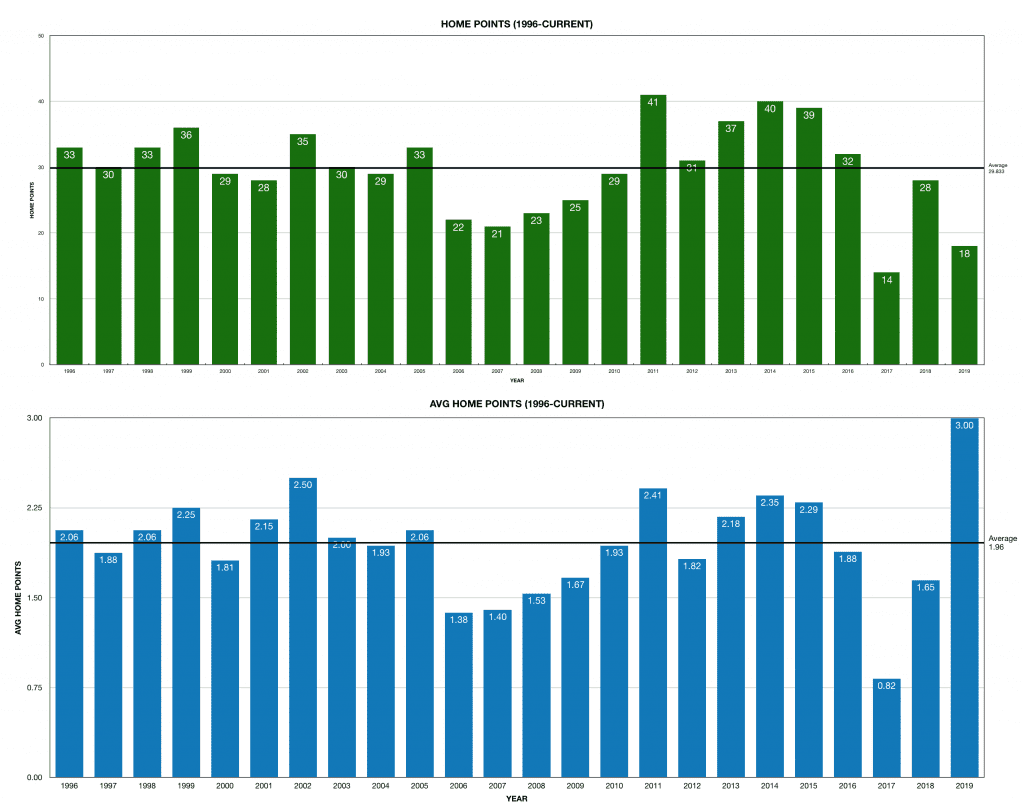 COG PROJECTED STARTING LINEUP