The LA Galaxy only put one shot on goal, but Jonathan dos Santos made sure it counted.
Dos Santos' 19th-minute strike — a 20-yard right-footed rocket that fell to him thanks to a cross from defender Rolf Feltscher — was the difference in the Galaxy's 1-0 win against Orlando City on a warm Friday night at Orlando City Stadium. The win, snapping the Galaxy's four-game losing streak, also gave the club its first points in May and showed how desperately the Galaxy wanted to atone for their disappointing loss last weekend.
"Yeah, I think we talked about [how] we need some points. We need to win. We need to recover on the points we lost to New York a week ago," Galaxy head coach Guillermo Barros Schelotto told reporters after the game. "We need to fight more. I think we are a really good team and a very big club. We need to fight like Galaxy."
Schelotto went younger with the squad on the evening. Giving a start to first-round draft-pick Emil Cuello (22-years-old) in the midfield, and started 21-year-old Uriel Antuna at the top of the formation. It was Cuello's second-ever start, and Schelotto gave the youngster 57 minutes before Perry Kitchen replaced him for his first minutes of 2019.
But besides dos Santos, the real standout of the night was David Bingham. The Galaxy netminder made six great saves (tying his season high) and kept Nani, the Portuguese International, and star for Orlando, out of the back of the net.
In total, Nani launched eight shots – three on goal – but couldn't get one past Bingham.
However, no save was more significant than the 32nd-minute penalty that pitted Nani against Bingham with a chance for Orlando (4-7-3) to draw level in the match.
It was all due to a mistake by dos Santos who got caught in possession, inside his own penalty box, by Orlando's Sebastián Méndez. Dos Santos was attempting to spin away from Méndez but slipped on the surface and ended up making a lunging, sliding tackle that was quickly caught by center referee Allen Chapman in the 31st-minute of the match.
Nani's penalty shot was well placed, but Bingham got a read on it early and made the save diving to his left. The ball stayed in play, and despite a scramble inside the Galaxy's box, it was finally cleared.
In total Orlando outshot the Galaxy 19 to four, and seven to one on-goal, but couldn't get on the scoreboard. They also out-possessed the Galaxy 57-percent to 43-percent and dominated the second half of the game when Sacha Kljestan entered the game to cause problems for the Galaxy.
"We knew it was going to be a difficult game because of the temperature, the humidity, because of a little of everything," dos Santos explained. "But I think the team knew how to fight the second-half more than anything. The first half was very equal, and both teams had the ball.
"It was a back and forth game," he continued. "But I think the second half for the team was very good – in the feeling of fighting – in the defense."
The defense was stout as Giancarlo Gonzalez got his third start in a row and of the season. The newly acquired 31-year-old, paired with Dan Steres, was tenacious on defense. He won contested balls, he was great with his emergency defending, and routinely cleared the ball out of danger while facing his own net.
It was especially encouraging as defender Diego Polenta was left back in Los Angeles as he picked up a small knock before departure to Orlando.
For his part, the goal scorer dos Santos tallied his second goal of the season and now has four goals and ten assists for the Galaxy in 47 career appearances. His night was up and down and was still playing with a hip injury that he talked about after the match.
"It was a little difficult, but when I start to have pain in my hip, and I start to do some movements, my body gets tired faster because I don't have the complete mobility," he said. "But, I suffer with that pain and try to do everything I can for the team.
"From one part, it takes a lot from me," dos Santos continued. "Almost every year, I experience some pain in my hip but like I've always said, there's never an excuse. If you are going to play, you are going to play at 100%. Today I found myself good, truthfully, I found myself good. All week I felt good as well. The most important thing is that we won, we suffered, but we won."
The Galaxy improve to 8-5-1 through 14 games this season after the win and momentarily sit in third place in the Western Conference and nine points behind league-leaders LAFC (34 points) who also won on the night.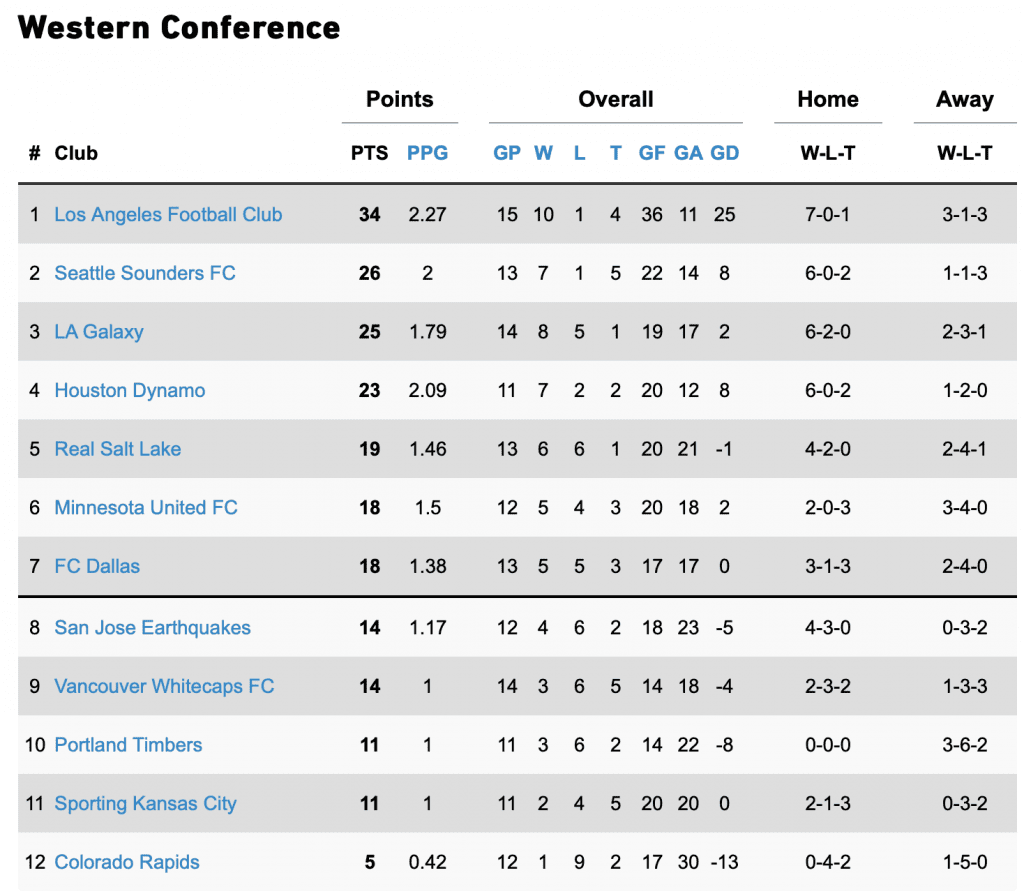 The Galaxy will travel back to LA on Saturday where they'll prepare for a Wednesday night matchup in Kansas City against Sporting KC (5:30 PT; SpectrumSN) before closing out their pre-international-break-schedule by hosting the New England Revolution next Sunday (June 2).
For now, the ugly win will momentarily put to rest the ghosts of their loss from last week — a game they lost while looking better than they did tonight.
But perhaps Schelotto was right to credit the fight and not the performance. Maybe it was a lesson learned.
"I think today was wonderful because the players fought," he said. "The players tried to play and won three points which are very important to us."
HIGHLIGHTS