CARSON, Calif. – LA Galaxy goalkeeper David Bingham isn't interested in moral victories, which helps explain his reticence to accept praise for his strong performance in last Friday's otherwise unsettling 3-1 loss to the San Jose Earthquakes at Dignity Health Sports Park.
Bingham did give up three goals, but if not for his gutsy play under a constant barrage – the Earthquakes outshot the Galaxy 32-5, including a stunning 16-1 in attempts on target – the five-time MLS Cup champions might have suffered one of the worst defeats in franchise history.
The 29-year-old finished with a career-high 13 saves and arguably was the only reason why the game wasn't more one-sided. Bingham, whose previous high for saves was nine twice last season, refused to take any solace in that observation.
"No," he told a reporter. "If you lose a game, you lose a game. It doesn't matter if you have zero saves or 20 saves. You'd rather play bad and make a few mistakes and win the game instead of play well and lose.
"At the end of the day we lost the points, and we've got to pick up some points at home."
An angry Bingham refused to discuss his record night with reporters after the game and revealed he was unaware he set a personal mark for saves until the next day.
"I didn't know it was a career-high. I knew it was a lot," he said with a laugh. "You always want to play well; that's part of your job. If you don't play well, you lose your job. It's not like the business world where you can have a bad week or two, and everything's fine.
"Not us."
Bingham was asked what disappointed him most about the game. Surprisingly his answer didn't refer to a defense that allowed three goals in the final 30 minutes.
"Our lack of clear chances," he said. The Galaxy's lone score was a karate-kick by Rolf Feltscher in the second minute; he hit the crossbar with another effort 20 minutes later. "We had Rolf's goal in the second minute, then had one off the post. But after that, I don't remember us being dangerous … at all.
"Our attack was just dead; it looked lifeless. And that's the most frustrating thing, especially with the guys we have."
Bingham also said he wasn't as tired physically as he was mentally.
"I was more mad that happened," he said. "It should never happen to us, especially at home, and it did. We can't go back and change it. We just have to go forward."
IN THE SPOTLIGHT
Friday's showdown between the Galaxy and Los Angeles FC at Dignity Health Sports Park (7 p.m., ESPN) will offer a chance to see two of Major League Soccer's most dynamic players in the Galaxy's Zlatan Ibrahimovic and LAFC's Carlos Vela.
They are 1-2 in MLS in goals – Ibrahimovic actually is tied with Atlanta's Josef Martinez for second with 13 goals; Vela leads the way with 19 – but Ibrahimovic said he could care less about any potential scoring race with the LAFC sensation.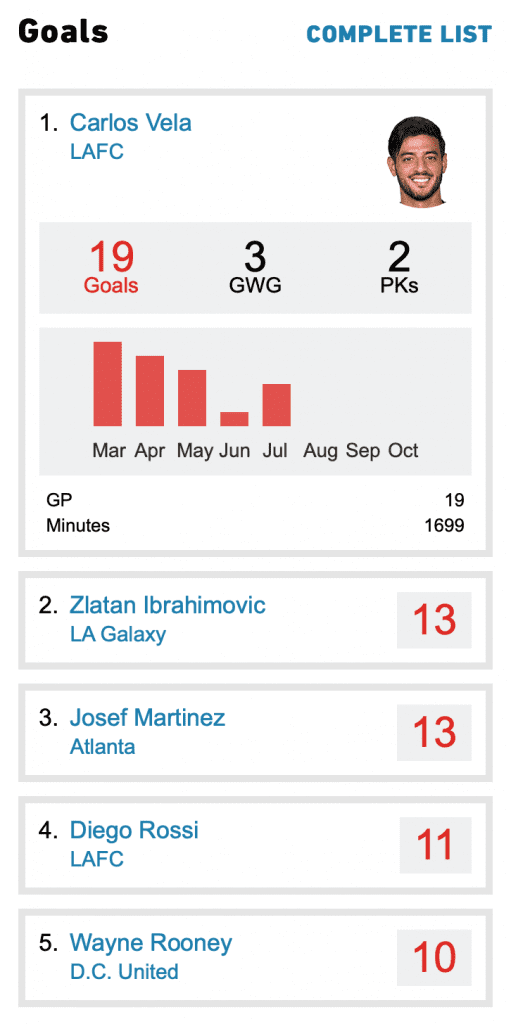 "I'm not focusing on that," he said. "As long as I can help my team in the best way, I'll try to score the goals to help the team. That's part of my responsibility, part of my job. I'm trying.
"My race against him? That is not important."
Ibrahimovic did admit he has been impressed with the play of the Mexican standout from Cancun.
"I think he's effective," he said. "He scores goals, does assists. I think he's at the top of his game now. I don't know how old he is, but he's doing good.
"He's important for his team. For MLS probably he's very important."
Ibrahimovic was asked about an incident in last year's first-ever meeting between the rivals in which Ibrahimovic was seen trash-talking with Vela after the Galaxy had erased a 3-0 deficit. The Galaxy, behind Ibrahimovic's two goals in his first appearance with the club, eventually won 4-3.
"Nah, just a situation on the field," he said. "What happens on the field stays on the field.
"Not like the goalkeeper from New York City," he went on, referring to a recent confrontation with NYCFC goalie Sean Johnson in which Ibrahimovic was suspended two games for what the league deemed was violent conduct. "He tells the commissioner he has a scratch on his neck, then I got suspended.
"That never happened in my career. Trust me, if he would be in Europe, he would not play anymore in Europe. That's why he's here maybe. (Bleeping) childishness (bleep)."
INJURY UPDATES
Chris Pontius, bothered by a sore hamstring, said Wednesday he was "one or two weeks away" from returning to action.
Galaxy head coach Guillermo Barros Schelotto had hoped to have midfielder Sebastian Lletget (hip) available for LAFC, but team doctors told him no.
Perry Kitchen also has been ailing with a hip injury. Kitchen, who earlier this season underwent foot surgery, has been limited to just six appearances, including four starts. Lletget has played in 17 games, with all of them starts, but he has missed the last two games.
Schelotto said he was optimistic the duo will return to training next week in preparation for a July 27 clash in Portland.
Defender Dan Steres (leg) and midfielder Uriel Antuna (back) appeared to be hobbled after the San Jose game, but both players trained Wednesday and should be available to face LAFC.