CARSON, Calif. — The LA Galaxy know they are in for a tough fight on Friday night, as they get ready to host league-leaders Los Angeles Football Club at Dignity Health Sports Park for the first El Trafico of the season (7 p.m.; ESPN)
With LAFC (14-2-4; 46 points) leading Major League Soccer in wins (14) and fewest losses (2), as well as sporting the league's most prolific offense (53 goals scored) and stingiest defense (17 goals allowed) there's little doubt they're the best team in MLS through the first 20 games of the season.
The Galaxy (11-8-1, 34 points), on the other hand, have been treading water behind LAFC for most of the season. And while they've dropped one spot in the Western Conference standings — the Seattle Sounders moved one point clear last week — they're still very much in the playoff picture. But their most recent form – winners of just four of their last 11 games and coming off a blowout loss to the San Jose Earthquakes – would seem to indicate otherwise.
But in the hotly contested greater Los Angeles area, no game gets bigger than El Trafico. So both form, previous results, and standings mostly get thrown out the window with only the unexpected expected.
"I think it's a good moment to play them," LA Galaxy Captain Zlatan Ibrahimovic told reporters at training on Wednesday. "I think all the pressure is on them because obviously they are the favorite and I think they're overall No. 1. And we play at home.
"I think for the fans it will be a nice game, a good game to play. Hopefully, it will be a full stadium and just go out and enjoy it."
The game, which is expected to sell-out, will be just the fourth-ever meeting between the two teams. And the Galaxy have yet to be beaten by the expansion side (1-0-2; 7 goals scored, six goals conceded).
The game itself is billed as a battle between Ibrahimovic, and LAFC's Carlos Vela. And Vela is a formidable opponent. He currently leads the league with 19 goals in 19 games and is tied for the lead in assists with 12. He's also the clear frontrunner for MLS MVP and has a possibility of breaking the MLS single-season goalscoring record (31 goals).
Ibrahimovic sits two spots behind him with 13 goals scored in 16 games this season.
"I think he's effective," Ibrahimovic said of Vela. "He scores goals, does assists. I think he's at the top of his game now. I don't know how old he is; he's doing good. He's important for his team. For MLS, probably he's very important."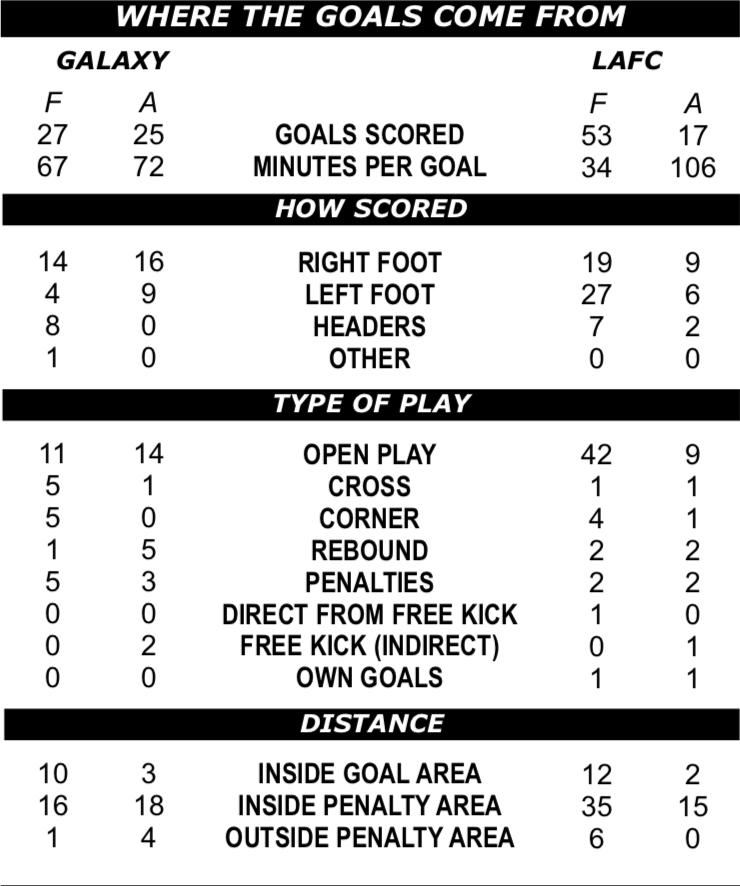 But the Galaxy's focus can't be on just limiting Vela. LAFC has too many dangerous pieces to try and isolate any single player. No, the focus for the Galaxy is to try and get their best performance of the year from another depleted lineup.
Romain Alessandrini has been out most of the season with knee surgery and is not expected back until September. But Sebastian Lletget (hip), and Chris Pontius (hamstring) were both training with the club last week and were supposed to be available for this match. Both, however, have been ruled out by Galaxy Head Coach Guillermo Barros Schelotto. And Perry Kitchen is still dealing with a hip injury that will also see him miss this match.
"We lost two players who would have been very important in the last game (Lletget and Kitchen)," Schelotto said. "We tried to get them for this game, but the doctor said no. We have to win until next week. Antuna is okay. He's ready for Friday. Everyone is okay. Pontius maybe next week (hamstring)."
Dan Steres, who was injured in the final moments of the loss to the Earthquakes, but trained all week, is also available for selection against LAFC.
It will be impossible to frame the narrative of this game without also thinking of the three previous matches between these two clubs. And in particular, the MLS debut of Ibrahimovic and the "Miracle on March 31" that saw the Galaxy come from three goals down in the second half to win the game 4-3. With the most dramatic of those goals coming from a 40 yard sideways half-volley from Ibrahimovic that ended up beating LAFC goalkeeper Tyler Miller for the game-tying goal.
"It was a great atmosphere," Galaxy goalkeeper David Bingham told CoG. "I remember being down and thinking, 'This is not how this game is supposed to go.' Luckily we were able to crawl back into it and win the game. you can't count on that stuff."
But Bingham was quick to point out that playing from behind is not the way the Galaxy can be successful.
"We should never let ourselves get in that situation in the first place. We've got to get back to winning," he said. "When LA teams win the fans show up. That's just the reality of it. we really need to win because you don't want the fans to come to these home games and we're dropping points."
The Galaxy most focus on getting the ball into more dangerous offensive positions. And LAFC's high-press will put a ton of pressure on the Galaxy's midfield and defense as well.
But against San Jose, the Galaxy were outshot by a total of 32 to five with just one shot on goal. So making adjustments to how the offense creates space and opportunities for Ibrahimovic is just as important as staying defensively compact and patient against the league's top offense.
"It's not a one-man show. It doesn't depend on one player. We all have to work to make the individual shine," Ibrahimovic explained. "I have a lot of responsibility. I have a lot of demands on myself. I put a lot of pressure on myself. I want to do the maximum every game, every training, to get the best out of myself. To get the best out of the team also."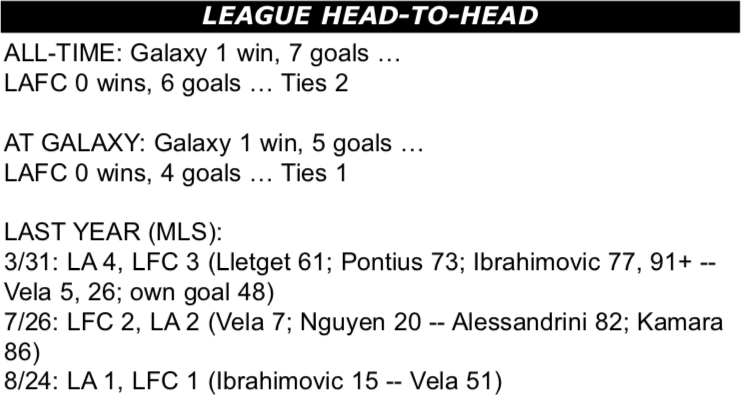 Any mistakes against LAFC will be punished, that's for sure. But for a Galaxy team that was lackluster in their approach to the Earthquakes last week, an emotional response in this game is warranted.
Especially as the ever-demanding MLS schedule finds them heading to the road against tough teams very shortly.
"What we need is a win, it doesn't matter who it's against," Bingham insisted. "We need to win some games here.
"We started off great — I think 7-1-1 — since then it's been a bit of a struggle. We need to get that consistency back to where it was and keep picking up points, that's the main thing.
"We let a couple of bad home games go, that should never happen. Now I think we have more road games than home games coming up; now we have to win some on the road and get better at home."
The Galaxy have seven wins and four losses at home this year. But are winners of just two of their last six games played there.
All of that will be forgotten if the Galaxy can sneak a win from LAFC. But this game means much more for the Galaxy who have seen an inconsistent form keep everyone guessing about how good they can be.
Seasons are often defined by results from the big games. The Galaxy have yet to put up a signature win, or a dominant 90-minute performance, in 2019. But a victory over their crosstown rivals could point them in the right direction for the remaining 13 games of the season — even if that seems like a tough hill to climb at the moment.
"For now they are the best team in the league," Schelotto said. "It's not easy to beat them. What they've shown during the year is very high. We need to put on the field the best team we can and fight with them. Not just run. We need to give our best."
Larry Morgan contributed to this report
---
---