COG Studios, Calif. — Welcome to the 2019 Rumor Tracker. This is where we're going to gather to keep you updated on the latest rumors surrounding the LA Galaxy.
Here's your big warning: All the rumors, that are contained below, are a mixture of speculation, research, plausibility, and fantasy. How much of each of those items each rumor consists of is up to you to figure out.
We'll provide a complete arbitrary guide to each rumor, and attempt to give context where we're able to. Sometimes we're able to corroborate rumors, and sometimes they just get reported because someone was bored at work.
Enjoy! And if you find a rumor that isn't on our tracker, make sure to tag us on Instagram or Twitter and use the term, "PUT IT ON THE TRACKER, GOOSE!"
THE TRACKER WAS LAST UPDATED ON: 8.9.2019 at 9:00 a.m.
(8.9.2019) Galaxy Roster, INTL slots, allocation order, and allocation players updated
⭐️ = COLD
⭐️⭐️ = NOT AS COLD
⭐️⭐️⭐️ = WARM
⭐️⭐️⭐️⭐️ = HOT
⭐️⭐️⭐️⭐️⭐️ = REALLY HOT
✅ = RUMOR CONFIRMED
💀 = RUMOR DEAD
DEFENDER JORGEN SKJELVIK TO HAMMARBY: ⭐️⭐️⭐️
ORIGINAL STORY (8.6.2019): Jorgen Skjelvik might be headed to Hammarby. The Galaxy and the Hammarby are in discussions to move the Norwegian, but there is not a deal imminent and the deal might not happen before the close of the MLS window (READ OUR BREAKING STORY HERE)
The bottom line: The Galaxy are trying to clear Skjelvik's salary before the transfer window closes. But even if the MLS window closes Hammarby's window stays open longer. The deal might not happen. We'll update accordingly.
WINGER CRISTIAN PAVON TO THE LA GALAXY: ✅
UPDATED RUMOR 8.6.2019 (3:35 PM) — LA Galaxy will receive $250,000 in Targeted Allocation Money from DC United for Emmanuel Boateng as reported by Sam Stejskal.
That's starting to add up. We're waiting on the amount from Orlando in the GAM for TAM trade.
UPDATED RUMOR 8.6.2019 (2:45 PM) — The LA Galaxy will make a cash for cash deal with Orlando City, a source has confirmed to CoG. The Galaxy traded General Allocation Money ($200,000) for Targeted Allocation money and will receive $136,220 in TAM.
Again, this continues to stack money up for the eventual signing of Pavon. Pieces are starting to fall into place.
Stay tuned! Things are getting a little crazy!
UPDATED RUMOR 8.6.2019 (1:28 PM) — Scratch Pontius off that list. Galaxy look like they'll be making one of those ever so popular "cash for cash" deals. Pontius seems like he's staying.
Basically, it looks like a GAM for TAM deal.
Add to it that DC United just traded for $212,500 in TAM from Portland and things are starting to move.
Magic number for the Galaxy seems to be around $580K in TAM to make the Pavon deal happen.
UPDATED RUMOR 8.6.2019 (1:20 PM) — Emannuel Boateng confirmed to DC United for "cash." You can assume that's Targeted Allocation Money. Another move is expected shortly. CHRIS PONTIUS' name is being kicked around. Is a return to DC for him in the cards?
Pontius has a no-trade clause but would surely wave that to go back to DC, right?
UPDATED RUMOR 8.6.2019 — BOATENG ON THE MOVE! We're going to keep this under the Pavon rumor because these all seem related. But Pablo Maurer of the Athletic is reporting there is interest in Emmanuel Boateng from DC United.
The Galaxy are attempting to acquire massive amounts of TAM to get the Pavon deal done, and this could be one of the pieces the Galaxy are ready to move.
Does anyone know if DC United still have to play against RSL?
Stay tuned. We're expecting more names to pop up. This seems like a 2 or 3 player deal.
UPDATED RUMOR (8.5.2019) — Pavon is in Los Angeles. The 23-year-old Argentine arrived on Sunday morning and was greeted by more than a few Galaxy fans at LAX in what the Galaxy are calling a chance to "continue negotiations."
But in all likelihood, Pavon and the Galaxy are no more than a signature away from making a deal — okay maybe a few details like, "what jersey number are you wearing?" Otherwise, why fly all the way to LA to just turnaround and go back to Boca Juniors?
The other near-certainty is that Boca and the Galaxy have also agreed to a deal. That deal looks like a loan deal with an option to buy, but the details of the length of that contract seem to be more murky. But Boca isn't allowing Pavon to come talk to the Galaxy if a deal isn't already done.
But the big hold up, and this is speculation, seems to be that the Galaxy still need to work on their roster compliance. Regardless of if Pavon is a Designated Player, or a TAM signing, they will need TAM or GAM to play a significant part in buying down either his salary or the salary of someone like Romain Alessandrini.
The International Slot the Galaxy need to open up seems like an easy case of loaning down a player like 20-year-old Diedie Traore to LA Galaxy II. But the money issue might be where the Galaxy need to get creative.
The roster compliance part of this is the hardest. And with every team in MLS on full notice that Pavon is in the county and waiting for this to be cleared up, the Galaxy are in a position of weakness. And that may mean giving up more than draft picks, and it may mean giving up some depth and promising assets.
Dave Romney, Dan Steres, Emil Cuello, and others would seem to fit that bill. And we've spoken at length before about how important league-ready domestic players are. So don't be surprised if the Galaxy part ways with some of these guys to make the deal come together.
Pavon, on the other hand, is already settling into his SoCal life and was seen relaxing near the beach after his arrival via his instagram.
The Galaxy are saying the deal isn't done, because, well, the deal isn't done. And in some ways, there's still a long road to making this all come together. But With Pavon in LA, some of the biggest hurdles have been cleared.
---
UPDATED RUMOR (7.31.2019) — We're still talking about this, huh?
It seems that a purchase agreement for Pavon has once-again been rejected by Boca Juniors. That number could have well been the $18-million the Galaxy had been rumored to offer earlier this week (a good deal for a player who is NOT PLAYING and who Boca DOESN'T HAVE THE ROOM FOR) or it could be for $16-million as ESPN Argentina is now reporting.
The discussion, it seems, could now be moving on toward another Argentine, Martín Benítez. The 25-year-old is currently playing with Club Atlético Independiente in Argentina's First Division. Independiente have put the player's release clause at $20-million, but seem ready to negotiate at $8-million.
Now, having said all that, DO NOT COUNT THE PAVON DEAL AS DEAD. A source has told me the Galaxy are still trying to negotiate a loan for Pavon with a likely option to buy. And with Boca telling tall-tales of loaning the player out to Europe, loaning him to the Galaxy is still a good move for them.
Again, Pavon doesn't seem to have a future with Boca, and while Boca certainly are negotiating from a position of weakness, they've turned their bullheaded stubbornness into a fake position of strength. That is, unless the Galaxy actually try to land Benítez.
The Galaxy seem determined to land a right-wing in this transfer window. So regardless of the outcome, the Galaxy are getting another offensive body before the transfer window closes on August 7.
UPDATED RUMOR (7.26.19) — IMPORTANT: The LA Galaxy remain interested in Cristian Pavon. And while the deal isn't done yet, it's close.
Kevin Baxter reported on twitter that the club remains interested in the 23-year-old Boca Juniors winger. And the Galaxy's normal M.O. in these cases is not to confirm anything until the pen has been put to paper.
Additionally, I've been told by an unconfirmed source that the two sides are very close to a deal and that if it gets done to expect an announcement closer to the MLS All-Star game which takes place on July 31, in Orlando. Take that as you will.
The rumors have picked up intensity with the Galaxy apparently upping their initial bid of $12-million for 50-percent of the player, to now offering $18-million for 100-percent of the rights to the player.
50-percent of the player's rights would have allowed Boca Juniors to get half of his sale price if the Galaxy were to move him. That number valued Pavon at $24-million. The new number chops $6-million off the total value and gives the Galaxy all the potential profit from any sale down the road.
If my argument was that Pavon was a deal at $24 million, then he's still a deal at $18-million, right? After all, this is a guy who once had a $40-million price tag put on his shoulders by Arsenal.
The transfer fee would be the largest in MLS history and would set the Galaxy at the tops of the league in terms of salary. Although don't confuse salary with transfer fees, they're different (but the transfer fee could be averaged out over the life of the contract for cap reasons).
The Galaxy still have to figure out a way to clear up a DP spot, but they wouldn't still be in this deal if that hurdle hadn't already been crossed (i.e. extending Alessandrini's contract for an additional year or two to lower his average below the $1.5-million TAM ceiling).
This seems to be coming to a head with just 13-days left in the summer transfer window (August 7).
BUT NOT SO FAST!!!
Now ESPN's Jeffrey Carlisle is dropping some knowledge on the deal as he says a deal is "not close" and there are "no record fees."
This is going to continue to get good, isn't it? I mean, this is continuing the trend of two streams of information that are basically coming at it from two different areas.
Jeff is trustworthy, though. And that could mean the Galaxy are getting better deal than we've anticipated. Or it could mean this thing is on it's way to falling apart.
Loan deals. Loan deals to Europe. An unhappy Pavon. This is quite the circus. If and when the Galaxy move on from Pavon, nobody will blame them.
UPDATED RUMOR (6.26.19) — This much seems unchanged: the Galaxy are still interested in Pavon.
The rumors have once again hit a fever-pitch with Hernán Castillo reporting that a firm offer has been made. CBS Sports has then been able to confirm that information from their sources.
The offer comes down to about $12-million for 50-percent of the Pavon's future sell-on and would mean the Galaxy would need to sell Pavon for $24-million if they wanted to break even.
But with Pavon's previous offer of somewhere around $40-million from Arsenal that was turned down, it's a good gamble for LA.
The Galaxy still have some housekeeping to do when they try to free up an International Slot and a DP slot. And those are still major hurdles to overcome. But they're not impossible hurdles to overcome.
Perhaps signing Romain Alessandrini to a contract extension at a lower number could move the average of that contract below the DP threshold of $1.5-million? Or maybe they move Alessandrini altogether.
Bottom line, while we have upgraded the rumor because negotiations seem to be taking place, the Galaxy, Dennis te Kloese, and the rest of the organization still have a lot of work to get this deal done.
IMPORTANT: From the information we've been able to gather, nothing seems imminent, and this doesn't get done today. But they're going to try and make it happen. And that says something about the Galaxy's ambition for this season.
They've spent $7.2-million on Ibrahimovic, $6.5-million on buying out Giovani dos Santos, and are now looking at a deal that could be as much as $12-million in a transfer fee (not to mention Pavon's personal terms). Raise your hand if you thought that the Galaxy would spend almost $26-million on the squad this year.
ORIGINAL RUMOR (6.7.19) — Ever since Guillermo Barros Schelotto has taken the head coaching job for the LA Galaxy, the Boca Juniors rumors have followed him. After all, he played at the club, he most recently coached the club, and his link to all of Argentina is important to the Galaxy's future success.
So the rumor of winger Cristian Pavon coming to the Galaxy shouldn't initially surprise anyone. But when you actually dig into the numbers, the surprise should be immiediate.
First and foremost, this rumor has some legs.
Speaking to some of our sources, there interest from the Galaxy for Pavon. He fits a position of need — right wing — and he's clearly a talented player. He can score and assist — in 15 games played he has four goals and three assists in his most recent campaign — and at 23-years-old, he's nearing his prime.
The numbers being kicked around are in the $12-million range which would automatically make Pavon a Designated Player. That would push up against the Galaxy already have three designated players and have no International Slots availabe.
There's also talk of a sell-on clause. That Boca would still own 30% of the player and the Galaxy would own 70% of him in a case where he would be sold to another team in the future.
The Galaxy would have some work to do on their side by moving a DP. And that most likely means moving injured Frenchman Romain Alessandrini. How you move a player who's injured until Septemeber is a real tough sell. But that might be the task of Dennis te Kloese.
If he can find a forever home for Alessandrini, the Pavon deal just makes a ton of summer-sense. But Alessandrini's wages would almost surely still be absorbed by the club but remain outside the salary cap — that's the assumption anyway.
The numbers are more staggering in the short term when you figure the Galaxy have shelled out some serious cash for the buyout of Giovani dos Santos, but that doesn't mean this couldn't happen.
We'll keep tracking it.
MIDFIELDER DANIELE DE ROSSI TO THE LA GALAXY: ⭐️
ORIGINAL RUMOR (5.21.19) — Could the LA Galaxy be in the market for another midfielder? Reports out of calciomercato.com have 35-year-old defensive midfielder Daniele De Rossi as a target for the LA-based club.
But De Rossi is wanted by many other teams as well. Add Boca Juniors, and Napoli to that list as well. But what is clear is that his current club, Roma, don't want the midfielder.
All of this really has us asking the pertinent questions. Would the Galaxy need another defensive midfielder when they already use one Designated Player spot on the position? And would De Rossi take a DP spot (likely)?
If you throw out his age — which would certainly place him within the "retiring Euro" bracket — is he still someone who can meet the physical demands of MLS?
While there doesn't seem to be much to the foundation of this rumor, it would meet up with another possibility we've been hearing rumblings about. And that's the Galaxy would figure out a way to move Romain Alessandrini over the summer and bring in a new Designated Player.
How you move an injured DP is the biggest question about that, but it's clear the Galaxy are, at the very least, hesitant to renew Alessandrini's contract. And with his injury history, they may be on the right side of that.
We don't think there's much to this besides the obvious "we said LA Galaxy" angle. But it doesn't mean we aren't paying attention.
MIDFIELDER FAVIO ALVAREZ TO LA GALAXY: ✅
ORIGINAL RUMOR (5.2.19) — The LA Galaxy have been linked with attacking midfielder, Favio Álvarez.
Álvarez is 26-years old and currently plays for CA Tucumán in the Argentinean Primar Division. In the current season he's played in 14 games, and scored twice.
The rumor, that hit twitter this morning, says that Argentian will be traveling to the United States in the coming days to join the club on a one-year loan deal with the possibility of a purchase.
He's mainly an attacking center midfielder but can play on either wing as well. And with the option to either keep Sebastian Lletget centrally or move him out to the wing, the options for adding Alvarez seem to indicate that he could play anywhere throughout the attacking side of the midfield.
General manager Dennis te Kloese spoke of needing a player who can be a versatile role player. Alvarez, seems to check that box.
The loan deal also fits in with the general consensus on how the Galaxy could economically add any more players. Although, there is speculation that the club does still seem to have some allocation money leftover from the sale of Ola Kamar to the Chinese Super League.
The primary transfer window will close on May 7. So all of these decisions will have to be made in the next five days.
MIDFIELDER IGNACIO FERNANDEZ TO JOIN LA GALAXY: ⭐️
ORIGINAL RUMOR (5.2.2019) — The replacements for Romain Alessandrini seem to be coming fast and furious. the latest involves midfielder Ignacio Fernadez who currently plays in Argentina for River Platte.
Fernandez is 29-years-old and plays centrally in the midfield but can also play out wide when asked to. Much like the Favio Alvarez rumor above, this would allow flexibility for Galaxy in where they play him.
But currently, all reports indicate that the Galaxy would need to pay some sort of release clause. And that release clause could get very expensive — $8-9 million.
That doesn't seem to fit into any model the Galaxy could afford and would likely make the Argentian a Designated Player. The Galaxy have no room for a DP. Making this deal unlikely. Unless the details are completely wrong, which when you're dealing with rumors is always a possibility.
DEFENDER GIANCARLO GONZALEZ TO THE LA GALAXY: ✅
UPDATE (3.27.19) — This rumor may have just taken a turn. And it may indicate that the Galaxy have either switched their focus and lost interest, or it could mean that there are still some bumps in the road to landing Gonzalez.
Gonzalez, who finished up his international duty with Costa Rica this week, is apparently on his way back to Bologna, in Italy. That could mean nothing or it could mean something. And we're not sure which way to bend on this one.
It's common for international players to have hiccups coming into the league as it requires an ITC and a P-1 visa. However, it's also possible that the Galaxy, who need to move up in the allocation order to get Gonzalez, haven't gotten that deal done and/or may not be able to get that deal done.
It's a tall ask to move up 11 spaces and Toronto knows they're in the driver's seat.
This could all mean nothing, as well. It might just be that Gonzalez is going back to Italy to pack his things and get his life in order before moving halfway across the world.
Either way, we're going to patiently wait this one out. And if we hear of any hiccups, we'll report them here.
UPDATE (3.17.19) — CoG has learned that the Galaxy are close to landing Giancarlo Gonzalez. In fact, it seems that all that hinges on the Galaxy adding the Costa Rican center back is what we've been telling you from the beginning. It will require the Galaxy to move up in the allocation order.
The move would temporarily mean the Galaxy would use their last International slot. Although, that doesn't mean it would stay that way.
Gonzalez would is expected to take over the starting spot for Dan Steres.
Twitter account LAG Rumors was first to report this update.
UPDATE (3.15.19) — This transfer continues to build steam as the Galaxy are linked more heavily with the Gonzalez. Now we have Bologna's coach, Sinisa Mihajlovic, signaling that the Galaxy are indeed interested and that they're waiting for an official offer from the LA-based club.
This report of the press conference comes from everadoherrera.com with the most important quote added below.
"We received a proposal from the Galaxy to find out if there was any availability on our part to let it go. We are waiting for an official offer. We wait for a sign from them. The boy would accept to go, but he said he wanted to give 100% until he was here. The market in the United States is open until May, "Mihajlovic told a news conference.

translate on everardoherrer.com
We told you three days ago there is serious interest from the Galaxy, and this report seem to reinfoce that position.
UPDATE (3.12.19) The LA Galaxy are indeed in pursuit of Giancarlo Gonzalez. The Costa Rican right center back is currently playing with Bologna in Serie A.
In reference to the defender, CoG has learned there is an interest from the Galaxy and it is an avenue they are looking to explore.
This could be another player that Dennis te Kloese has had his eye on and is likely the second player we've been expecting the Galaxy to target.
Gonzalez would have to be acquired through the allocation process and would take the last international slot the Galaxy have (8 of 9 currently filled). And in order to take over the top spot in the allocation order, the Galaxy — currently 11th in that process — would need to move up higher. Probably into the no. 1 or no. 2 spots. That will cost money and the team they're trading with will need to be okay with falling to no. 11.
But the pressing issue of where the Galaxy should be focused is another argument.
With injuries of unknown duration to Zlatan Ibrahimovic and Romain Alessandrini, the Galaxy are especially heavy on midfielders and defenders, and rather light on game-changing attacking talent. Shouldn't a backup no. 9 striker be a priority over another defender?
Add to it that Dan Steres has been the most consistent defender in the first 180-minutes, and had a fairly solid preseason as well. Is that really the weakest link on the backline?
The last thing the Galaxy want to do is have a repeat of the Robbie Rogers situation — that is, depending on a player to be healthy, not having a reasonable backup in place, and then acting surprised when the player they were depending on isn't healthy.
It's crunch time for te Kloese and Guillermo Barros Schelotto. They seem to be reaching their second big crossroad after handling the Giovani dos Santos situation satisfactorily. But a mistake now, could see them trying to make an incomplete roster competitive.
ORIGINAL RUMOR (2.14.19) Former Columbus Crew defender, Giancarlo Gonzalez seems to fit the Galaxy perfectly. And while the original rumor dates back to the middle of February, the club is now in a much better financial decision to make such a move.
ESPN's Jeff Carlisle was first to report on the rumor.
Gonzalez is a 31-year-old center back who is with Bologna in Italy's Serie A. He's also a Costa Rican International who spent time in Columbus before having himself a tournament in the 2014 World Cup.
The Galaxy would need to come up with two things in order to land Gonzalez. They'd need to use one of their 2 open International Slots, AND they'd need to move way up in the allocation order. Gonzalez is an allocation signing, and the Galaxy would need to jump up 11 spots to take Toronto's no. 1 allocation ranking.
While he's clearly on the back side of his career, but that doesn't mean the Galaxy aren't keen to take a look. Especially if the price is right.
GALAXY IN TALKS FOR SERBIAN STRIKER NIKOLA DJURDJIC: ⭐️⭐️
UPDATE (3.14.19; 5:15 p.m.) — That was short-lived. But it's always better when news can quickly be stamped out.
Kevin Baxter of the LA Times is reporting that the Galaxy seem to have little interest in the Serbian striker. And that while the agent has offered him up to Galaxy, the club isn't biting.
It's not totally crazy that something could still come out of this, but for now, we'll step it back by a star.
ORIGINAL RUMOR (3.14.19) — The LA Galaxy may be ready to get that backup striker they lost when Ola Kamara transferred to China last month.
According to a report out of Swedish newspaper Expressen, the Galaxy are in talks with Hammarby IF (Sweden) to get 32-year-old Serbian striker Nikola Djurdjic.
Djurdjic has scored 107 goals in 316 career games and is signed on a contract through December 31, 2021 with the Swedish club. He also had one appearance with the Serbian National Team in 2013.
In the 2017/18 season, he's made 48 appearances (Allsvenskan, Superligaen, Sydbank Pokalen, Reserveligaen) for Hammarby and has scored 16 goals. He's also added 11 assists during that stretch with over 3,600 minutes played.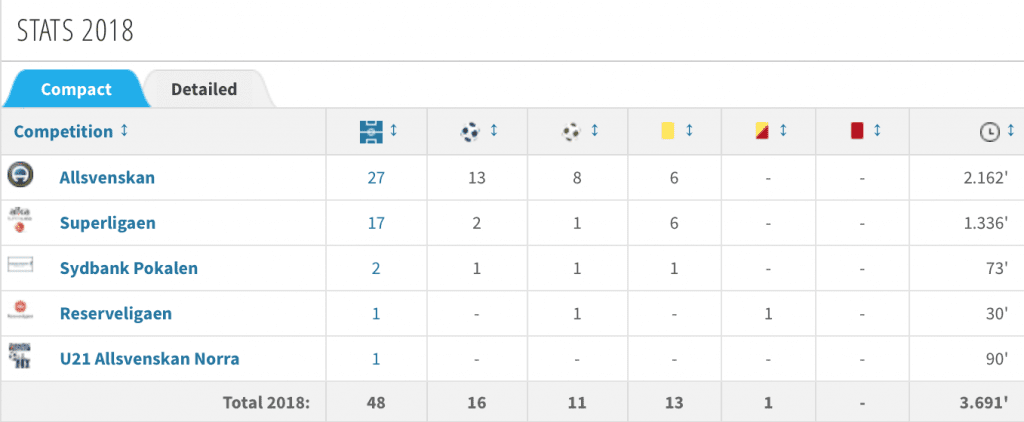 The article reports that the Galaxy are interested in receiving Djurdjic on loan and that talks between the two clubs are going well. If the clubs can come to an agreement, Djurdjic would fly to the United States to take his physical and then join the team next week.
The Galaxy are in need of a backup to Ibrahimovic who has yet to hit the training field after the Galaxy 2-1 season-opening victory over the Chicago Fire. He's been sidelined with an achilles injury but the team has released the severity of that injury nor have they estimated how long he has until he returns.
As a special side note, Both the LA Galaxy and Hammarby are wholly, or partly owned by AEG. The two clubs have shared board members over the years with Galaxy President Chris Klein sitting on the Hammarby board at one point. Although it's unclear if that's still the case.
Our gut tells us to pay attention to this deal. But with rumors buzzing around Giancarlo Gonzalez, it's difficult to tell which one is the prime focus.
And the Galaxy would be using their last International Slot for either of them. Although, that can still be worked around and shouldn't be viewed as an impediment to any move.
MIDFIELDER JOE CORONA TO THE GALAXY: ✅
UPDATE (3.6.19) — The LA Galaxy have announced the signing of midfielder Joe Corona using TAM. Corona will be added to the Galaxy roster and should be available for selection this Saturday when the Galaxy travel to take on FC Dallas at 12:30 p.m. (PT) on Univision and UniMas.
"Joe is an experienced and quality player who can immediately address an area of need for our club," said LA Galaxy General Manager Dennis te Kloese. "I am familiar with Joe from his time in Liga MX and think he can be an impactful player on our roster. We are excited to welcome Joe to our team and look forward to his contributions."
ORIGINAL RUMOR (3.6.19) — The LA Galaxy are in hot pursuit of Tijuana midfielder, and sometimes USMNT player, Joe Corona. Doug McIntyre, from Yahoo Sports, was first to report it with Kevin Baxter, and others confirming it after.
CoG had heard rumblings of the move since Tuesday morning (not that it matters now).
The Galaxy, flush with cash, roster room, and many needs are on the hunt for many players to reinforce a roster that needs helps. Corona might be that answer.
He's a 28-year-old midfielder that has 23 appearances with the senior U.S. team but is probably on the outside looking in, now. And his time with Tijuana has seen him find loans within LigaMx (Veracruz, Sinaloa, América).
In 2018, he made 31 appearances with América.
The deal is for Targeting Allocation Money (TAM) and would indicate that Corona would make a salary between $530,00 and $1.5-million. Zlatan Ibrahimovic moved to a DP to free up $1.5-million in TAM and the sale of Ola Kamara free's up a certain amount as well with his salary of $925,000 (also TAM).
Corona would be expected to fill a central midfield that is riddled by injuries and is need of a playmaker. Could Corona be that playmaker? Or could his inclusion in the midfield free someone else to be that playmaker? Or could Schelotto be aiming for a 3-4-3 that doesn't need a no. 10?
Lot's of questions that need answers. But Corona is incoming.
DEFENDER ADIL RAMI TO THE GALAXY: ⭐️
UPDATE (3.5.19) — Speaking to sources, COG believes there is nothing to the rumor. Rami seems happy in Marseille. Although him being in contact with MLS is something that actually seems to have happened. For now, we put this one on the shelf.
ORIGINAL RUMOR (3.4.19) — With money to spend, the Galaxy are on the hunt for at least two players. CoG figures that's an attacking option and a defending option.
Does that mean that Adil Rami is coming to the Galaxy at the age of 33? Rami, who is romantically involved with 51-year-old Pamela Anderson — yes, that Pamela Anderson — and is coming back off a muscle injury that saw him miss the last month.
In total, he's missed 81 days with injury since the '17/18 season.
But maybe the Galaxy are looking for a bargain. And maybe, with Romain Alessandrini on the team, the Marseille connection is strong enough to overcome this.
We're digging into the details to see if this one has any legs, but it feels more like a "Michael Ciani" than "Jelle Van Damme," in our opinion.
WINGER RICARDO CENTURIÓN TO GALAXY: ⭐️
Original Rumor 2.13.19 — Reports out of Argentina are saying the Galaxy have been offered 26-year-old Ricardo Centurión. Centurión was recently moved down to train with the reserves after pushing his coach during a game.
So already, we're off to fun start.
This report is probably not true and the Galaxy probably don't have the cap space to entertain this particular deal. He most recently moved from Genoa to Racing for around $6-million.
The Galaxy do need some depth on forward, but this doesn't seem like a realistic get. Not with the Galaxy still trying out how to get down from 4 DP's.
Could a loan happen? Maybe. But it all seems like a stretch.
BOCA JUNIORS HAVE OFFERED SEBASTIÁN VILLA: ⭐️
Original rumor (2.13.19) — The Galaxy are once again linked with a Boca Juniors player. 22-year-old Sebastián Villa, who hasn't seen much playing time with the Argentine giants, is rumored to have been offered to the Galaxy.
Because of the Galaxy's salary cap situation, this right-winger would probably have to come on loan.
If you add the fact that Guillermo Barros Schelotto apparently orchestrated his move to Boca, and you might be able to move this rumor into the "possible" category.
But for now, this seems unlikely and we wouldn't be holding our collective breaths.
PATO TO THE LA GALAXY? QUACK! QUACK!: 🦆🦆
ORIGINAL RUMOR (3.16.19) — Alexandre Pato — yes, THAT Pato — is now a free agent as his separation from Tianjin Quanjian of the Chinese Super Leauge is now complete.
The 29-year-old Brazilian striker has been linked to the Galaxy before, but only because of his near obsession with the club's social media accounts.
Therefore, we can assume a couple of things. He likes Los Angeles, AND he'd be willing to join the club for TAM deal (that second one is pure conjecture).
The Galaxy are looking for a replacement for Ola Kamara, and with the likely free time Pato now has on his hands, he could be signed to a short-term contract with a bump after this season.
Listen, this is purely selfish rumor. You know what the Pato rumor means to the show. So we've ranked it in Pato's and not stars. If there is anything, AND WE MEAN ANYTHING, to this, we're going to jump right on it.
Move over Panda, it's the Pato and Pato show! Coming Soon to a CoG Podcast near you!
ROSTER INFO, INTL SLOTS, ALLOCATION ORDER
LA GALAXY CURRENT ROSTER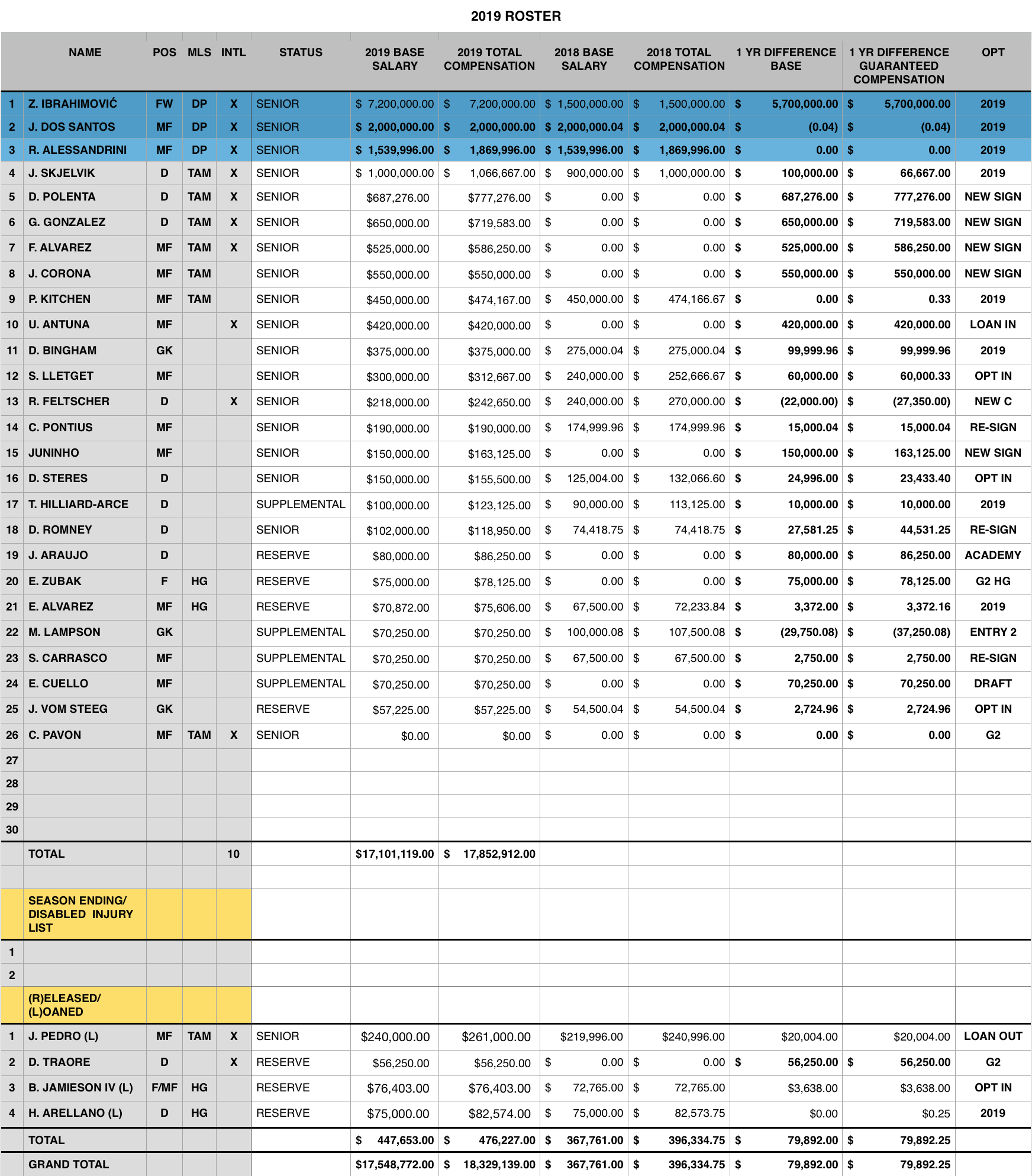 **Roster accurate as of 8.9.19**
INTERNATIONAL ROSTER SLOTS
ROMAIN ALESSANDRINI
URIEL ANTUNA
JONATHAN DOS SANTOS
ROLF FELTSCHER
ZLATAN IBRAHIMOVIC
DIEGO POLENTA
JORGEN SKJELVIK
CRISTIAN PAVON***
GIANCARLO GONZALEZ*
FAVIO ALVAREZ**
*The Galaxy's ninth INTL slot was received from the Columbus Crew on 3.1.19 and is good until 12.31.19
** The Galaxy's tenth INTL slot was received from NYCFC on 4.3.19 and is good until 12.31.19
*** Pavon will occupy the INTL roster left by Diedie Traore. Traore will be loaned down to G2.
MLS ALLOCATION ORDER
SJ EARTHQUAKES
MINNESOTA UNITED FC
HOUSTON DYNAMO
NEW ENGLAND REVOLUTION
CHICAGO FIRE
VANCOUVER WHITECAPS
ORLANDO CITY
PHILADELPHIA UNION
COLORADO RAPIDS
FC DALLAS
LOS ANGELES FOOTBALL CLUB
REAL SALT LAKE
COLUMBUS CREW
NEW YORK CITY FC
SPORTING KC
SEATTLE SOUNDERS
NEW YORK RED BULLS
PORTLAND TIMBERS
ATLANTA UNITED
FC CINCINNATI
**LA GALAXY**
TORONTO FC
DC UNITED
MONTREAL IMPACT
**Allocation Order accurate as of 8.7.19**
MLS ALLOCATION PLAYER LIST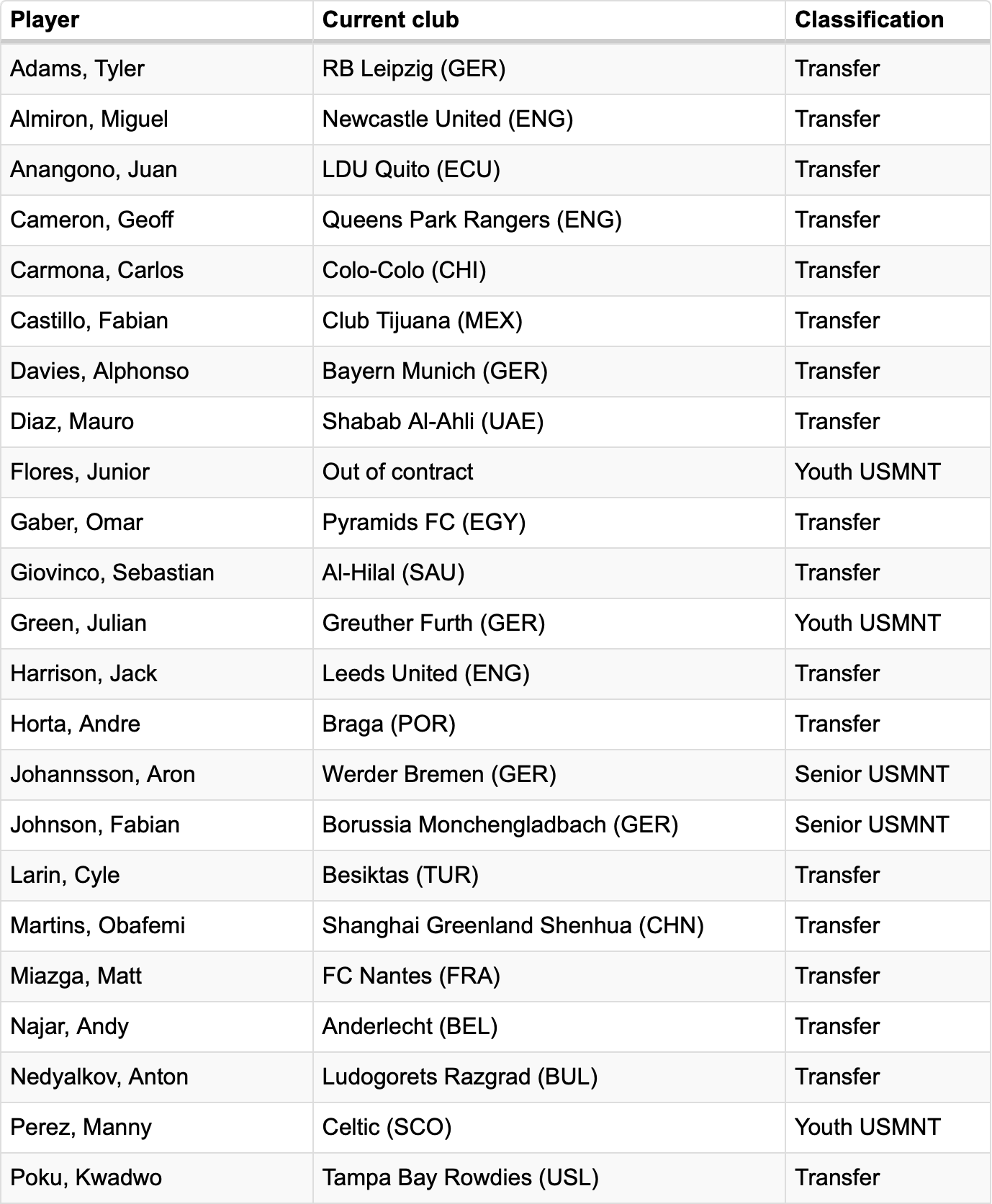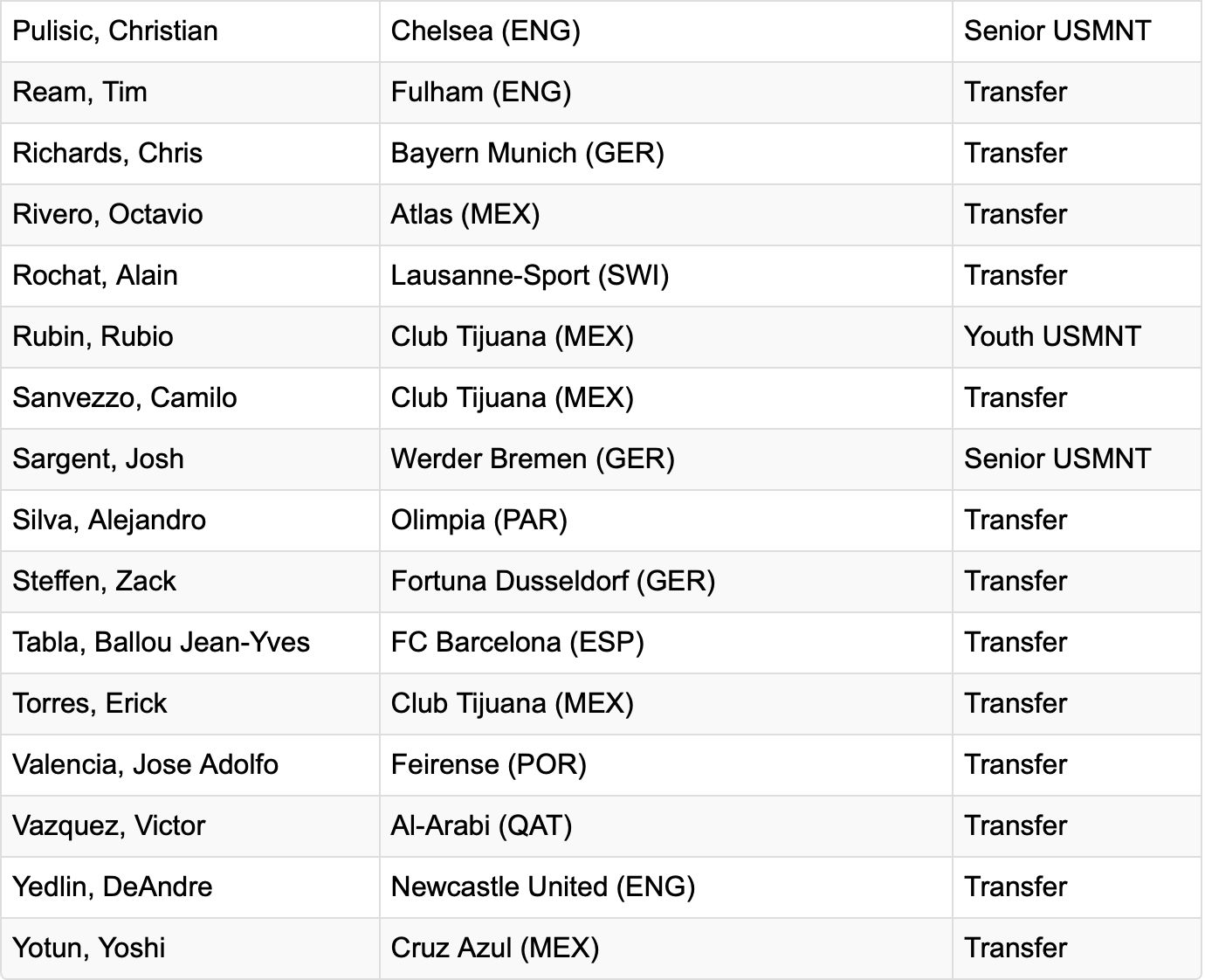 **Allocation Player list accurate as of 8.7.2019**