CARSON, Calif. – The stars finally were aligned on the Galaxy, at least for one night anyway, on Wednesday at Dignity Health Sports Park, thanks to a pair of goals from Zlatan Ibrahimovic and a stout defensive performance that resulted in a much-needed 2-0 victory over FC Dallas.
A crowd of 19,653 saw the five-time MLS Cup champions (13-11-1, 40 points), snap a three-game losing streak and beat a team that hadn't lost on the road to the Galaxy since Los Angeles defeated their Western Conference rival 3-2 on Sept. 27, 2015. Since that game, the Galaxy had gone 0-6-1 overall to FC Dallas and had been outscored 16-6.
But there was no more of that ineptitude Wednesday, thanks to Ibrahimovic's first goals since scoring all three in a 3-2 victory over Los Angeles FC on July 19 and a defense that recorded its first clean sheet since shutting out Toronto 2-0 on July 4.
The much-needed win also vaulted the Galaxy into a tie for third in the West (with Real Salt Lake) behind first-place LAFC and second-place Minnesota United and dropped FC Dallas into eighth place. Only five points separate the second- through eighth-place teams in the conference in a playoff race that will heat up considerably in the next few weeks.
"This game was very important," Galaxy head coach Guillermo Barros Schelotto said, "but the next game (Saturday at home against Seattle), will be important, too, not just today.
"We need to think game by game, every point. Every game we play will be very important."
The Galaxy went with a revamped lineup that featured a back line of much-criticized Jorgen Skjelvik, Dan Steres, Diego Polenta and Rolf Feltscher and regular starters Giancarlo Gonzalez, Uriel Antuna and Favio Alvarez on the bench. The Galaxy appeared to look a little disjointed at times in the first half and were fortunate FC Dallas did not take a lead in the 14th minute when Santiago Mosquera's shot from the top of the goal area caromed off the crossbar – Galaxy goalie David Bingham might have gotten a fingertip on the ball – but their perseverance finally paid off in the second half.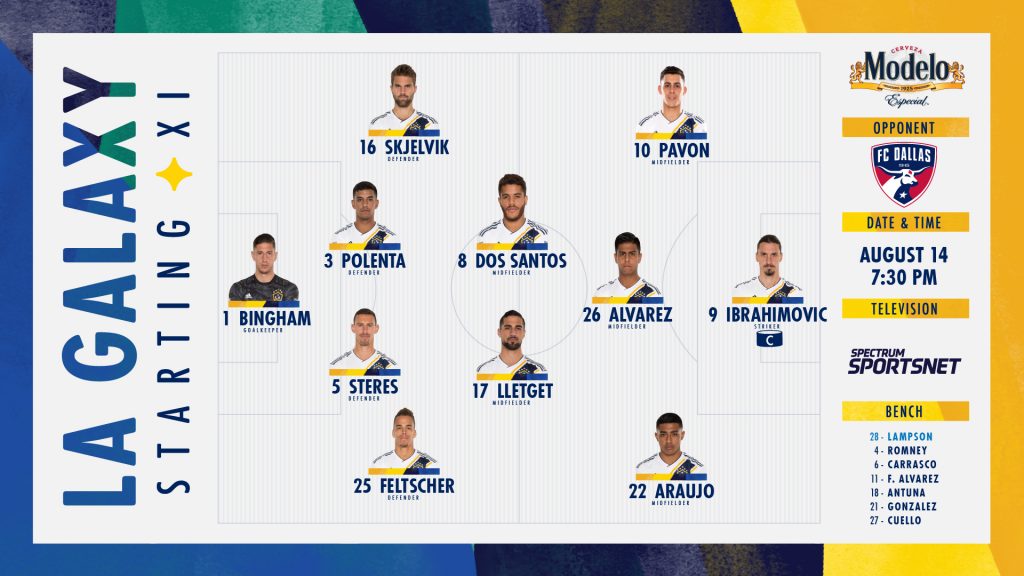 That likely was the result of the welcomed substitutions of Antuna (for Julian Araujo in the 53rd minute) and Favio Alvarez (for Efrain Alvarez eight minutes later), who clearly had a decided impact on the outcome.
"I think they made a difference when they came in, with their speed," Ibrahimovic said. "They had fresh legs. They changed the game."
"It was nice," added Steres, whose impressive performance included one sequence with 10 minutes remaining in which he cleared the ball out of the penalty area three consecutive times. "The game started going a little bit their way.
"We get those guys in, they kind of took control of the game a little and tired them out, and towards the end they were keeping the ball."
The Galaxy broke the scoreless deadlock in the 69th minute on a nice combination from Cristian Pavon to Skjelvik and finally to Ibrahimovic, who from 10 yards out beat FC Dallas goalkeeper Jesse Gonzalez, who dove the other way. The play also gave Skjelvik his first assist since April 13 against the Philadelphia Union.
Ibrahimovic closed the scoring with a penalty kick in the 82nd minute after Pavon was tripped in the penalty area by FC Dallas' Reggie Cannon. Ibrahimovic's goal – and 11th multi-goal game of the season – gave him 18 on the year, five behind league leader Carlos Vela of LAFC and two behind Atlanta's Josef Martinez.
Schelotto understandably was pleased with his team's collective effort, especially since it came in the wake of a recent run in which they had lost four of five games and had been outscored 12-2 (including 9-1 in the last three games, all on the road).
"We never lost our heads during the game," Schelotto said. "They had to show me today they are smart players and I think they showed me that. We never got confused."
Ibrahimovic said he thought the victory provided a much-needed morale boost for a club struggling to remain in the postseason picture.
"I think we needed to win the game to get a little more confidence than we had lately," he said. "I think we played good today. Today we got the three points we deserved."
Added Sebastian Lletget, "That (getting three points) was huge," he said. "We don't want to call it a make or break the season game, but if we didn't get these three points it really would have been downhill. We had to turn it around.
"This is crunch time. We've been here before, but we need to get in the position where we don't have to worry about it."
HIGHLIGHTS